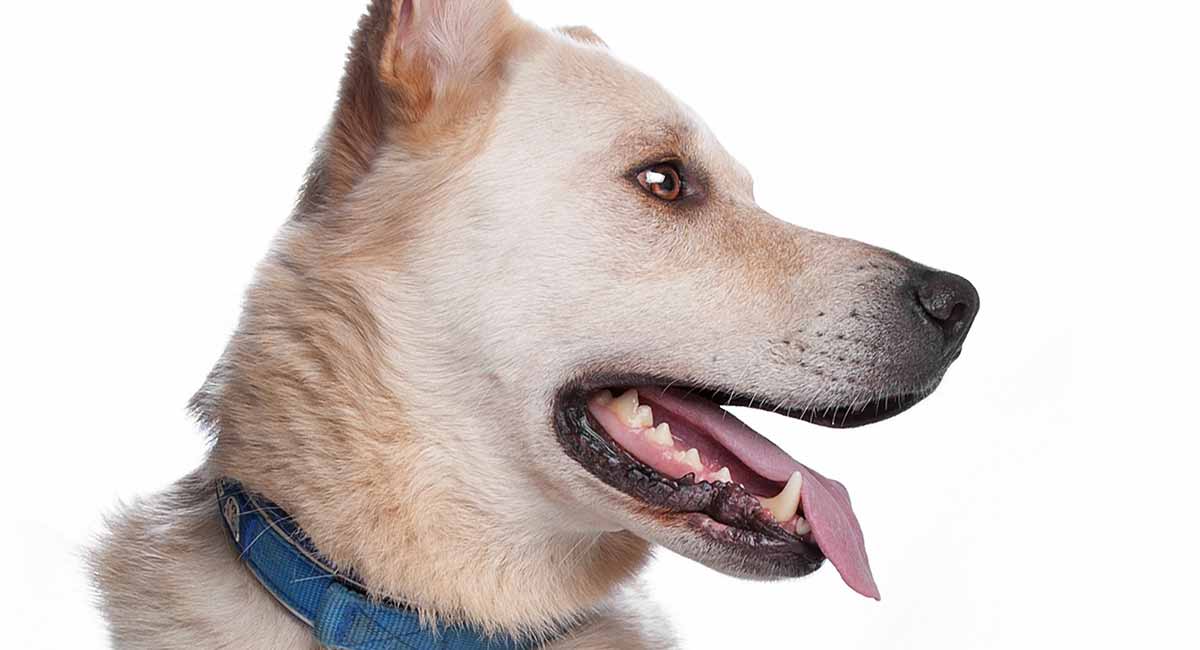 The Golden Retriever Husky mix is also known as the "Goberian".
Although not seen too often, this mix is gaining popularity.
They are friendly, energetic and intelligent dogs that respond well to training.
It will grow to between 22 and 24 inches tall at the shoulder, weighing from 50 to 90 pounds as an adult.
Whether you're looking to adopt a Goberian or you're just curious and want to learn more, this is the guide for you!
Where Does the Golden Retriever Husky Mix Come From?
The Goberian is a mix of two popular breeds: the Golden Retriever and the Siberian Husky.
The exact origin of this mix is unclear. But, we can look at the history of each parent breed for more information.
Origins of the Siberian Husky
The Siberian Husky can be traced back to Northeastern Asia. More specifically, the ancient Chukchi tribe.
The Chukchi tribe was semi-nomadic. They bred the ancestors of the modern Husky for endurance sled hauling.
In addition, Huskies were prized for their ability to withstand sub-zero temperatures, thanks to their thick coats.
The Siberian Husky was little-known to the average person until 1925 when they gained worldwide media coverage thanks to a heroic act.
See the "Fun Facts" section below to learn more.
Today, the Husky is a popular companion dog and remains a champion sled dog breed.
There are also Alaskan Huskies and Alaskan Malamutes. All three are commonly confused with one another.
Origins of the Golden Retriever
The Golden Retriever was developed more recently. They are thought to have originated in Scotland around the mid-1800s.
An aristocratic hunter named Dudley Marjoribanks designed the breed for retrieving game.
Parent breeds included the Yellow Retriever, Irish Setter, Bloodhound, and now-extinct Tweed Water Spaniel.
Then, the Golden Retriever made its way to North America in the early 1900s, where they became a hunting dog and a show dog.
Their popularity exploded in the 1970s, thanks in part to President Gerald Ford's beautiful Golden, Liberty.
Today, the Golden Retriever remains exceptionally popular, and currently sits at #3 on the AKC's popularity charts.
The Husky-Golden Retriever Mix
Mixing these two noble breeds happened fairly recently. But we know very little about the exact origin.
Like most other crossbreeds, the Goberian was most likely engineered to mix complementary aspects of each parent breed.
There is some controversy surrounding the intentional cross-breeding of dogs. Some think it's too close to "playing God", while others believe the pros outweigh the cons.
We discuss this controversy in more detail in our purebred vs mutt article.
Fun Facts About the Golden Retriever Husky Mix
The Siberian Husky breed, in particular, has an epic and heroic past to share with the world. It dates back to 1925 when an epidemic of diphtheria broke out in a remote part of Alaska.
Legendary musher Leonhard Seppala led a relay team of Siberian Huskies on a 6-day 658-mile journey to deliver life-saving serum to the remote town.
Without the bravery and incredible endurance of these Huskies, the entire population of the town would have died.
The feat involved 20 sled dog teams, organized with the help of the US Postal Service and many volunteers.
The route normally takes 25+ days but was cut down to less than 6—and the results were life-saving.
This epic relay launched the Siberian Husky into newspapers worldwide, leading to a rapid spike in the breed's popularity.
Soon, Huskies were being used as working dogs around the world, and also kept as companion animals.
What About Golden Retrievers?
The Golden Retriever Husky mix has some famous ancestors.
The Golden Retriever claims many famous pet parents, including Jimmy Fallon, Oprah, Adam Levine, and others.
In the 1970s, President Gerald Ford had a beautiful Golden named Liberty. This regal pup was part of the reason Golden's became so popular in recent history.
More recently, Golden Retrievers have made their way into pop culture, starring in flicks such as Air Bud, Homeward Bound, and more.
Golden Retriever Husky Mix Appearance
The Goberian is a large dog that typically weighs 50 to 90 lbs and measures 22 to 24 inches tall.
However, characteristics of either breed could come through more strongly, leading to a wide variation in the potential appearance of each Goberian.
That being said, the Golden's body shape typically comes through stronger, whereas the tail and legs of the mix often resemble more Husky-like characteristics.
Coat Type and Colors
Your Goberian will probably have a thick, double-layer coat suitable for cold weather. This may shed, but grooming can keep on top of this.
Coat coloring varies, but golden, brown, and grey are the most common. The two-toned face of the Husky sometimes shines through, but not always.
As you can see, there's a fair amount of variability, which is the case with any mixed-breed dog.
When it comes to hybrid breeds, you simply can't predict their exact characteristics.
Golden Retriever Husky Mix Temperament
The temperament of the Golden Husky mix will be a mix of characteristics from each breed. As with appearance, there is a certain degree of unpredictability here.
With that said, both parent breeds are friendly and intelligent. So, you can expect a friendly and intelligent crossbreed!
The Goberian is a gentle and loyal dog. They usually do well in families and around other dogs as long as they are properly socialized.
This breed makes a great watchdog. They are alert and have acute senses.
Are They Aggressive?
In general, they are not aggressive (when properly socialized). Although there is always the possibility of an aggressive trait.
The Goberian is protective, which is where aggression can come into play. It usually happens if your dog believes they are protecting the family.
Early socialization is important to counter this tendency. So, make sure your dog spends plenty of time with other dogs and with strangers—ideally, from a young age.
The Siberian Husky is not usually prone to aggression. However, if they do become aggressive, the consequences may be severe.
A research study found that Siberian Huskies were responsible for mauling at least 15 humans to death during a 20-year period. Several of those deaths were children.
Natural Instincts
So, while not an overly aggressive breed by any means, the Husky does bring with it some intense animal instincts.
And these instincts have dire consequences in extreme cases.
Thankfully, the Golden Retriever is not an aggressive dog.
So, the cross between Golden and Husky should help minimize any potential for an aggressive temperament.
Training and Socializing Your Golden Retriever Husky Mix
Training is important for all breeds. And the earlier you can train your dog, the better.
Dogs respond best to positive reinforcement training, which involves using treats and praise to reward good behavior.
You can read more about dog training techniques in our dog training guides.
Socialization
Socialization is also very important to prevent aggression and problem behavior. You should aim to socialize your dog as early as possible.
Proper socialization involves allowing your dog to spend plenty of time with other dogs, cats, and humans they don't know.
In this way, they get used to other creatures and won't view them as a threat.
Because the Golden Retriever Husky mix is a large, powerful dog, training is hugely important. It's crucial to be able to control your dog in all circumstances.
Exercise Needs
Beyond initial training, you'll want to keep your dog happy by giving them plenty of exercise and love.
The Goberian is a fairly high energy breed, that enjoys long walks, runs, and hikes.
Aim to provide your dog with at least 60 minutes per day of activity, including walks, runs, or other forms of exercise.
Golden Retriever Husky Mix Health
Overall, the Goberian is a healthy breed. It has a life expectancy of 10 to 13 years. But like all breeds, they're prone to certain health issues.
To get an idea of the potential health problems of this mixed breed, let's take a look at each parent breed.
Golden Retriever Health Issues
On the Golden Retriever side, common health concerns include:
elbow and hip dysplasia
eye problems
skin problems
allergies
lymphoma
seizures.
Husky Health Issues
On the Husky side, common ailments include:
hip dysplasia
arthritis
eye problems including cataracts, progressive renal atrophy, and others.
Both parent breeds are prone to hip and eye problems. So, these are the issues you will most likely have in your Golden-Husky mix.
Puppies can be tested for some of these potential health concerns. But not all of them.
To minimize the risk of taking home a dog with health problems, source your pup from a reputable breeder.
Do Golden Retriever Husky Mixes Make Good Family Dogs?
Generally speaking, Goberians makes great family dogs. They are friendly, loyal, and usually gentle, despite their large size.
They are also good watchdogs and can be protective if the situation calls for it.
In some cases, Siberian Huskies can be aggressive towards children. But this is typically in situations when the dog has not been properly socialized.
If you raise your dog well and ensure they are well socialized, the Siberian Husky Golden Retriever mix can make a great family dog.
Rescuing a Golden Retriever Husky Mix
We always encourage adopting a rescue dog from a shelter whenever possible.
If you're considering this, why not contact your local animal shelters. You can also check with various dog owner's clubs in your area to explore other resources.
One thing to remember with adoption is that you don't know how the dog was treated before they made their way to the shelter.
Rescue dogs can make great companions. They deserve all the love in the world. Just be careful and extra gentle with your new companion,
Especially, until you know how they'll react in stressful situations.
Finding a Golden Retriever Husky Mix Puppy
By far, the best way to find a Goberian puppy is to find a breeder in your area.
Just make sure you choose a reputable breeder. You can do this by asking to see certifications and health test results for their dogs.
But it's important to avoid pet stores and puppy mills. Unfortunately, these places place profits above the wellbeing of their dogs.
If you can, consider rescuing one from an animal shelter!
Need some help? Check out our Puppy Search Guide to help you find your next best friend!
Raising a Golden Retriever Husky Mix Puppy
If you do get a Goberian puppy, be careful raising, training, and socializing your pup.
For more information, see our puppy training and puppy care guides!
Preparing for a Goberian Puppy
If you've decided on getting a Goberian puppy, you'll need to start preparing for their arrival.
We've got a range of things you should consider getting in the guides below. The right products and accessories will help your Golden Retriever Husky mix puppy feed right at home when he moves in!
Take a look here:
Pros and Cons of the Golden Retriever Husky Mix
To sum up, here are the upsides and downsides of this mix:
Cons
High-energy
Can be aggressive if not properly trained/socialized
Significant risk of hip dysplasia and eye problems.
Pros
Friendly, loyal dogs
Beautiful coloring and coats
Generally good temperament, loving dogs
Long lifespan
A mix of two popular and beloved breed
Similar Breeds
If you want to explore similar dogs, we recommend more Golden Retriever mixes and Husky mixes.
We've got some great guides on some of these, and other similar breeds! Take a look:
Golden Retriever Husky Mix Rescues
We were unable to locate rescue organizations for the Goberian. But you could check out Golden Retriever and Siberian Husky Rescue Organizations in your area.
Do you know any in your area? Let us know in the comments so we can add them here!
Or you can also check out the Golden Retriever Club of America and the Siberian Husky Club of America for more resources to help you in your search.
Is the Golden Retriever Husky Mix Right For Me?
If you're looking for an intelligent, loyal, and friendly dog and you can meet the high exercise requirements of this breed, the Goberian can make for a great pet!
However, this dog is not for everyone. They have high energy levels. Plus, in some cases, Goberians can be aggressive if not trained properly.
In the end, if you are able to dedicate the time and love to this adorable breed, the Golden Retriever Husky mix is well worth having by your side!
References and Further Reading
Vilà C et al. 1997. Multiple and ancient origins of the domestic dog. Science.
Gelatt KN & MacKay EO. 2005. Prevalence of primary breed‐related cataracts in the dog in North America. Veterinary Ophthalmology.
Sacks JJ et al. 2000. Breeds of dogs involved in fatal human attacks in the United States between 1979 and 1998. Journal of the American Veterinary Association.
Crispin S and Barnett K. Dystrophy, degeneration and infiltration of the canine cornea. Journal of Small Animal Practice.
Duffy D et al. 2008. Breed differences in canine aggression. Applied Animal Behaviour Science.
Smith G et al. 2001. Evaluation of risk factors for degenerative joint disease associated with hip dysplasia in German Shepherd Dogs, Golden Retrievers, Labrador Retrievers, and Rottweilers. Journal of the American Veterinary Medical Association.
Get Pippa's free dog training tips delivered to your inbox