If you love Labradors and adore German Shepherds, you should check out a German Shepherd Lab mix. In this article, we'll take a look at what you can expect from this lively, intelligent cross.
The Labrador Retriever is America's most popular dog breed, followed closely by the German Shepherd.
These much-loved animals have a lot to offer individually. But what if you could buy a dog that had the fun-loving personality of a Labrador mixed with the protective cleverness of a German Shepherd?
Well, you can if you choose a German Shepherd Lab mix!
But this blend might not work as simply as you might hope.
German Shepherd Lab Mix History
The idea of mixing two breeds in order to get the best possible traits from each sounds fantastic. But in reality, it is very hard to predict what a Labrador mixed with a German Shepherd will turn out like.
The dog could take after their German Shepherd parent, or they could be mostly Labrador. They could be a mix of both, or they could be anywhere in between!
So to understand the origins of the German Shepherd Lab mix, we need to go back in time with each of their parents.
Let's start with the noble GSD.
German Shepherd History
The German Shepherd was originally a cross breed of several rural German sheep dogs.
In 1899 a man called Max von Stephanitz bought a dog called Hektor Linksrhein (later named Horand von Grafath) who he found at a dog show. Horand is considered to be the first German Shepherd and Stephitz is normally credited as the creator of the breed.
Stephitz created the Society for the German Shepherd dog, and Horand was the first dog to be registered.
By 1919 (when the UK Kennel Club first started registering German Shepherds) fifty-four dogs had been registered, and in 1926 there were over 8,000 registered German Shepherds.
The breed's popularity suffered during the post World War II years due to significant anti-German sentiment. But it started to increase during the mid to late 20th century until in 2009 the German Shepherd had become the second most popular breed in the USA.
German Shepherds are known for their police work thanks to their sniffing abilities.
These brave dogs can be found sniffing out narcotics, detecting explosions, tracking criminals, and finding mines. German Shepherds are also commonly found in the military.
German Shepherds were traditionally used as guide dogs, and although Labradors have become the dominant breed in that field German Shepherds are still a great choice because of their drive, loyalty, and fearlessness.
Although similar in size, love and loyalty, the German Shepherd's original purpose was very different to the Labrador's.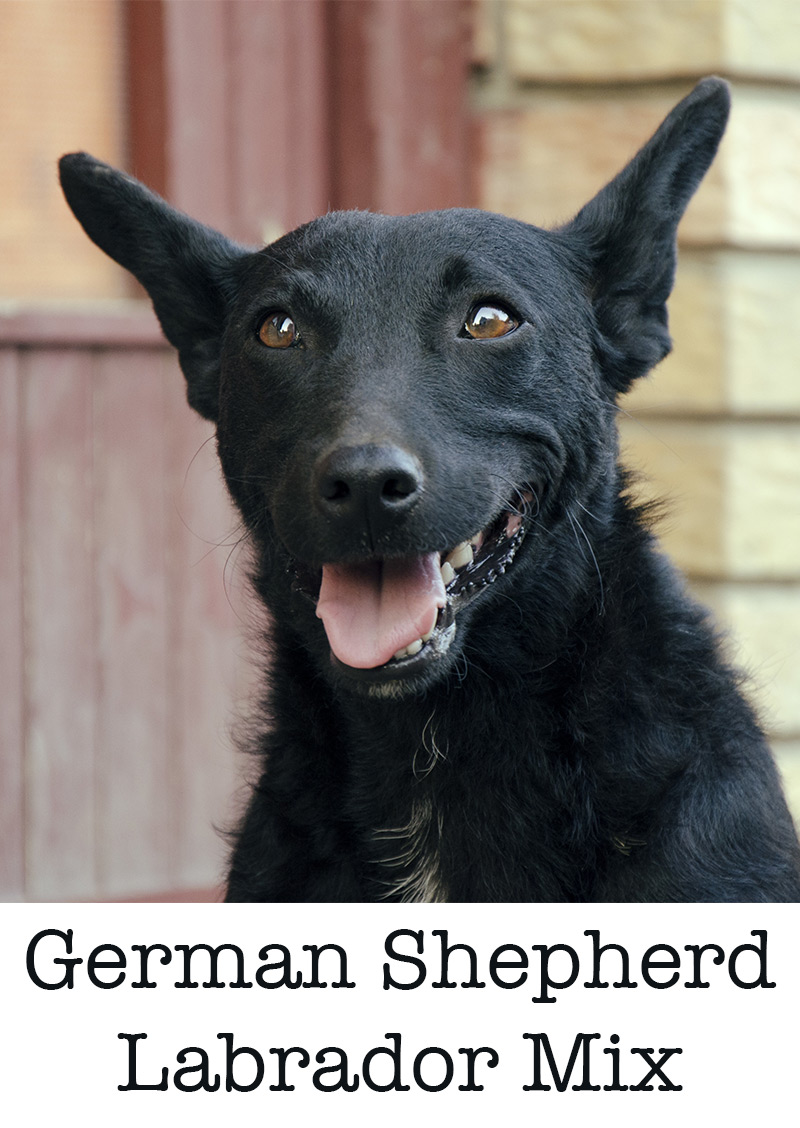 Labrador Retriever History
The Labrador breed originated in the early 19th century in Newfoundland, Canada.
There were originally several different types of dogs which were mainly used by fishermen to help them retrieve things from the water.
One of these breeds, known as the St. Johns Dog, is accepted to be the early ancestor of the Labrador Retriever that we know and love today.
The St Johns Dog didn't look much like a modern Labrador. They had a dense waterproof coat, they had a different facial structure and a thick tail. Some of them had longer coats, but shorter coats were preferred as they worked better with icy water.
What they did have in common was their loyalty, hard work, and love of humans. It is from this breed that the Labrador came forth.
All Labradors had black coats until the late 19th century when the first chocolate (referred to as 'liver' colored) and yellow Labradors were recorded.
The Labrador Retriever was officially recognized in England by the Kennel Club in 1903, but the American Kennel Club only recognized the breed in 1917. The breed only really became popular in the 1930s when rich Americans started to bring British Labradors to the States.
The German Shepherd Lab Mix
You can see that GSDs and Labs had very different beginnings. And the type of dogs these ancestors produced have some key differences in personality and appearance.
It is hard to predict what a mixed dog will look like because they could resemble either of their parents or they could turn out to be a mixture of both.
German Shepherds are large. They have long square muzzles, black noses, strong jaws, brown eyes, large ears, long necks and bushy tails.
German Shepherds can come in a variety of colors, but the most common are tan/black or red/black. Many German Shepherds have black body markings, and they all have a double coat.
The Labrador Retriever is a medium to large size dog. They have floppy ears, friendly eyes, long tails, and they should have an athletic build as they love to run around.
Labrador German Shepherd mix dogs tend to be large, weighing around 50 to 100 pounds and measuring to around 20-30 inches.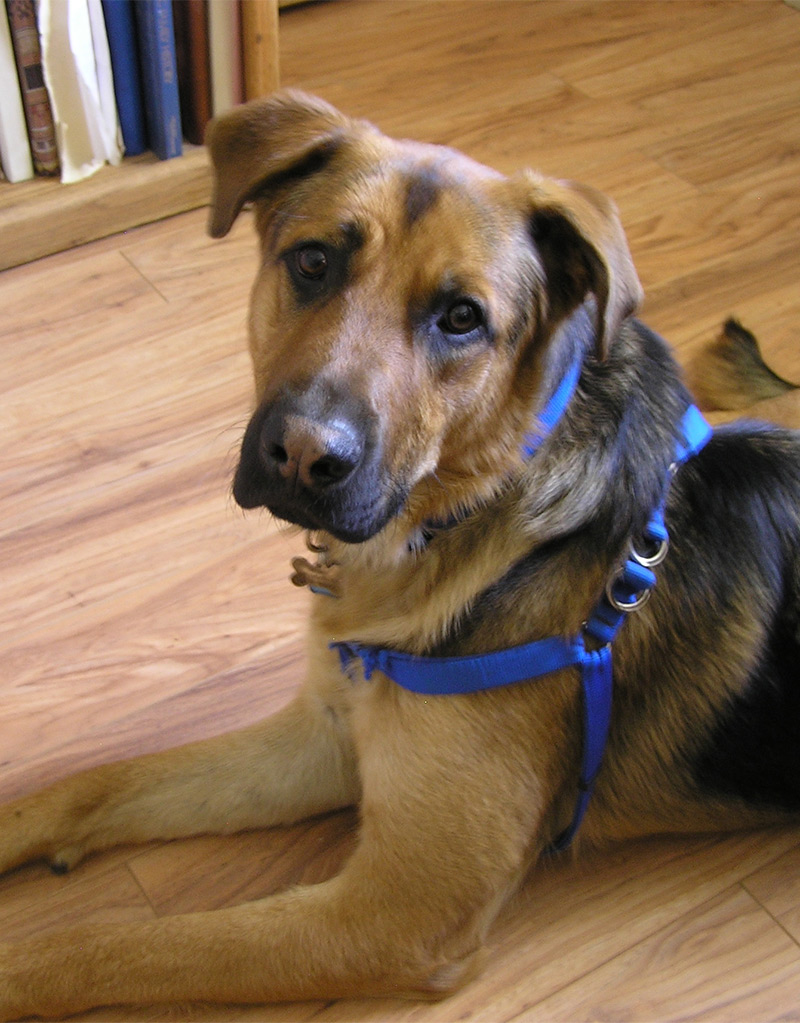 German Shepherd Lab Mix Coat
Individual German Shepherd Lab mixes can look very different from each other.
Some may have German Shepherd coat markings, but they could have also inherited a coat which looks a lot more like a Labrador. The coat could be short, mid length, long or somewhere in the middle.
Labradors have short, dense coats which come in a variety of colors such as black, yellow or chocolate.
Both breeds have double coats, so German Shepherd Lab mixes will also have a double coat.
Many Lab x German Shepherds are tan in color, but you can also get black, chocolate, yellow or even white German Shepherd Lab mixes.
Basically, there is no way to predict the puppies in a litter before they are born. Which is fun for the breeder and potential puppy parents!
What you do know is that your pup will be high shedding and have a double coat.
German Shepherd Lab Mix Grooming
The German Shepherd Labrador mix has a double coat and you should brush it around once a week.
Some Labrador x German Shepherds have a shaggy German Shepherd style coat, so they will need to be brushed more regularly.
The Labrador actually has a water, rubbish and soil resistant coat as though they've been designed to take care of themselves. But it is still recommended that you brush their coat regularly.
Both breeds shed quite a lot, so prepare for lots of hair during shedding season!
Lab German Shepherd Mix Temperament
Different breeds tend to have their own temperaments, but this will always vary from dog to dog.
There are, however, a few things you can be confident of, as they are in common with both breeds.
A German Shepherd Lab mix will be intelligent, trainable and energetic.
They will crave human company, and need companionship for much of the day. With lots of company, training, and socialization, they can be loving and loyal company.
But left alone too long regularly they can become destructive. They are ideal dogs for households that love training, outdoor activities and who work from home or can bring the dog with them.
The German Shepherd and Labrador mix could be the perfect combination of all the best traits from the two breeds.
You could wind up with a dog which is cautious yet fun, loyal yet friendly, and playful without being overly energetic, but you could also end up with endless other trait combinations.
Some Labrador and German Shepherd traits are at odds with each other and it can be hard to tell which trait the Lab German Shepherd mix puppy will adopt.
German Shepherd Lab Mix Socialization
German Shepherds make excellent guard dogs, but some Labradors are too friendly and trusting to differentiate between friends and intruders.
It is very hard to predict which traits a mixed dog will have, and you also can't assume that the Lab German Shepherd will be a carbon copy of either of their parents.
Therefore you must be prepared for a dog that exhibits any traits from either breed.
When you bring your puppy home you will need to assume that they will need the same level of socialization as a GSD would.
Have visitors over to the house every day, take your pup to lots of places, and introduce them to a wide range of people.
Remember the socialization window isn't open for long, so dedicate your time to blasting your pup with loads of loving strangers until they are around 14 weeks old.
German Shepherd Lab Mix Exercise
The Labrador and the German Shepherd are both intelligent breeds, so training them is usually great fun.
Using rewards to train your dog is a good way to condition them with the behavior you want them to adopt.
Labs tend to respond well to food-based rewards, so it is normally quite easy to train them with their favorite treats.
However, German Shepherds often respond better to toys or puzzles. After your dog exhibits the required behavior, treat them to their favorite toy or a brain-teasing puzzle.
You will need to set up a training system that works for your German Shepherd Lab mix's personality. Try both options and see which your dog prefers.
Both Labradors and German Shepherds love to chew, so you will need to get plenty of chew toys, keep your valuables away from your dog's chompers, and maybe invest in a chew proof dog bed.
But the real key to limiting this issue is to keep them physically and mentally busy, and make sure they have company for most of the day.
German Shepherd Lab Mix Health Problems
German Shepherds and Labradors are fairly healthy as pedigree breeds go. But they are still prone to a range of health problems that you need to be aware of.
To understand these and the health tests each parent should have respectively, let's look at the parents individually again.
As despite being a cross, the German Shepherd Lab mix could inherit health problems from either parent.
German Shepherd Health Issues
As with all pedigree breeds, the German Shepherd is prone to certain health issues.
The German Shepherds were heavily inbred in the early years, and the breed suffers from several common health problems as a result.
The most common health problems a German Shepherd may suffer from include:
haemophilia
degenerative spinal stenosis
bloat
hip dysplasia
eye problems.
There are also growing concerns that GSDs are being bred to walk on their hocks. Check the parent's gait, and make sure he walks normally before you commit to a puppy from him.
You can find out more about potential GSD health problems here.
Their lifespan is, on average, 11 years.
Labrador Health Problems
The Labrador has an average lifespan of 12.5 years. The breed is prone to a few health problems, including hip and elbow dysplasia and progressive retinal atrophy.
You can find out about the less common health problems here.
German Shepherd Lab Mix Health
Your German Shepherd Lab mix puppy should come from health tested parents.
As a minimum, ensure that they both:
have good hip and elbow scores
clear eye tests less than a year old
are PRA clear
have no family history of patellar luxation or ear infections.
A good breeder will be happy to provide you with evidence of their dogs' good health.
You can expect your pup to have a lifespan of 11 to 12.5 years to reflect his parents, although evidence does suggest that mix breeds can live a little longer than purebred dogs on average.
Finding A German Shepherd Lab Mix Puppy
Finding a decent breeder can be hard work at the best of times, but it can be especially difficult when you want to buy a mixed breed dog.
The most important thing is to find a good breeder who has screened both parents for health ailments and is not over-breeding their dogs.
Both German Shepherds and Labrador Retrievers are prone to genetic diseases.
Your Lab German Shepherd mix could inherit a disease from either parent, so it's important that you have checked the parent's health records.
You should meet the breeder and the dog's parents before purchasing a puppy.
This will give you a chance to look out for signs of ill health, aggression or other behavior traits that could be problematic if passed on to the puppies.
Inbreeding is thankfully becoming less common as a breeding practice. But it is still a problem with pedigree dogs and can lead to numerous health problems as well as, obviously, being incredibly unethical.
It is very important that you check your puppy's ancestry to ensure their parents ancestors were not closely related.
Similar Breeds
If you like the sound of the German Shepherd Lab mix but aren't sure it's the best dog for you, there are still plenty of other options.
Take a look at some of these other breeds. Perhaps they are more suited to your lifestyle!
You might even want to compare it to other breeds using our comparison guides:
Is A German Shepherd Lab Mix Right For Me?
The Labrador and the German Shepherds are both very energetic breeds and they require a lot of exercises.
The ideal home for either breed is a one with a big garden and who is happy to commit to lots of time training, exercising and socializing every day.
As very clever dogs they will need regular stimulation with various puzzles, games, and activities to stop them getting bored.,
German Shepherd Lab mixes are likely to be loyal, and will develop very strong bonds with their humans.
They are best suited for an active family where someone will be at home with them for most of the time.
Are you happy to commit yourself to:
researching a good breeder that health tests the parents
meeting them both to check their temperaments
training, socializing and exercising your pup regularly for the next ten plus years?
Then you might just be ready for a gorgeous German Shepherd Lab mix!
Further Reading
Lisa G Shaffer et al, 'An International Genetic Survey of Working Canines from the Untied States, Israel and Poland', Paw Print Genetics
A.M. Oberbauer, G.Gkeller & T.R Famula, 'Long Term genetic selection reduce prevalence of hip and elbow dysplasia in 60 dog breeds', 2017
Hedhammer A et al 1979 Canine hip dysplasia: study of heritability in 401 litters of German Shepherd dogs. Europe PMC
O'Neil, DG et al 2013. Longevity and mortality of owned dogs in England. The Veterinary Journal.
Get Pippa's free dog training tips delivered to your inbox