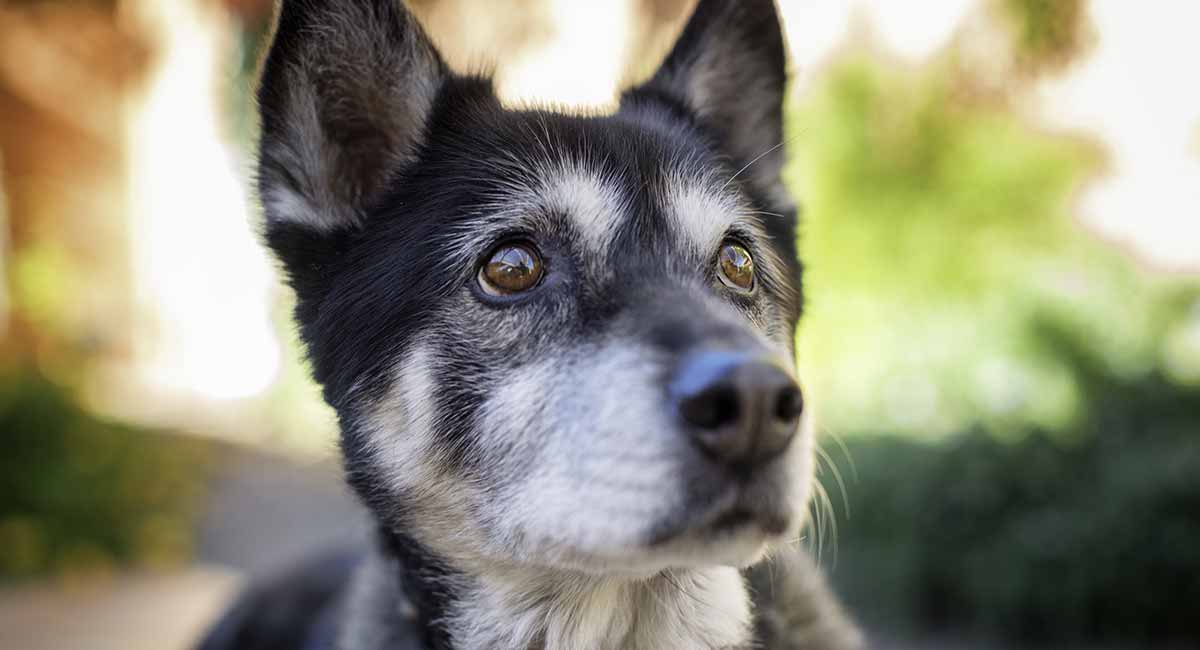 What do you get with a German Shepherd Husky mix?
The easy answer is the intelligence of a German Shepherd with the playfulness of a Siberian Husky.
Is this mix of athletic, bright and admired breeds the right companion for your family though?
Read on to discover more about the German Shepherd Husky mix.
Where Does the German Shepherd Husky Mix Come From?
German Shepherd Origins
The German Shepherd breed arose in the late 1800s in—you guessed it—Germany.
Captain Max von Stephanitz aimed to create a supreme sheepherder using various shepherd dog strains throughout Germany.
Over several decades, he refined the breed into the German Shepherd we know today.
Their obedience and authoritative manner made this breed desirable police and military dogs.
The task shifts for these dogs changed once the need for herding dogs declined.
Siberian Husky Origins
Although their roots date back nearly 2,000 years, today's Siberian Husky was introduced in the early 1900s.
The breed descended from Chukchi sled dogs, which were used for fast, long distance travel throughout arctic regions.
This was so the tribe could hunt for survival.
Siberian Huskies gained popularity when they began winning prestigious sledding races in the early 1900s.
They were propelled into the national spotlight in 1925.
A team of 150 Siberian Huskies delivered life-saving antitoxins to an Alaskan community threatened by a diphtheria outbreak.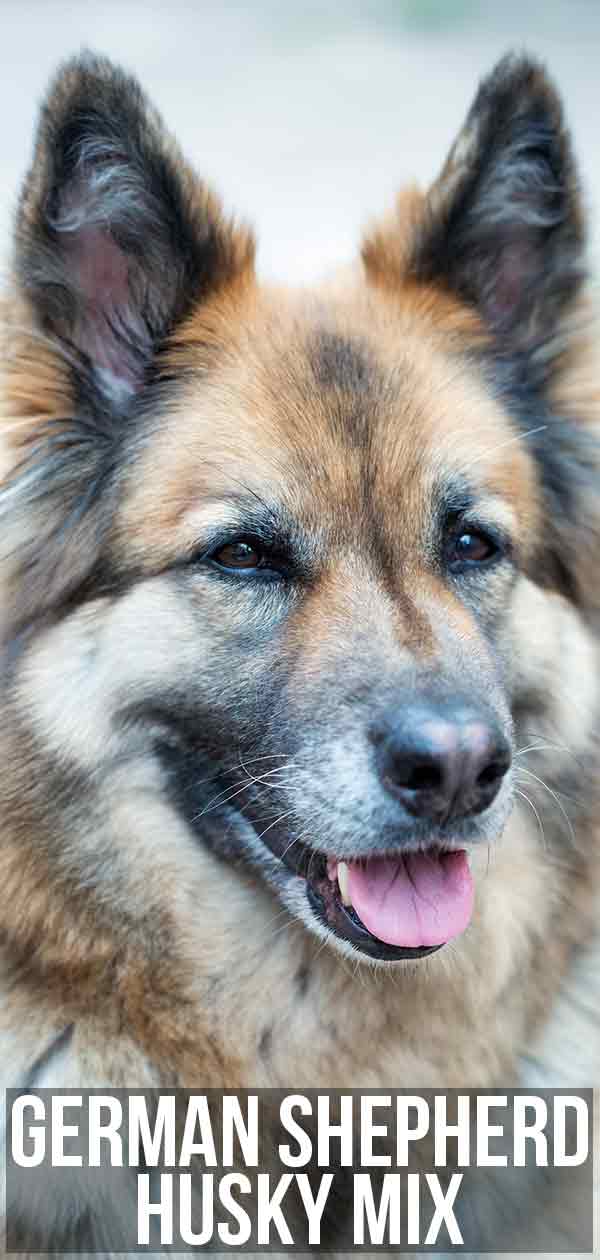 German Shepherd Husky Mix Origins
It is possible that German Shepherds and Siberian Huskies have mixed for many years, either accidentally or purposely.
The official history of the mix is not well-documented.
Breeders are now deliberately creating this mix, which has increased in popularity in the past decade.
Purebred vs. Mixed-breeds: Who's Healthier?
You've probably heard some debate about purebred dogs versus mixed-breeds.
Rumor has it that mixed-breed dogs are healthier than their purebred counterparts.
That is not always the case.
A 2013 study from the University of California, Davis revealed that the occurrence of genetic disorders depends on the disorder.
It has nothing to do with the purity of the breed itself.
Genetics
Also, we know that purebred dogs from dwindling genetic pools are known to have more health problems.
The same goes for breeds that have undergone selective breeding to the point of conformation complications.
The health of your dog—purebred or mixed—depends on a number of issues:
Genetics
Breeder reputation
Environmental factors
Make an informed decision when choosing your desired dog breed to ensure you are prepared for any health risks that may arise.
German Shepherd Husky Mix Appearance
Generally speaking, German Shepherds and Siberian Huskies are similar in appearance.
Size and fur coloration are obviously quite different.
When these breeds are mixed, the result isn't vastly different from either parent; in fact, they blend quite seamlessly.
An adult Gerberian Shepsky's size is somewhere between the two breeds: 20 to 26 inches tall and 35 to 88 pounds.
The body is athletic and streamlined.
She has tall, pointed ears; a pointed muzzle; and the same small, warm eyes of her parents.
Both breeds have a double, medium-length coat. A mix results in the same level of fluff.
Coloration
Eye and coat coloration are where you see the most variation in a German Shepherd Husky mix.
German Shepherds have very dark eyes. Siberian Huskies are infamous for their baby blues, browns or both.
A Gerberian Shepsky's eye coloration depends on her parents' eye coloration.
Combining these two breeds results in some surprising fur colorations.
AKC standard fur colors and markings for German Shepherds includes 11 variations and combinations:
White,
Sable
Liver
Gray
Blue
For Siberian Huskies, the AKC recognizes 17 standard fur color variations and combinations:
Black
White
Red
Sable
Brown
Gray
Copper
Tan
A Gerberian Shepsky puppy's parents contributes their genes to fur coloration.
If you're looking for a specific color combo, you need to know the parents.
German Shepherd Husky Mix Temperament
German Shepherds are known to be intelligent, obedient and even-tempered.
Siberian Huskies are considered attentive, athletic and energetic.
A Gerberian Shepsky puppy's temperament is hard to determine right away and depends on the parents.
When choosing a puppy, it is helpful to meet the parents to gauge their temperaments.
While both breeds have very admirable qualities, they also have their quirks.
Siberian Huskies can be a bit stubborn and independent.
German Shepherds are naturally protective and wary of strangers.
Neither breed is naturally aggressive.
Ensuring your Gerberian Shepsky is well-cared for in a nurturing environment fosters positive personality traits.
Training Your German Shepherd Husky Mix
German Shepherd and Siberian Huskies are both athletic, working breeds.
One was bred to herd sheep, while the other was bred to pull sleds.
That said, a mix of the two breeds needs a lot of outdoor exercise and room to run.
A Gerberian Shepsky with a dense, fluffy coat is at risk for overheating in warm weather.
Keep exercise light on hot days.
Both breeds are trainable, so a mix will be too.
Calm, consistent training with positive reinforcement helps your Gerberian Shepsky.
It channel hers to use her cleverness for constructive activities.
This can be by training exercises or games.
Aggressive, destructive or disobedient behavior occurs when a German Shepherd Husky's physical and mental needs are not met.
German Shepherd Husky Mix Health
Health concerns with the Gerberian Shepsky are not well-documented yet.
However, puppies can inherit health conditions from their parents.
Let's take a look at health concerns with each parent breed.
German Shepherd Health Issues
Breeding for desirable physical traits in German Shepherds has resulted in numerous health issues.
Some of these conditions are conformational, meaning they result from the shape and structure of the animal.
For German Shepherds, modern breeders have focused on an exaggerated downward-sloping back.
This conformation can affect the health of their leg joints and spine.
Here are a few examples of common health issues in German Shepherds:
A more thorough list of German Shepherd health concerns can be found here.
The GSD also needs regular grooming as part of its general care.
Siberian Husky Health Issues
Siberian Huskies are relatively healthy dogs. The main diseases that they can inherit from their parents impact their eyes:
A closer look at Siberian Husky health issues can be found here.
Genetic Testing and Health Screening
Breeders should be responsible to not mix animals that are at risk for any of these health conditions.
Genetic testing for some of these issues is available for both parent breeds.
The website for the Siberian Husky Club of America recommends registering with the Siberian Husky Ophthalmic Registry.
Do so when an animal has been cleared of inheritable eye diseases.
The German Shepherd Dog Club of America recommends screening for hip and elbow dysplasia by the Orthopedic Foundation for Animals.
German Shepherd Husky Mix Expected Life Span
The expected life span of this mix is not fully known.
German Shepherds have an estimated life span of seven to 10 years. Siberian Huskies can live 12 to 14 years.
Expect a mix of these breeds to have a similar life span.
Proper veterinary care ensures a long, healthy life for your Gerberian Shepsky.
German Shepherd Husky Mix Feeding
A German Shepherd Husky needs a high-quality dog food.
Additional supplements should not be needed if you are feeding your dog high-quality food.
Keeping your Gerberian Shepsky at a healthy weight reduces potential stress on her joints and prevents other health issues.
German Shepherd Husky Mix Grooming
Both parent breeds have medium-length, double coated fur.
This means they have a lot of fur, which leads to a lot of shedding.
Brushing every few days helps keep your German Shepherd Husky mix's coat looking healthy.
It also controls the amount of fur you'd otherwise find around your home.
Do German Shepherd Husky Mixes Make Good Family Dogs?
German Shepherd Husky mixes make excellent family dogs if your family can dedicate ample time to its care.
Their intelligence, loyalty and playfulness make them great companions.
If your family is active and adventurous, this mix is a good addition to these journeys.
Finding a German Shepherd Husky Mix Puppy
A quick internet search for "German Shepherd Husky puppy for sale" brings up an abundance of options.
Avoid pet stores and puppy mills. They are not known to provide the best care for their animals.
To be sure you are getting a healthy and responsibly bred puppy, research the breeder. Don't be afraid to ask questions.
Use our Step by Step Guide to help you find your perfect puppy from a responsible breeder.
Raising A German Shepherd Husky Mix Puppy
Puppy care is a serious responsibility.
You need time, patience and money to properly raise a healthy and happy Gerberian Shepsky.
Our Puppy Care guides helps you work through those tough, but adorable early stages of your companion's life.
German Shepherd Husky Mix Products and Accessories
We recommend these products to provide the best care for your German Shepherd Husky mix.
For collar choices, check out "Best German Shepherd Collars."
To groom your German Shepherd, read "Best Brush for German Shepherd Dogs."
To keep your Husky in great grooming condition, click on "Best Brush for Siberian Huskies."
Pros and Cons of Getting a German Shepherd Husky Mix
Cons of Getting a German Shepherd Husky
Potential health problems
Requires regular exercise and training
A lot of shedding
Pros of Getting a German Shepherd Husky
Friendly and fun companion
Unique and beautiful coloration
A built-in adventure buddy
Similar German Shepherd Husky Mixes and Breeds
If you aren't quite sold on this mix, here are similar mixed-breed options to consider:
Rescuing a German Shepherd Husky Mix
Rescuing a dog from a shelter or organization is a wonderful way to give it a second chance at life.
You may have the opportunity to rescue an older dog, which requires less intense care than a puppy.
It still requires dedicated care but may already have some of the kinks worked out.
German Shepherd Husky Mix Rescues
There are not specific rescue organizations for German Shepherd Husky mixes yet.
However, there are numerous rescue organizations around the world for the parent breeds.
You may even be able to find your perfect German Shepherd Husky mix at one of these sites.
This is not an all-inclusive list. Please add your organization in the comment section below.
United States
Arctic Rescue
Siberian Husky Club of America Trust – Rescue
German Shepherd Rescue of New England
Golden State German Shepherd Rescue
Canada
Halo Husky Haven
Free Spirit Siberian Rescue
Canada German Shepherd Rescue
Manitoba All Shepherd Rescue, Inc.
United Kingdom
German Shepherd Dog Rescue
German Shepherd Rescue Elite
Siberian Husky Aid Rescue & Education
Saints Sled Dog Rescue
8 Below Husky Rescue
Australia
Husky Rescue Western Australia
Siberian Husky Club of NSW
Arctic Rescue Victoria Inc.
German Shepherd Rescue Victoria
Sweet Shepherd Rescue Australia Inc.
Is a German Shepherd Husky Mix Right for Me?
A German Shepherd Husky Mix is right for you and your family if you can dedicate time to her care and exercise.
You need to be absolutely sure you have the time and energy to invest in this mixed breed.
Prepare financially and emotionally for health issues that may arise.
Screening breeders and parent dogs help prevent some of these issues.
References and Further Reading:
Bellumori, T.P., et al., 2013, "Prevalence of inherited disorders among mixed-breed and purebred dogs: 27,254 cases (1995-2010)," Journal of the American Veterinary Medical Association
German Shepherd Dog Club of America
"German Shepherd Dog," American Kennel Club
Orthopedic Foundation for Animals
"Siberian Husky," American Kennel Club
Siberian Husky Club of America