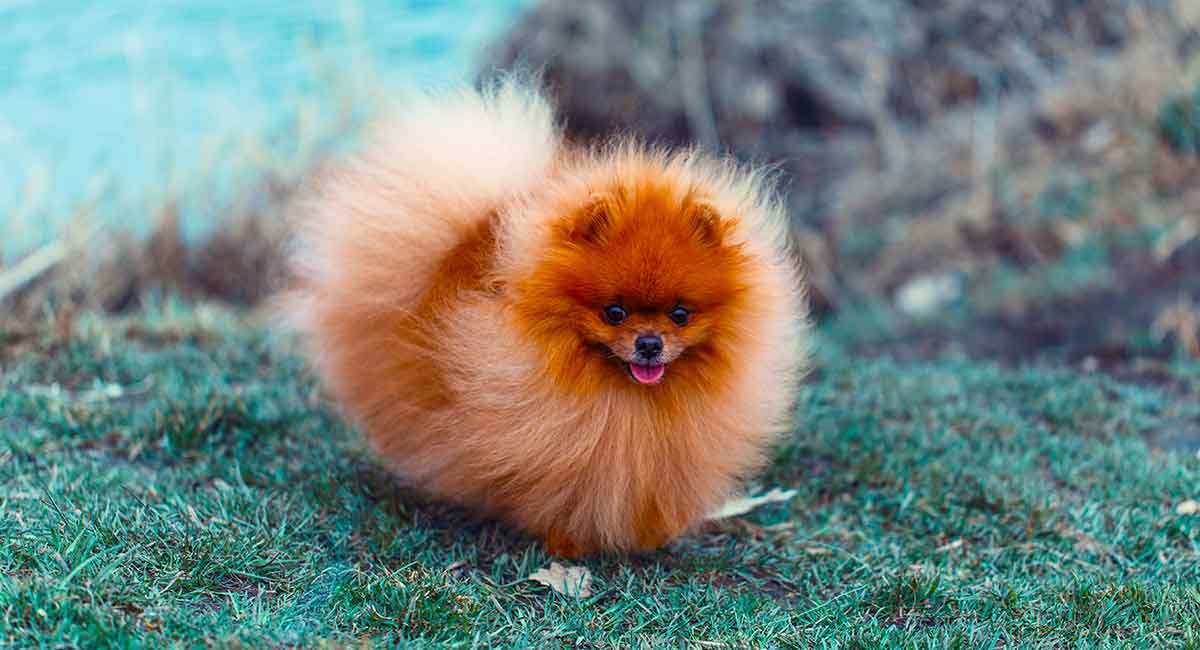 What is it about fluffy dogs? All that hair is certainly eye-catching.
And there's definitely something about the feel of soft silky fur that just makes you want to cuddle them.
So if you have a fondness for fluffy pooches, and don't mind dedicating some time to serious grooming sessions, here are some of the fluffiest of fluffy dogs.
Why Are Some Dogs Fluffy?
Short and long, curly and straight, wiry and corded — sometimes it seems like there are as many types of coats as there are dogs.
However, dog's coats don't just differ in texture and length, they can have a single or a double coat.
A double coat is made up of two layers: a dense, soft, woolly undercoat of short hair and a topcoat of longer hair called guard hair.
The insulating undercoat protects fluffy dogs from both hot and cold temperatures.
Many dogs bred for working purposes have a double coat. Often these dogs were kept outdoors in less than hospitable climates.
And when it comes to fluffiness, it's actually the undercoat that makes the outer coat stand out.
The denser the undercoat, the more the outer guard hairs will stick out giving that fabulous fluffy look.
But sometimes even Mother Nature needs some help and that's where regular grooming comes into play.
Grooming not only keeps your dog's hair from getting matted, but brushing is also the best way to maximize their fluffiness.
What is the World's Fluffiest Dog Breed?
When it comes to the fluffiest of all there are numerous contenders, but the prize must go to the perky Pomeranian.
At under 7 lbs, their abundant coat and frill that extends over their chest and shoulders seem to explode over their tiny frame.
With an accompanying foxy face and peppy personality, this popular toy breed makes an excellent companion.
These intelligent little pups are easy to train, generally quite healthy, and can even make good watchdogs.
We've got a great guide to brushes for Pomeranians that you'll want to read if you're getting one. What other fluffy dogs can you think of?
American Eskimo Dog
Like the Pomeranian, the American Eskimo dog is descended from Nordic Spitz sled dogs.
This breed is both brainy and beautiful, with striking puffy white fur including a lion-like ruff around their chest and shoulders and a plumed tail.
The American Eskimo Dog comes in standard, miniature, and toy sizes.
Although they're known for being intelligent and calm, this is only the case when they get the exercise they need.
Bearded Collie
This handsome devil has lavish facial hair and a bright inquiring expression. The Bearded Collie originally a rugged droving dog found in the Scottish Highlands.
If you love herding breeds, make sure to check out this article!
Energetic, full of charm, and covered in long silky fur, this breed is sturdy and can be willful, but always a friendly companion.
What beautiful fluffy dogs so far!
Bichon Frise
The Bichon Frise, with his white powder puff head and curly Poodle-like coat, is often touted as being hypoallergenic.
In reality, there actually is no such thing since all dogs carry some allergens.
However, the plush velvety smooth coat makes this breed relatively low shedding.
They're is known for being wonderfully adaptable and can get along with everyone.
This breed doesn't like too much alone, which can cause separation anxiety issues and nuisance barking.
Chow Chow
Compact and powerful, the eye-catching Chow Chow has a lion's-mane ruff and dignified mien that is sure to turn heads.
As one of the world's oldest breeds, they are known for being intelligent and independent.
You can even get a blue Chow Chow! 
However, they can also be as finicky as cats and suspicious of strangers.
Unfortunately, the Chow Chow is prone to a number of serious health problems, many of which are the direct result of being a brachycephalic breed.
Because of this, some other fluffy dogs may be a better option.
The Great Pyrenees
If you're looking for a dog that resembles a white fuzzy bear, you may want to consider the Great Pyrenees.
This giant breed can weigh over 100 pounds, but despite their size, require only moderate exercise.
The Great Pyrenees were originally bred to guard sheep from predators in the snowy Pyrenees Mountains.
The breed is known for having a mellow demeanor and can make both an excellent companion and attentive guard.
Havanese
Cuba's only native dog breed is an adorable charmer with a gorgeous silky coat — the Havanese.
This breed is affectionate, spirited, and friendly.
They also bond closely with their family so they can become overly dependent and may experience anxiety if no one is home throughout the day. But it can make a great fluffy dogs companion for someone!
Havachon
The Havachon is small in stature but big in personality. And this cross between a Havanese and a Bichon Frise is certainly a hybrid honey.
While you won't know whether your pup will inherit the long silky tresses of the Havanese or the lush powder puff look of the Bichon Frise, fluffy cuteness will definitely abound.
This playful pup can make an alert watchdog and a terrific companion.
Japanese Spitz
This relatively new breed was developed in Japan during the 1920s and 30s.
Standing 12 to 15 inches and sporting a stunning white, double coat, this Nordic dog resembles a large Pomeranian.
The Japanese Spitz is a fairly healthy breed and as an active dog, will want to be part of the family. Is this one of the fluffy dogs for you?
Keeshond
The Keeshond is the Dutch cousin of the Pomeranian relative and exhibits the same foxy face and ample coat.
A distinct feature of the breed is markings around the eyes that give the impression that they're wearing doggy eyewear.
Adaptable, cheerful, and bright, the Keeshond is extremely people-oriented and will need plenty of attention. Otherwise, they could become destructive.
Lhasa Apso
Noble and regal, the Lhasa Apso once served as a sentinel at monasteries and palaces in their native Tibet.
Surprisingly low-shedding, the breed is known for their lavish coat which drapes over each side of their body as it sweeps across the floor.
An overall healthy and long-lived breed, the Lhasa Apso is a hardy little dog in both body and spirit.
They can be playful, but strong-willed. How many fluffy dogs have you fallen in love with so far?
Maltese
Covered from head to toe with a floor-length mantle of long, silky, white hair, the Maltese requires some intensive grooming.
They actually have a single-coat, but it's so long that it can't help but be fluffy.
This toy breed weighs under 7 pounds and is known for being gentle, playful, and curious.
It even comes in a tecup version, but this tiny pup can have some health issues.
Maltipoo
Cross the Maltese with a Poodle and you get the lovable Maltipoo.
This popular mixed breed is fun-loving, affectionate, easy to train, and gets along with just about anyone.
Whether their coat is long like the Maltese or curly like the Poodle, the Maltipoos are sure to be first-class fluffy dogs.
Newfoundland
Once seen, never forgotten, this is one of the world's largest dog breeds — the noble and dignified Newfoundland.
These powerful dogs have a bear-like face and can weigh up to 150 pounds.
But they're so sweet-natured, they've been dubbed the "nanny dog" for their patient temperament around children.
Their long, thick, water-resistant coat is magnificent but will require plenty of grooming and they are heavy shedders.
Old English Sheepdog
Perhaps one of the most iconic shaggy coats belongs to the Old English Sheepdog.
These dogs are so fluffy that their eyes are often obscured.
They sometimes need to wear hairbands or have their hair trimmed to allow them to see!
Unsurprisingly, this breed is prone to matting, which can be quite painful.
But underneath all of that fur is a powerful dog is a comical character devoted to protecting their family.
Is this your favorite of the fluffy dogs so far?
Pekingese
With a regal bearing and adorable rolling gait, the Pekingese has been a laid-back and loyal companion for centuries.
The large short-muzzled head and long hair over their neck and shoulders are quite distinctive, giving them their famous "lion's mane." It also comes in a variety of colors.
However, the same flat face that makes them so cute, also means this brachycephalic dog is susceptible to several associated health concerns including, breathing, eye, and skin problems.
Their conformation also puts them at risk of developing intervertebral disc disease.
Samoyed
We have even more fluffy dogs for you! Hailing from Siberia, the stunning all-white Samoyed is such a friendly dog that they appear to always be smiling.
This large gorgeous breed has a profusely thick white coat designed to withstand the coldest temperatures.
While this is a gentle and affable dog, the upturned corners of their mouth are actually there to prevent them from drooling so icicles won't form on their face.
Shih Tzu
The little "Lion Dog" has been delighting their owners for a thousand years with their sweet expression, charming personality, and of course, that amazingly fluffy coat.
Bred as a lapdog, the Shih Tzu is used to attention but doesn't appreciate being excessively handled.
Unfortunately, this breed also suffers from conformational issues associated with their flat face and long back.
Choosing Your Perfect Fluffy Dog
As you can see, fluffy dogs come in all shapes and sizes.
Depending on your living environment and lifestyle you've probably already determined whether you're looking for a small, medium, or large dog.
However, that certainly isn't the only consideration.
Avoiding breeds with structural problems, like those with brachycephaly, can save you a lot of money and heartache.
While it is true that some dogs shed far more than others, all of these fluffy breeds will require regular brushing to keep their hair from matting.
When you choose to bring one of these fluffy dogs into your life you're also making a commitment to grooming them so that they look and feel their best.
Are you looking for a fluffy companion or have you already found the perfect match? We'd love to hear in the comments below.
References and Further Reading
Cadieu E et al. 2009. Coat Variation in the Domestic Dog Is Governed by Variants in Three Genes. Science. DOI: 10.1126/science.1177808
Butt A et al. 2012. Do hypoallergenic cats and dogs exist? Annals of Allergy, Asthma & Immunology. DOI: 10.1016/j.anai.2011.12.005
Priester WA. 1976. Canine intervertebral disc disease — Occurrence by age, breed, and sex among 8,117 cases. Theriogenology. DOI: 10.1016/0093-691X(76)90021-2
Packer RMA et al. 2015. Impact of Facial Conformation on Canine Health: Corneal Ulceration. PLOS One. DOI: 10.1371/journal.pone.0123827
Koch D et al. 2003. Brachycephalic syndrome in dogs. Compendium on Continuing Education for the Practising Veterinarian – North American Edition.
Get Pippa's free dog training tips delivered to your inbox