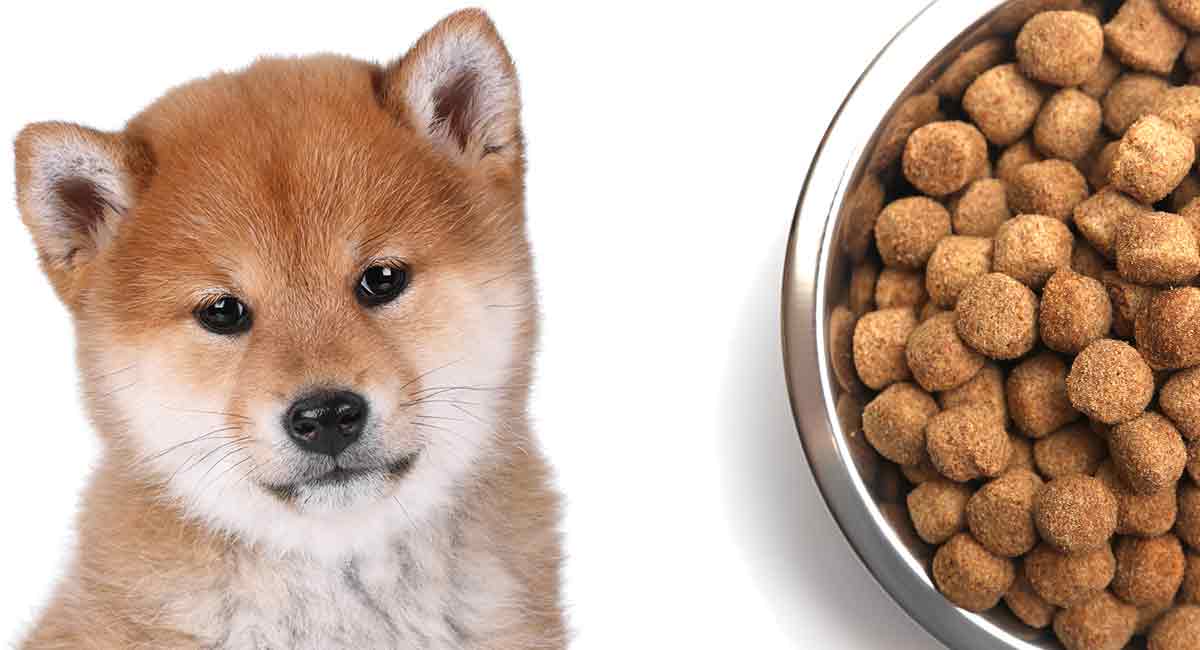 If you're wondering what to feed a Shiba Inu puppy, you've come to the right place.
This beautiful dog bears a distinctly fox-like appearance with lush red fur, erect triangular ears and a sly expression.
Although they are ancient Japanese dogs, they didn't arrive in the United States until 1954.
Already the most popular breed in their homeland, these small and spirited dogs continue to turn heads everywhere they go.
This article will cover everything you need to know about feeding a Shiba Inu puppy, including the right portion sizes, the best dog foods and how often to feed them.
Our goal is to make you feel confident in choosing the best food for your Shiba Inu puppy.
Swapping Puppy Food Brands
For four consecutive weeks after your Shiba Inu puppy arrives, continue giving him the same food the breeder did.
A good breeder will be able to advise you. Some may even give you a supply of the food your puppy's been eating.
It's important to not immediately give your new puppy different food when you bring him home.
You may think that since dogs will eat garbage, feces and just about anything else they can find that they have ironclad stomachs.
In fact, quite the opposite is true.
Dogs' digestive systems are different from ours and can be quite delicate.
They don't crave variety or adapt to different foods the same way we do.
Different foods contain various types of protein, and the amount of fiber and fat can also differ.
An abrupt change in diet can lead to stomach troubles for your Shiba Inu puppy.
Puppy Food Transitioning Schedule
When you do swap your puppy's food, it should be done gradually over a period of about one week.
For the first two to three days,  mix approximately three-quarters of the current puppy food with one-quarter of the new food.
This should be followed by equal portions of the old and new food for the next two to three days.
After this, give him three-quarters of the new food mixed with one-quarter of the old food for the next two to three days.
At this point your puppy's digestive system should be accustomed to the new diet.
However, like people, all puppies are different.
If you have any concerns, or your puppy suffers from diarrhea or vomiting, consult with your vet.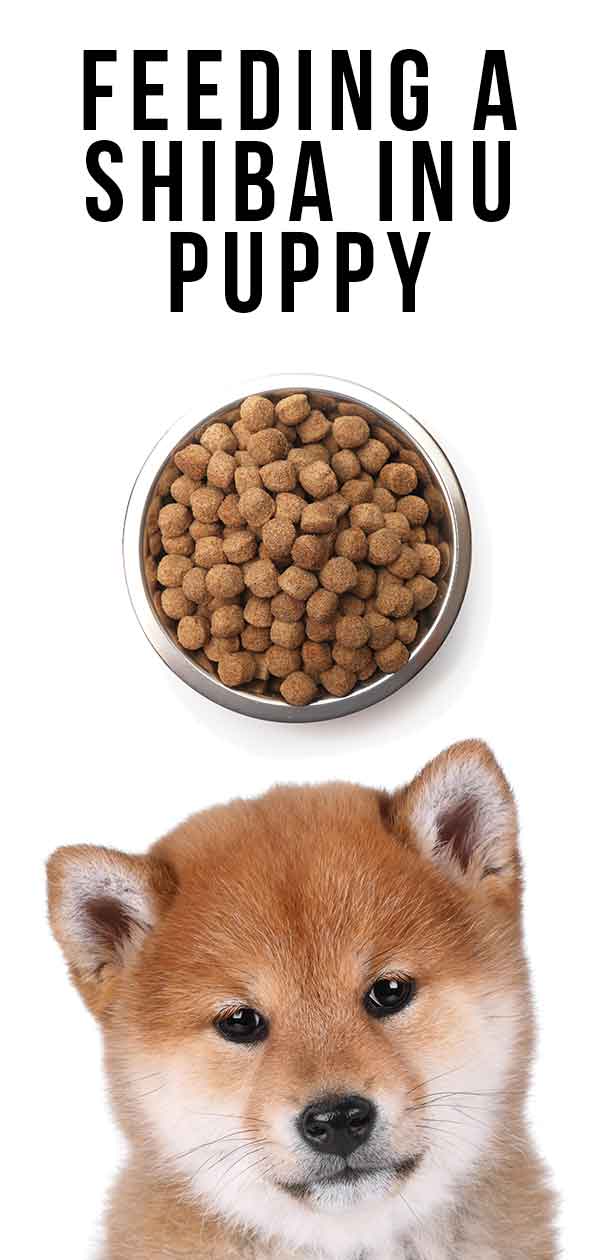 Shiba Inu Puppy Diets
Giving your Shiba Inu the proper puppy diet is vital for his health and development.
Puppy foods are formulated to be high in calories and dense in nutrients.
According to the National Shiba Club of America, you should feed a Shiba Inu puppy a good quality food that has approximately 30 percent protein and 15 percent to 18 percent fat.
Because puppies grow so rapidly, they need the right combination of protein and fat to provide the foundation for strong muscles, bones, tissues and healthy organs.
Failing to give a puppy the right food during the all-important formative years can often lead to health problems as an adult dog.
How Much Should I Feed My Shiba Inu Puppy?
Any puppy food label will give you guidelines on how much to feed your Shiba Inu puppy.
However, it can be a little more complicated than that.
Things like breed, size, age and activity level should factor into the amount of food a puppy receives.
Since this is a fairly small and active dog, he'll have a faster metabolism than a larger, more sedentary breed.
This means he can burn through calories faster and needs more calories per pound than a bigger dog.
The reality is that the amount your Shiba Inu puppy eats can vary quite a bit as he grows.
This is where your veterinarian can advise you on the proper amount to keep your puppy from eating enough, but not too much.
Our guide to fat puppies will also be able to help you realise when your pup is overweight.
Food for Shiba Inu Puppies
If you're looking for puppy food options, here are some that come recommended.
Hill's Science Diet Puppy Healthy Development Dry Dog Food https://www.amazon.com/dp/B003N0SEI4?aaxitk=TwbNXOU-kVhN0pAxQYWcpw&pd_rd_i=B003N0SEI4&pf_rd_p=3ff6092e-8451-438b-8278-7e94064b4d42&hsa_cr_id=8182805940601&sb-ci-n=productDescription&sb-ci-v=Hill%27S%20Science%20Diet%20Puppy%20Food%2C%20Healthy%20Development%20With%20Chicken%20Meal%20%26%20Barley%20Dry%20Dog%20Food%2C%2030%20Lb%20Bag provides antioxidant benefits for a healthy immune system and natural DHA from high-quality fish oil for healthy skeletal development.
Instinct Raw Boost Puppy Grain Free Recipe Natural Dry Dog Food by Nature's Variety
https://www.amazon.com/Instinct-Chicken-Natural-NatureS-Variety/dp/B06XDF7JK6/ref=sr_1_1?ie=UTF8&qid=1549233856&sr=8-1-spons&keywords=small+breed+puppy+food&psc=1 is made with freeze-dried raw cage-free chicken.
This grain-free formula also includes probiotics and omegas.
Purina Pro Plan FOCUS Puppy Canned Wet Dog Food https://www.amazon.com/Purina-Pro-Plan-Classic-Chicken/dp/B000HBAJ4O/ref=sr_1_1?ie=UTF8&qid=1549234441&sr=8-1-spons&keywords=puppy+food+for+small+breed&psc=1 has real chicken as the first ingredient.
It's rich in omega-6 fatty acids for a healthy coat, and helps nourish brain and vision development.
How Feeding Changes as a Shiba Inu Puppy Gets Older
When puppies are still growing, they require two or three times as much energy-producing food as that of an adult dog who weighs the same.
In addition to maintenance and energy, puppies need food for growing.
This gives you an idea of how important it is to give a young dog "puppy" food rather than adult-formulated food.
Smaller dogs like the Shiba Inu mature faster than larger breeds.
However, even when he reaches his adult height, he may not be ready to switch to an adult food.
What to Feed a Shiba Inu Puppy
The Shiba Inu's origins were hunting in the rugged mountains of Japan.
This is an overall healthy and long-lived breed with a life span of 13 to 16 years.
Shiba Inu puppies should do well on any nutritionally well-balanced diet.
There are basically four different diet choices when deciding on what to feed your Shiba Inu puppy.
This includes dry food, wet food, BARF and homemade food.
Let's take a look at the pros and cons of each one.
Feeding a Shiba Inu Puppy Kibble
Dry kibble is a popular choice for its convenience, availability and reasonable price.
And there are certainly a multitude of options.
Make sure you're choosing a high-quality formula that's designed specifically for small-breed puppies.
Look for a good quality animal protein listed as the first ingredient.
It should also contain animal fats and additives like probiotics.
Any carbohydrates should be limited to whole grains, fruits and vegetables.
Check out this article to learn more about the pros and cons of feeding your puppy kibble.
Feeding a Shiba Inu Puppy Wet Food
Some people choose wet puppy food because it tends to taste better, and it decreases the risk of dehydration.
Look for the same high-quality proteins and fats as you would in a kibble formulation.
The downside to wet food is that there's a higher risk of dental decay. It's almost always a more expensive way to go.
Feeding a Shiba Inu Puppy Raw (BARF)
Feeding your dog raw or biologically appropriate raw food (BARF) is a hotly debated topic among dog owners.
This diet typically consists of uncooked meat, organs, bones and raw eggs.
Proponents will tell you that since a dog's short digestive tract and powerful jaws were designed to process carcasses and chew bones, it's a healthier and tastier diet for them.
However, raw meat can carry bacteria like salmonella and E. coli.
A bone splintering could become a choking hazard or cause an intestinal blockage.
It's recommended to consult with your veterinarian before feeding your Shibu Inu Puppy a raw diet.
If you'd like to know more about feeding raw, this article can provide more detailed information.
Feeding a Shiba Inu Puppy a Homemade Diet
In addition to being a plethora of work, it can be challenging to provide your puppy with the proper nutritional balance when serving him a homemade diet.
Although your puppy will undoubtedly find it tasty, if you're planning on giving your Shiba Inu a homemade diet, work closely with your veterinarian to ensure you're providing nutritionally well-balanced meals.
How Much Should I Feed My Shiba Inu Puppy?
Guidelines on labels can be helpful, but finding the exact amount to feed your Shiba Inu puppy may take some trial and error.
Each puppy will have his own unique requirements. This can vary from dry food, wet food and different puppy food brands.
The National Shiba Club of America states that an eight-week old puppy eats approximately one-third cup of moistened dry food three times a day.
The amount of food can increase gradually as he gets older.
At four months, you can reduce meals to twice a day.
An adult Shiba Inu will eat one to one-and-a-half cups of kibble a day, depending on his size and energy level.
Again, these are guidelines, and your veterinarian who is familiar with your puppy will give you the best advice.
Is My Puppy the Right Weight?
To determine that a Shiba Inu puppy is neither overweight nor underweight, feel his ribs, backbone and hipbones.
They shouldn't be visible.
Although hip dysplasia is usually associated with larger breeds, an abnormal formation of the hip socket is quite prevalent in this breed.
Being overweight can exasperate this condition, which leads to arthritis.
Adult dogs who are spayed and neutered can be prone to putting on extra pounds.
Studies have suggested this is due to a decrease in the metabolic rate after surgery.
Although being overweight can cause numerous health conditions including diabetes and cancer, you also don't want your puppy to be underweight.
This can be a sign of other underlying health conditions.
If your Shiba Inu puppy is overweight or underweight, consult with your veterinarian.
My Puppy Is Still Hungry
If you know you're feeding your Shiba Inu puppy enough food, but he's always looking for more, he's probably just being a normal canine.
Dogs are highly motivated by food, and many dogs will gobble down their meals.
There are, however, a number of ways to slow down your puppy's eating.
Puzzle feeders are ingeniously designed to hide the food and make it virtually impossible for your dog to greedily gulp it down.
Slow bowl feeders have a barrier in the center, and the food is placed around it.
Even putting his food in several different bowls will make it harder for him to scarf it all down at once.
Another option is to give him smaller meals throughout the day.
My Puppy Won't Eat
If you've just brought your Shiba Inu puppy home and he won't touch his food, it can be unsettling.
Just remember that everything is new to him, including you.
Give him some time to explore his new surroundings on his own terms.
This is the first time he's been away from his mom and littermates, so he could be quite stressed.
However, if he doesn't eat for more than one meal, or you think he's sick, contact the vet.
How Long Is a Shiba Inu Considered a Puppy?
A full-grown male Shiba Inu stands from 14.5 to 16.5 inches, and weighs approximately 23 pounds.
The female is a bit smaller, measuring from 13.5 to 15.5 inches, and weighs approximately 17 pounds.
Many Shiba Inus reach these dimensions as young as six months old.
However, they're still maturing up to one year of age.
Deciding when to switch your Shiba Inu from puppy to adult food is best discussed with your vet.
When it is time to make the conversion, slowly transition your puppy into his new diet using the same technique you used to change his original food to what he's eating now.
If you have a Shiba Inu puppy, we'd love to hear about what you're feeding him in the comment section below.
References and Further Reading:
Chandler, M., et al., "Obesity and Associated Comorbidities in People and Companion Animals: A One Health Perspective," Journal of Comparative Pathology, Vol. 156, Issue 4, pgs. 296-309
Earle, I.P. 1939, "Nutritional Requirements of Dogs," Yearbook of Agriculture
"Genetic Diversity Testing for Shiba Inu," Veterinary Genetics Laboratory
German, A.J., 2006, "The Growing Problem of Obesity in Dogs and Cats," The Journal of Nutrition, Vol. 136, Issue 7, pgs. 1940S–1946S
Holden, J., "An Introduction to the Shiba Inu (Part 2)," National Shiba Club of America
Middleton, R.P., et al., 2017, "Metabolic Differences Between Dogs of Different Body Sizes," Journal of Nutrition and Metabolism
Schlesinger, D.P. and Joffe, D.J., 2011, "Raw Food Diets in Companion Animals: A Critical Review," The Canadian Veterinary Journal, Vol. 52, Issue 1, pgs. 50–54
Get Pippa's free dog training tips delivered to your inbox