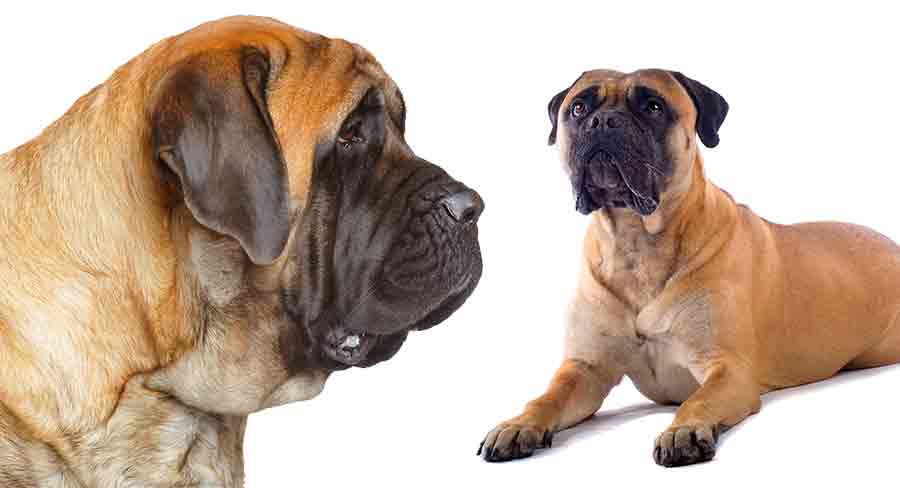 The English Mastiff vs Bullmastiff debate is important for anyone trying to choose between these two large, muscular dogs.
Bullmastiff dogs are slightly smaller than English Mastiffs. But, both breeds often weigh in well over 100 pounds.
Both breeds are protective of and loyal to their close family. So, neither is ideal for a novice owner. Are you ready to find out whether the English Mastiff or Bullmastiff suits you best?
Read on to learn more!
English Mastiff vs Bullmastiff: At a Glance
| | | |
| --- | --- | --- |
| | English Mastiff | Bullmastiff |
| Height: | 27.5 inches and above | 24 to 27 inches |
| Weight: | 120 to 230 pounds | 100 to 130 pounds |
| Temperament: | Loyal, protective, patient | Brave, protective, alert |
| Original Purpose: | Hunting, protection and fighting roles | Guard dog |
| Colors: | Apricot, brindle, fawn | Fawn, red, red fawn, and all of the above with brindle |
| Life Expectancy: | 6 – 10 years | 7 – 9 years |
English Mastiff vs Bullmastiff History
A good place to start when comparing two similar breeds is with their breed history and original purpose! This can have a huge impact on what modern breeds are like, despite being so long ago.
And, it can be interesting to learn about!
So, let's take a brief look into the early years of both of these huge dog breeds.
English Mastiff History
The English Mastiff is also often known as the Old English Mastiff or just the Mastiff. But, it will always have a capital 'M' – not to be confused with general mastiff breeds!
English Mastiffs have worked alongside humans in protective and guarding roles from early on in their history.
In medieval England they would guard estates, hunt large game, and even fight alongside people in wars and battles, such as the Battle of Agincourt.
Modern Mastiffs are not used for such violent purposes. They are much more common as a family pet, but still may occasionally play a role as a family protector or guard dog.
Bullmastiff History
The primary purpose of early Bullmastiff dogs was to protect and guard large estates and game reserves from poachers.
Like the English Mastiff, the Bullmastiff breed comes from and was developed in England.
To achieve this breed, breeders mixed the Mastiff breed with Bulldogs, to create a smaller version of the Mastiff with the same intelligence, bravery and protective instincts.
And, like the English Mastiff, the Bullmastiff is now less common as a guard dog, and more common as a family companion. Although some may still fulfil protective roles.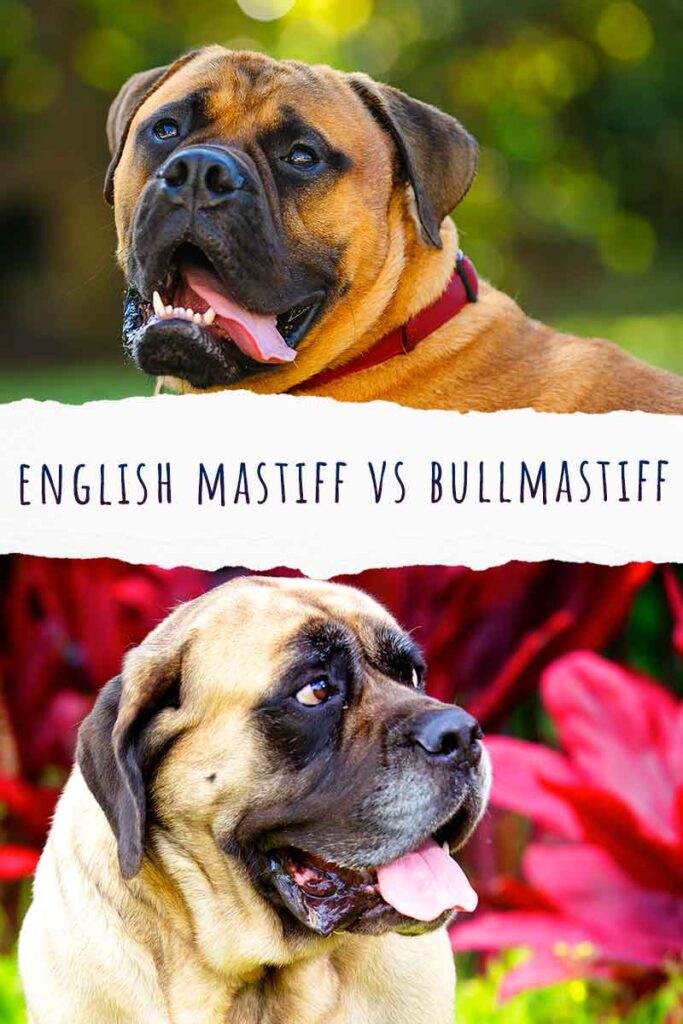 English Mastiff vs Bullmastiff Appearance
Unless you know these two breeds well, you may struggle to tell them apart. Particularly if you come across a rather small Mastiff compared to a larger Bullmastiff!
But, there are some key differences between the two breeds that will help you know which is which when you see them in the dog park.
For starters, they come in slightly different colors. The Mastiff has three standard shades: apricot, brindle and fawn. They can also have a black mask.
On the other hand, the Bullmastiff is a little more varied. They can be fawn, red, red fawn, or any of the above three shades with brindling. Other than a black mask, they can have black or white markings, or a fawn mask.
Other than color, both dogs will have an overall stocky and muscular appearance with a long tail, black nose, and v shaped ears that flop by the sides of their head.
English Mastiff vs Bullmastiff – Which is Bigger?
Size is perhaps the main area in which these two breeds differ. The Mastiff will often be much larger than the Bullmastiff.
In some cases, it could weigh 100 pounds more!
On average, English Mastiff dogs will weigh between 120 and 230 pounds. They will be anywhere from 27.5 inches tall and up. So, expect a huge dog.
Bullmastiffs are still large, but they're smaller than the English Mastiff. They will grow from 24 to 27 inches tall, weighing anywhere from 100 to 130 pounds as adults.
And both are very strong. If you haven't had a large breed before, it may be best to look for something a little smaller to get to grips with the power these dogs can have!
Both will take up a lot of space in your home, but the Bullmastiff is slightly smaller if you're looking for a large, but not giant dog!
English Mastiff vs Bullmastiff Temperament
Both of these dogs are large breeds that could accidentally cause a lot of damage, and both have histories in guarding and protective roles. So, no matter which one you choose, it's important to train and socialize them well from a young age.
Both the English Mastiff and the Bullmastiff will be loyal, brave, and intelligent. They will enjoy spending time with their family, but could be overprotective towards strangers and other dogs.
In general, the English Mastiff is slightly better when it comes to spending time with children and strangers. But, both breeds are similar in their reactions to other dogs.
A lot of your dog's personality and reactions will depend on how well you socialize them as a puppy. With these breeds, socialization to children, strangers, and other animals should be a priority.
Other than this, both breeds are friendly to family, and often eager to please. But, the English Mastiff may be a little more independent.
The Bullmastiff also tends to be more energetic, and less content to laze around. But, both will need exercise each day – which we will come to in a moment!
English Mastiff vs Bullmastiff Training
Both the English Mastiff and Bullmastiff are intelligent breeds with a history of interacting with and working alongside humans, even if this was in a protective or guarding role.
In some cases, the English Mastiff can be a little more independent. But, both breeds are generally eager to please.
Positive reward training is the best way to build a stronger bond with your dog. Particularly breeds that form such strong attachments to their families like these two.
Training should start from a young age for best results. Make sure you keep sessions short, consistent, and engaging.
For more help with training either breed, take a look at our online training courses!
English Mastiff vs Bullmastiff Exercise Needs
These are both large dogs. But, that doesn't mean that you'll necessarily be out exercising them all day. In fact, with breeds as big as this, that can often do more harm than good.
Large dogs take longer to grow into their full size, and are vulnerable to joint problems as they age. So, take care of your dog's joints when exercising, including restricting their access to stairs before three months.
The Bullmastiff is a slightly more energetic breed than the English Mastiff. So, if you're an active household, this breed may be better for you.
However, if you're keen to have some times to chill out, the English Mastiff may be a better choice.
Of course exercise methods can vary. These dogs will both enjoy time outside, but be wary of letting them off leash if they are protective over you, especially if there are strangers or other animals around.
English Mastiff vs Bullmastiff Health?
We all want our dogs to be healthy and happy throughout their lives. And caring for a healthy breed is often easier and cheaper than caring for one prone to several health issues.
Both the English Mastiff and Bullmastiff dogs are prone to various hereditary health issues. Some are common to both breeds – particularly issues that affect giant and large breeds.
Let's take a closer look at the most common health problems that each breed faces, as well as some that both are prone to.
Common Large Breed Health Issues
There are some health problems that are more common in large and giant dog breeds. Generally, these problems revolve around joint health and mobility.
Whether you have a smaller Bullmastiff, or the enormous English Mastiff, your dog may experience the following size-linked health issues:
Hip and elbow dysplasia
Osteochondrosis
Osteosarcoma
Gastric Dilatation Volvulus
Aortic Stenosis
There are steps you can take to reduce strain on your large dog's joints, including avoiding steps until they're at least three months old.
You can also purchase orthopaedic dog beds for older dogs, and helpful ramps for getting into the car.
English Mastiff Health
As well as the health issues above, the English Mastiff breed is prone to some other issues.
The Canine Health Information Center recommends that Mastiffs are tested for autoimmune thyroiditis and cystinuria, as well as receiving an eye examination and a cardiac examination.
Bullmastiff Health
Similarly, the Bullmastiff should receive eye and cardiac examinations. Breeders should test them for autoimmune thyroiditis and kidney disease.
Another potential conformation issue that breeders should be aware of is the Bullmastiff's slightly shortened snout, which comes from its Bulldog ancestry.
Although their shortened face is not as extreme as the Bulldog breed itself, they may still be prone to brachycephaly related issues, including overheating, eye problems, dental issues and breathing difficulties.
Bullmastiff vs Mastiff Lifespan
Both breeds are prone to certain health issues, and both tend to live to around the same age, on average.
However, some studies have suggested that the Bullmastiff breed tends to live longer on average.
One such study found that the average lifespan for a Bullmastiff dog was 7.46 years, with the highest recorded age being 13.5 years.
However, the same study found the average English Mastiff lifespan to be only 6.83 years. The highest recorded age came in at a whopping 16.33 years – which is impressive for any dog as large as this!
So in general, both breeds average out at around 7 years old. But, with good general care and health testing to avoid hereditary issues in puppies, both breeds can live into their teens.
English Mastiff vs Bullmastiff Grooming
The English Mastiff and Bullmastiff breeds are quite similar when it comes to shedding.
Bullmastiff dogs tend to shed seasonally. Owners can keep on top of their short dense coat by grooming once or twice a week. But this frequency will increase during heavy shedding times.
The English Mastiff is similar with one or two heavy shedding seasons. Brush them once or twice a week on average, and potentially more when shedding a lot.
Both breeds tend to get wrinkles of skin on and around their faces. So, when checking ears and nails during grooming sessions, owners should also check and clean those wrinkles!
And, both breeds are likely to drool. Particularly the English Mastiff. So, owners will need to wipe away drool regularly.
Since the proteins that trigger dog allergy symptoms are found in canine saliva, these breeds won't be great for people that suffer from allergies.
And remember, although they don't need frequent grooming, each brushing session can take a while given the sheer size of these dogs!
English Mastiff vs Bullmastiff – Which is Best for Me?
As we said earlier, neither of these two breeds is inherently better than the other. But, one may be more suitable for your lifestyle and home environment.
If you're looking for a dog on the smaller end of the spectrum, the Bullmastiff is a better choice. But, they can have strong guarding instincts, and may be less tolerant of young children and other pets.
The English Mastiff is said to be great with children, but may still be overprotective if not socialized well. And, this breed can live a shorter lifespan on average.
For active families, the Bullmastiff will be more suitable, as it needs a little more daily exercise than the English Mastiff.
But, both breeds need similar amounts of grooming, and similar levels of health testing from reputable breeders.
English Mastiff vs Bullmastiff – Finding Puppies
Once you've decided which breed is best for you, you'll need to think about how you're going to bring one home.
Rescue is always a great option. It's not uncommon to find perfectly healthy and pleasant Mastiffs and Bullmastiffs in rescue centers simply because their old owners underestimated the level of care and space that these huge dogs would need.
Alternatively, you can search for puppies from a reputable breeder. Given the short average lifespan and potential health issues, a reputable breeder is vital.
Choose one that health tests dogs before breeding, and that doesn't make their sole income from selling puppies. Meet the puppies and mother dog before committing, and ask plenty of questions.
You should always avoid puppy mills, pet stores, and backyard breeders, no matter which breed you choose.
Which Breed is Cheaper?
On average, Bullmastiff puppies can be as little as $1500, or as much as $3500. Pricing will depend on the pedigree status, location, demand, and more.
English Mastiff price will also vary depending on a number of factors. Puppies could be as little as $1000, but as much as $3500.
So, since the prices are so similar, it's unlikely this will impact the choice of which breed is better for you.
If you're struggling to afford a puppy from a reputable breeder, rescue is a great avenue to go down.
English Mastiff vs Bullmastiff – A Summary
Do you already have one of these large breeds at home? Or are you still trying to decide which one is right for you?
Let us know whether you prefer the English Mastiff or the Bullmastiff in the comments!
Readers Also Liked
References and Resources
Get Pippa's free dog training tips delivered to your inbox