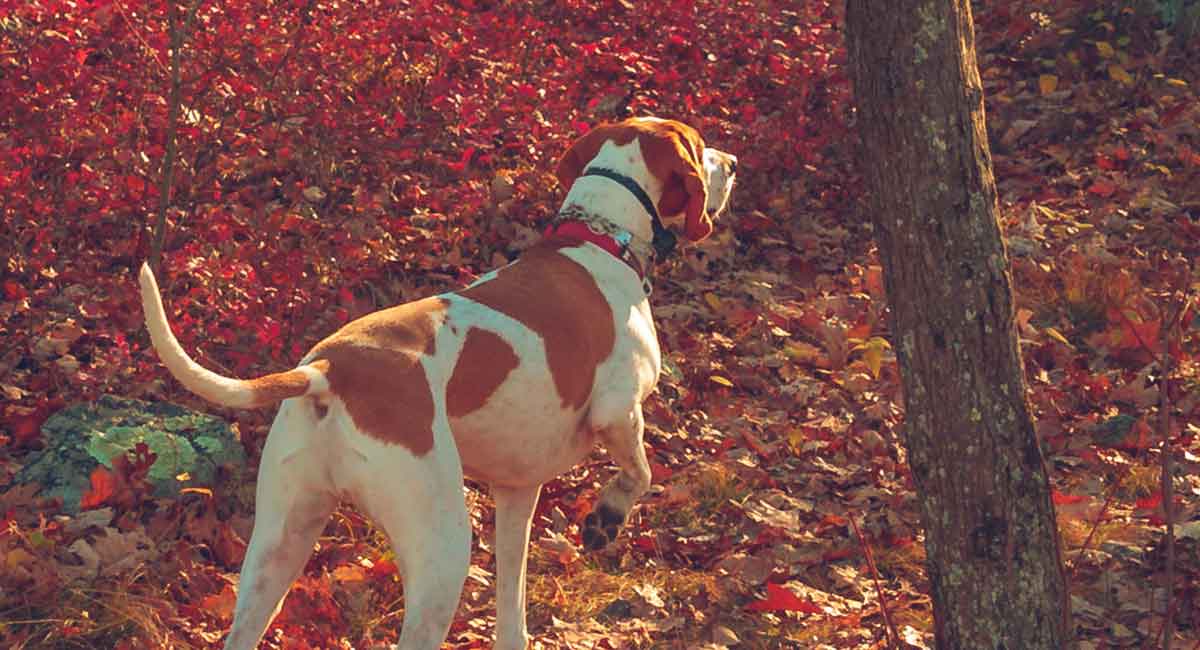 English Coonhounds are popular working dogs with sweet temperaments and an amazing sense of smell.
They also make great companion animals. But, they are only the 175th most popular breed in the US.
These dogs will be from 21 to 27 inches tall as an adult, weighing up to 65 pounds.
Could the English Coonhound be the dog for you? Read on to learn about their history, care, appearance and more.
Where Does the English Coonhound Come From?
The English Coonhound's ancestry can be traced back to dogs belonging to early settlers of the Eastern Hemisphere. Based on the lifestyle of these settlers, it is believed their dogs were primarily used for hunting game.
The breed as we now know it developed from Virginia Hounds. These were a group of dogs bred in the United States from three packs belonging to three hound enthusiasts. One of the packs belonged to President of the United States George Washington.
English Coonhounds were traditionally used to hunt raccoons throughout the night and American red fox throughout the day. But they have become increasingly popular as companion animals.
The breed became recognized by the United Kennel Club in 1905, originally under the name English Fox and Coonhound.
Fun Facts About the English Coonhound
In a 2013 poll, the English Coonhound was voted the 7th most talkative dog breed by American veterinarians.
The breed has the unusual ability to climb trees. This skill has been bred into them to aid hunters when racoons manage to escape up trees.
The breed is sometimes referred to as the American English Coonhound or the Redtick Coonhound.
English Coonhound Appearance
Male English Coonhounds range between 22-27 inches tall. Females are slightly smaller, standing at 21-25 inches tall. Both males and females weigh around 45-65 lbs.
The breed has a strong and balanced build with a deep chest. They are very muscular, allowing them to run fast and hunt efficiently.
Their coats are of medium length and come in a variety of colors. These include redtick, bluetick, white and black, and white and red.
English Coonhound Temperament
If properly socialized, the English Coonhound should have a pleasant and mellow temperament. They are sociable and loving, making them great companion animals.
English Coonhounds are fairly independent but enjoy living in packs due to their friendly nature. This makes them a viable choice for potential owners who have other dogs in the house.
But, they do have strong hunting instincts which can be an issue. They are inclined to chase things and can cause a lot of harm with their scissor bite. If you have small animals or cats, you may want to reconsider.
As they have such warm temperaments, they don't tend to have guarding or aggressive tendencies, but may do if improperly socialized.
Training Your English Coonhound
Although it can be a long process, training is recommended for all dog breeds to make your lives together as easy and enjoyable as possible. English Coonhounds are generally responsive and cooperative. So they shouldn't be too much of a challenge to train.
Potty training should be carried out if it hasn't been already. In the meantime, it's advised that you cover up any carpeted areas and restrict access to rooms you don't want to be used.
Crate training is when you train a dog to become comfortable when kept in a crate or cage. This will be really helpful for car journeys and times when you're not in the house.
Socialization is the process dogs go through during their first weeks of life to make them good companion animals. It works by exposing them to a variety of new stimuli and people at a young age. It helps to reduce fearfulness and aggressive tendencies in the future.
Behavioral training is recommended for English Coonhounds if they've been improperly socialized and are hostile or fearful. They are a powerful breed and can cause severe injuries if aggressive. Positive reinforcement using treats as incentives should be effective.
English Coonhound Health
A dog's conformation is its overall structure and appearance. Defects or exaggerations in conformation can result in health issues and disabilities.
The English Coonhound typically has a healthy conformation, but is genetically predisposed to a few minor health problems. These include hip dysplasia, elbow dysplasia and eye conditions. As they are a deep-chested breed, they are also at risk of experiencing bloat. This is a sudden and potentially fatal stomach condition.
Health Testing
Luckily, there are tests that can be carried out to reduce the risk of getting an unhealthy English Coonhound. For more information on genetic testing, you can visit the Orthopedic Foundation for Animals' Canine Health Information Center.
English Coonhound Lifespan
English Coonhounds have an expected lifespan of 11-12 years, so only get one if you're prepared for a long-term commitment.
Grooming
They do not require much grooming – a brush once a week should be fine. More frequent grooming may be needed during shedding season. As they have long ears, they should be checked for wax and foreign bodies regularly.
Feeding an English Coonhound
The nutritional requirements of an English Coonhound depends on its age, health status and activity levels.
Most will thrive on a high-quality commercial food diet, or you may wish to try a homemade diet that has been vet approved.
Bear in mind that the nutritional requirements of a working dog will differ greatly to dogs who spend most of their time at home. If you are planning on working an English Coonhound, you may want to seek nutritional advice from a vet.
Exercising an English Coonhound
The English Coonhound requires a lot of exercise to meet its high energy needs, making it a good match for someone who is active.
But, you should not take off its leash in public places as it has high hunting instincts.
If you can't provide lots of exercise, this breed isn't for you.
Do English Coonhound Make Good Family Dogs?
The English Coonhound's sweet temperament would fit well into most families. They do well living in packs and would love to be part of yours.
However, they are a very vocal breed so you might have to put up with a bit of howling.
They have strong hunting instincts so might not be a good match for families who have other pets.
Rescuing a English Coonhound
If you're interested in rescuing an English Coonhound, you should contact local shelters and ask if they have any.
Alternatively, you could look into breed-specific rescues in your area.
Finding a English Coonhound puppy
Finding a happy and healthy puppy can be tricky sometimes.
Pet stores and puppy mills where puppies are mass produced are not recommended. Not only are the dogs from these facilities often kept in cruel conditions, but they are likely to be irresponsibly bred too.
Instead, you should try to find a reputable English Coonhound breeder. A responsible breeder will be happy to show you the genetic histories of their dogs and their breeding facilities.
Pros and Cons of Getting A English Coonhound
Cons:
They require a lot of exercise, making them unsuitable for someone who can't provide long walks
This is a fairly large breed so might take up too much space in a small apartment
They need lots of love and attention which might not suit someone who isn't home much
If improperly socialized, they can be aggressive and give nasty bites
Their strong predator instincts can be uncontrollable and won't suit a family with small pets
They are a vocal breed and howl a lot.
Pros:
If properly socialized, they have naturally amazing temperaments
They would be a great match for someone who's active due to their high energy levels
This is a generally healthy breed and rarely suffer from serious health complications
They love living in packs and enjoy being companions.
Similar Breeds
If the English Coonhound isn't for you, you may want to consider similar breeds. Breeds that are similar to the English Coonhound include:
English Coonhound Rescues
USA
UK
Canada
Australia
Please comment below if you know of any more great rescues for this breed.
Is A English Coonhound Right For Me?
If you can provide lots of exercise, the English Coonhound might be the dog for you.
They aren't a good match for someone with small pets or cats due to their high hunting instincts.
They do well living in packs so should be fine living with other dogs.
Only consider getting one if you're ready for a long-term commitment and can invest time into providing exercise.
References and Resources
Get Pippa's free dog training tips delivered to your inbox