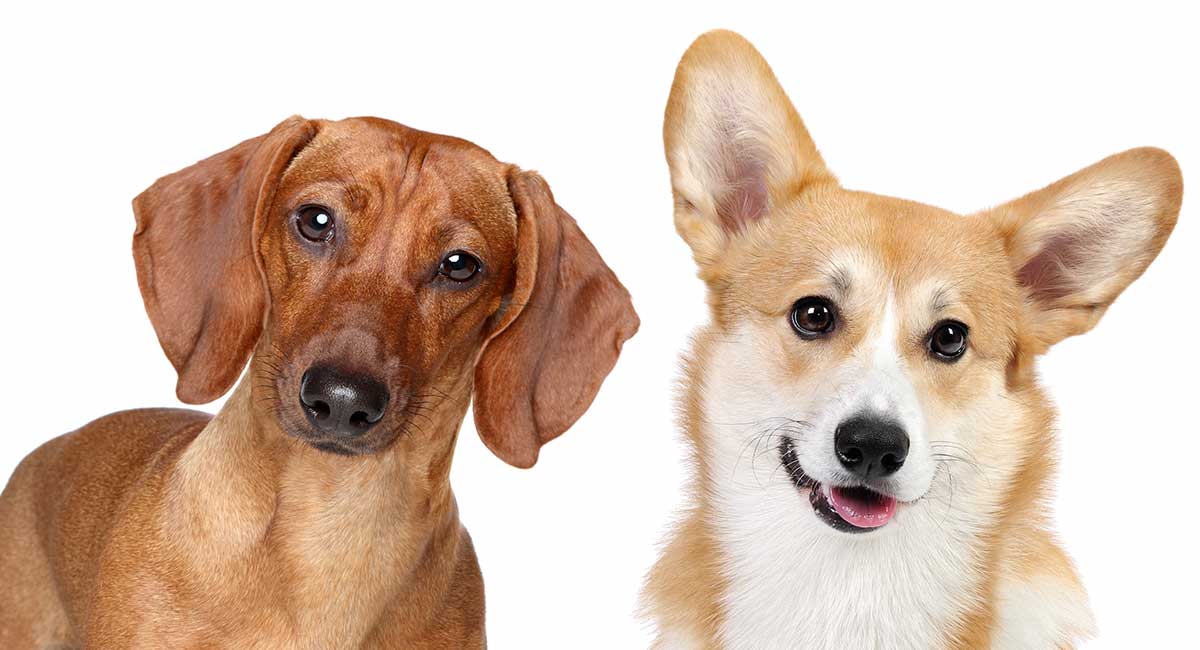 Smitten with the Dorgi?
You're certainly in good company. Fit for a queen, the Dorgi crossbreed has been taken even Her Majesty Queen Elizabeth II by storm!
What is a Dorgi dog, and would he make the right companion for you? Let's take an honest look at the Dorgi crossbreed and find out, shall we?
What is a Dorgi?
Have you ever heard of the Corgi Dachshund mix, Welsh Corgi Dachshund mix, Corgi Doxie mix, or the Corgie Weiner Dog mix?
You may be surprised to learn that all these dogs are one and the same!
Meet the Dorgi!
This Corgie Doxie or Corgi Weiner Dog is simply the offspring of the Pembroke Welsh Corgi and the Dachshund.
Known as a hybrid or a designer dog, the Dorgi was bred to maintain certain characteristics of two very popular breeds, including affection, loyalty, and intelligence!
And while having a cross of our favorite breeds may seem like we are getting the best of both worlds, there is some controversy regarding the matter.
Crossbreeding – The Designer Dog Controversy
While crossbreeding is becoming increasingly popular, there is some debate regarding the practice. Often times these designer dogs are sold by breeders for the same price as purebred dogs.
But why are they so expensive? Aren't crossbreeds and mutts the same thing? It's a good question and certainly part of the debate.
Those who support crossbreeding are quick to point out that while mutts typically have several breeds in their bloodline, crossbreeds are designed to be the offspring of two specifically chosen purebred parents in the hopes of capturing certain qualities from each.
If you're interested in the debate on the differences between a crossbreed and a mutt, feel free to visit this article.
Then there is the matter of health. As most of us know, purebreds are prone to inheriting certain health issues as a result of generations of overbreeding.
Many who support crossbreeding hope that the practice can reduce and even eliminate some of these inheritable health issues.
However, naysayers dispute the claims, insisting that crossbred dogs can be just as prone to certain health conditions as purebred dogs.
Click here to learn more about some other common objections to crossbreeding.
As dog lovers, we are glad there is an ongoing conversation about the health of our beloved canine friends. However, that doesn't stop us from wanting to learn more about the adorable Dorgi!
How Did the Dorgi Come to Be?
The Dorgi is a very popular crossbreed in the United Kingdom as well as the United States. Search "Dorgi queen" online and you'll see why.
After the sad death of Queen Elizabeth's 15-year-old Corgi, Willow, the surviving royal dogs are now all Dorgis!
Still, despite the Dorgi's royal blood and tremendous popularity, his basic roots are still widely unknown.
Luckily, we can learn more about his history by looking into the pasts of his purebred parents.
Beginnings of the Pembroke Welsh Corgi
The Pembroke Welsh Corgi's story begins in medieval times. It was customary for European kings to flaunt their wealth and abundance to visitors in hopes of enticing them to move to their kingdoms.
During one such "talent raid" in 1107, Flemish weavers relocated to Britain via an invite from Henry I. These weavers brought with them many of their prized possessions, including the dogs they bred especially for herding livestock.
These stocky, short-legged dogs are now believed to be the ancestors of today's modern-day Pembroke Welsh Corgi.
Do not confuse the Pembroke Welsh Corgi with his cousin, the Cardigan Welsh Corgi. These two have been considered separate breeds since the 1800s!
One way to tell the two apart is by looking at the ears and tail. The Pembroke Welsh Corgi has a short tail and pointed ears, while the Cardigan Corgi has rounded ears and a long tail.
Today, the modern-day Corgi is a beloved staple of the UK, famous for being Queen Elizabeth's favorite companion breed since 1933.
According to the American Kennel Club (AKC) the Pembroke Welsh Corgi ranks at number 18 out of 194 on the list of America's most popular dog breeds!
Beginnings of the Dachshund
A working dog through-and-through, the tiny, German-born Dachshund was bred for surprisingly dangerous work!
Believed to be over 600 years old, this breed was created to dig into badger holes and help their hunting masters locate the hole's inhabitant. It was daunting and treacherous work, as anyone who knows anything about badgers can imagine.
Still, bravery and resiliency are some of the Dachshund's strongest attributes, as well as his signature, hound-like bark.
Several variations of these tiny, long-bodied dogs are now available thanks to the breeding practices and needs from when the breed was in his working days.
Along with the standard short, smooth coat, Dachshunds also come with long-haired as well as wire-haired coats, both of which came in handy when the Dachshund worked in harsher, chillier conditions.
There are also various sizes of the Dachshunds breed due to the different types of work they were once needed for.
Amazingly, some larger packs of Dachshunds were said to be used to hunt down wild boar!
Today, there are two size varieties of the Dachshund, including standard and miniature.
Welcomed by the American Kennel Club in 1888, the Dachshund is listed as the 13th most popular dog in the US!
Putting the Two Together
Considering the popularity of both the Pembroke Welsh Corgi and the Dachshund, it's no wonder breeders thought of combining the two!
But what does the Dorgi crossbreed look like, how tall will he be, and what about his health or temperament?
What is the Dorgi's Typical Size and Weight?
Because the Corgi Dachshund mix is a crossbreed, his size and weight could vary depending on which purebred parent he takes after most.
The Pembroke Welsh Corgi, for example, stands about 10 to 12 inches tall and can weigh up to 30 pounds!
The Dachshund, on the other hand, comes in two size varieties, as previously mentioned. The two sizes include:
Standard: the standard Dachshund will be about eight to nine inches tall and weigh around 16 to 32 pounds
Miniature: a miniature Dachshund is quite tiny, growing to be about five to six inches tall and weighing under 11 pounds.
So, how big will your Dorgi be? Since he is a crossbreed, it is all going to be left up to chance and genetics!
What Does the Dorgi Look Like?
Unfortunately, it's going to be just as difficult to pinpoint exactly what your Dorgi crossbreed will look like as it is to determine just how big he is going to get once he is full grown.
Since the Dorgi is a hybrid dog, his coat and body type could vary.
While it is true that both the Pembroke Welsh Corgi and the Dachshund have long bodies and short legs, there are some big differences in their appearance.
For one, the Pembroke Welsh Corgi has a stockier body and tends to be a bit bigger than the Dachshund. He has erect, pointed ears and a short, docked tail.
The Pembroke Welsh Corgi's coat is generally short, dense, and very soft. He comes in four standard colors and usually has white markings on his chest, face, and paws. The Standard colors include:
Red
Sable
Fawn
Black and tan
On the other hand, the Dachshund has three possible coat varieties, including:
All coat varieties come in a number of colors, including:
Black
Black and Tan
Tan
Chocolate
Blue
Chocolate and Cream
Red
Cream
Keep in mind that since the Dorgi is a cross between the Pembroke Welsh Corgi and the Dachshund, his coat and body type could vary depending on the purebred parent he takes after most.
Personality and Temperament of the Dorgi Crossbreed
Since both the Pembroke Welsh Corgi and the Dachshund are known for their courage, intelligence, and affectionate dispositions, it's likely the Dorgi temperament is going to be similar.
But what other traits could your Dorgi inherit from his purebred parents?
Well, if he favors his Pembroke Welsh Corgi heritage, expect him to be alert, agreeable, playful, and very easy to train!
The Pembroke Welsh Corgi is a big dog in a small package! He makes an excellent watchdog and can be rather vocal, with a louder bark than one might anticipate for such a small body.
The same goes for the Dachshund! Remember that hound-like bark we discussed above? Don't be surprised if your Dorgi cross inherits this from his Dachshund parent.
Your Dorgi could also inherit a Dachshund's plucky nature and inquisitive mind. The Dachshund's long body means he may not be the most athletic of the dog breeds, but that doesn't stop him from enjoying lots of play time!
However, keep in mind that if your Dorgi favors his Dachshund's personality, he could be a bit more stubborn and therefore slightly more difficult to train.
While both the Corgi and the Dachshund are known to make wonderful family pets and do well with children and other household animals, we always like to recommend early socialization and obedience training.
Ensuring your Dorgi is well socialized early on and has basic obedience training will help him to grow up to be more adaptable and well-rounded.
Always remember that when training your dog, patience and the positive reward system work best!
What is Grooming & General Care for a Dorgi Like?
Since the Dorgi is a cross between the Pembroke Welsh Corgi and the Dachshund, his coat is going to vary.
While the Pembroke Welsh Corgi has a coat that is thick and soft, he sheds and will benefit from a good brushing a few times a week.
The Dachshund, on the other hand, has a coat that comes in three varieties. This means you could wind up with a Corgi long-haired Dachshund mix, or a Dorgi short haired mix.
It's all going to be left up to chance. Regardless, for the most part, your Dorgi will benefit from brushing two or three times a week with a wire-bristle brush or comb.
Even if you have a long-haired Dorgi or a wire-haired Dorgi, grooming should still be rather easy. However, if he is a heavier shedder like his Corgi parent breed, you may want to consider daily brushing to keep loose hair at bay.
For the most part, Dorgis are clean and will only require occasional bathing. We still recommend regular cleaning of your Dorgi's ears to avoid ear infection and waxy build up.
You should also make sure and trim your Dorgi's nails regularly to reduce the chances of painful cracking and splitting.
Also, both the Corgi and the Dachshund can be prone to obesity, so a high-quality dog food specific to your Dorgi's size, age, and weight is recommended for optimal health.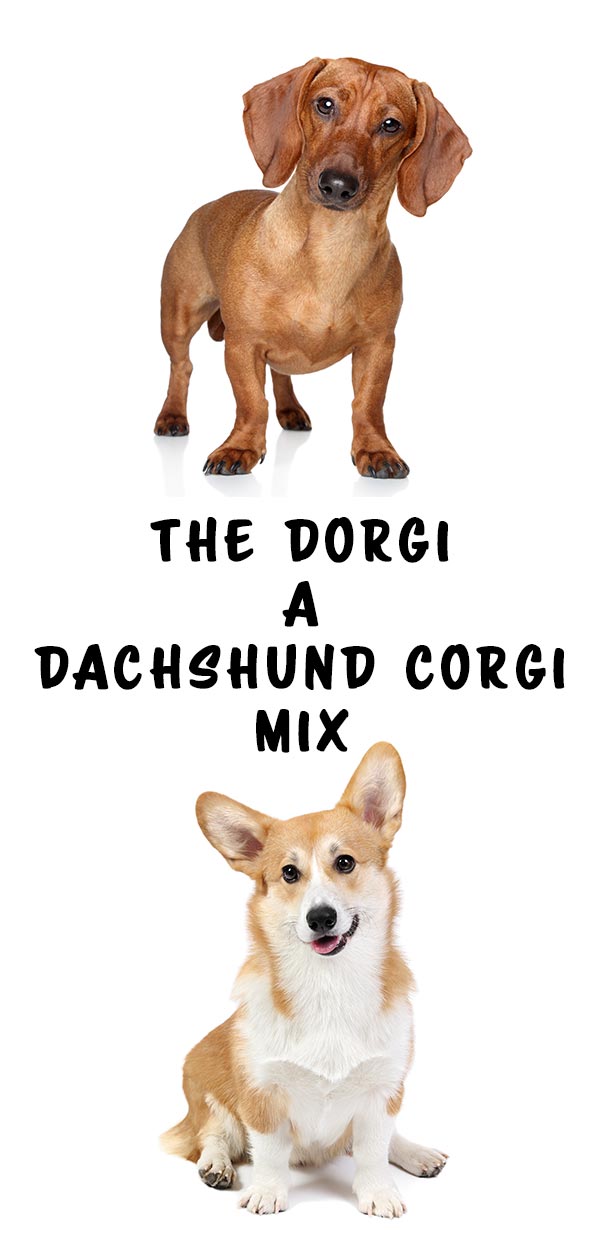 Dorgi Exercise and Training Requirements
The Dorgi is the offspring of two working dogs, so he will be happiest learning new tricks and performing "doggy jobs."
Both the Corgi and the Dachshund are active breeds, so your Dorgi will likely benefit from brisk walks or jogs. He will likely require at least 30 minutes of daily exercise to keep him happy and healthy.
While his Corgi parent is intelligent and therefore easy to train, he is a sensitive breed who does not respond well to harsh scolding. Your Dorgi could also be sensitive, or he could be more stubborn, like his Dachshund parent.
Either way, keep training positive and use treat-based rewards! Those always work best.
Average Lifespan and Health Issues of the Dorgi Mix
The Corgi Dachshund mix health problems are going to depend on what he inherits from his purebred parents. For that reason, it's important to take a look at what the Pembroke Welsh Corgi and the Dachshund are most predisposed to.
With a lifespan of 12 to 13 years, the Pembroke Welsh Corgi is prone to intervertebral disc disease, hip dysplasia, epilepsy, degenerative myelopathy, lens luxation, von Willebrand's Disease, progressive retinal atrophy, and urinary stones.
The Dachshund, with a lifespan of 12 to 16 years, is most predisposed to intervertebral disk disease, acanthosis nigricans, hyperthyroidism, eye problems, skin issues, and obesity.
A prospective owner of the Dorgi crossbreed should also be aware that both the Corgi and the Dachshund have achondroplasia, which is a form of dwarfism.
While achondroplasia does result in their adorably short legs, it can also be the cause of serious health issues throughout their lifetime. Since both the Corgi and the Dachshund have achondroplasia, so will their Dorgi offspring.
Be aware that health issues as a result of achondroplasia are spinal deviation, bowing of forelimbs, constricted nostrils, enlarged joints, poor skeletal growth or lack of skeletal growth, and abnormal bone shape.
For your Dorgi to have the best shot at a long and healthy life, we recommend early health screening to help prepare for or even avoid certain health issues in his future.
Will A Dorgi Fit into My Lifestyle and Home Type?
Dorgi dogs make excellent family pets and they get on well with other household animals! They love being around their people and make wonderful companions for singles as well.
They are adaptable to most home environments, although they would thrive in homes with fenced backyards where they can be free to explore and play.
If you are looking for a family-friendly dog who is affectionate, loyal, playful, and curious, then look no further.
The Dorgi may be right for you!
Making The Decision
Dorgi puppies are very popular and therefore easy to come by. However, before you consider looking only at Corgi Dachshund mix puppies, we invite you to look at other breeds who are similar yet don't suffer from achondroplasia.
As we've now learned, achondroplasia is inherited dwarfism purposefully bred into these breeds. While it is adorable and one of the Dorgi's most prominent qualities, it can also be the catalyst to some major health concerns.
When considering buying Corgis, Dachshunds, or any Corgi Dachshund mix dogs, it's important to keep in mind that you are buying a dog that was specifically bred with certain health issues.
Some other breeds with temperamental traits similar to the Dorgi cross would be breeds like the Labrador Retriever, the Maltese, or the Beagle. All three breeds are family friendly, intelligent, and very affectionate.
Where To Find A Dorgi Puppy
However, if you simply can't help yourself and have your heart set on a Dorgi, you may want to consider going through a Dachshund Corgi mix rescue.
One benefit of going through a rescue or shelter is price. Adoption fees are usually a fraction of what breeders will charge, running you no more than $50 to $100. Furthermore, shelters almost always cover the initial vet fees!
Or, if you truly have your heart set on a Dorgi breeder, we recommend doing plenty of research to make sure you are looking at Dachshund Corgi puppies from a responsible and reputable source.
Keep in mind that Dorgi breeders could charge anywhere from $500 to even $1000 depending on the parent breeds and if they are show quality or not.
Some benefits of going through Dorgi breeders include early health screenings. Most reputable breeders will be able to offer certificates proving their dogs have been tested and are healthy and ready to go home with you.
Whichever route you choose to take when getting your Dorgi or a dog like him, we advise that you do lots of research and always make sure you are going through the best sources.
Have you found a Dorgi or a dog like him that you love? Tell us about him in the comments below!
References
Borbala Turcsan, Adam Miklosi, Eniko Kubinyi, Owner Perceived Differences Between Mixed-Breed and Purebred Dogs
Tiffani J Howell, Tammie King, Pauleen C Bennett, Puppy Parties and Beyond: the role of early age socialization practices on adult dog behavior, Volume 6, pages 143-153
Nathan B Sutter and Elaine A Ostrander, Dog Star Rising: The Canine Genetic System, Nature Reviews Genetics, Volume 5, pages 900-910
Lowell Acumen DVM, DACVD, MBA, MOA, The Genetic Connection: a Guide to Health Problems in Purebred Dogs, Second Edition, 2011
Purebred Vs Mutt-Common Objections to Mixed Breed Dogs
Carol Beuchat Ph.D., The Myth of Hybrid Vigor in Dogs…Is A Myth
Get Pippa's free dog training tips delivered to your inbox