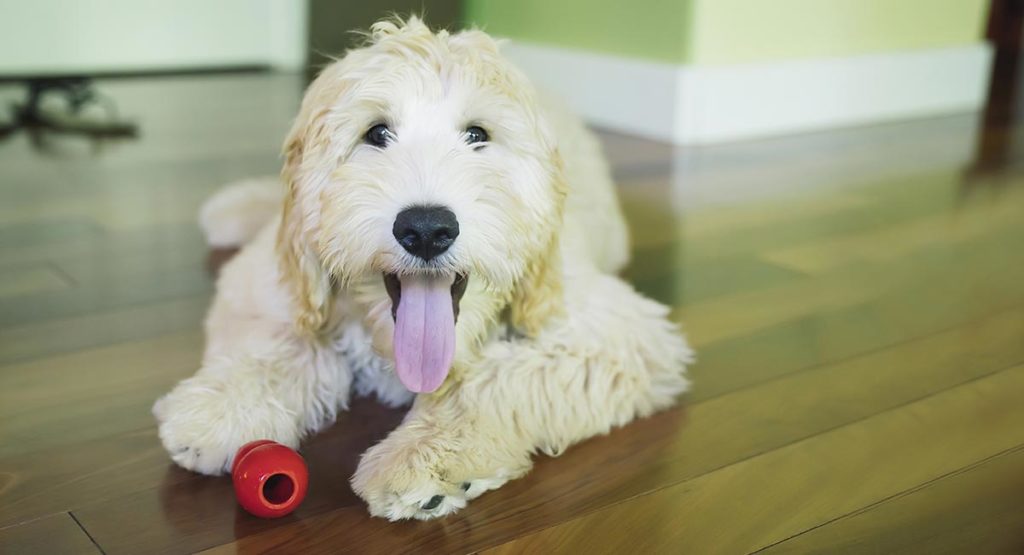 The Doodle Dog is a cross breed with one Poodle parent.
This trend started with the creation of the Cockapoo in the 1950s. But, Doodle dogs have just gained popularity ever since!
In recent years, Doodles have become increasingly popular. They are loved by celebrities and ordinary families alike.
Read on for some interesting facts about Doodle dogs to wow your friends and family!
But First Some History…
In the 1950s, the Cockapoo, a cross between the Cocker Spaniel and Poodle, was first produced and became immediately popular.
Then, in the 1980s, Australian breeder Wally Conron was struggling to find the right guide dog for a client of his whose husband was terribly allergic.
He came up with the idea of crossing a Labrador Retriever with a Poodle. And the result was a pooch he called the 'Labradoodle.'
The Labradoodle was an immediate success. And it wasn't long before other Doodle dogs started to appear.
Read on to discover just some of the many reasons Doodles make great pets!
1. They're Cute!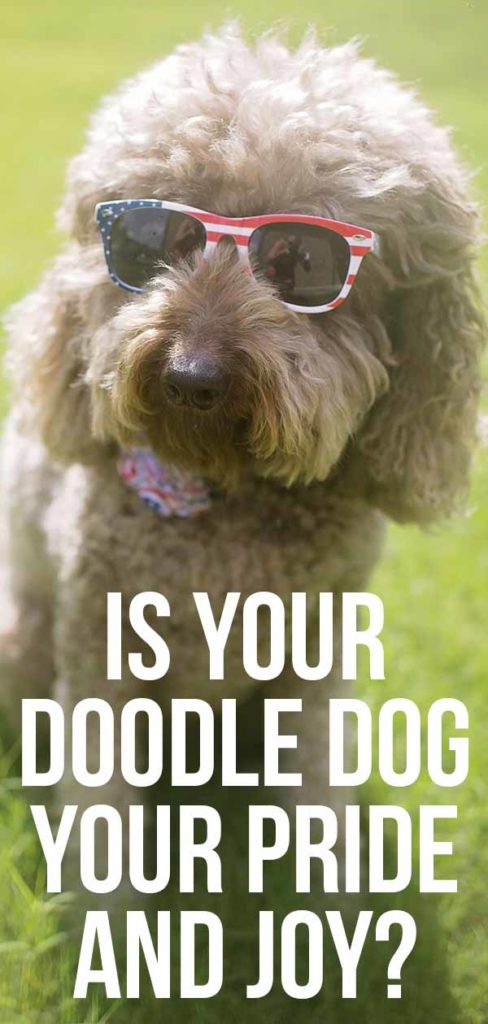 There's no doubt about it: Doodles are some of the cutest dogs around.
2. Doodles Have Adorable Names
As if the dogs themselves aren't cute enough, Doodles also have pretty adorable names.
Some examples are the Westiepoo, the Schnoodle, the Havapoo, and the Whoodle.
3. Doodles Can Be Low-Shedding
Contrary to popular belief, Poodles- and, hence, Doodle dogs- are not naturally 'non-shedding'.
They do shed fur.
But, when Poodles shed the fur becomes trapped within the coat, rather than falling to the floor. This is thanks to their short, curly coat.
And can be a big plus for house-proud owners!
4. Doodles Can Be More Allergy-Friendly
The claim that Doodle dogs are 'hypoallergenic' is not true. Despite what many breeders claim the contrary!
The myth comes from the assumption that a dog's fur or hair is what causes allergies.
Doodles are indeed low-shedding owing to their curly fur-trapping coat. So, many people mistakenly believe they must therefore be 'hypoallergenic.'
So What Does Cause Allergies?
But allergies are, in fact, caused by protein molecules found in urine, sweat, saliva and 'dander'
The danader—or tiny particles of skin that are shed alongside fur—can become airborne and cause allergic reactions when you inhale them.
This means that Doodles, like all dogs, have the potential to trigger allergies in some people.
However, each person's immune system is unique. And so too is each dog's chemical profile.
Studies on Allergies
Many studies into dog allergies have focused on the allergen Can F1. This is the protein responsible for around 50% of allergies.
However, Can F1 is just one of many proteins in dog urine, sweat, saliva and dander.
Others include Can F2 and albumin, which are known to trigger allergies in around one-third of sufferers.
Anecdotally, low-shedding breeds are often reported as being better for those with allergies.
But the truth is that dogs, like people, are unique. So, their chemical make-up varies even within one breed.
Can Doodles Trigger Allergies?
Since many Doodles are low-shedding, they are less likely to trigger allergies.
Plus, research suggests washing your dog twice a week can significantly reduce levels of airborne allergens.
Ultimately, it's down to individual chemistry. Hence, it's important to spend time with any pup you're considering bringing home.
5. Doodles Come In All Shapes and Sizes
Whether you're looking for a big dog, a tiny dog, or a pooch somewhere in-between, there's a Doodle which fits the bill.
A Doodle's Poodle parent may be standard, miniature, or toy-sized. This will affect the size of their offspring, as will the size of the non-Poodle parent.
6. There's A Doodle To Suit Your Space
Owing to the huge variation in the size of Doodles, even owners with limited space can find their ideal companion.
Smaller Doodles such as the Yorkiepoo, Chipoo, and Maltipoo can thrive in smaller spaces, such as apartments.
Larger, more energetic Doodles, such as the Labradoodle or Weimardoodle are a great choice for owners with larger homes with outside space.
7. There's a Doodle To Suit Your Activity Level
As we know, Doodle dogs vary greatly in size. They also vary in terms of how much exercise they require.
This is great news for owners who may have limited mobility. Mixes such as the Cavapoo and Shih Poo are known to relish the lapdog life.
While they require daily exercise, they are happy with 2 or 3 shorter walks each day, rather than long, strenuous hikes.
More active owners, and/or those who enjoy spending a lot of time outside will find a great companion in Doodles.
These clever pups relish having a job to do. They're happiest when engaged in physical activity with their owners.
8. There's A Doodle To Suit Your Climate!
Doodle dogs have been bred around the world.
Bernedoodles, Husky poodle, and St Berdoodles are all bred from dogs used to ice and snow.
This makes them a great choice for owners living in colder regions.
And what better way to stay warm on a cold winter's day than by snuggling with an adorable Doodle?
Conversely, Labradoodles, Cockapoos, Schnoodles, and Aussiedoodles, among others, can tolerate hotter weather.
If you live in a warmer climate, this kind of Doodle could be right for you.
9. Doodles Vary In Color And Markings
They say variety is the spice of life. And this is certainly true for Doodle dogs!
The Maltipoo, for example, resembles a teddy bear.
Mainly because of the 'button' nose and eyes and the soft pastel coloring—for example, white, cafe au lait, or apricot—of their Poodle parent.
Dalmadoodles usually have some variation of the famous spots of their Dalmatian parent.
While Irish Doodles have a unique red coloring inherited from their Irish Setter parent.
This huge variation is just one of the many reasons Doodles are so intriguing and appealing!
10. They're Intelligent
Poodles have a reputation for being smart.
In one study measuring canine intelligence in terms of trainability, they were second only to the Border Collie!
With one Poodle parent, Doodle dogs are likely to be smart pups. Especially if their non-Poodle parent is also known for intelligence.
For example, the German or Australian Shepherd!
Owners interested in agility, tracking, or obedience training with their pup will find many types of Doodle willing and able companions.
11. Doodles Are Generally Good With Kids
For owners with young children, Doodles can be a great choice.
Certain Doodles in particular are known for being gentle and loving with children.
The Labradoodle combines the lovable nature of the Labrador with the intelligence of the Poodle, resulting in a fantastic family dog.
Similarly, the Goldendoodle is also known for his gentle nature and is a great option for families with kids.
Bernedoodles can also make great family pets, as they take after their St Bernard parent.
This breed is often referred to as a 'nanny dog' because of his patience with children, as immortalized in 'Peter Pan'.
12. Doodles Can Get Along With Other Animals
Do you have other pets in the home? Worried about how a new pup would fit in?
Here's some great news: many types of Doodle dog get along well with other animals.
Doodles with a low prey drive parent are your best bet when you have other animals in the home. Labradoodles, Maltipoos and Bich Poos are all great options.
Doodles with a terrier parent are more likely to retain a high prey drive. So, they might not be the best fit for owners with cats or smaller animals.
In all cases, socialization is a key part of helping your Doodle dog become accustomed to other animals.
13. Doodles Make Great Service Animals
Goldendoodles are often trained as service animals, due to their gentle, friendly and intelligent nature.
Doodles perform vital roles within our communities.
For instance, working as seizure alert dogs, diabetic alert dogs, Autism dogs, companions for the elderly, and therapy dogs.
If you're in need of a service dog, a Doodle dog could very well be up to the task.
14. Doodles Are Generally Easy To Train
Doodles inherit intelligence and trainability from their Poodle parent.
Hence, most types of Doodle dog are people-pleasers and respond well to consistent, positive, reward based training.
Parent breeds such as the Shih Tzu, Chihuahua, and types of Terrier can exhibit a stubborn streak.
As with any mix, there's always the possibility a Doodle dog with one such parent may display a similar temperament.
However, with consistent training from an early age these pups can become well-trained, happy members of the family.
But be sure to place more emphasis on rewards or positive reinforcement.
15. Doodles Can Be a Great Option For First Time Dog Owners
If you've never owned a dog before, it's best to start with a pup known for having a friendly, affectionate temperament.
And one that is responsive to training.
Easy going people pleasers such as the Labradoodle, Goldendoodle, Cockapoo, Cavapoo or Maltipoo can be a great choice for first time owners.
16. Doodles Are Social And Love To Play
Doodles inherit intelligence and inquisitiveness from their Poodle parent.
Hence, Doodles generally love to play and interact with their families.
In fact, most Doodle dogs will be happier in homes in which they get to spend a lot of time with their people and are not left alone too long.
17. Doodles Love To Swim!
Many people tend to think of Poodles as pampered pooches from France. However, the breed was actually developed in Germany as a working dog.
In fact, poodles were used for duck hunting. Their name derives from the German word 'pudel' meaning 'to splash in the water'.
The elaborate shaved hairstyles we associate with Poodles were originally introduced as a way to streamline the dogs in water.
While still keeping them warm.
Hence, it's no surprise that Doodles often inherit a love for swimming!
If you love to be by the water, a Doodle dog might just be the perfect companion.
18. Doodles May Benefit From Hybrid Vigor
When a pup has two different breed parents, you can't guarantee of exactly which features and personalities will shine through in the resulting mix.
Enthusiasts of purebred dogs are fond of the greater consistency and predictability that comes with a purebred.
Although evidence suggests mixed-breed dogs benefit from something called hybrid vigor.
Moreover, research suggests that purebreds are more susceptible to inherited diseases than mixed breeds.
This is because purebreds suffer from problems associated with inbreeding within a limited gene pool.
What This Means for Doodle Dogs
Hence, Doodles may gain an advantage, health-wise, over their purebred counterparts.
That being said, it's important to remember hybrid vigor does not eliminate the potential for disease.
It's also essential to find a reputable breeder. Unfortunately, there are breeders out there engaging in irresponsible practices.
And this affects the long term health of their puppies.
19. Doodles May Enjoy a Longer Lifespan
Some breeds, sadly, have shorter lifespans.
Indeed, among large and giant dog breeds such as the St Bernard, a lifespan as short as 7–9 years is common.
However, mixing breeds to create a Doodle dog can lengthen a pup's lifespan.
For example, the Bernese Mountain Dog has a lifespan of 8.4 years on average. Whereas, the Bernedoodle has an average life expectancy of 10 years.
20. Doodles Can Make Good (But Gentle!) Watchdogs
Many types of Doodle dog, such as the Bich Poo, are known to be enthusiastic barkers.
While excessive barking can be a problem, owners looking for a watchdog might find this tendency to be a real advantage!
Doodles tend to be too gentle to act as real guard dogs. They'd be more likely to lick an intruder than growl at them! But they can make great watchdogs.
21. Doodles Are Affectionate
Many Doodles are known for their loving, affectionate nature.
They're equally happy snuggling on the sofa as they are accompanying their owners on long walks and outdoor activities.
If you're looking for a dog with lots of love to give, a Doodle could be your perfect match.
Have you found your perfect Doodle dog? Share your story in the comments below.
Other Guides You'll Enjoy
References and Further Reading
Get Pippa's free dog training tips delivered to your inbox