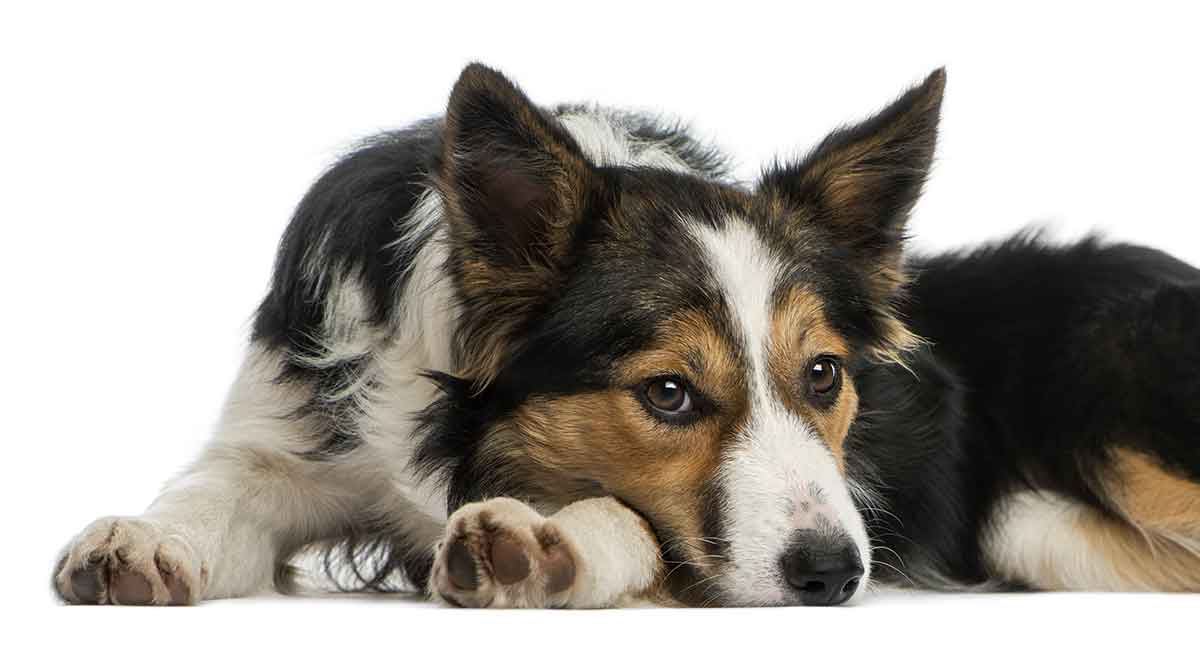 Does your dog have separation anxiety? What makes certain dogs more prone to this stressful condition than others?
A recent study on separation related behaviors in Labrador and Golden Retrievers in Australia sheds some new light on a common canine behavior problem.
It turns out there are several factors that make a dog more likely to suffer from separation anxiety.
Did you know that neutering can make a big difference? And whether you acquired your dog from an animal shelter or a breeder?
Before we look at the study data to determine – does a neutered dog miss you more? – here's a quick overview of separation anxiety.
What is attachment in dogs?
Because dogs are social animals, they form strong attachment bonds with their human companions.
Studies on the dog-human bond suggest that in addition to a dog's natural pack bonding instincts inherited from its wolf ancestors, we have selected for strong attachment behavior in our dogs over the years.
Whether they are pampered lap dogs or work alongside us outdoors, the bond we share with our dogs is strong.
Like the different types of human attachment styles outlined in psychology, dogs have different levels of attachment as well.
While many dogs have healthy levels of attachment, others have attachment disorders. The most common attachment issue in dogs is separation anxiety.
What is separation anxiety in dogs?
How do dog behavior experts define separation anxiety?
Dogs with separation anxiety suffer from emotional distress when their human companion is not present.
This distress can take the form of one or more of these separation related behaviors:
Excessive barking or whining
Destructive behavior
Self-harm (such as chewing or licking)
Inappropriate elimination
Loss of appetite
Restlessness and pacing
Excessive panting, cowering, drooling, or lip-licking
Keep in mind that some of these behaviors could be rooted in medical, behavior, or training issues that are not related to separation anxiety.
It's always a good idea to check with your veterinarian to rule out medical causes such as diabetes or gastrointestinal problems.
Boredom and poor house training can also lead to some of these symptoms, so be sure to consult with a dog behavior expert for advice.
Factors that influence separation anxiety
There are many causes of unhealthy attachment and separation anxiety in dogs. What are the most noteworthy risk factors for separation anxiety?
The Australian Retriever study found that sex and reproductive status can be a significant factor in separation anxiety.
The researchers found that neutered males are 4.6 times more likely to suffer from separation anxiety than intact males.
In fact, neutered males are also more likely to display separation related behaviors than both spayed females and intact females.
In contrast to males, there are no significant differences between spayed and unspayed females.
Where your dog came from can also be a factor
Dogs that were acquired from assistance dog organizations were found to have the lowest levels of separation anxiety.
This is likely because these dogs have undergone extensive training and socialization from an early age.
Dogs that came from animal shelters, rescue organizations, or pet stores are more likely to suffer from separation anxiety than dogs acquired from breeders or friends.
The most common separation related behaviors exhibited by dogs in the study are pacing, barking, and whining.
These behaviors are most often triggered by separation from owners and other companion dogs, as well as changes in environment (such as moving to a new house or staying at a boarding facility).
How you can help your dog with separation anxiety
Because so many dogs can be prone to separation anxiety, there is a large amount of information available on the issue.
What's the advice for owners of dogs with separation anxiety?
Consult with a dog behavior expert on how to train your dog to understand that when you leave the house it will be temporary, and you will come back.
This is usually done through a gradual desensitization process. Leave the house and return multiple times, increasing the length of time your dog is alone with each session.
Many experts also recommend desensitizing your dog to departure cues, such as your keys, coat, or handbag.
Pick these items up and carry them around with you on days when you don't leave the house. Do this multiple times for reinforcement.
Have you noticed a sudden onset of separation related behaviors in your dog? Bring your dog to the veterinarian to check for any underlying health conditions, especially in older dogs.
It's not uncommon for older dogs to start showing signs of separation anxiety as their cognitive function declines with age.
Separation anxiety and your dog
Separation anxiety can be a common problem for many dogs and their owners.
While the causes and symptoms of separation anxiety can vary from one dog to another, there is help available.
Treating a dog with separation anxiety can take time and patience but addressing the problem can lead to a better quality of life for both dogs and owners.
Does your dog suffer from separation anxiety? What do you do to help your best friend cope? Share your story in the comments below!
References and Resources
Get Pippa's free dog training tips delivered to your inbox