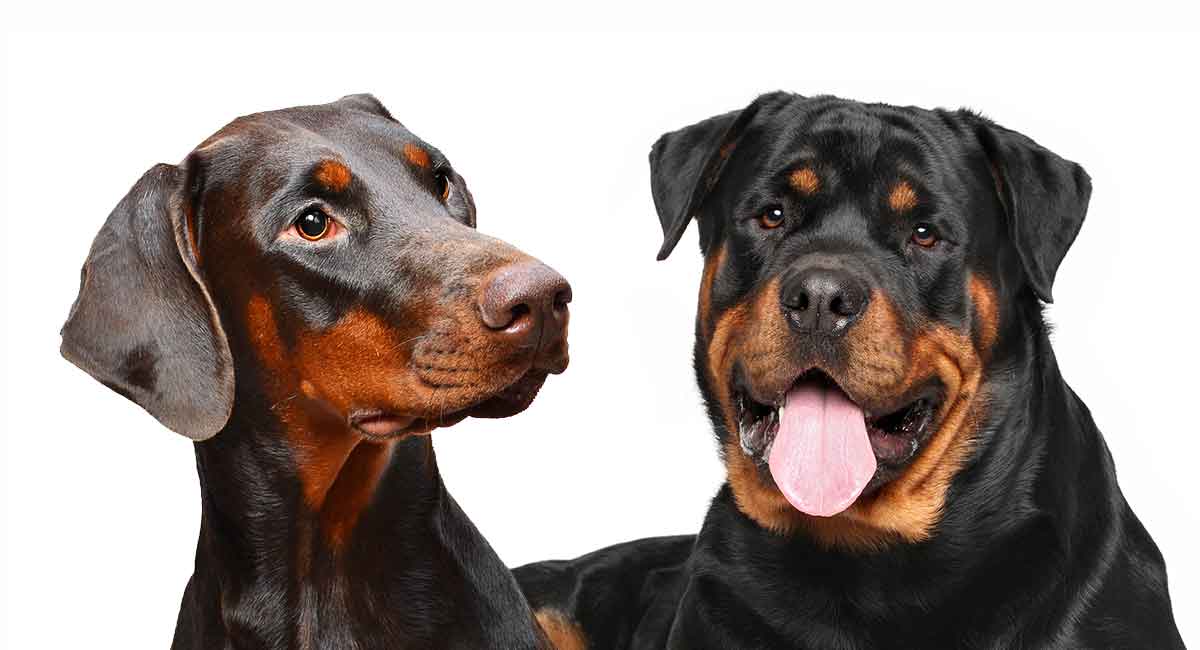 If you're looking for a dog known for loyalty and power, then it's no wonder you're comparing the Doberman vs Rottweiler.
Curious about what the majority of other dog lovers think? Read on to find out what they say.
The Doberman Vs Rottweiler – What Do the Majority Say?
According to the American Kennel Club, (AKC), the Rottweiler sits at number 8 out of 194 on their list of America's most popular dog breeds, while the Doberman sits at number 15.
Both of these are impressive rankings, but if you're selecting one of these breeds popularity alone, the Rottie wins hands down.
Of course, we urge you to dig a little deeper than that. Your lifestyle is unique and so are these breeds. Let's keep comparing!
Let's start with size—who's bigger, the Doberman or Rottweiler?
Size Comparison Between the Doberman Vs Rottweiler
On average, the Doberman Pinscher can stand between 24 to 28 inches tall while the Rottie stands between 22 to 27 inches.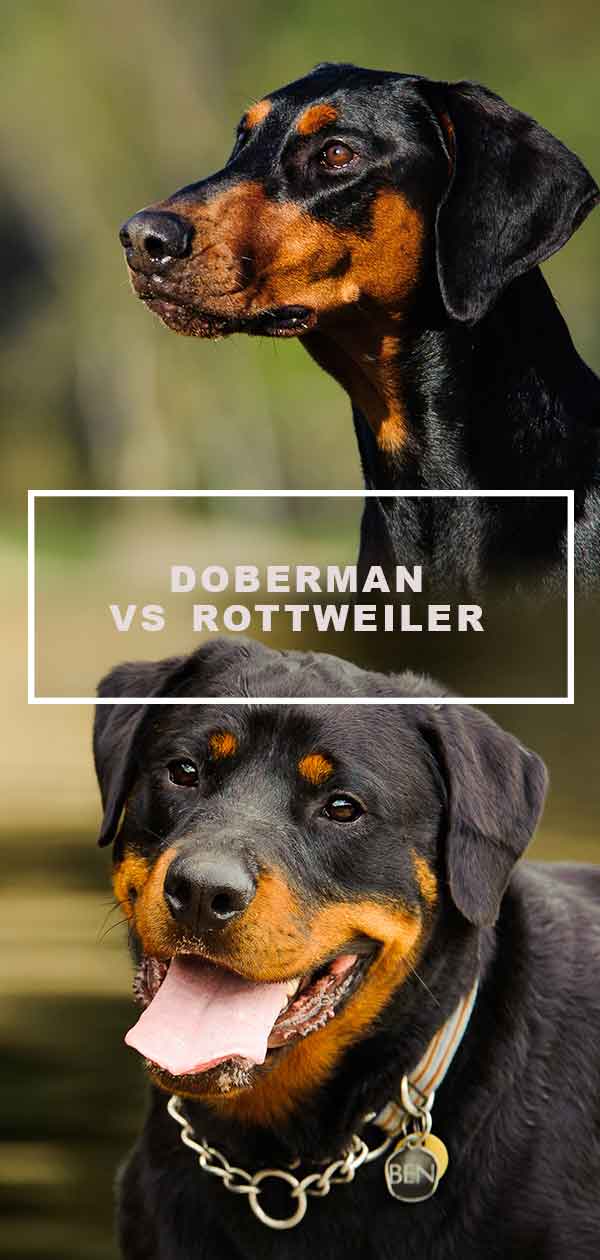 So, there isn't much variation as far as height goes. But what about weight?
The Rottweiler is heaviest, weighing 80 to 135 lbs while his Doberman counterpart is just under, at a leaner 60 to 100 lbs.
Physical Appearance of the Doberman Vs Rottweiler
When it comes to the Rottweiler Vs Dobermann, you can expect a difference in muscle mass, head shape, and more.
For example, the Doberman is a lean dog with sharp features, a long pointed muzzle, long, erect ears, a docked tail, and a sleek coat that comes in several color combinations, including
white black fawn
red and rust
black and rust
blue
fawn and rust
red
blue and rust
The Rottweiler is bigger-boned with a more muscular frame compared to the Doberman, which has a larger head, thicker muzzle, floppy ears, and docked tail.
The Rottweiler coat comes in four colors, including
Doberman Vs Rottweiler Grooming and General Care Requirements
If you compare the coat types of the Doberman vs Rottweiler, you'll see that grooming and overall care is going to be quite similar, so don't base your choice off general maintenance.
Both the Rottweiler and the Doberman Pinscher will do well with a good brushing once a week.
This is mostly due to the fact that both the Rottweiler and the Doberman shed a lot. Brushing will help to keep loose hair under control and your dog's coat looking shiny and healthy.
Both breeds will also need the occasional bath and they're nails trimmed and ears cleaned regularly.
Doberman Vs Rottweiler Guard Dog Temperament
Are you looking for a dog that will protect you?
Both the Doberman and the Rottweiler are born protectors, but they can also still get along well with children they are raised with.
However, they will both need to be properly socialized and well-trained early in puppyhood.
Doberman Temperament
The Doberman especially can become protective of your family's children.
They could try to guard them against strangers and other playful neighborhood kids, which could cause issues.
The Doberman is also more likely than the Rottie to bond specifically to one person, in particular. So this breed may not be the best choice for families looking for a dog to bond with all of them closely.
Check out our Doberman names article to see some great choices inspired by this temperament.
Rottweiler Temperament
The Rottie, on the other hand, needs to be watched around other dogs, especially dogs of the same sex.
They can be territorial and may want to protect their property.
You should also note that both of these breeds are banned in certain regions, so before you commit to either one, make sure you know the legalities in your area.
As always, early socialization and obedience training will play a key role in ensuring your dog is an adaptable and well-adjusted pet.
Training and Exercise Requirements of the Doberman Vs Rottweiler
When it comes to exercising the Doberman Vs Rottweiler, the Doberman is going to need the most attention.
Dobermans are an incredibly active breed and need plenty of exercising and mental stimulation every day.
They do best in homes with large yards where they can romp freely.
And while the Rottie still needs exercise, they are less high-energy than the Doberman and will do great with hour-long walks or something equivalent each day.
Of course, both breeds are intelligent and eager to please. Training should be fun as long as you use positive reinforcement and plenty of treats!
Now, Let's Talk potential health concerns.
Health and Lifespan of the Doberman Vs Rottweiler
Both the Doberman and the Rottie can be prone to health issues, so which one lives the longest on average?
The dog with the longest lifespan between the two is going to be the Doberman, who lives about 10 to 12 years.
Still, they can be prone to a number of health issues, such as
cervical vertebral instability
Wobbler's syndrome
cardiomyopathy
hip dysplasia
von Willebrand's disease
osteosarcoma
demodicosis
bloat
The Rottweiler lives 9 to 10 years and can also be susceptible to a number of health issues. Potential owners should keep an eye out for the following:
elbow and hip dysplasia
entropion
aortic stenosis
cruciate ligament rupture
osteochondritis dissecans
cancers
wet eczema cold water tail
polyneuropathy
juvenile laryngeal paralysis
Other breeds to consider
If you're still not sure which dog is best for you might like to look at these other breed comparisons and mixes:
Doberman Vs Rottweiler – Picking the Perfect Pooch
So, Doberman Pinscher or Rottweiler?
If you're looking for a loyal, family-friendly dog who will get along well with kids and know the difference between play time and chill time, you'll want to take a closer look at the Rottie.
However, this breed may not be best for homes with other dogs as they can become territorial, especially around dogs of the same sex.
On the flip side, if you want a dog who may bond closest to one person and who does well with other dogs, the Doberman is your best bet!
Just remember, this is an incredibly active breed who will need lots of daily walks and playtime.
We would love to know which dog is pulling on your heart strings! Leave us a note in the comments!
References and Further Reading
Hsu Y and Serpell JA. 2003. Development and validation of a questionnaire for measuring behavior and temperament traits in pet dogs. Journal of the American Veterinary Medical Association.
Howell TJ, King T, and Bennett PC. 2015. Puppy Parties and Beyond: the role of early age socialization practices on adult dog behavior. Veterinary Medicine: Research and Reports.
Irion DN et al., 2003. Analysis of Genetic Variation in 28 Dog Breed Populations With 100 Microsatellite Markers. Journal of Heredity.
Coren S. 2006. The Intelligence of Dogs. Free Press.
Acumen L. 2011. The Genetic Connection; a Guide to Health Problems in Purebred Dogs, Second Edition.
Get Pippa's free dog training tips delivered to your inbox