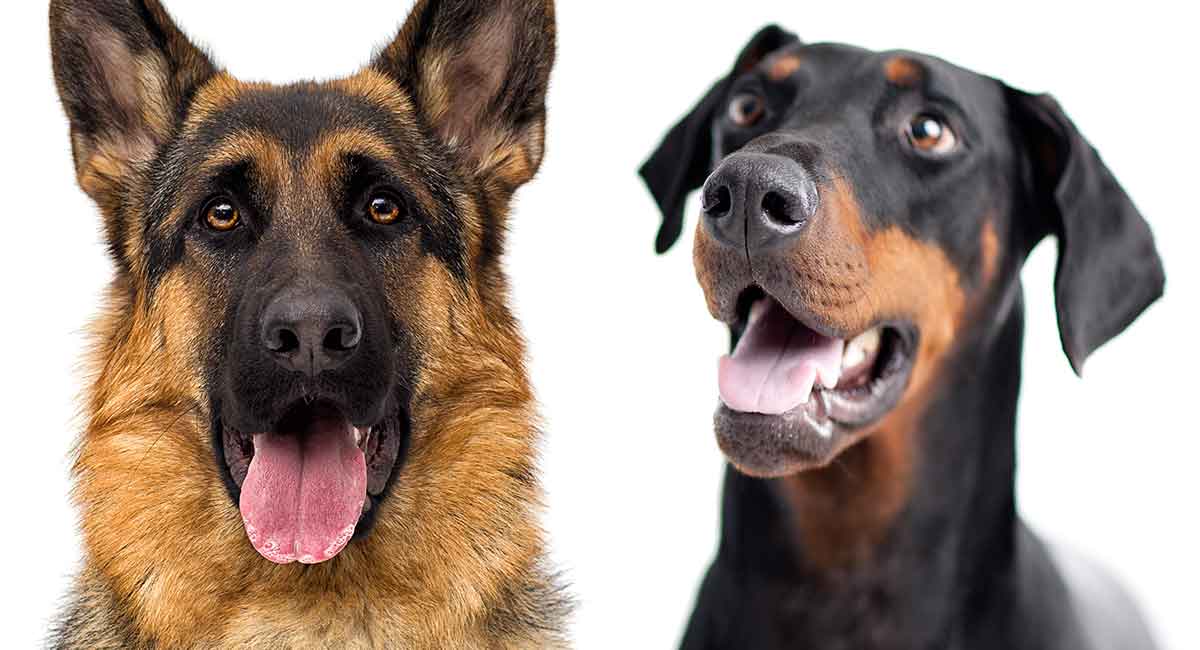 The biggest differences between a Doberman vs German Shepherd are:
Origins – Dobermans are guard dogs in the Working group, but GSDs started out as herding dogs and remain in the Herding group.
Size – the average Doberman is 30% bigger than a GSD.
Lifespan – Dobermans live slightly longer than GSDs.
Grooming – a Doberman's short coat is easier to keep tidy than the shaggy fur of a GSD.
Choosing Between a Doberman vs German Shepherd
Are you having a hard time choosing between the Doberman vs German Shepherd?
The best way to come to a decision is by comparing every aspect of these two popular breeds.
In this article we'll do just that, so that you can make an informed choice.
Doberman vs German Shepherd History
Although both breeds originated in Germany, their histories are quite different.
The Doberman Pinscher was developed in the late 19th century by a dog breeder and tax collector named Louis Dobermann.
He wanted an imposing and loyal protector to accompany him on his rounds.
Dobermann used a mixture of different breeds including the Black and Tan Terrier, German Pinscher, and Rottweiler to create his breed.
The German Shepherd was developed around the same time, but for a different purpose.
A cavalry officer named Captain Max von Stephanitz wanted to create the ultimate herding dog. At a dog show, a medium-sized yellow-and-gray wolf-like dog caught his eye.
He purchased this dog and renamed him Horand von Grafrath. This became the first registered German Shepherd Dog.
Doberman vs German Shepherd Appearance
There's no question that both the Doberman and the German Shepherd are handsome breeds, each with their own distinctive looks.
Doberman Appearance
The Doberman is the larger of the two.
Males stand from 26 to 28 inches and females from 24 to 26 inches. Weight ranges from 75 to 100 pounds for the male and from 60 to 90 pounds for the female.
This powerful dog stands proudly and is both muscular and fast.
A noble, wedge-shaped head, alert, intelligent expression, powerful jaws, and naturally floppy ears, are qualities of the breed.
Their sleek, short coat comes in black, red, blue, fawn, and white, with rust markings.
German Shepherd Appearance
The German Shepherd male stands from 24 to 26 inches and the female from 22 to 24 inches. Males weigh between 65 to 90 pounds and females from 50 to 70 pounds.
This dog is longer than he is tall, well-balanced, and muscular.They have a wolf-life appearance with a chiseled head, long, wedge-shaped muzzle, and moderately pointed ears.
Their thick, waterproof, double coat is of medium length and is most often seen in tan and black, but can also be found in gray, red, brown, and white, or a combination of these colors.
Doberman vs German Shepherd Temperament
This study on perceived behavior, found that only the Rottweiler is seen as being more aggressive than the Doberman and the German Shepherd. However, research suggests that there are inconsistencies with breeds who are perceived as "aggressive."
These common misconceptions have led to negative stereotypes for certain breeds.
Doberman Temperament
There's no question that the Doberman has strong protective instincts. After all, it's what people bred him for in the first place. These dogs have a reputation for being fearless, intelligent, energetic, alert, and extremely loyal.
It's important to remember that dogs, like people, are individuals.
There are some Dobermans who can be overly aggressive. However, on the whole, they're now being bred with a steady decrease in sharpness.
Dobermans are people pleasing dogs who need lots of attention from those they love.
German Shepherd Temperament
Like the Doberman, the German Shepherd is loyal, smart, courageous, and protective.
These dogs are also prized for the calm, caring nature that makes them excellent family pets.
In fact, in terms of breed popularity, they're second only to the Labrador Retriever according to the AKC.
While studies like this, find the German Shepherd more likely to instigate more fights with dogs than other breeds, this may have a lot to do with a lack of proper training and early socialization.
It's important to remember that this breed has strong guarding instincts.
While this makes them fantastic watch dogs, you want them to be friendly and confident, rather than overly protective.
Although both of these breeds can make wonderful family pets, these are both large dogs who would do better in families with older children.
Make sure to supervise toddlers and children around any dog.
Doberman vs German Shepherd Training
We really can't stress enough how imporant early socialization is for either of these breeds.
These dogs were bred to do a job. You need to show them the ropes of how to get along in the human world. This will help them to become well-rounded and emotionally stable canine citizens.
Obedience training and clicker training that uses a signal to tell the animal when they've done something correctly, would work well for either breed.
Luckily, both of these dogs are highly intelligent and extremely trainable, with the ability to learn easily and respond quickly.
Consistency and positive, reward-based training will get good results.
Studies show that harsh, confrontational training methods can make breeds with underlying aggressive tendencies much worse.
For more tips on training a German Shepherd, check out this article.
Doberman vs German Shepherd Exercise
The Doberman is a born athlete. These large, energetic dogs require a lot of exercise to stay healthy and happy.
Long walks and jogging alongside their owner are good, but these dogs need a large fenced area where they can run freely at top speed.
Likewise, the German Shepherd is very active and athletic and requires lots of exercise to be physically and mentally fit.
The German Shepherd will need at least two hours of daily exercise to ensure they don't become frustrated and develop undesirable behaviors.
Participation in canine sports such as obedience, tracking, and agility are ideal for either of these dogs.
Doberman vs German Shepherd Health
Certain inherited conditions are a risk for all purebreed dogs. The Doberman and the German Shepherd are no different.
Never purchase a dog from a breeder who hasn't genetically tested their breeding stock for known health conditions.
Both breeds are susceptible to hip dysplasia, an abnormal formation of the hip socket that can lead to lameness and painful arthritis.
Bloat is also a problem for these two large breed dogs.
This life-threatening condition occurs when the stomach twists, putting pressure on the dog's organs and making it difficult to breathe.
Doberman vs German Shepherd Lifespan
The Doberman has a lifespan of 10 to 12 years.
The German Shepherd's is 7 to 10 years.
Doberman Health
German Shepherd Health
Degenerative myelopathy is a progressive and incurable disease of the spinal cord that the German Shepherd is at risk for.
Osteochondritis dissecans (OCD) is an abnormal development of cartilage in the joint. This inflammatory condition causes swelling and pain in the affected joint which locks during movement.
Pancreatic atrophy is caused by a degenerative disease of the pancreas. Severe cases can lead to muscle wasting as the dog's body is unable to absorb nutrients.
The German Shepherd is also at risk for conformation concerns. This is due to their sloping back.
It wasn't always this way, but some breeders who breed for the show ring, have created a dog with a steeply sloping top line and extreme angulation in the back legs. This can put them at risk for spinal problems.
Doberman vs German Shepherd Grooming and Feeding
The Doberman Pinscher has a short, sleek coat that requires only a quick brushing to keep him looking his best.
This will get rid of loose hairs as they will shed quite a bit.
The German Shepherd's longer coat requires more frequent grooming to keep from getting matted.
These dogs will lose hair year round, but will shed profusely once or twice a year during shedding season.
Both breeds need to be bathed only occasionally, but should have their nails trimmed at least monthly and their teeth cleaned regularly.
A high-quality, age appropriate food is important for both of these breeds.
These articles on the best food for German Shepherds and Doberman puppies offer more details and brand recommendations.
Which Breed Makes a Better Pet?
Regardless of whether you choose a Doberman or a German Shepherd, you need to be able to spend a lot of time exercising them every day.
Devoting time to socialization and training will also be crucial. Both of these breeds have the potential to be aggressive towards other animals.
Many pet owners will attest that either of these dogs can make a loving family pet. However homes without young children would suit them best.
In this article we've looked at the multitude of serious health problems that each of these dogs faces. For this reason, we recommend rescuing an adult.
Both of these breeds are very popular, with shelters dedicated to them throughout the U.S. and beyond.
Doberman vs German Shepherd, which one did you choose? Tell us in the comments below.
References and resources
American Kennel Club – Most Popular Dog Breeds of 2018
Briones, EM, et al., "Perceived Aggressive Tendencies and Functional Attitudes Towards Various Breeds of Dogs." Department of Psychological Sciences, Texas Tech University
Kagarise Sherman, C., et al., "Characteristics, treatment, and outcome of 99 cases of aggression between dogs," Applied Animal Behaviour Science, 1996
Herron, ME, et al., "Survey of the use and outcome of confrontational and non-confrontational training methods in client-owned dogs showing undesired behaviors," Applied Animal Behaviour Science, 2009
Leppänen, M., et al., "Controlling canine hip dysplasia in Finland," Preventive Veterinary Medicine, 1999
Nash, H., "Bloat (Gastric Dilatation and Volvulus)," Veterinary Services Department, Drs. Foster & Smith, Inc., 2006
Hazlett, MJ, et al., "A Retrospective Study of Heart Disease in Doberman Pinscher Dogs," The Canadian Veterinary Journal, 1983
Wess, G., et al., "Prevalence of Dilated Cardiomyopathy in Doberman Pinschers in Various Age Groups," Journal of Veterinary Internal Medicine, 2010
Kraus, KH, et al., "Effect of Desmopressin Acetate on Bleeding Times and Plasma von Willebrand Factor in Doberman Pinscher Dogs with von Willebrand's Disease," Veterinary Surgery, 1989
Beier, P., et al., "The Role of Hypothyroidism in the Etiology and Progression of Dilated Cardiomyopathy in Doberman
Pinschers," Journal of Veterinary Internal Medicine, 2014
Krawiec, DR, et al., "Study of prostatic disease in dogs: 177 cases (1981-1986)," Journal of the American Veterinary Medical Association, 1992
Larsen, JS, "Lumbosacral Transitional Vertebrae in the Dog," Orthopedic Foundation for Animals, University of Missouri-Columbia, Columbia, MO, 2016
Barclay, KB, et al., "Immunohistochemical evidence for immunoglobulin and complement deposition in spinal cord lesions in degenerative myelopathy in German shepherd dogs," Canadian Journal of Veterinary Research, 1994
Lang, J., et al., "A SACRAL LESION RESEMBLING OSTEOCHONDROSIS IN THE GERMAN SHEPHERD DOG," Veterinary Radiology & Ultrasound, 1992
Wiberg ME, et al., "Exocrine Pancreatic Atrophy in German Shepherd Dogs and Rough-coated Collies: An End Result of Lymphocytic Pancreatitis," Veterinary Pathology, 1999