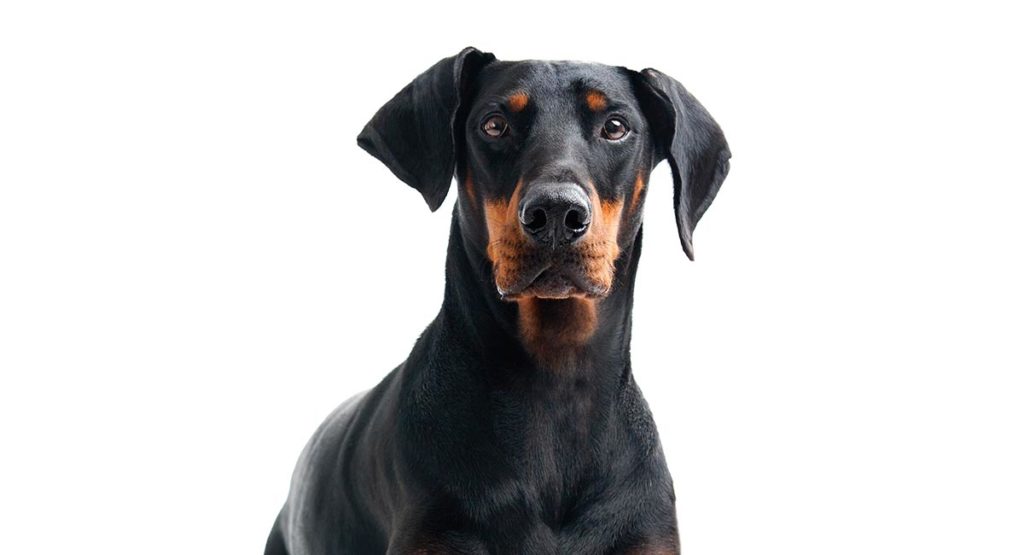 The best Doberman names are easy to teach your dog, stand the test of time, and maybe just "click" when you hear them.
They can be funny, tough, cute, or something else!
Our Favorite Picks
Perhaps like one of these:
Dexter
King
Coco
Bandit
Queen
Layla
Archie
Jet
Saylor
Rugby
Axel
Finley
Zeno
Dixie
Tucker
Bailey
Cricket
Pluto
Oakley
Apollo
Darwin
Rebel
Presley
Milo
Bruce
Hank
There are plenty more ideas coming up. But first, how will you know when you've found the right one?
Choosing Doberman Names
The Doberman Pinscher is a popular dog with a fascinating history. Despite his fierce reputation, the Doberman is beloved by those who know him as an affectionate, loyal, and friendly companion.
Are you looking at getting a Doberman Pinscher to call your own? If so, then you are going to be on a mission to find the perfect name for your new Doberman dog!
Well, you've come to the right place. We have got a list of over 200 delightful names perfect for the new Doberman in your life!
Let's begin!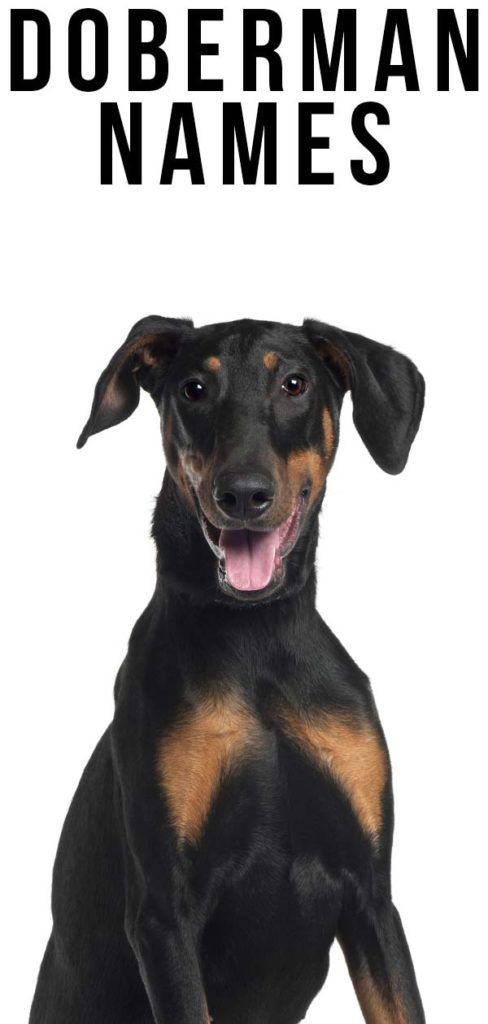 Doberman Names
Are there any rules when it comes to picking out the right name for your new puppy or rescue dog?
Nope! Not a one.
Still, there are some suggestions from experts on how you can quickly teach your Doberman his name, and which names dogs seem to learn the quickest.
Teaching Your Dog His Name
Here's the thing. If you are about to become a Doberman Pincher owner, then you're in luck.
This big and beautiful breed is known for having a loyal and loving disposition. Best of all, Doberman Pincher dogs are people pleasers which means they should be able to learn their names quickly and easily.
So long as you use positive reinforcement like treats and praise while teaching your Doberman Pincher his new name, he should have it down in no time!
Still, keep in mind that each individual dog learns differently, so you should give your new Doberman Pincher a good week or two before expecting him to learn his name.
Remember, patience, treats, and lots of praise are key during training!
Easiest Names to Learn
Now let's talk about the best dog names for dogs to learn quickly.
Did you know that most dogs pick up on their names quicker when they are two syllable names? That's right! Names like Carson and Boomer seem to stick faster than names with only one syllable like Max, or names with three or more syllables like Annabella.
You should also make sure that the name you choose for your new dog is a name you will be comfortable and happy repeating over and over inside your home and out in public.
Sometimes funny, silly, or even inappropriate names seem hilarious and clever at first, but it may not seem so ingenious when you are out at the dog park trying to get the dog you've named "Crapper" to come to get his leash on.
Does that mean you absolutely can't name your dog Crapper? Of course not. Does that mean you can't give your dog a name with only one syllable or a name with more than three syllables? No!
So long as you use positive reinforcement, train your dog with patience, and give him a name you are happy with, that's all that counts.
With that being said, let's go over some of the most popular names for Doberman Pinschers this year!
Best Doberman Names
Ready for a list of super popular, totally in and hip names for your Doberman Pinscher dog?
Regardless of if you have a male or female, a rescue Doberman Pincher, or a puppy Doberman you just got from a breeder, these names are sure to help your dog fit right in with the in-crowd.
Indy
Ari
Dom
Lucky
Lucy
Koda
Lazer
Moose
Charlie
Max
Daisey
Linus
Leo
Abby
Duke
Perry
Halo
Lola
Olive
Lady
Fang
Zoe
Riley
Ready for some more Doberman Pinscher names that are more geared towards female Doberman Pinchers? Then keep reading!
Female Doberman Names
While there are no rules when it comes to the name you choose to give your Doberman Pincher dog, these names are more feminine sounding.
But of course, that doesn't matter. Feel free to use these for male dogs if you wish. Either way, these twenty names below are full of sugar and spice and everything nice.
Take a look!
Bella
Mia
Chloe
Ava
Blue
Sammie
Penny
Raven
Molly
Grace
Nala
Nova
Dakota
Rosie
Remy
Angel
Sadie
Piper
Roxie
Miley
Male Doberman Names
Do you have a male Doberman or a Doberman Pincher who just needs a really strong, masculine sounding name?
We think these twenty male names are perfect for that Doberman in your life who is either a man's man or a girly girl who wants one of these awesome male dog names.
Take a look for yourself!
Rocco
Roscoe
Cash
Tyson
Dexter
Finn
Jack
Prince
Chase
Jax
Atlas
Monkey
Quinn
Ebert
Boomer
Linus
Crew
Cool Doberman Names
It's no secret that Doberman Pinschers are awesome dogs. They just look cool.
From their noses to their tails to their long legs and muscular frames, they have so much cool swag it's no surprise you would want to give your Doberman Pinscher a cool sounding name.
We are crazy about these crazy cool Doberman Pincher names below and we think you'll go crazy for them, too!
Cruz
Lennox
Loki
Lex
Archer
Hans
Nixon
River
Rocky
Phoenix
Tag
Boxer
Aviator
Maddox
Diesel
Ace
Gunner
Hudson
Maverick
Arrow
Apollo
Bentley
Blu
Luna
Cute Doberman Names
Doberman Pincher dogs are known for being tough and intimidating, but underneath that tough-dog façade is a gentle giant who loves his people and his friends.
For the cutie in your Doberman, here is a list of thirty adorable dog names.
Flower
Pebbles
Trixie
Cupcake
Baby
Lottie
Pumpkin
Clover
Amos
Fluffy
Puddles
Marley
Sugar
Dolce
Beau
Peanut
Ellie
Boots
Dog
Bonnie
Goose
Muffin
Blueberry
Otis
Apple
Funny Doberman Names
Is your new Doberman a furry comedian? Then you are going to love this list of hilarious Doberman names.
From fun to funny, to oh-so punny, these names are sure to elicit a giggle or two! See for yourself!
Sir Waggington
PB&J
Madam Tails
Lucy I'm Home
Charles Barkley
Boba Fetch
Barkington the Fifth
Trixie Pup
Dumbledog
Hamburglar
Mary Puppins
Pupscicle
Pup Tart
Meatloaf
Doggerman
Poopsy Meow
Chick'n'noodle
Paws Away
Wigglesworth
Eisen-Howler
Unique Doberman Names
There is no doubt about it – Doberman Pinschers are as unique as they come. We love their incredible loyalty, their courageous nature, and their ability to totally steal our hearts.
Your amazing Doberman Pinscher deserves a name that is as unique as he or she is. That's why we think this list of thirty unique Doberman names is going to totally wow you.
Take a look!
Braden
Evie
Biggie
Scotty
Moca
Boo
Frankie
Blaze
Poco
Yanni
Jaren
Feather
Pixel
Gordy
Chayanne
Higgins
Emerson
Francis
Kayla
Hanson
Cherokee
Keto
Chips
Vixen
Ryder
Tough Doberman Names
While Doberman Pinschers are known for their tough dog persona, the truth is they are real lovebugs at heart.
Of course, they are also fiercely devoted and incredibly courageous. This means that if you want to give your Doberman a tough dog name, then you totally should.
And here is a list for you to pick from.
Tank
Throne
Arya
Snow
Scar
Ghost
Fang
Ice
Jaws
Casper
Diablo
Bullet
Killer
Dragon
Racer
Bear
Captain
Soldier
Ranger
Blade
Fun Facts About Dobermans
Did you know that a tax collector named Louis Dobermann is responsible for the creation of the Doberman Pinscher?
He needed a fearsome looking and courageous dog to join him on his ventures to collect what was owned, and boy did the breed work!
Due to their success as tax collecting dogs, Dobermans are still sometimes known as "Tax Collector Dogs."
Today, the Doberman Pinscher's loyal disposition and intelligent mind make him an excellent K-9 dog for police. He also excels in military work and makes a wonderful companion and service dog.
So, congratulations on your new Doberman! We could not be more excited for you and we would love to hear what name you chose!
Let us know the name that stuck out the most for your new Doberman Pinscher in the comments below!
More Doberman Pinscher Reading
Do you love the Doberman Pinscher?
We've got loads of other great articles about this breed that you're going to love. Take a look at some of them below:
References and Resources
Kaminski, et al, Word Learning in A Domestic Dog: Evidence for "Fast Mapping", Science, Issue 5677, Pages 1682-1683
Mary B. Harris, Some Factors Influencing Selection and Naming of Pets, Psychological Reports
Kutsumi, et al, Importance of Puppy Training and Future Behavior of the Dog, Journal of Veterinary Medical Science
Brian Hare, Michael Tomasello, Human-Like Social Skills in Dogs?, Trends in Cognitive Sciences, Volume 9, Issue 9, Pages 439-444
Prato-Previde, et al, Is the Dog-Human Relationship an Attachment Bond? An Observational Study Using Ainsworth's Strange Situation, Behaviour, Volume 140, Pages 225-254
Get Pippa's free dog training tips delivered to your inbox