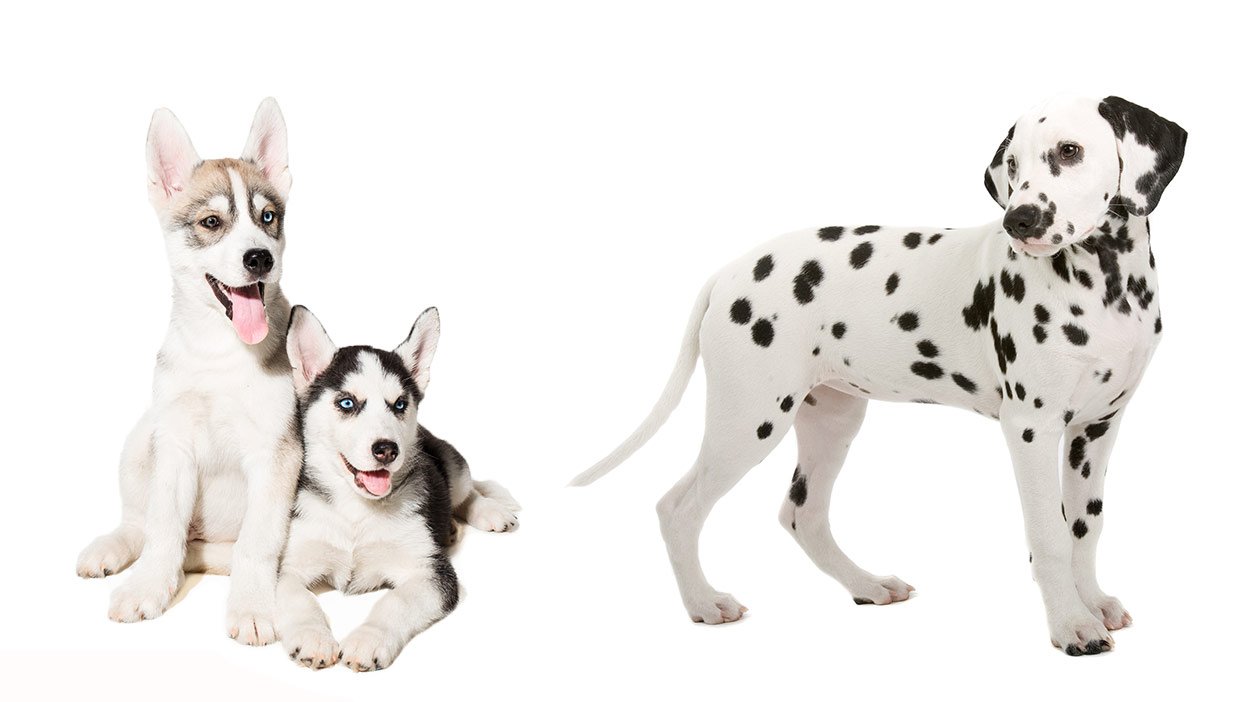 Wondering if a Dalmatian Husky mix might be the right dog for you?
Check out our complete guide to this mixed breed dog!
The Dalmatian cross Husky is an interesting combination. Sometimes, they are called "Daluskies."
The idea of the Husky Dalmatian cross is to bring together the athletic dignity of the Dalmatian with the furry and gentle friendliness of the Husky.
The resulting mix can be a beautiful and affectionate family pet.
But, before you buy, you should know some things. For one thing, Dalmatian husky mixes are a first generation mix, and there is controversy surrounding such mixes.
Before we talk about this dog, let's look into the controversy.
The Designer Dog Controversy
Purebred dogs of any breed often come with long pedigrees and are bred to certain standards. That makes their qualities and attributes more predictable, so a breeder can be careful that the next generation of dogs is less susceptible to inherited health problems.
But the problems of a breed can be magnified in the next generation of purebred dogs, if breeders aren't careful.
A cross like the Dalmatian Husky mix, as a first generation mix, means that two purebred dogs have been bred together to create a mixed breed dog.
For some people, this means they're basically "mutts." They are not purebred, so there is no designation for them.
For a good rundown of objections to mixed breed dogs, and a discussion of them, check out this article.
Pros of Mixed Breeds
Still, research shows that crossing two breeds can make them healthier, because it introduces more genetic diversity into their gene pools.
This makes mixed breed dogs healthier, with a lower risk of developing inherited illnesses and weaknesses specific to one breed.
Many of our current purebred breeds were once mixed. And, going forward, the survival of some breeds we love may depend on hybridization.
If you want to know more about the science of crossing genetic subpopulations, visit this piece.
Ultimately, though, it's all about the individual dog. Some mixed breed dogs will be healthier than purebred ones, and some won't be – based on the genetics of the parents, environment, diet, and other factors.
Our responsibility is to make sure that our pets have the best quality of life possible.
The Dalmatian Husky mix
As with many designer dog breeds, it's hard to track down exactly when and where the Dalmatian Husky mix originated.
Was it an accident? Or was it done on purpose? We simply don't know.
We do know they are a newer, rarer kind of mix, though.
Origins of the Dalmatian
The Dalmatian is the only spotted breed of dog. They come from a working and sporting heritage.
Despite their name, there's no evidence that they originated in Dalmatia. We only know there were spotted dogs in Europe, Asia, and Africa, and that they are a very old breed.
Dalmatians have even been painted in walls of Egyptian tombs. Images of Dalmatians have been found in various places throughout history, including a Florentine fresco from the 1300s.
Some think the "Dalmatian" moniker comes from a garment that priests used to wear called a Dalmatic, made from wool from the mountains of Dalmatia.
This dog was given many nicknames by the British – English Coach Dog, Carriage Dog, Plum Pudding Dog, Fire House Dog, and the Spotted Dick.
However, the breed may come from one of a dozen countries, and has native names from all of them.
Dalmatians have an affinity for horses, and are well known for following and guarding horse-drawn vehicles.
Dalmatians have been registered with the American Kennel Club since 1888, and the breed's parent club, the Dalmatian Club of America, began in 1905.
Origins of the Siberian Husky
Siberian Huskies were bred by the Chukchi people in northeastern Asia as sled dogs.
They needed a dog that could travel a long way, carrying light loads with a minimum of energy.
The Chukchi people maintained Siberian purity through the 19th century, and Americans in Alaska found out about the dogs just after 1900.
In 1909, the first team of Huskies appeared in the All Alaska Sweepstakes Race of 1909. That year, a number of them were imported to Alaska and started to dominate in sled-dog racing titles there.
They were even used to deliver life-saving diphtheria antitoxin to sick people in Nome, Alaska in 1925. The attention to Huskies that followed led them to the mainland U.S., where they have served with distinction on exploring expeditions and search and rescue missions.
Huskies were registered with the AKC starting in 1930. Their breed club is the Siberian Husky Club of America, Inc.
What are Dalmatian Husky Mix dogs like?
A Husky crossed with a Dalmatian can take after either parent.
Which one, though, is a difficult prediction to make.
Whenever you mix two breeds, you can get traits and qualities that can belong to either parent dog, in varying amounts that are also unpredictable.
So, let's look at the parent dogs!
Size, Height, and Weight of a Husky Dalmatian Mix
Dalmatians generally weigh between 45-70 lbs. They can be 19-24 inches tall.
Meanwhile, Huskies range from 10-23.5 inches. They weigh 35-60 lbs., with females being on the smaller side.
So you're going to get a pretty big dog, no matter what.
Dalmatians are good off leash, but Huskies aren't, so keep that in mind when you're thinking of the size of the dog you can handle. Your mixed breed dog could take after either side.
Defining Characteristics of a Dalmatian-Husky Mix
Dalmatians have a short coat, white with either black or brown (liver) spots.
Huskies have a very thick double coat, with a soft and dense undercoat, and a longer, coarser top coat. They come in six colors ranging from black to white, and often have face or head markings.
Your mixed breed puppy may be spotted, or have spots just in certain areas.
She may be solidly colored, with distinctive head markings and blue eyes.
Or she may have black and white areas on her body. It's hard to know.
Dalmatians and Huskies both have markings that aren't found in other dogs – spots in the Dalmatian and head markings in the Husky.
A Siberian Husky-Dalmatian mix could have both! Or neither.
Dalmatians are lithe and agile with short coats, while Siberians are compact and graceful with long hair.
Ultimately, the only defining characteristics will come from the parent breeds. Within those parameters, you are just as likely to get any combination of traits from either dog.
Temperament and Behavior of a Dalmatian Husky Mix
Dalmatian Temperament
Dalmatians are known for guarding, hunting (rats, deer, even boar), trailing, and even performing.
They have good memories, with speed and endurance and a fast gait. They are generally quiet.
The well-adjusted Dalmatian is outgoing and stable, but also very active and athletic. They may also require supervision with small children and animals.
Husky Temperament
Huskies are pack dogs, and enjoy being part of a family. They don't like being alone, and they are very friendly and energetic.
They are not possessive or aggressive. Huskies are smart, eager to please, and happy to work.
Siberians will chase small animals. They need a lot of room to run!
Both dogs can be very dignified.
A mix of these two breeds can take after either side of the family, or fall somewhere in between.
You'll likely get a good companion dog, but one that needs training and exercise to stave off boredom.
Grooming and General Care of the Dalmatian Siberian Husky Mix
Dalmatians have a short coat that requires occasional grooming, but they shed frequently throughout the year.
Huskies are self-cleaning, fastidious dogs that only require weekly brushing, despite their double coat. The coat is shed twice a year, and the old coat should be raked out during this time.
Huskies require very few baths to keep their skin in good condition.
Dalmatians have floppy ears, and if your pup takes after the Dalmatian side, some checking will be needed to make sure bacteria isn't finding a home in there.
Make sure to keep nails trimmed to prevent foot problems.
Health Issues of The Dalmatian Husky Mix
Cross breed puppies are not immune to the health issues that their parents face.
Some think that mixed breed dogs are healthier because problems within each breed of dog can be mitigated by the genetic makeup of the other.
And while that can indeed be true, it's not something you can count on.
Luckily, both of these breeds are generally healthy.
Dalmatian Health Issues
Dalmatians are prone to deafness and kidney stones.
Additionally, all Dalmatians have an elevated concentration of uric acid, which predisposes them to bladder stones.
They are also genetically prone to skin issues and food-induced allergies.
Husky Health Issues
Huskies are lucky when it comes to genetics because of the lack of abundant inherited conditions.
However, some eye problems may manifest, including cataracts, corneal dystrophy, and progressive retinal atrophy.
Each condition affects a different part of the eye, regardless of eye color.
Please do not overlook eye problems in your Husky or Husky mix! Huskies can get cataracts as early as three months of age.
Those that don't have visible issues may still be carriers.
Overlapping Health Issues and Testing
Both types of dogs may be subject to inherited laryngeal paralysis, which makes breathing difficult. As larger breeds, they may also be vulnerable to hip and elbow dysplasia.
Please make sure both your Dalmatian/Husky mix's parents have been health tested.
Dalmatians should have a hip evaluation and BAER testing for hearing loss and nervous system disorders. Huskies should have a hip evaluation and an evaluation by an ophthalmologist.
Exercise and Training Requirements for the Husky Dalmatian Mix
Both dogs require exercise and basic training to keep them happy.
Dalmatians have a lot of energy, and may develop nervous habits without an opportunity to use their muscles and their minds.
Exposing a Dalmatian to new situations will help him adjust and socialize. These are sensitive dogs, and positive reinforcement is good.
Huskies, as a working breed, also require a lot of activity. They were bred to run.
They're also social by nature, so they need early socialization and should not be left alone all day.
The Ideal Home for a Dalmatian Husky Mix
Your mixed breed Dalmatian x Husky dog, no matter which parent she takes after, will likely require a lot of exercise and need plenty of people-time.
She'll be a big dog, so consider if your lifestyle can handle big dog needs – in terms of exercise, handling, and food.
If you can provide plenty of love and room to run, you might have the ideal home for a Dalmatian and Siberian mix.
How To Find A Dalmatian Husky Mix Puppy
Even though the Dalmatian Husky mix isn't a pure breed of dog, you'll be able to find them online from breeders.
Just make sure when you find one to look closely at the conditions he's been raised in. Physically visit it if possible.
Check the living environment, see the other puppies in the litter, and meet your pup's parents. Ask plenty of questions.
Get proof that the parents have been health tested before you fall in love with a puppy, because not having that done should be a deal breaker.
Should I Get a Dalmatian Siberian Husky Pup?
Can you handle a big dog? Do you have room for a pup to play, and time to train and exercise her?
Do you just love the combination of the loyal, dignified Dalmatian and the friendly, hardy Husky?
If so, you might find the mix perfect for your new best friend.
Do you have a Dalmatian Husky pup? Do you want one? Sound off in the comments.
Resources and Further Reading
Get Pippa's free dog training tips delivered to your inbox