Is a Dachshund Dalmation mix right for you?
Let's find out!
Welcome to our complete guide to the Dachshund Dalmatian mix!
The Dachshund cross Dalmatian is a newer hybrid breed, designed to combine the best qualities of the spunky little Dachshund and the dignified Dalmatian.
It's important to do your research before you get a good look at a Dachshund Dalmatian mix puppy and fall in love!
And any first-generation mix like the Dachshund x Dalmation inspires a bit of controversy within dog breeder circles.
You'll need to know what you're getting into since you may get comments and criticism.
So let's start with that.
The Designer Dog Controversy
Purebred dogs are usually bred to certain standards to make their qualities and attributes more predictable, and they're extensively tested for known health issues.
Proponents of purebred dogs say that hybrid dogs are simply mutts, and calling them designer dogs just lets breeders put a higher price tag on them.
Sometimes, hybrid breeders may not pay as much attention to genetic health issues as purebred breeders do.
However, diversifying the genotype of a breed can be a good thing.
That's because keeping breeds totally pure also has its problems.
A limited gene pool may put some breeds at more risk of genetic problems and weaknesses.
Hybrid Vigor
Adding more varied genes allows dog breeds to adapt more easily to new situations through beneficial mutations, which keeps them healthier.
In fact, hybridization has been around for as long as dogs have, and it allowed many of our current purebred breeds to survive!
This will probably happen in the future, too.
Want to know more?
Learn about the science of crossing genetic subpopulations here.
Ultimately, though, it's all about the individual dog.
Some mixed breed dogs will be healthier than purebreds, and vice versa.
A dog's health depends not just on genetics, but also environment, diet, and other factors.
If you can provide your pet with the best quality of life, no matter her purebred status, that's what matters!
The Dachshund Dalmatian Cross
For many designer dog breeds, their origins are murky.
The Dachshund Dalmatian mix is one of these breeds.
We don't know if the first mix between a Dachshund and a Dalmatian was an accident or not!
To date, the Dalmatian x Dachshund mix is still somewhat rare.
Origins of the Dachshund
The word "Dachshund" in German means "badger dog."
These long-bodied pups were bred more than 300 years ago to dig into badger dens.
Dachshunds were developed to be strong and clever to force badgers out of their homes.
Their loud bark helped their owners mark the den's location.
Different Dachshund types were bred to work on different types of prey.
Packs of them could hunt wild boar!
By the late 1800s, the breed started to be standardized.
They now have three coat varieties.
And there are standard and miniature sizes.
Dachshunds soon became the national symbol of Germany.
They were recognized by the AKC in 1885.
Today, they are one of the most popular breeds in the U.S.!
We tend to think of them as lap dogs, but they are originally hunters – which explains a lot!
Origins of the Dalmatian
The Dalmatian is the only spotted dog breed!
They are sporting dogs and working dogs.
And contrary to their name, they probably didn't originate in Dalmatia.
Dalmatians are an old breed.
We don't know exactly where they're from, but they've been in pictures since Egyptian times, when they were painted on the walls of tombs.
Over the years, they've been called many things by the British.
English Coach Dogs, Carriage Dogs, Fire House Dogs, and Spotted Dicks are all names that Dalmatians once went by.
Dalmatians and horses get along well.
Dalmatians had the job of following and guarding horse-drawn vehicles.
We also associate them with fire trucks.
They've been recognized by the American Kennel Club since 1888.
The breed's parent club, the Dalmatian Club of America, was formed in 1905.
What Are Dachshund x Dalmatians Like?
Whenever you mix two breeds, you can get traits of either or both parents, in unpredictable amounts.
That includes the short legs of the Dachshund.
Scientists believe the gene that causes them is an incomplete dominant gene, or it interacts with other genes.
When bred with dogs with longer legs, Dachshund mix pups had medium-length legs.
Then, the generation following had a mix of leg sizes: short, medium, and long.
Size, Weight, and Height of a Dachshund Dalmatian Mix
Standard Dachshunds stand 8–9 inches tall and weigh 16–32 pounds.
Dalmatians stand 19–24 inches tall and weigh up to 70 pounds.
You can get a dog that takes after either side.
It's hard to say ahead of time.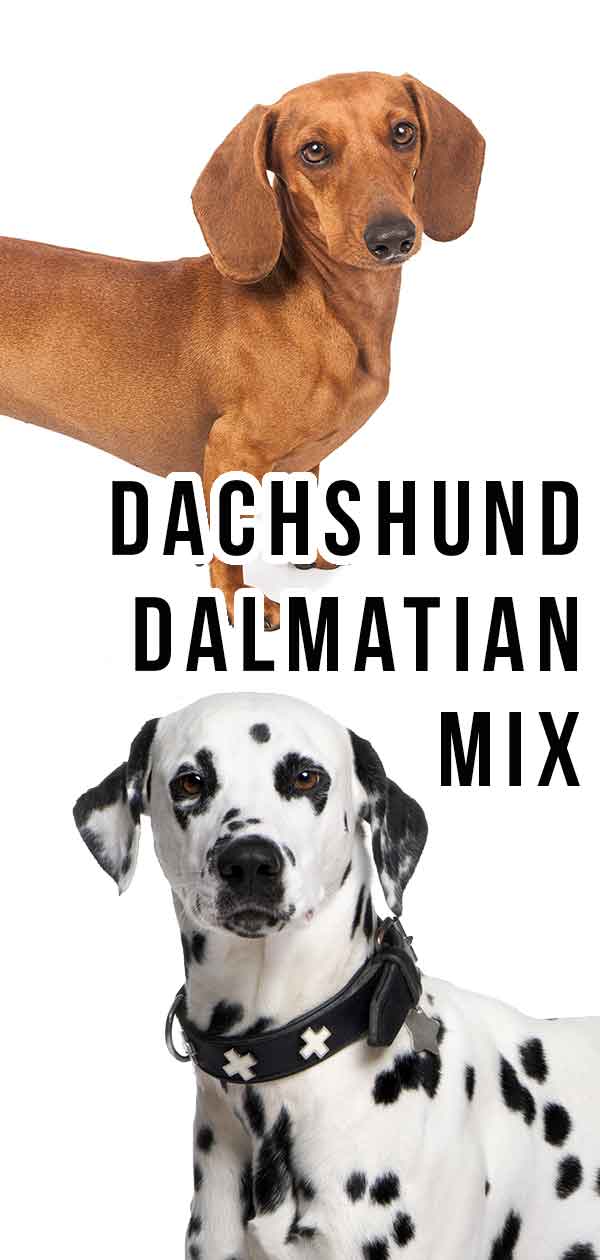 Coat and Characteristics of a Dachshund Dalmatian Mix
Dachshunds have three kinds of coat: smooth, long-haired, and wire-haired.
Some breed historians believe the long coat came from crosses with spaniels, while the wire coat originated from terrier crosses.
Coat colors include black, tan, cream, chocolate, fawn, red, wheaten, and wild boar, sometimes in combination.
Their markings can be brindle, dapple, sable, piebald, brindle piebald, or double dapple.
Dalmatians have short white coats with black, liver brown, lemon, orange, black and tan, or liver and tan spots.
You're likely to get any combination of these colors and markings in your crossbreed!
Temperament and Behavior of a Dachshund Dalmatian Mix
Dachshunds are friendly, curious, alert, and spunky but sweet.
They're also brave and tireless and make good watchdogs.
Dalmatians are poised, strong, and agile, with speed and endurance.
People love Dalmatians because they are smart and outgoing.
Your mixed pup can have a combination of these traits or take more after one side of the family.
Grooming and General Care of the Dachshund Dalmatian Mix
Dachshunds are relatively clean, odorless animals.
Smooth-coated ones are the easiest to groom, since they don't need much.
Long-haired ones need a bit of brushing, while wirehaired Dachshunds should be plucked or hand-stripped a few times a year.
Dachshunds often have a beard and eyebrows that need trimming.
They shed occasionally.
Dalmatian coats don't require high-maintenance care, but they do shed a lot.
They need occasional baths and weekly brushing.
Your hybrid pup will have similar care requirements, depending on the type of coat he inherits.
Trim their nails once a month, and check those long floppy ears regularly.
Health Issues of Dalmatians and Dachshunds
Both breeds are generally healthy.
Dachshund Health
Dachshunds can live into their mid-teens.
Most of the genetic issues they suffer health-wise are minor dog ailments, such as dry skin.
However, those cute stubby legs may result from a genetic condition that causes dwarfism.
This condition, called chrondodysplasia, can cause serious intervertebral disk disease.
As many as 1 in 4 Dachshunds get it.
You can manage it by keeping your Dachshund trim and preventing excessive jumping.
Wirehaired Dachshunds may also be prone to Lafora disease, a progressive epileptic condition.
Up to 20 percent of wirehaired Dachshunds may be carriers.
Dalmatian Health
Dalmatians are prone to deafness and may get kidney stones more than other dogs.
All Dalmatians have a high concentration of urine uric acid, predisposing them to bladder stones.
Furthermore, they are prone to skin issues and food allergies.
As with many larger breeds, Dalmatians may suffer from hip and elbow dysplasia, which affect the joints.
Exercise and Training Requirements for the Dachshund Dalmatian Mix
Dachshunds are stubborn and not always obedient.
They like to bark and are protective.
Housetraining can be challenging, and failure is a big reason Dachshunds are given to shelters.
Dachshunds can experience separation anxiety and can be destructive when they are left alone.
Meanwhile, Dalmatians need exercise and basic training to avoid developing nervous habits.
Exposing Dalmatians to new situations will help them socialize.
They are sensitive and require positive reinforcement.
The Ideal Home for a Dachshund Dalmatian Mix
Both breeds can be good with children, as long as kids are old enough to understand how to treat a dog.
Dachshunds get along with other dogs and pets, especially if introduced early on.
Dalmatians love people and prefer interaction with humans when running off some of that abundant energy.
They need room to run, and you will need to train them because of their high activity level.
Dalmatians can be aggressive towards other dogs.
Keeping dogs away from their owners and horses was part of their original coach-dog duties.
Both breeds can be good watchdogs!
And both tend to do better when kept mainly indoors.
How to Find Dalmatian Dachshund Mix Puppies
Think you can handle a Dachshund x Dalmatian?
If so, you can find breeders online.
Make sure to look at the dog's environment, and also ask about health-testing.
If you love the idea of a Dachshund and Dalmatian mix, and have the right home for such a dog, this might be the perfect pet!
Let us know in the comments below what drew you to the Dachshund Dalmatian mix.
Resources and Further Reading
American Kennel Club
Beauchat, C. (2015). Health of purebred vs mixed breed dogs: the actual data. The Institute of Canine Biology.
Schaible, R. H. (1986). Genetic predisposition to purine uroliths in Dalmatian dogs. Veterinary Clinics of North America: Small Animal Practice, 16.
Picco, F. et al (2008). A prospective study on canine atopic dermatitis and food-induced allergic dermatitis in Switzerland. Veterinary Dermatology, 19.
Coile, D. C. (2004). The Dachshund Handbook. Barron's Educational Series.
Camp, Frances (2003). Dalmatian: A Comprehensive Guide to Owning and Caring for Your Dog. Kennel Club Books: New Jersey.
Swain, L. et al (2017). Lafora disease in miniature Wirehaired Dachshunds. PLOS One, Biology.
Get Pippa's free dog training tips delivered to your inbox