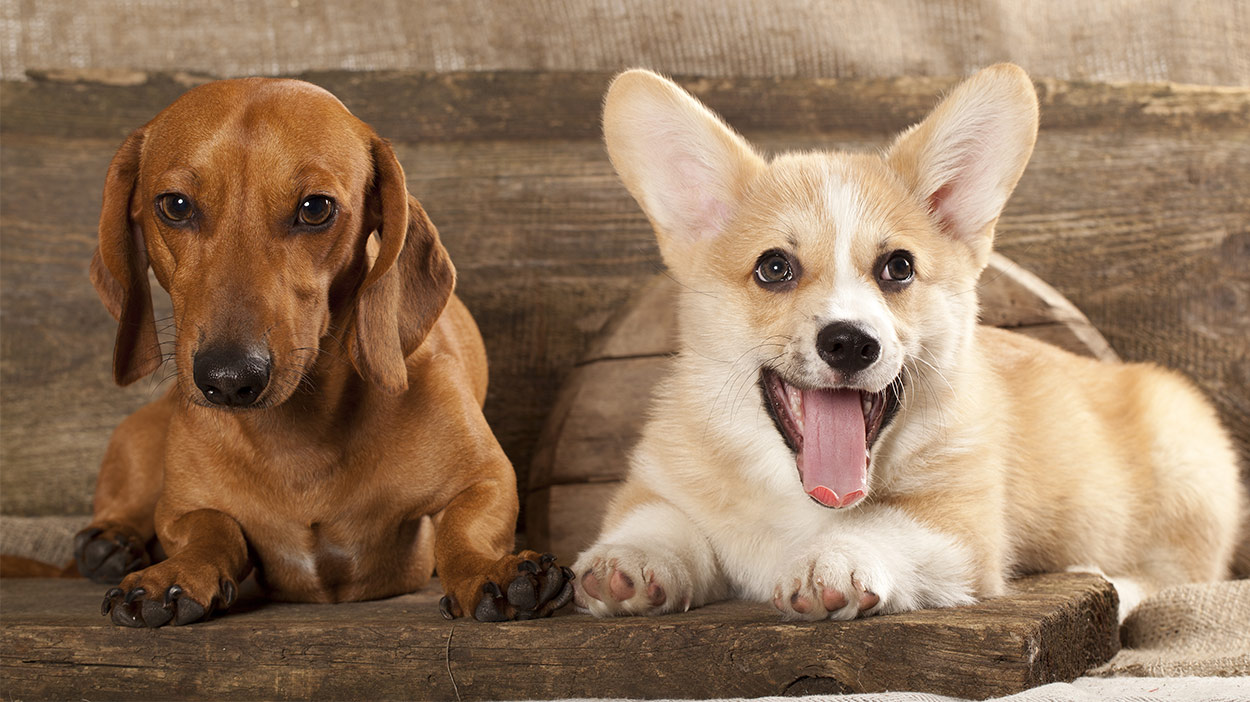 The Dachshund Corgi mix, also known as a Dorgi, is an endearing looking mix breed.
So who could blame you for wanting to find out more!
The mix is the result of two purebred parents—one of each breed—and many of them are available on the market.
However, you should carefully consider any decision to buy a Dorgi puppy.
The Dachshund Corgi mix is prone to spinal disease and has high exercise requirements.
In this article, we cover everything you need to know about the Dachshund Corgi Mix.
Designer Dogs – The Controversy
In the last few decades, there has been a rise in popularity of first-generation (F1) crossbreeds.
The term "designer dog" was coined to describe them, as well as cast them in a positive light for marketing purposes.
At the same time, there has been pushback from traditionalist dog breeders.
For hundreds, even thousands, of years we have bred dogs for certain traits, creating the well-defined breeds we all know today.
For most of history, there were two kinds of dogs: purebreds and mutts.
The designer dog phenomenon threw a wrench into the system. It's no longer as simple as premium dogs versus everything else.
Designer dogs are both desirable and expensive, occupying an interesting space on the dog hierarchy between purebred and mutt.
Increasingly, designer dogs are being chosen as pets more often than purebreds.
Some people vehemently oppose the rise of designer dogs, like the Corgi-Dachshund mix, because it represents a breaking of tradition.
Other people oppose them because they affect their livelihood, reliant on purebred dogs, and the new trend threatens their business.
One way purebred breeders combat the terrible threat of more Dorgis and Huskydoodles in the world is by spreading rumors like "the myth of hybrid vigor".
Purebred Health Problems
Even before humans understood the intricacies of genetics, we understood that having children with a family member was likely to cause defects in the child.
This was so deeply ingrained in our psyche that it's become the social norm across almost every culture—don't marry your relatives.
The term "purebred" is synonymous with "inbred", although you'll never hear that from a breeder.
After all, that's how pedigrees work. Kennel clubs maintain a list of dogs considered to exemplify the characteristics of a breed.
For a new puppy to be considered purebred, it must be the offspring of two dogs on that list.
This necessitates inbreeding, therefore, all pedigreed dogs are closely related to each other. It is no coincidence, then, those pedigreed dogs are notorious for having serious health problems.
When the purebred status overlaps with dog breeds with abnormal conformations (such as the squashed face of a pug or a bulldog), it's a recipe for a health disaster.
Introducing more genetic variety into a limited gene pool, by crossbreeding pedigreed dogs, for example, is a good way to alleviate health problems that have a basis in poor genetics.
In summary, the "myth of hybrid vigor" is just that—a myth. Hybrids, or crossbreeds, will have better genetic diversity, and as a result, better health in almost every instance.
The Dachshund Corgi Mix
Dorgi is a cute portmanteau for two popular dog breeds: the Corgi and the Dachshund.
The Dachshund Corgi mix has a long, noble history as a working dog. Both parent breeds were specialized to work alongside humans.
And their descendants share that same affinity.
Origins of the Dachshund
The dachshund was originally bred to hunt badgers—a fearsome challenge.
Badgers are known to be vicious and tenacious creatures, so any dog that would fight a badger would have to be equally ferocious.
Not only that, Dachshunds had to challenge badgers on their home turf—underground burrows.
To squeeze into the hole, Dachshunds were thus bred to have a short stature while retaining a powerful body.
Origins of the Corgi
The Corgi, while appearing adorably lackadaisical, was highly valued as sheep herding dog for many centuries.
The Welsh Corgi breed comes in two flavors: Pembroke and Cardigan.
The Cardigan Corgi is a bit bigger and more active, whereas the Pembroke Corgi's traits are what gives the breed its reputation for bumbling around.
Corgis have a venerable history as one of the oldest shepherding dogs in the world!
They were supposedly brought to Wales by the Vikings and used to herd many animals besides sheep.
Their modern-day claim-to-fame is that they are the preferred breed of Queen Elizabeth II, who has reportedly owned more than 30 of the pups during her reign.

Dachshund Corgi Mix Size and Weight
Breeding produces unpredictable results (especially in crossbreeds).
However, the following descriptions describe the average first-generation offspring of a purebred Corgi and purebred Dachshund.
These small dogs usually weigh between 15 to 30 lbs. They are invariably short, topping out at 15 inches or so. Stubby legs are another key characteristic of the breed.
Corgi and dachshund crosses have an average lifespan of 12 to 15 years, though it can be even shorter due to common health problems.
Dachshund Corgi Mix Coat and Color
Fur coat quality and color vary pretty widely, depending on the traits of the parents.
It can be anywhere from short to long hair, and wiry or soft. White, tans, browns, and even dark brown to black is possible in this breed.
You'll have to examine a puppy directly to determine what you'll get.
The Dorgi is often marketed as hypoallergenic, but take that that with a grain of salt—their disposition to shedding varies considerably.
Grooming and Care
Since the quality of fur can be quite different from dog to dog, you may want to ask a professional groomer for advice on your particular dog.
However, a good wire brush will go a long way in keeping any coat happy and healthy.
Monitor food intake very carefully, since you Dorgi will likely eat everything it can find. Being prone to obesity, you should ration the treats too.
It's best to ask your dog's vet how much food to give them daily.
Dachshund Corgi Mix Exercise Requirements
Despite their stubby little legs, these dogs sure do like to get around.
In fact, they need to get around.
Since, historically, both of the parent breeds of the Dachshund-Corgi mix were working dogs, their modern-day descendants may have many of the same impulses.
It's an active dog that requires a significant amount of daily exercise.
At a minimum, a Dorgi will require a walk every single day. But that's something you should be doing anyway, regardless of the breed.
An active dog like this one will require another outlet for its energy, namely, some off-leash time.
Aim for at least 30 minutes of outdoor off-leash time per day. It's important your Dachshund Corgi mix is able to stretch its (admittedly small) legs.
A fenced-in area for them to run around in is a must, be it your backyard or a local dog park. Exercise is especially important for this breed since they have a predisposition to obesity.
Although proper feeding is the most important method for preventing weight gain, exercise can be a valuable deterrent too.
Dachshund Corgi Mix Personality and Temperament
Since corgis and dachshunds both have a long history of working intimately with people, you can expect that the offspring of the pair would also be a people-puppy.
Since the breed stays small, you won't have to worry about kids being bowled over by a big dog. But potential back problems mean that they are vulnerable to being knocked.
So they aren't an ideal breed for small children.
The Dachshund Corgi cross is an intrinsically loyal breed. They form strong bonds with their family unit.
Be aware that, since this breed forms close bonds, they can suffer from separation anxiety if there are no familiar faces around.
If you need to have a neighbor watch your dog, make sure you introduce them first!
They are usually an alert, protective dog. Be sure to thoroughly socialize your dog as a puppy so that it is less likely to display guarding behavior as an adult.
They can also be quite noisy.
Dachshund Corgi Mix Training Requirements
In general, the Dachshund Corgi mix is a yappy dog since the jobs of their ancestors required being alert and loud—so woofing is in their blood.
But good training can minimize the amount of barking. And like all dogs, training is best started when they are puppies—and should continue for life!
A Dachshund Corgi mix is an intelligent dog so it will pick things up quickly if it is trained in an appropriate manner.
Make sure you train your pup efficiently by employing up-to-date techniques.
You'll want your dog to be reliable in off-leash situations since they require daily outdoor exercise.
Prioritize obedience training so you can be confident your dog will return when called.
Socialization is an especially important part of the training that involves exposing your Dachshund Corgi mix to strangers regularly.
This helps prevent anxiety and bad behavior in public. Include other dogs in the socialization training– there's nothing worse than a dog who can't play nice.
One tip for training these little guys is to make proper use of treats since they are highly motivated by food.
Don't give too many snacks, though. They get chubby fast!
Dachshund Corgi Mix Health Problems
Dachshund Corgi mix health problems are numerous… and often severe.
While crossbreeding to get a Dorgi makes these inherited issues less likely, there are still potential risks. So, let's look at the parent breeds to see what issues often arise.
Common Corgi health problems include:
Monorchidism (born with only one testicle);
Von Willebrand Disease, a blood-clotting disease;
Hip dysplasia or abnormal formation of the hip socket, which leads to limping and arthritis;
Progressive retinal atrophy, which degrades the retina leading to blindness.
Common Dachshund health problems include:
Intervertebral disc disease (IVDD), which is a breakdown of the intervertebral disc of the spine;
Numerous eye diseases, including progressive retinal atrophy, sudden acquired retinal degradation, cherry eye, and glaucoma;
Epilepsy (seizures caused by irregular brain activity);
Cushing's Syndrome, a collection of symptoms associated with cortisol exposure;
Patellar luxation (dislodged kneecap);
Thyroid issues.
Like many small dogs, both Corgis and Dachshunds are victims of their intentionally bred small stature. Purposeful miniaturization has caused these dogs to have numerous skeletal problems.
Dachshunds, in particular, have it rough because of their long spine and proportionally shallow rib cage.
Unfortunately, the Dachshund Corgi mix is still prone to many of its parent's diseases. The Dorgi also has a too-long spine, which means it is very likely to get IVDD.
Intervertebral disc disease is not a genetic illness, rather, it's a natural result of their body shape.
All motion, especially jumping, may cause grinding of the intervertebral discs leading to a slow, painful retirement for affected dogs.
You can minimize the onset by preventing your dog from jumping as much as possible—don't make them beg for treats or leap onto furniture.
Also, make sure to pick them up properly by keeping their back parallel to the floor and lifting the front and back end simultaneously.
Thyroid issues, common in dachshunds, are also possible in a Dachshund Corgi mix. Fortunately, these can often be identified early and treated before becoming serious.
Finally, this breed tends to be voracious eaters despite their small frame, and are therefore extremely prone to obesity.
You can thank their herding ancestors for their excessive appetites.
Weight gain can be avoided with proper exercise and dieting, which should be a priority since obesity can exacerbate other health issues.
Finding a Dachshund Corgi Mix Puppy
Dachshunds have long been a popular breed, and Corgis have definitely come into the limelight in recent years.
As such, finding a reputable breeder for this particular crossbreed shouldn't be a herculean task.
Fortunately, they're less expensive than many other designer dogs. A Dorgi puppy usually sells for between $200 and $400, but be sure to shop around.
However, be absolutely sure to get your puppy tested before purchasing it.
It's a vital step in the process of buying a puppy—a competent veterinarian should ensure your puppy is healthy and does not have any congenital defects.
Also, inquire about genetic testing for illnesses common to this breed.
Request parental health and genetic test results from any potential breeder, if possible. If a breeder assures you no testing is necessary, then run—don't walk—away from that person.
It's a sure sign of danger.
Some Final Thoughts on the Dachshund Corgi Mix
There are some great pros to owning a Dachshund Corgi mix, but also some significant cons.
The Dachshund Corgi mix is a great companion, but ultimately, is highly likely to suffer from severe illness.
You may save yourself some heartache by choosing another dog more likely to live a longer healthier life.
Many terrier varieties are small, furry, and loving. One of these may scratch the same itch as a Dachshund Corgi mix, with fewer health issues.
Just something to bear in mind!
Are you thinking about adopting a Dachshund Corgi mix? Or maybe you already have one? Let us know in the comments below.
References and Further Reading
Levine GJ. 2006. Evaluation of the association between spondylosis deformans and clinical signs of intervertebral disk disease in dogs: 172 cases (1999-2000). Journal of the American Veterinary Association.
Levine JM. 2006.Matrix metalloproteinase-9 activity in the cerebrospinal fluid and serum of dogs with acute spinal cord trauma from intervertebral disk disease. American Journal of Veterinary Research.
Tucková M. 1995. Seasonal effect on serum levels of thyroid hormones in German shepherds and dachshunds and their health status. Veterinarni Medicina.
Get Pippa's free dog training tips delivered to your inbox