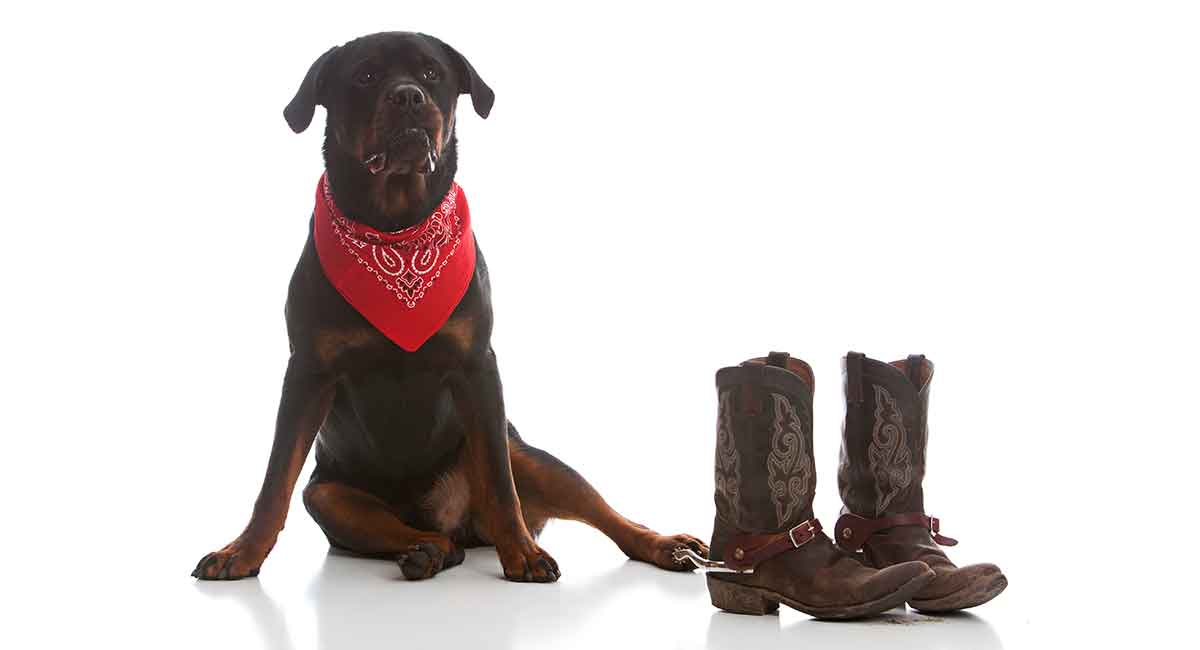 Cowboy dog names are the sweet spot where the Wild West and our canine pals collide.
Since dogs played such a huge role in the West, it's kind of a no-brainer that Western enthusiasts would want to give their dog a fitting cowboy name.
Are you a cowboy fanatic who just so happens to be bringing a new pup or rescue dog into your life?
First of all, congratulations. Second of all, you've come to the right place.
Look no further, this list is loaded with fun cowboy dog names for the cowboy that lives inside you both!
But before we begin with our list of cowboy dog names, let's talk about why the name you give your dog is so important.
Naming Your Cowboy Dog Puppy or Rescue Dog
Tales of the Wild West have always been popular. Saloon shootouts, damsels in distress, horses and ranch dogs—it's all the rage.
But it's important to remember that while naming your new dog should be fun, it should also be taken a little seriously.
So consider your dog and yourself in the naming process. And remember that you will be saying their name over and over again for many years to come.
You'll be repeating that name in public and at home. Is it appropriate enough to yell out at the dog park? Is it easy for your dog to learn? Can you pronounce it easily?
We should also tell you — and a number of experts and dog trainers agree — that names with two syllables seem to be the easiest for dogs to pick up on.
But that doesn't mean two syllable names are law in the dog naming world. It's merely a suggestion.
So, with that in mind, let's get started!
Because whether you're a modern-day cowboy with an Australian Shepherd or a regular Joe with a Pekingese, we've got the cowboy-inspired names for you.
Best Cowboy Dog Names
Are you curious about what the most popular cowboy names are for dogs? Well, be curious no more!
To help you, we've put together a list of twenty of the most popular and best cowboy dog names according to the world wide web.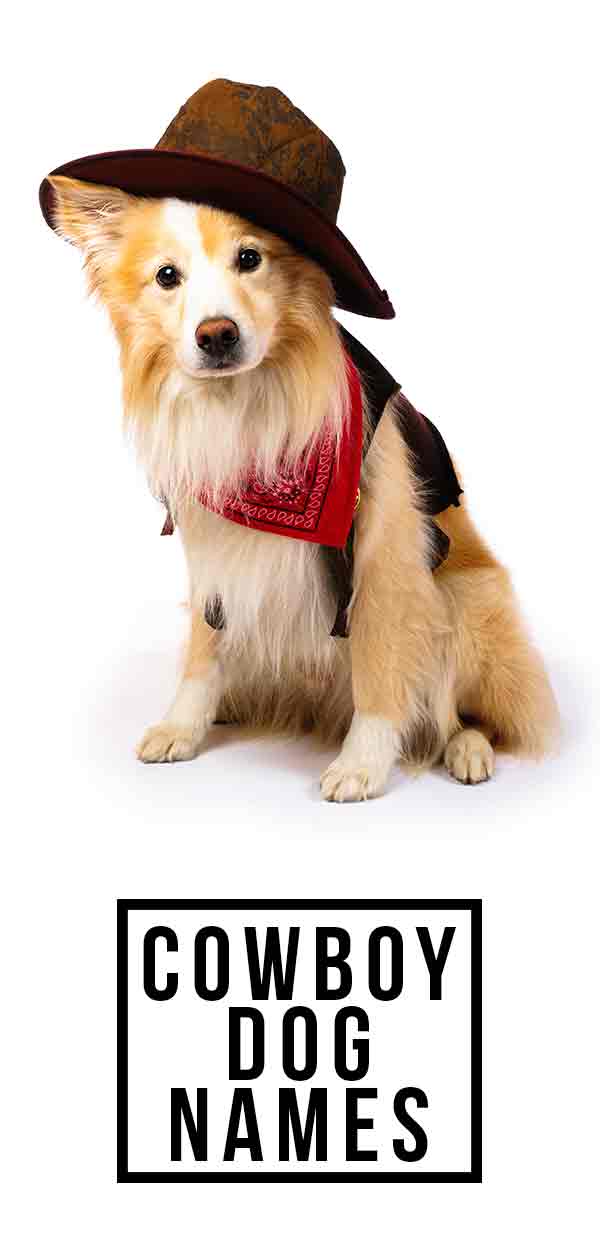 And we aren't going to lie, we've thrown in a few of our favorites as well! So, let's take a look!
Jed
Levi
Flint
Harvey
Billy
West
Dallas
Logan
Connie
Shiloh
Ty
Texas
Baxter
Jeb
Austin
Charlie
Brody
Doc
Justice
Slim
Female Cowboy Dog Names
There are no damsels in distress here!
These strong, feminine cowboy dog names are perfect for that sassy female pooch in your life who reminds you every day what it was like to be a female doggo in the wild west.
But what if you have a male dog? Could he be given one of the names below? Of course!
Betty Lou
Elly May
Kitty
Velma
Montana
Liddy
Cassidy
Dakota
Sacagawea
Annie
Rose
Arizona
Scarlett
Pearl
Belle
Etta
Alabama
Wilma
Sierra
May
We're sure you'll love these female cowboy names, but just in case they inspired you to look at an even broader list of female names, check out our complete list here.
Male Cowboy Dog Names
This is the perfect list of names for that male cowboy dog in your life. We love the spirit of the West in each and every one of these names.
They're perfect for that masculine ranch dog at heart, even if that ranch dog is a female Chihuahua with a dream.
Hey, no judgment here. These are just a few of our favorite male cowboy dog names!
Jedediah
Wyatt
Wild Bill
Butch
Birch
Huck
Cash
Wesley
Eli
Jackson
Jericho
Quentin
Rory
Tobias
Sawyer
Ryder
Walker
Toby
Weston
Tripp
So, has this list inspired you to look at an even larger compilation of male dog names? Perfect! We've got tons of masculine dog names waiting for you right here.
Cool Cowboy Dog Names
Cowboys are just naturally cool, right?
I mean, it's hard not to look at their dusty hats, their awesome boots, their horses and their ranch dogs and not see just how cool cowboys are.
That's why we think a cowboy's dog has to have an awesome name to match his awesome cowboy persona.
Below are the coolest cowboy names of the West.
Wilder
Wylie
Porter
Micah
Ray
Zeke
Paxton
Maverick
Malcolm
Nash
Pike
Marsh
Quint
Miles
Knox
Saloon
Kit
Palmer
Jericho
Reese
Do you want more cool dog names?
This even larger list of cool dog names may not specifically cool cowboy dog names.
However, they're still really cool names for dogs and we totally encourage you to check them out.
Cute Cowboy Dog Names
Can cowboy dogs be cool and cute?
Of course, they can! This list of super cute cowboy names for dogs proves it! Just see for yourself!
Rodeo
Lasso
Lucky
Spur
Cowgirl
Cowboy
Paisley
Boots
Maybelle
Dolly
Jolene
Loretta
Barrett
Angus
Abel
Bobby Ray
Atkins
Barnes
Mittin
Coyote
So, maybe you're not totally sold on any of these darling cowboy names for dogs? In that case, would you like to see an even bigger list of cute names for that cute canine in your life?
Check out this massive list of cute dog names here!
Funny Cowboy Dog Names
Just because cowboys are cool and cute doesn't mean they can't be hilarious too.
If you like a bit of irony or want some funny cowboy names that get your passion across while also making people smile, then this is the perfect list for you and your dog.
Below are some of the funniest cowboy names around.
Crazy Pete
Pappy
Shooter
Flapjack
Crabclaw
Ambassador Moneybags
No-Gun Sally
Horeseface
Mad Pierre
Whiskey Pete
Potato Johnson
The Baron
Texas Hank
Mexico Jack
Dead Fred
Insane Wayne
Jake the Snake
Fanny Annie
One-eyed Percy
Boothill Bevins
Unique Cowboy Dog Names
Not all cowboy names are recognizable, but that doesn't make them any less special.
If you're the type of cowboy who beats to his or her own drum, then your dog should reflect that, right?
For a list of super unique cowboy dog names, just read below!
Tiller
Fallow
Civil
Rancher
America
Gunner
Acorn
Silos
Snakes
Howdy
Hitch
Abisselfa
Apple Jack
Afly
Hobo
Huckleberry
Hunter
Haze
Marsh
Maroon
And if you are not totally convinced that you've found your unique cowboy dog name on the list above, that's okay.
Simply click here for an even bigger selection of unique dog names.
Tough Cowboy Dog Names
The thing about cowboys is they are inherently seen as tough. And that goes for a cowboy's dog as well.
But what does tough mean to you? Is a tough cowboy the villain or the hero?
Either way, we've got a fantastic selection of tough-sounding cowboy inspired names for your choosing below!
Bandit
Jesse
Desperado
Oakley
Outlaw
Buffalo Bill
Magnum
Hero
Gambler
Calamity
James
Gunsmoke
Django
True
Tomahawk
Revenge
Silverado
Apache
Hombre
Tombstone
Thirsty for more tough sounding dog names? Well, you asked and we delivered! Here is an entire article on tough sounding dog names just for you!
Famous Cowboy Dog Names
There are hundreds of famous cowboys in history.
Whether they come from real life or from our favorite movies and movie characters, they're worth taking a look at.
So, if you want to name your dog something totally awesome and recognizable, then this list of famous cowboy dog names is the list you've been waiting for!
Flame
Jack Boy
Napoleon
Dynamite
Rin Tin Tin
Lassie
Kazan
Braveheart
Lightening
Nanette
Spike
Captain
Buck
Ranger
Daisy
Chinook
Yeller
Duke
Bunk
Bullet
Fun Facts About Cowboy Dog Names
Now that you've heard some interesting cowboy dog names, are you ready for some fun facts about cowboy dogs?
Let's start with some fun facts about cowboy dogs.
First of all, did you know that the Australian Shepherd, or the Aussie, as he is sometimes called, is known as the official cowboy's dog?
That's right! In spite of what the name suggests, the Aussie is actually considered an American breed.
The Aussie has played a vital role in the expansion of the American West as a herding and ranch dog for many years.
In fact, this breed is still one of the most popular dogs in the US when it comes to ranching and herding!
But Aussie's aren't the only famous cowboy dogs. A number of other breeds have played canine cowboy roles in Western movies for decades.
So, are you still looking for the right dog name? No worries! Visit us here for more.
On the other hand, if you've already found the perfect cowboy dog name for you and your cowboy dog, we would love to hear about it!
Tell us which cowboy dog names lassoed your heart in the comments below!
References and Further Reading
Kaminski J, Call J, and Fischer J. 2004. Word Learning in A Domestic Dog: Evidence for "Fast Mapping." Science.
Harris, MB. 1983. Some Factors Influencing Selection and Naming of Pets. Psychological Reports. DOI:
Kutsumi A et al. 2013. Importance of Puppy Training and Future Behavior of the Dog, Journal of Veterinary Medical Science.
Dunbar I. 2004. Before & After Getting Your Puppy: The Positive Approach to Raising a Happy, Healthy & Well-Behaved Dog. New World Library.
Get Pippa's free dog training tips delivered to your inbox