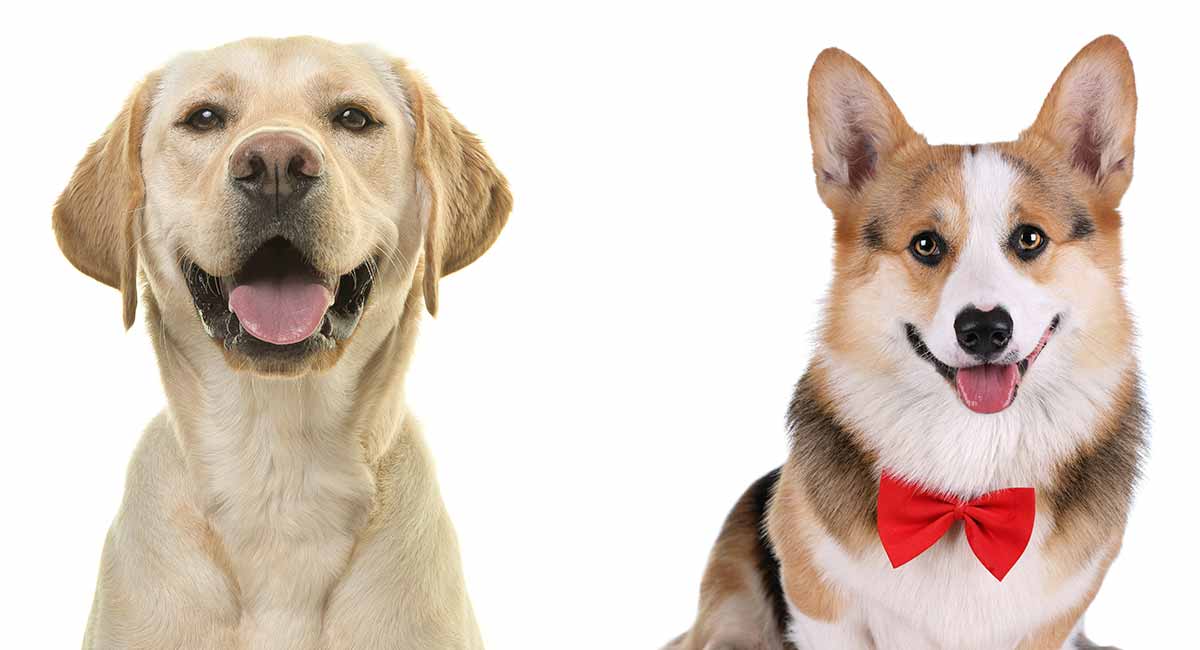 The Corgi Lab mix is a dog with one Labrador Retriever parent and one Pembroke Welsh Corgi or Cardigan Corgi parent.
Also known as a Corgidor, the Corgi Lab mix is a smart, active crossbreed that loves people!
However, this mix carries some serious health problems.
Here we'll go in-depth and help you decide if the Corgi Lab mix is the right dog for you!
Where Does the Corgi Lab Mix Come From?
The Corgi Lab mix comes from breeding either a Pembroke Welsh Corgi or a Cardigan Welsh Corgi with a Labrador Retriever.
We don't know where, exactly, Corgis originated because the breed is so old.
But, we do know that they were bred to herd livestock by nipping their heels. So, they had to be short and nimble to avoid being kicked!
We saw two different Corgi breeds immerge in the 1920s. They were the Pembroke Welsh Corgi and Cardigan Welsh Corgi.
As for Labradors, they were bred to work alongside fishermen. One of their jobs was to hunt waterfowl, which explains their love of the water!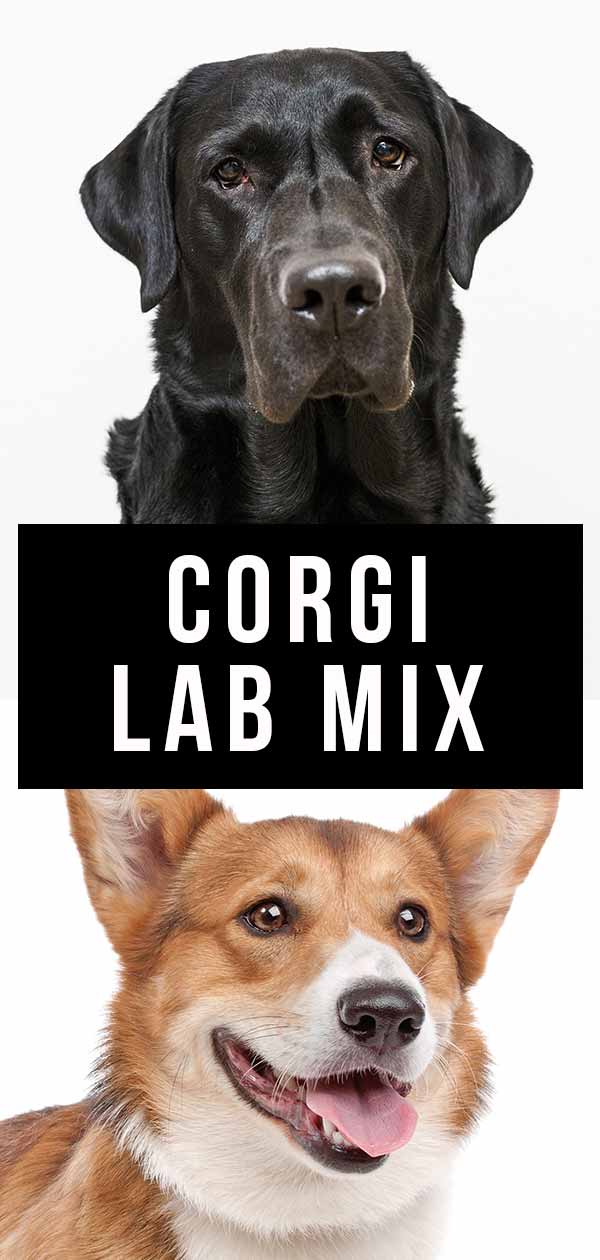 Fun Facts About the Corgi Lab Mix
Labradors and Pembroke Welsh Corgis are two of the most popular breeds today. Out of 192 breeds on AKC, they rank at numbers one and thirteen, respectively!
Cardigan Welsh Corgis are slightly less popular. But they still rank at number sixty-eight.
Corgi Lab Mix Appearance
As you likely know, Corgis and Labradors look very different!
So, their puppies can take many forms. They could weigh as little as 26 pounds or as much as 80 pounds.
A Corgi Labrador mix's height can also range. They could be anywhere from 10-24 inches tall!
They also come in several colorings. None of the typical Labrador or Welsh Corgi coat colors are ruled out.
This means a pup in any given litter may be black, brown, or yellow like their Labrador parent. Or, they can be combinations of white, black, red, or any other Corgi fur colorations.
One thing we know for certain is that a Corgi Lab mix will have a short coat and shed often. Just like both parent breeds.
Temperament
As with their appearance, Corgi Lab mixes can take personality traits from either parent breed.
Labradors are incredibly friendly, active, and intelligent. They need mental stimulation to keep happy. This can be done through games, training, or toys made to challenge them.
They're known for chewing and love to put things in their mouths. To avoid problematic chewing, Labs must be well-exercised to prevent them from getting bored.
They also need to be provided with many chew toys to play with so they turn to these, rather than your shoes!
What About Corgi Temperament?
As for Welsh Corgis, they're also energetic. They are prone to guarding and herding behaviors due to their history as working dogs.
Some may even try to herd children by nipping their ankles. Teach them early on not to do this!
It's also wise to never leave your dog alone with a child, no matter their breed.
Corgi Lab Mix – An Energetic Dog
When we combine the parents' traits, we definitely get one active dog! They will need plenty of exercise.
They may also be quite loud, as both parent breeds love to bark. They're very intelligent as well!
Depending on which trait they inherit, these mixes may be super friendly, or exhibit some guarding tendencies.
If they take after their Corgi ancestry, they may be prone to biting. Even when they're not trying to hurt anyone, you still don't want them biting your ankles!
Train and socialize them as early as possible to prevent this, and any problematic behaviors.
Training Your Corgi Lab Mix
These dogs' intelligence can make them a breeze to train!
But, both parent breeds do have some common behaviors that we want to avoid encouraging.
First, you want to be sure to socialize your dog early. Be sure not to let them bite people or other animals, and don't let them jump on people. Especially if they're one of the larger dogs of this breed!
By meeting a variety of different people and dogs, your pup will learn how to interact with others properly. This important for any dog. But especially those Corgi Lab mixes that have inherited their Corgi parent's guarding tendencies.
Training Tips
Of course, you'll also need to potty train your pup. You may want to look into crate training as well.
If you need more help, check out our training guides!
When it comes to exercise, these dogs need lots of walks and playtime to stay happy and healthy. They should be walked at least once a day!
Though this mixed breed is incredibly active, they shouldn't jump from high places or be handled roughly. This can lead to spinal injuries if they've inherited their Corgi ancestors' long backs and short legs.
Corgi Lab Mix Health
Corgi Lab mixes, like all mixed breeds, can inherit health problems from both parent breeds. Here are some health concerns we need to look for in these pups:
Tips for Achieving The Best Health for Your Dog
The Welsh Corgi lineage, in particular, makes this mixed breed an unhealthy one. This is because of the way Corgis are bred. Their short legs and long backs make them prone to spinal damage.
To best avoid this, keep them from jumping off of high surfaces and handle them gently.
Corgi Lab mixes typically live 10-15 years.
To help with shedding, these dogs should be brushed at least once a week. They should also be bathed regularly.
When feeding your dog, break their food into two or three meals throughout the day.
Do Corgi Lab Mixes Make Good Family Dogs?
Corgi Lab mixes can make excellent family dogs. Though they're better suited for a household with older children.
If you have young kids, be sure to teach them to handle dogs gently. On the other hand, your Corgi Lab mix will also need to be taught how to behave around children.
If you do choose to adopt a Corgi Lab mix, though, we recommend adopting from a rescue, not a breeder. This is due to their health problems, which are caused by irresponsible breeding.
Rescuing a Corgi Lab Mix
We highly recommend you opt for rescuing this mixed breed, rather than buying from a breeder.
When it's time to start looking for your new furry friend, you can check local shelters and rescues. But, this is harder when looking for a specific mixed breed.
If you don't find your dog at a general dog rescue or shelter, don't give up hope!
Instead, search breed-specific rescues for Labradors and Welsh Corgis. These rescues often take in mixed breeds as well.
Finding a Corgi Lab Mix Puppy
We don't recommend buying a Corgi Lab mix puppy from a breeder due to the health risks in this breed.
If you're set on adopting from a breeder, be sure to avoid pet stores and puppy mills. This is because buying at pet stores often leads to you unwittingly supporting a puppy mill, since you have no idea where the puppies came from.
A reputable breeder will allow you to see your puppy's whole family in the environment they're being raised in. All dogs should be healthy and have all necessities provided for them, such as water and ample space to play.
Parents and puppies should all be vetted, and the breeder should allow you to see records showing that they are healthy and up-to-date on all vaccines.
Pros and Cons of Getting A Corgi Lab Mix
Cons
These dogs need lots of exercise. They aren't for people who prefer a more relaxed lifestyle.
They also shed frequently. But, this can be managed through brushing them on the regular.
If they take after their Corgi parent, they will need proper training to avoid nipping at ankles.
Because of this behavior, they aren't well-suited for households with small children. They also aren't the best for quiet homes or apartment life either, because they love to bark!
Corgi Lab mixes have the potential to develop many serious health issues due to Corgis' body shape. Their short legs and long back can lead to spinal complications.
For this reason, we don't recommend going to a breeder. If you want a Corgi Lab mix, please adopt a rescue dog!
Pros
A Corgi Lab mix may be a perfect pet if you live in an active family without young children. They need lots of exercise to stay healthy and happy.
They're also incredibly intelligent dogs and, if they take after their Labrador parent, will be extremely friendly as well!
We don't recommend buying a Corgi Lab mix from a breeder. But rescue is an extremely rewarding experience for both you and your new dog!
Similar Corgi Lab Mixes and Breeds
If the health risks of this mixed breed are off-putting for you, or you just want to explore other options, there are plenty of other mixes to look at.
Here are some to consider:
Corgi Lab Mix Rescues
If you want to adopt a rescue dog, take a look at these breed-specific rescues. This list isn't exhaustive, and we'd love for you to comment if you know of any other Corgi or Labrador rescues.
Corgi Lab Mix Rescue – USA
Corgi Lab Mix Rescue – UK
Corgi Lab Mix Rescue – Canada
Is A Corgi Lab Mix Right For Me?
If you don't mind rescuing a dog and love to be active, a Corgi Lab mix may be perfect for you!
They aren't well suited to those who like quiet, as they love to bark. You will also want to be careful if you have young children, as Corgi Lab mixes are prone to spinal injuries if treated roughly. They're also prone to nipping heels themselves, which may be a risk to young kids.
References and Resources
Get Pippa's free dog training tips delivered to your inbox