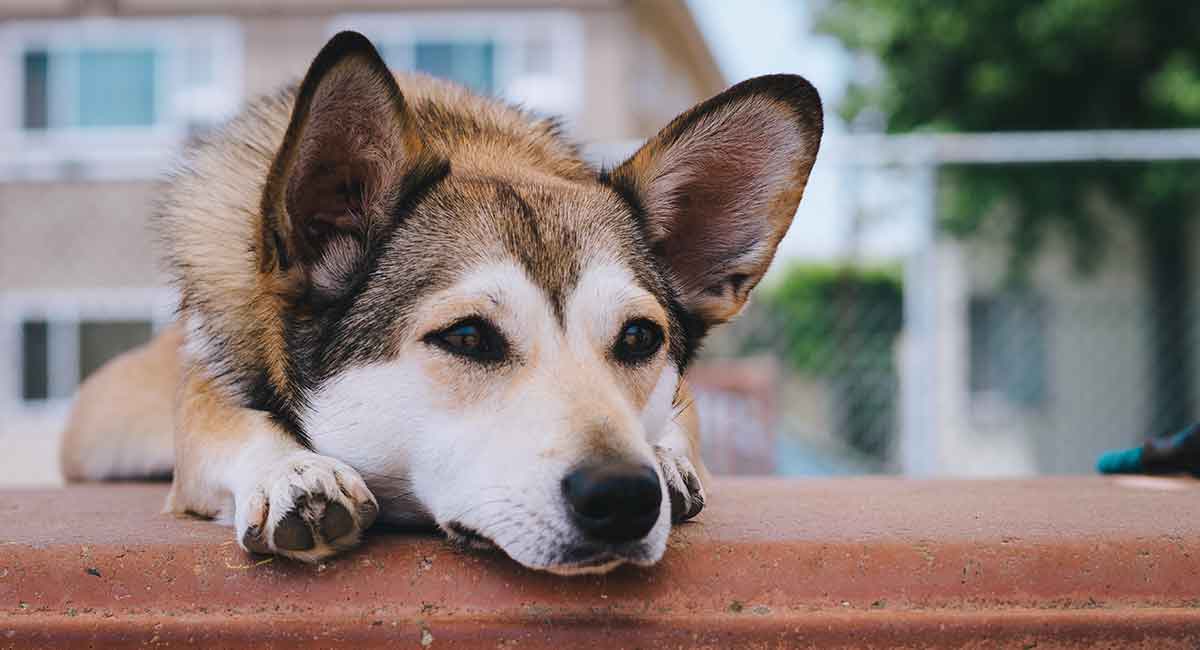 The Corgi Husky Mix results from a cross between a purebred Corgi and a purebred Siberian Husky.
The temperament and appearance of this mixes is hard to predict. This is because designer dogs can inherit any characteristics from either parent. We cannot influence this. However this breed is generally very friendly, active, and intelligent.
A Corgi Husky mix dog is a hybrid which is guaranteed to make you look twice!
Separately these well-loved breeds seem to have very little in common. So what happens when they make a litter of Corgi Husky mix puppies?
In this article, we explore the unpredictable world of the Corgi Husky mix, including their health, disposition, and suitability as family pets.
Where Does the Corgi Husky Mix Come From?
Corgi Husky mix dogs are part of a modern trend for mixed breed dogs.
That means they don't have a long history.
Cross breeding has been made popular by dog breeders and owners looking for new and unique pets. It's often fueled by an optimism that the hybrid puppies will only take on the best qualities of each of their parents.
In fact, cross breeding can be good for dogs. Pedigree dogs, by definition, come from a very small gene pool of dogs in the same pedigree.
Can Cross Breeding Affect Health?
This small gene pool can drive up the frequency of inherited diseases within a dog breed.
Out-crossing with other breeds can improve their overall health, lifespan, and newborn survival rates. This is known as hybrid vigor.
But, the results are far from predictable. Mixed breed puppies can inherit undesirable traits from their parents as well as good ones.
They can even inherit qualities from each parent which contradict each other, as we shall see.
But first, let's look to the history of Corgis and Huskies to find out where our mix's parents come from.
History of the Corgi
Although the Corgi might not be the first breed that comes to mind when you think of the herding group, Corgis do actually have an interesting history as herders. They do, in fact, fall into this group.
The best weavers during medieval times came from what is now northern Belgium. These weavers were so coveted that rulers would often pay them to relocate within their borders.
When Henry I of Britain did this, his group of weavers brought with them all the supplies they needed to establish a new weaving community in Wales – included their preferred herding dogs.
This group of herders, are the direct ancestors of the Pembroke Welsh Corgi.
History of the Siberian Husky
The Siberian Husky's ancestors also had important jobs to do and a history of doing them very well. Remember, the Siberian Husky is not the same as the Alaskan Husky! 
The Chukchi people of northeastern Asia originally bred these "Siberian Chukchis" as companions and sled dogs over 3,000 years ago.
Later, a changing climate forced the Chukchi people to expand their search for food and resources. For this, they needed a superior breed of dog that could haul loads over vast, frozen distances. They needed the Siberian Husky.
It wasn't til the 20th century that these dogs found fame as household pets and show dogs.
Fun Facts About the Corgi Husky Mix
In 1925, 150 Huskies delivered life saving diptheria antitoxin to the isolated community of Nome in Alaska, saving thousands of lives from an emerging epidemic.
The lead dog of the final stage, Balto, has become a folk hero in his own right. You may recognize Balto from the 1995 Univeral Pictures film of the same name.
Queen Elizabeth II got her first Corgi in 1933. She has had many since then and always owns at least one.
There are two separate corgi Breeds the Pembroke Welsh Corgi and the Cardigan Welsh Corgi.
Although the two breeds of Corgis may look similar, the Cardigan variety has roots in the Dachshund and the Pembroke does not.
The Pembroke Welsh Corgi is the more common breed but the Cardigan is the older breed.
Corgi Husky Mix Appearance
The first thing you'll notice when you encounter this breed is probably the body of a Pembroke Welsh Corgi.
It has been said that anything mixed with a Corgi looks like a Corgi in disguise as the other breed. This is generally quite accurate.
Why do Corgi Husky Dogs have Short Legs?
Corgis are short because they carry the gene for achondroplasia, or dwarfism.
Some Corgis are heterozygous for achondroplasia. They carry just one copy of the gene for dwarfism, which means their legs are slightly longer, and they might not pass the gene on to their offspring.
But the majority are homozygous for achondroplasia – which means they have two copies of the dwarfism gene.
These Corgis have the very short legs we're most familiar with. They will always pass on the dwarfism gene to their puppies.
This means that most Corgi Husky mix puppies inherit one copy of the dwarfism gene, and end up with legs which are shorter than a Siberian Husky's, but longer than a Corgi.
If a Corgi with just one copy of the dwarfism gene sires Corgi mix pups, around half of them will grow up with regular length legs.
What Does a Corgi Husky Mix Dog Look Like?
Other physical attributes of this mix are harder to predict.
These puppies can take their looks from either parent – you might even find a lot of variation within the same litter!
Husky Corgi mixes are likely to be quite sturdy with a solid layer of muscle.
A healthy Corgi Husky mix might weigh anywhere between 25 and 50 pounds.
Both parents have a long, pointed snout and pointed ears, so their puppies can be assured of these.
They may share the Husky's fluffy coat, or their coat may be coarser like a Corgi. It could be short and tidy, long, or somewhere in between.
Can Corgi Husky Mix Dogs have Blue Eyes?
Siberian Huskies can have blue eyes, brown eyes, one of each or both colors in each eye.
This is caused by uneven melanin distribution in the eyes and the isolation of this trait in breeding.
Corgis can also have blue eyes, although it is less common.
This trait may show up in your Corgi Huski mix puppy, depending on the DNA of their parents, and the genetic roll of the dice when they mate.
Corgi Husky Mix Temperament
Both of these breeds have been companions, friends and coworkers to humans since their foundation. For this reason, you can expect a Corgi Husky mix to be very friendly toward people.
Both of these breeds are also very intelligent and in touch with human cues. You'll find they respond to different tones of voice and levels of enthusiasm. Their understanding of humans can often seem a bit uncanny.
Corgi Husky Mix Energy
Corgis and Huskies are both confident workers too. For centuries they have been kept occupied with important canine jobs.
This makes it extremely important that you have enough unique toys and activities to keep your Husky Corgi mix occupied.
If their lively minds get bored they might become destructive out of frustration, or look for ways to break out of your home or yard.
Although Huskies can be highly independent, they are still pack-animals at heart. You might consider owning more than one dog if you plan on having a Husky or a Husky mix since they do crave socialization.
Training Your Corgi Husky Mix
For generations, these clever dogs were expected to be able to work independently when out of sight or earshot of their handler.
That means that even today, they still find following their own instincts rewarding and satisfying.
You'll have to tailor their training so that you offer positive reinforcements which are even more rewarding and satisfying.
If you don't have any previous experience of dog training, bear in mind that this makes them among the more challenging breeds to train.
Natural Instincts
Huskies in particular may be predisposed to inattention and impulsiveness.
And some Corgis and their mixes still have a strong impulse to round up other animals and small children by nipping at their heels if they run off.
Carefully socializing them from a young age and rewarding them for appropriate behavior is the key to overcoming these behaviors.
Be prepared to invest a lot of time and patience in training, and ask for help from a puppy obedience class or professional dog trainer.
Corgi Husky Mix Exercise
Both of these breeds are born workers, which means they'll need a good amount of exercise.
You'll really never be able to use up all of a Husky's energy, in particular – these dogs were bred to run, and run, and run.
Allow for at least an hour of exercise a day, on top of playing games at home.
This crossbreed will benefit from a secure yard where they can run off steam during the day.
However, you'll need to take care if your Corgi Husky mix has the stamina of a Husky, but the physical limitations of a Corgi.
Let's see next what we mean by that.
Corgi Husky Mix Health
Siberian Huskies are generally healthy dogs. They often live into their mid-teens.
Corgis also can live to their mid-teens, but, they can have severe health problems which affect the quality of those years.
Dogs with dwarfism, including the Corgi Husky mix, are vulnerable to painful back problems including intervertebral disc disease (IVDD).
IVDD is the degeneration of the tissue in between the vertebrae – without it the spine becomes less flexible, and less able to absorb the impact of running and jumping.
Corgis with symptoms or a family history of IVDD shouldn't be used for breeding.
A good Corgi Husky mix breeder will offer you the results of a full veterinary check of their litter's parents, carried out before the mating took place.
Other Health Concerns of the Corgi Husky Mix
Your Corgi Husky mix might also be prone to:
Hip dysplasia
Elbow dysplasia
Cataracts and eye problems
Hearing problems
Skin problems
Hiip Dysplasia
Hip dysplasia is an abnormal bone development in the hip joint which causes painful arthritis and lameness. It affects about 1 in 50 Huskies, but 1 in 20 Corgis, and has a strong genetic component.
A Corgi Husky mix dog who inherits hip dysplasia from their Corgi parent is especially prone to becoming frustrated and unhappy if their instincts tell them to run like a Husky. The disease will also manifest and accelerate quicker.
Before mating, the parents of a Corgi Husky mix litter should receive a hip evaluation and an ophthalmologist evaluation, which your breeder will be able to provide certificates of.
A Final Concern
Finally, over a third of purebred Corgi litters are already delivered by cesarian section. The Corgi's small frame is not suitable to carry and safely deliver the puppies of a much larger breed like the Husky.
For this reason, only ever deal with breeders who mate a male Corgi with a female Husky.
Do Corgi Husky Mixes Make Good Family Dogs?
This mix enjoys living and working alongside people.
They have bags of energy and stamina, which means they're perfect for a family with lots of time to share, and an active lifestyle.
It's important to make sure your Corgi Husky mix puppy's parents were health tested, so that they don't suffer some of the painful conditions prevalent among Corgis.
Corgi Husky mix dogs are intelligent, but they can be challenging to train. Bear this in mind if you already have a lot of other demands upon your time.
Furthermore, Corgi Husky mix dogs are often better suited to households with older children, because they might not be able to resist herding up toddlers and small children with a nip at the heel.
Rescuing a Corgi Husky Mix
A Corgi Husky mix might be a great candidate for adoption since they are of an extremely friendly nature.
Rescuing a dog means you get to meet them as an adult, and find out the ways they take after a Husky and the ways they take after a Corgi.
Most rescue centers will also provide you with the outcome of a full veterinary exam before you commit to bringing a dog home.
We'll link to some shelters specializing in Huskies, Corgis and their mixes at the bottom of this article.
Finding a Corgi Husky Mix Puppy
If you decide to purchase a Corgi Husky mix puppy, please be careful not to patronize pet stores or puppy mills.
Although it may be tempting to rescue a puppy from these situations, this practice only makes the problem worse.
In addition, adopting from a mill will also expose you, your family and others to an unpredictable animal.
This step-by-step puppy adoption guide has a ton of great information if you are looking to buy a puppy.
With the growing popularity of mixes, you shouldn't have any problem finding the perfect dog.
Raising A Corgi Husky Mix Puppy
Raising a puppy is a big commitment, but it is a tremendously fun one, as well.
You'll be able to start potty training on day one.
Even the most naturally friendly breeds benefit from socialisation too – this guide has 12 great places to start.
If your Corgi Husky mix inherits the Husky's fluffy coat, you'll also need to plan a grooming schedule. One of these brushes will help to make light work of it.
Pros and Cons of Getting A Corgi Husky Mix
There's a lot to think about before bringing home a designer crossbreed like the Corgi Husky mix.
Let's sum them up here.
Cons
Huskies and Corgis have different backgrounds and different instincts (running vs herding) – you won't know which your mixed pup most resembles until they're grown up.
Corgis are prone to genetic health disorders which they can pass onto their puppies.
These smart, independent dogs might be too much of a challenge for a novice dog trainer.
Pros
Both parent breeds have lived and worked closely alongside people for hundreds of years – they're typically great with people.
They're both big personalities of the dog world – life will never be dull with a Corgi Husky mix at home!
Similar Breeds
If you aren't sure that the Corgi Husky mix is the perfect dog for you, there are plenty of others to choose from.
Take a look at some of the following breeds that might suit your family better:
Corgi Husky Mix Rescues
Looking for a Corgi or Husky Rescue? Check out these great organizations below.
Corgi Rescues
Husky Rescues
Is A Corgi Husky Mix Right For Me?
The Corgi Husky mix blends two of the world's most distinctive canines. But the result is predictable.
To decide if this mix is right for you, consider all the possibilities, and ask yourself if you could embrace them all.
Have you already taken the plunge?
Tell us how it's worked out in the comments box below!
References and Resources
Breur, G. J., et al. "Genetics of Canine Hip Dysplasia and Other Orthopaedic Traits." The Genetics of the Dog.
Packer, Rowena M. A., et al. "How Long and Low Can You Go? Effect of Conformation on the Risk of Thoracolumbar Intervertebral Disc Extrusion in Domestic Dogs." PLoS ONE. 2013.
Priester, William A. "Canine Intervertebral Disc Disease — Occurrence by Age, Breed, and Sex among 8,117 Cases." Theriogenology. 1976.
Wan, Michele, et al. "DRD4andTHgene Polymorphisms Are Associated with Activity, Impulsivity and Inattention in Siberian Husky Dogs." Animal Genetics. 2013.
Houdek, Jennifer. "The Serum Run of 1925". LitSite Alaska. The University of Alaska Anchorage.
Get Pippa's free dog training tips delivered to your inbox