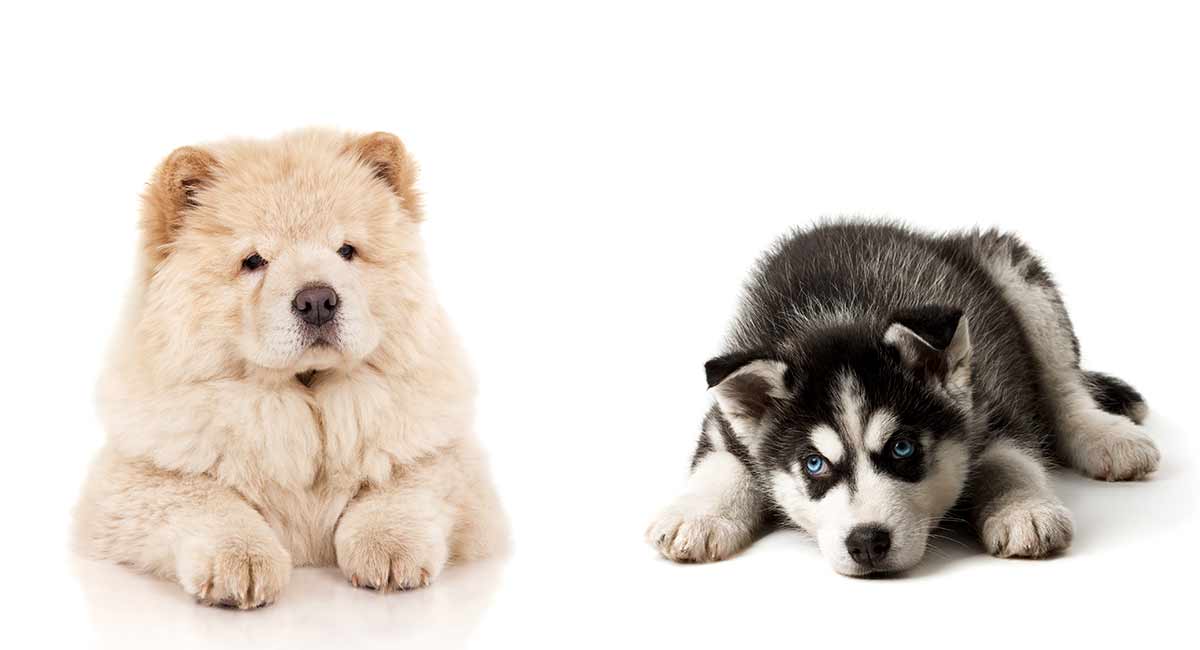 Welcome to your complete guide to the Chow Chow Siberian Husky Mix, a designer dog breed which is also referred to as the "Chusky!"
This hybrid is a large and extra fluffy dog who may be outgoing and energetic, or he may be more reserved and a bit protective of his home.
Read on to learn about the Chow Chow and Siberian Husky breeds, how the cross may look and act, some genetic health problems to watch out for, and how to find the right puppy.
What is a Chusky?
A Chusky is the result of breeding a purebred Chow Chow with a purebred Siberian Husky.
We'll talk more about where the Chusky dog comes from in the next section.
Where did the Chow Chow Husky Mix come from?
Chow Chow Origin
The Chow Chow is thought to be one of the oldest dog breeds, as ancient Chinese artifacts suggest that Chow Chows have been around since at least 206 B.C.!
Throughout their lengthy history, Chows Chows were mostly used as guardians, hunters, and sporting dogs for Chinese noblemen.
When some of the dogs made their way to England through trade with the Chinese in the early 1800s, they were often referred to as "The Wild Dogs of China," as Queen Victoria roused an interest in "exotic" dog breeds.
Chow Chows didn't make their way to America until close to 1900, and the American Kennel Club (AKC) began accepting them as a member of the non-sporting group shortly after, in 1903.
Today, Chow Chows are still commonly used as guard dogs, but they also make unique pets for the right family environment (more on that later).
Husky Origin
The Siberian Husky is another old dog breed whose earliest ancestors can be traced to thousands of years ago, when nomadic people used them as hunting dogs and traveling companions.
Huskies were later exported to Alaska and Canada sometime in the early 1900s, where they were trained to be sled dogs.
The hard-working breed eventually made it to the United States, where the AKC began registering Huskies as a member of the working group in 1930.
Today, Huskies can still be found pulling sleds in Alaska and Canada, but they are also pretty popular as family pets (again, in the right environment).
Husky Chow Mix temperament
A Chow Chow cross Husky may be suitable as a pet only when kept in the appropriate environment, since Chow Chows and Siberian Huskies each have some personality quirks.
Guarding tendencies
A Chusky may inherit the Chow Chow's territorial nature and/or guarding tendency, which may make one unsuitable as a pet for a home that receives lots of visitors (both human and animal). They are naturally leery of strangers and may become aggressive toward them.
Huskies generally aren't aggressive toward strangers, but they usually aren't the first to greet a stranger at the door, either.
Therefore, it would be in everyone's best interest to socialize a Chusky puppy with strangers and other dogs starting as early in the dog's life as possible. Otherwise, the guarding tendency may rear its ugly head at an inopportune time.
Other pets
You may also need to reconsider a Chusky if you have one or more smaller-sized pets in your house, as the Chusky may inherit the Husky's strong prey drive, which may make him want to chase after cats with some serious vigor!
Exercise
As a working breed, the Husky especially can go for hours. Simply put, the cross will need plenty of space to run and play when off-leash, preferably with an enclosure to keep him from chasing after bunnies and other wildlife.
However, Chow Chows are actually physically ill-suited for too much vigorous exercise due to their intolerance to high heat (we'll get into that in the health section of this article), but a bit of activity each day will keep one content and fit.
Children
Chow Chows also tend to be a little less interested in play time, so a Chusky with more of a Chow Chow temperament may not be too thrilling for children who want to play. They generally are tolerant of children, but just aren't into play time quite like other dog breeds, like Huskies.
Huskies are known to be excellent with children, so a Chusky with more of a Husky temperament would be better suited for a home with children.
(We always recommend supervision of play time to ensure that it doesn't become too rambunctious – a Chusky has the potential to be a large dog that could easily knock a small child over.)
Training
Furthermore, both Chow Chows and Huskies can have an obstinate attitude which may make them harder to train. Chow Chows are even known to be a bit rebellious when forceful training techniques are used.
For these reasons, a Chusky would be best suited for a home with plenty of dog ownership and training experience, preferably with someone who is experienced with positive reinforcement training methods.
Finally, a Chusky may inherit the Husky's tendency to howl. This could be problematic if you live close to other people who would not appreciate the noise.
With all of that being said, just remember that it's hard to say with certainty how a mixed breed will turn out. For instance, you may find a Chusky that doesn't howl like a Husky or that isn't as territorial as a Chow Chow.
How big will a Chow Husky get?
A Chusky will certainly be a medium or large dog.
Based on the Chow Chow and Husky's typical heights and weights, a Chusky (full grown) may be anywhere from 35 to 80 pounds and 17 to 23.5 inches tall at the shoulder.
As with any purebred or hybrid dog, females tend to stay on the smaller end of the above size ranges.
Chow Chow x Husky grooming and shedding
A Chusky's coat will surely require some maintenance, but the exact amount of maintenance depends on which coat type he inherits!
Chow Chows may have a smooth (short) or rough (long) coat. Both are incredibly thick double-coats that require a thorough brushing at least twice weekly.
To keep the skin healthy, it's also recommended that you bathe a Chow Chow on a monthly basis. Furthermore, both coats include a thick "ruff" or mane of thicker fur around the head and neck. This fur can easily become matted if it's not kept in check!
The Husky also has a double-coat which needs a weekly brushing to keep it from tangling or matting. Huskies could benefit from a bath a few times each year, but usually do not need one monthly, like a Chow.
Both Chow Chows and Huskies shed profusely, with the Husky shedding its undercoat completely twice a year. Simply put, a Chusky will be a high-shedding dog.
Chow Chow Husky colors
A Chusky may be solid or bicolored.
If a Chow Chow Husky puppy inherits Chow Chow coloring, then her coat color may be one of the following (the tail, feathering, or ruff may be lighter-colored):
Red
Black
Blue
Cinnamon
Cream or white
If a Chusky inherits Husky coloring, then her coat color may be one of the following:
Agouti and white
Black and white
Gray and white
Red and white
Sable and white
White
She may also inherit the Chow Chow's unique blue-black tongue and/or the Husky's white mask.
Chow Chow and Husky Mix health
Hybrid dogs have a predisposition toward any diseases or physical defects which are carried by their parent breeds.
For Chuskies, both parent breeds are prone to developing skin infections, hip and/or elbow dysplasia, vision and eye problems, and bloat.
To learn more about some of the diseases and health conditions that commonly affect Huskies, refer to this article on the Siberian Husky.
Here are a few other ailments that may afflict a Chusky based on his genetics and/or physical appearance:
Heat sensitivity

Chow Chows are intolerant of high heat due to their very thick coats (but don't be tempted to shave it!) and thick body build, which generates lots of heat on its own. They are cold-weather dogs, so you might reconsider a Chusky if you live in a primarily hot and humid climate.

Hypothyroidism

When the thyroid does not create enough of the thyroid hormone, it causes the metabolism to slow, weight gain, hair loss, and/or dry skin. According to the Merck Veterinary manual, hypothyroidism is most common in mid- and large-sized dog breeds between the ages of 4 and 10 years old. Once it is diagnosed, you must give the dog thyroid hormone replacement pills for life.

Wobbler syndrome

Chow Chows commonly develop Wobbler syndrome, which causes compression of the spinal cord and spinal nerve roots in the neck, which then prevents the dog from feeling his feet normally. An affected dog may walk with a wobble or drunken-looking gait. This debilitating condition also causes severe neck pain.

Ectropion

Dogs with excess skin around the face, especially around the eyes, are prone to ectropion, or unnatural drooping of the lower eyelid. This is not good, as it exposes the eyeball and sensitive conjunctiva to the elements. If a Chusky inherits the excessive skin of a Chow Chow, then he may have an issue with ectropion.

Panosteitis

Large and giant breed puppies can develop inflammation in the long bones of the legs sometime between five months and 14 months of age with no known cause. It usually presents as lameness in multiple legs and self-resolves before the affected dog reaches two years old. Panosteitis has been reported in Chow Chows.

Skin cancer

According to a 2006 study, Chow Chows seem to be among the dog breeds that are most commonly diagnosed with melanoma skin cancer. The majority of the Chow Chows presented in the study developed initial tumors in the oral cavity, which may come as a surprise. A Chow Chow or Chow Chow mix should be monitored for skin tumors and should not be left in the sun for extended periods of time.

Glaucoma

Chow Chows and Huskies are also commonly diagnosed with primary glaucoma, which is inadequate drainage of fluid inside the eyeball as a result of genetics, not due to injury or infection of the eye (secondary glaucoma). The fluid, when at proper levels, sustains the pressure inside the eyeball such that the size and shape of the eyeball stay normal. When the fluid builds up due to inadequate drainage, it changes the pressure inside the eye, which causes the eyeball to bulge. Dogs with glaucoma often present with an obviously bulging eye, watery drainage running from the eye, eye pain, and/or gradual loss of vision.

Pemphigus

This is an autoimmune skin disease. According to a 2005 study, Chow Chows (and Akitas) are genetically predisposed to spontaneously developing hair loss, scabbing, skin ulceration, and/or blisters around the lips and eyes. Life-long medication is usually required to suppress the immune system so that healthy skin cells are not continuously destroyed.

Exocrine pancreatic insufficiency

A 2007 study found a breed association between primarily female Chow Chows and exocrine pancreatic insufficiency, which is a condition that is caused by the pancreas producing insufficient digestive enzymes. This autoimmune condition can wreak havoc on the Chow Chow's digestive system, making it nearly impossible for the dog to obtain the proper nutrients and causing excessive diarrhea, both of which result in weight loss without treatment.
Due to the various inherited health conditions that a Chusky is predisposed to, we recommend getting a Chusky puppy only from someone who uses genetic testing. This will help to decrease the odds that your future puppy will have one or more of the aforementioned problems.
Designer dog controversy – pros and cons of hybrid dogs
If you've heard talk that hybrids are lower quality than purebred dogs because they are "inbred" and/or are always full of health problems, then we are here to set the record straight that this is simply not true!
Crossing unrelated dogs, be they of the same or different breeds, that have also been tested for genetic health problems results in puppies that are healthier than puppies who are the offspring of related dogs or those which are known carriers of various health problems.
Inbreeding, not just crossing different dog breeds, is what produces the unhealthiest puppies.
This article explains how specific breed combinations and creating future generations using dogs from separate families produces the healthiest hybrid offspring.
Continuing to breed any dog with health issues, known or unknown, increases the risk of future offspring being afflicted with the same health issues.
For additional information, check out this article on Purebred vs. Mutt.
Chow Chow and Husky Mix exercise requirements
A Chusky will need at least some activity each day, but depending on which parent breed she takes after, the level of activity will vary greatly.
Huskies were bred to run and work for hours on end, day after day, so a Chusky with a Husky's energy level may need more than a walk or two each day to stay happy.
On the opposite end of the spectrum, the Chow Chow is pretty intolerant of heat, so the cross may or may not inherit the Chow Chow's physique and/or thick coat, both of which may contribute to heat exhaustion with too much activity in a hot and humid climate.
So, a Chusky with a Chow Chow's energy level and/or the Chow Chow's very thick coat may indeed be just fine with one walk, a brisk jog, or some other short burst of activity each day.
How long will a Chow and Husky Mix live?
A Chusky has a life expectancy of approximately 8 to 14 years.

Buying Chusky puppies
Only buy a Chow Husky Mix puppy from a breeder who uses genetic testing and who keeps their breeding stock and puppies in clean and airy facilities, with plenty of food and fresh water. Beware of puppy mills, which are filled with neglected, thin, and usually ill dogs.
Chusky price
The price of a Chusky depends on whether you'll be purchasing a puppy from a breeder or adopting an adult dog.
If purchasing from a breeder, the price will also depend on the value of the breeding stock, the number of puppies which are available, and the amount of money that the breeder has invested into the health of the puppies (e.g. vaccines, spaying or neutering, etc.).
Due to the size and popularity of both parent breeds as "exotic" dogs, a Chusky may cost a few hundred dollars, give or take, based on the criteria that we mentioned above.
Chusky rescue
If you'd prefer a full-grown Chusky or wish to adopt a puppy, then you might consider checking various animal shelters or humane societies to see if they come across any Chuskies.
You might also consider searching for and contacting a rescue that specializes in either Chow Chows or Huskies, as many breed-specific rescues also accept crosses of their preferred breed.
Chusky – A summary
Before you decide on a Chusky, be sure to consider the following points.
Exercise
A Chusky may be a friendly and energetic dog that loves to play and be active, or he may be more of a stern dog that is indifferent to play time and that cannot tolerate much exercise.
Guarding
He may also have a tendency to guard his home and family from strangers if he has particularly strong Chow Chow genes. You'll need to socialize this dog as early as possible to prevent dog bites.
Prey drive
If he's more like a Husky than a Chow Chow, then he may also not be ideal for a home with other small pets, as his prey drive may be pronounced.
Howling
He may not bark a whole lot, but there's a chance that he may inherit the Husky's tendency to howl when he's upset or lonely.
Space requirements
Regardless of which parent he most closely resembles, a Chusky will definitely grow to be a fairly large dog, so room to move is a must!
Grooming
He'll also be a very furry dog with a double-coat, which will require at least weekly grooming to prevent matting or tangling of the undercoat.
Health
There are a number of health concerns with this cross, so we cannot emphasize genetic testing enough when it comes to selecting a breeder to purchase your puppy from, should you choose to go that route.
Overall, a Chusky has the potential to be an okay family dog, but it's a toss-up as to whether he'll be ideal for a family with children. If you're on the hunt for a working or guard dog, though, then this breed may be perfect for you!
References and Further Reading
Barnette, C. "Pemphigus in Dogs," VCA Animal Hospitals, 

Batchelor, D., Noble, J., Cripps, P., Taylor, R., McLean, L., Leibl, M., German, A. "Breed Associations for Canine Exocrine Pancreatic Insufficiency," Journal of Veterinary Internal Medicine, 2007.

Downing, R. "Wobbler Syndrome in Dogs (Cervical spondylomyopathy)," VCA Animal Hospitals, 

Gelatt, K., MacKay, E. "Prevalence of the breed-related glaucomas in purebred dogs in North America," Veterinary Ophthalmology, 2004.

Gonsalves-Hubers, T. "Pemphigus erythematosus in a chow chow," The Canadian Veterinary Journal, 2005.

Schultheiss, P. "Histologic features and clinical outcomes of melanomas of lip, haired skin, and nail bed locations of dogs," Journal of Veterinary Diagnostic Investigation, 2006.

Ward, E. "Glaucoma in Dogs," VCA Animal Hospitals,
Yuill, C. "Panosteitis in Dogs," VCA Animal Hospitals,