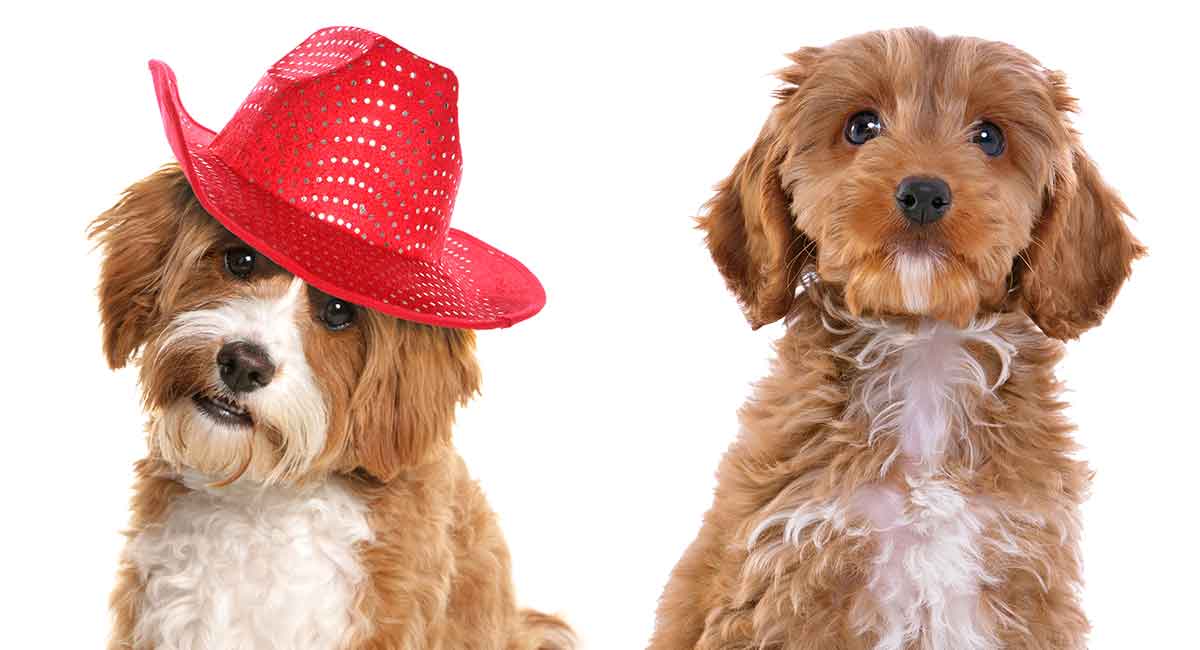 They're almost impossible to tell apart by their looks, but the main differences between a Cavapoo vs Cockapoo are:
Heritage – both dogs have one Poodle parent, but Cavapoos are half Cavalier King Charles Spaniel, and Cockapoos are half Cocker Spaniel.
Energy levels – Cockapoos typically have more energy and require more exercise.
Life expectancy – based on their parents' average lifespans, most Cockapoos will outlive a Cavapoo.
Welcome to the Cavapoo vs Cockapoo debate!
The Cavapoo is the cross between a purebred Cavalier King Charles Spaniel and a purebred Poodle.
While the Cockapoo crosses the purebred Cocker Spaniel with a purebred Poodle.
At a glance, these two adorable mixed breeds can appear to be strikingly similar. And both are known for being friendly, loving family pets.
Yet there are some differences you'll want to know about before you make a decision.
Is the Cavapoo or the Cockapoo the right dog for you? Keep reading to find out.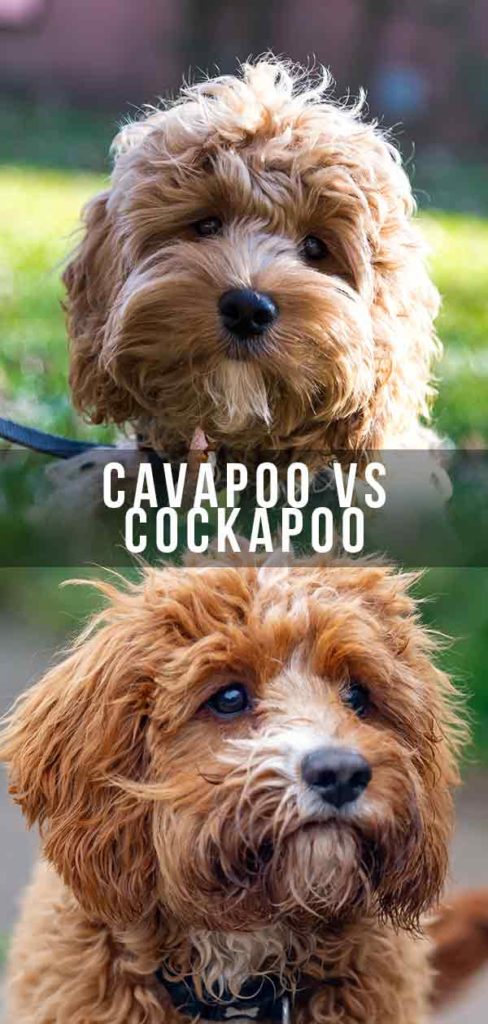 Cavapoo vs Cockapoo History
Some reports claim the Cavapoo first came on the scene in the US in 1950s. Others say that they originated in Australia in the 1990s where they're considered to be the most popular small dog.
We do know that the Cockapoo was one of the first designer dogs and have been popular since they were first crossbred in the 1950s.
The best way to gain a deeper understanding of what these dogs will be like is to look more closely at the origins of the three breeds used in these two mixes.
Cavalier King Charles Spaniel History
The Cavalier King Charles Spaniel dates back to the 16th century.
They were popular as lap dogs with the royal and noble families of Europe for generations.
King Charles II of England, also known as the "Cavalier King," was a huge fan of the black and tan variety of toy spaniel that was eventually named in his honor.
Around the early to mid-19th century, this dog was crossed with other breeds, including Asian toys and the short-nosed Pug. The breed's nose became shortened, his head more domed, and his face flattened.
In 1926, a wealthy American named Roswell Eldridge came to England and offered a cash prize to British breeders who could produce the toy spaniels depicted in old paintings.
A group of breeders revived the breed which we now know as Cavalier King Charles Spaniels.
Cocker Spaniel History
The Cocker Spaniel is believed to have originated in Spain.
They are descended from Spaniels, one of world's oldest breeds who were bred as hunters' helpers.
The name Cocker comes from the fact that they specialized in hunting woodcock.
There are two different standards for the American and English varieties of the breed.
The English version is taller, with a longer head than his more popular American cousin.
Poodle History
The Standard Poodle originated as a retrieving water dog in Germany over 400 years ago.
These striking dogs were prized for their intelligence and were also used as truffle hunters and circus performers.
The Miniature and Toy Poodle were bred down from larger Poodles and display the same breed characteristics.
In most cases, the Miniature Poodle is used to create either the Cavapoo or the Cockapoo.
Cavapoo vs Cockapoo Appearance
Whenever crossbreeding occurs there's always an element of surprise. That's because breeders are not always able to control how genes will combine.
For this reason a mixed breed puppy can inherit any of the characteristics of either parent. The size of the parents will be the best indicator of the size of the offspring.
However, you can expect either of these breeds to typically weigh up to 20 pounds and stand from 11 to 14 inches if a Miniature Poodle was used for breeding. In some cases the Cockapoo will be slightly taller.
The Cavapoo could have the curly Poodle coat or have the long, straight hair of the Cavalier King Charles Spaniel.
Coats comes in array of colors, from black, gold, and white, to chestnut and white, or tri-colour (black, white and tan).
Likewise the Cockapoo's coat could be long and scruffy or feature the Poodle's tight curls.
They come in an even wider array of colors and combinations found in either parent breed.
Both of these sturdy, small dogs feature floppy ears, big dark eyes, sweet expressions, and a fuzzy faced teddy bear appeal.
The most noticeable difference in appearance is that the Cockapoo has a longer muzzle.
In the cuteness department, we'll call it a draw.
Cavapoo vs Cockapoo Temperament
As with appearance, be prepared for a combination of temperamental traits of either parent.
The Cavapoo is known for being sweet, gentle, fun-loving, and social. The Cockapoo is friendly, intelligent, easy to please, and happy.
Either would make a great addition as a family dog. They both get along well with children and other pets.
Both breeds may also be subject to separation anxiety if left alone too much, although the Cockapoo tends to be a little needier. Cavapoos are generally quiet and laid back.
Cockapoos have a hunting background on both sides of their pedigree and require more activity to keep them from becoming bored.
Cavapoo vs Cockapoo Training
Even friendly breeds like these two need to be socialized as early as possible. Some Cavapoos have a short attention span, which can make training more difficult.
Potty training in particular, may require more time and patience. However, they are a curious and intelligent breed.
As long as training sessions are kept short and fun and include rewards, they are ultimately very trainable.
Cocker Spaniels are overall fairly energetic, but will also want to please. This, combined with their intelligence, makes them one of the easier breeds to train.
However, they are sensitive dogs who will not respond well to harshness.
As with all dogs, always use positive reinforcement training methods.
Cavapoo vs Cockapoo Exercise
The adaptable Cavapoo will be happy to adjust to your lifestyle. The breed requires only moderate exercise, such as several short walks each day.
These dogs also love to play games like fetch and will happily chase a toy or ball indoors or around a fenced yard. Cockapoos will typically have more energy to burn.
These dogs are very playful and in addition to daily walks will need games and mental stimulation to keep them from becoming bored and possibly destructive.
Cavapoo vs Cockapoo Lifespan
Both of these dogs are generally healthy and long-lived.
The Cavapoo has an average lifespan of 12 to 16 years.
The Cockapoo's is a little longer at 14 to 18 years.
Cavapoo vs Cockapoo Health
As with any mixed breed, these dogs are subject to health conditions that affect either parent.
When buying a puppy find a reputable breeder who is able to certify that the dog's parents have been screened for genetic health problems and are deemed healthy for breeding.
Both dogs can be at risk for health concerns that affect the Poodle.
This includes progressive retinal atrophy (PRA) , a serious genetic eye disorder that leads to blindness.
Hip dysplasia, is an abnormal formation of the hip socket that can be very painful and lead to arthritis.
Health conditions that affect the Cavalier King Charles Spaniel could also be a problem for the Cavapoo.
This includes syringomyelia, a serious condition that occurs when fluid filled cavities develop within the spinal cord, near the brain due to the skull being too small.
Congenital heart problems, particularly mitral valve disease, are also quite common in the Cavalier King Charles Spaniel.
Cocker Spaniels are at risk for lymphoma, intervertebral disc disease, and cardiomyopathy.
Cavapoo vs Cockapoo Grooming and Feeding
Both of these dogs were bred to have the Poodle's low shedding coat, which is often touted as being hypoallergenic.
In reality, Poodles do shed and there is no dog that's 100% hypoallergenic. And like other traits, there's no guarantee which coat a Cavapoo or a Cockapoo will inherit.
Either one could have a curly coat like the Poodle. But they could also have the straight, wavy coat of a Cavalier or Cocker Spaniel.
The Cavapoo's coat requires less maintenance. If it's kept short they should only require weekly brushing sessions. Cavapoos are also prone to tear staining.
The Cockapoo will be higher maintenance, needing brushing two or three times a week to prevent matting. Nail trimming and regularly checking their long floppy ears is important for either breed.
When it comes to food, Cavapoos can be picky eaters and you may have to try a few brands before you find one he likes. Alternatively, the Cockapoo will eat just about anything.
Unfortunately, these dogs are prone to becoming overweight, so you may have to watch their calorie consumption.
Either dog should be given a high quality, age appropriate, dog food that includes a good source of protein.
Which Breed Makes a Better Pet?
All in all the Cavapoo and the Cockapoo are quite similar and either of these dogs would make a wonderful pet for just about any family.
Active owners who want a constant companion who can keep up with them should consider the Cockapoo.
If you live in an apartment or want a less energetic breed, then the Cavapoo would probably suit you better.
Ultimately the choice is yours. We'd love to hear which you chose and why. Share your thoughts below!
Make sure you also check out Pitbull vs German Shepherd!
References and resources
Get Pippa's free dog training tips delivered to your inbox