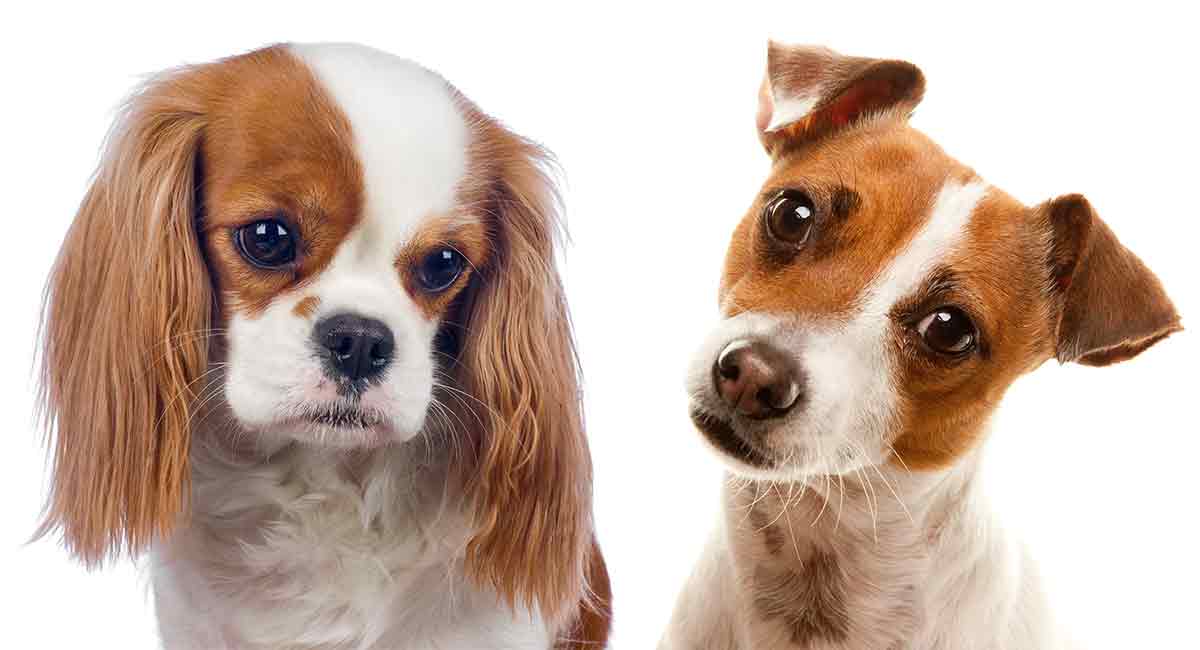 The Cavajack is a cross between a Jack Russell and a Cavalier King Charles Spaniel.
One of the more popular crossbreeds, the Jack Russell x Cavalier King Charles Spaniel aims to combine the gracefulness of the Cavalier with the energy and playfulness of the Jack Russell.
The Cavajack could potentially be a good breed for a family looking for a small dog with big character to join their household.
However, there are a lot of things you must know about this breed before jumping straight into purchasing a puppy.
Designer Dog Controversy
As the Cavajack is a mix of two recognized purebred breeds, it is known as a designer dog.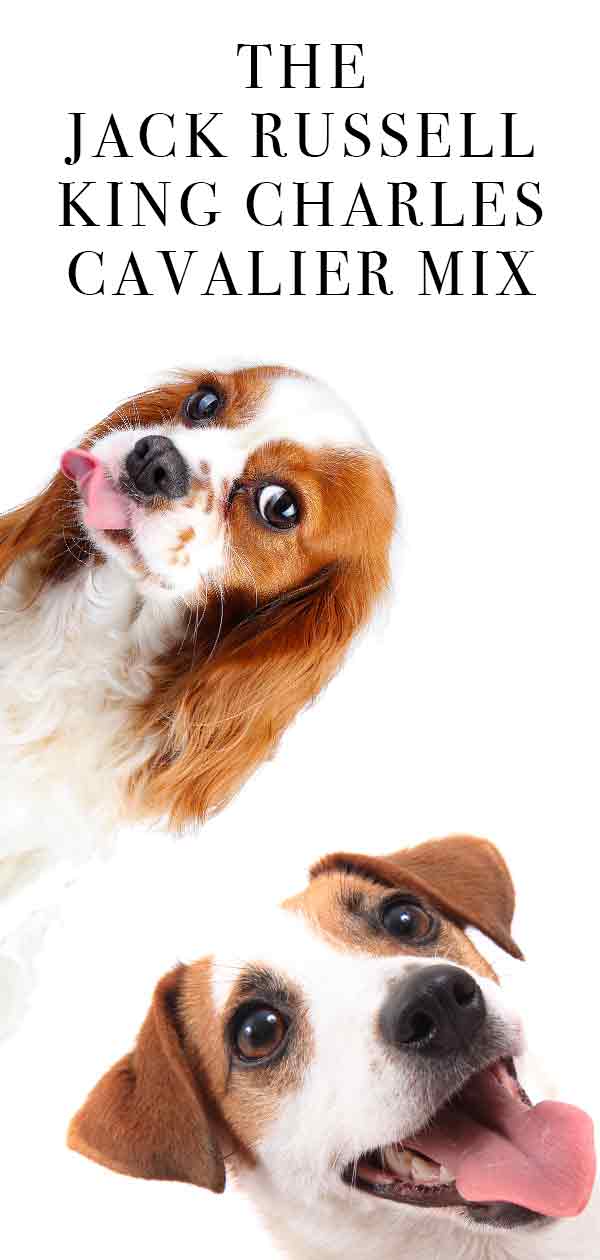 Designer dogs have been under a lot of scrutiny in recent years, with many believing that they are less healthy than purebred breeds.
There are also accusations that many breeders involved with designer dogs are just doing it for the money and don't care about the welfare of the dogs they are producing.
Studies on Crossbreeds
However, a study that took place in 2003, which looked at over 27,000 dogs, found that purebred breeds were more likely to develop certain genetic disorders than mixed breeds.
Additionally, another study performed in 2003 found that mixed breed dogs live 1.2 years longer on average than purebred dogs.
This is believed to be due to a concept known as hybrid vigor, where increased genetic diversity promotes better overall health in dogs.
There are a lot of misconceptions about mixed breed dogs, especially when they are compared with purebred breeds.
Predictability
Advocates of purebred breeds also state that the outcome of crossbreeding is inherently difficult to predict.
The puppy may take after either parent in any aspect, and this could lead to unexpected and undesirable traits.
Purebreds are a lot easier to predict, however – their puppies have reliably similar physical and behavioral traits.
This argument is true, but many owners enjoy the random aspect that comes with crossbreeding.
Another issue commonly raised about designer dogs are concerns about the breeders.
Pedigree breeding is perceived as better regulated than crossbreeding, and therefore many believe there is a higher chance of running into a bad breeder when looking for designer dogs.
However, bad breeders of pedigree dogs do exist, just as honorable and compassionate breeders of crossbreed litter do too.
Regardless of whether you are buying a purebred or a crossbred dog, always check the trustworthiness of the breeder and the health of the parent dogs before making any decisions.
Origins of the Jack Russell
The Jack Russell Terrier finds its lineage within the old English fox hunters.
The breed takes its name from a reverend named John Russell, who was devoted to breeding dogs who could specialize in hunting foxes.
They were used to great success, able to keep up with other hounds and easily follow a fox into its den and chase it out.
To this day, the Jack Russell is much the same as it was over a hundred years ago.
Many breeders have attempted to preserve its conformation as a working terrier, whereas many similar terriers have gone through many conformational changes for the show ring.
Jack Russells still has their athleticism and energy to this day, and while they still make great working dogs, they have also found a place as a companion dog.
Origins of the Cavalier King Charles Spaniel
From the Renaissance onwards, toy spaniels were all the rage amongst the nobility.
King Charles I and his son, Charles II, were famously enamored with the toy spaniels and were devoted to developing a black and tan variation of toy spaniel.
Toy Spaniels remained a favorite of British nobility throughout the years.
However, they were eventually bred with the Asian toy breeds, such as the Pug.
This new breed was incredibly popular, and the old original Toy Spaniel breed fell into obscurity and was rendered nearly extinct.
However, in the 1920s there was a push to bring back the traditional Toy Spaniel.
This was successful, and the breed was dubbed the Cavalier King Charles Spaniel and became the breed we know and love today.
Size, Height, and Weight of the Cavajack Dog
Both the Jack Russell and the Cavalier King Charles Spaniel are small dogs who weigh similar amounts.
The Jack Russell ranges in height from around 10–15 inches and weighs around 13–17 pounds.
Cavaliers, on the other hand, reach heights of around 12–13 inches and weigh about 13–18 pounds.
Due to the very similar height and weight ranges for both breeds, the Cavajack can be easily predicted within these aspects.
You can expect a fully grown King Charles Cavalier x Jack Russell to be around 10–15 inches in height and be within 13–18 pounds for their weight.
Characteristics of the King Charles Cavalier Jack Russell Cross
Jack Russell
The Jack Russell has a short coat, which can either be smooth, rough, or broken (a mixture of smooth and rough).
The coat is usually mostly white with tan, black, or brown markings.
They have a strong muzzle and jaw, intelligent almond-colored eyes, and small V-shaped ears.
They have a short tail that is set high up.
Cavalier King Charles Spaniel
As for the Cavalier, they are a very graceful and dignified breed with a moderate-length straight coat.
They have four distinct color patterns: white with chestnut markings, white with black markings, black with tan markings, or a rich red.
Cavaliers have a very gentle expression with warm eyes, a strong muzzle, and long floppy ears.
They sport a medium-length tail that isn't set too high.
Cavajack
As for the Cavajack, depending on which parent they take after, they may end up with either a short- or medium-length coat.
They could potentially have any of the coat colors and markings common in either parent breed or a mixture of two.
The coat may be smooth, rough, or broken.
Their ears may also vary in shape and size, depending on which parent the Cavajack takes after.
Cavajack Temperament
The Jack Russell is an intelligent and loyal breed that can fit well into families.
However, they do have an assertive and independent side, which can make controlling them difficult.
Some are aggressive towards other dogs, even those many times their size.
On the other hand, the Cavalier can be a sweet and loving breed.
They have a reputation for being great therapy dogs and are friendly with other dogs and humans, provided they have been trained and socialized well.
As the temperaments of both breeds are different, this aspect of the Cavajack is hard to predict.
If they take after the Jack Russell, they may be a handful, with an assertive and independent nature.
They may also have trouble getting along with other pets.
Therefore, it's important to keep this in mind before purchasing a King Charles cross Jack Russell.
Caring for a King Charles Jack Russell Cross
The Cavajack will do well on high-quality dog food appropriate to their age.
However, it is important to never overfeed and to keep a close eye on their diet, as this breed may be prone to becoming overweight.
Both the Jack Russell and the Cavalier only have standard grooming requirements.
Therefore, regardless of which parent the Cavajack takes after with their coat, a weekly brush and occasional bath should be all that's necessary.
Cavajacks will also require their nails trimmed to prevent discomfort and their teeth brushed regularly.
Health Issues of the Cavalier King Charles Spaniel Cross Jack Russell
Unfortunately, both parent breeds are prone to certain health issues that could also present themselves within Cavajack puppies.
Jack Russell
Deafness is prevalent within Jack Russells, especially those that have significantly more white in their coat than any other color.
This can either be deafness in one ear or both, but it most likely has a genetic basis.
The Jack Russell is susceptible to a condition known as lens luxation.
This is an eye disorder where the lens becomes detached and can begin moving freely within the eye.
Depending on where it falls, it can become stuck and cause pain and vision loss if it is not treated promptly.
They are also prone to developing cataracts, which is also believed to have a genetic basis.
Health Issues in Both Parent Breeds
Unfortunately, the Cavalier King Charles Spaniel is also prone to cataracts.
It is doubly important that both parent dogs have passed a recent eye exam before you purchase any Jack Russell x King Charles Cavalier puppies.
Another disorder that is sadly present within both breeds is patellar luxation.
The kneecap can slide out of place, becoming dislocated and causing severe pain and lameness in the dog.
Again, as this is within both parent breeds, it is important that both parent dogs have passed a Patellar Evaluation recently before purchasing a puppy.
Cavalier King Charles Spaniel
The Cavalier King Charles Spaniel is prone to a condition known as hip dysplasia.
This is a developmental disorder where the hip joint does not develop correctly, leading to painful arthritis.
They also tend to be prone to various cardiac issues, such as heart murmurs and heart disease.
These health conditions could potentially be passed down to a Cavajack puppy.
Therefore, it is very important to check the health of both parent dogs before making any decisions to have the absolute best chance of receiving a healthy and happy puppy.
Finally a large number of Cavalier King Charles Spaniels currently suffer from a distressing and painful inheritable condition called syringomyelia.
Curbing the spread of syringomyelia should be a priority for anyone breeding from a Cavalier King Charles Spaniel.
A vet can perform an MRI scan to assess a dog's risk of developing the disease (and passing it to their puppies) before they breed, and your Cavajack breeder should be happy to show you evidence of this.
Exercising and Training the King Charles Jack Russell
Jack Russell
The Jack Russell is well-known for its boundless energy.
It sometimes can prove to be a bit too much for some owners!
They need over an hour of exercise a day, and this doesn't just mean a long walk.
Jack Russells need to get off the lead as much as possible.
They must be able to run and play freely to truly use up their energy.
Playing fetch and other games at a local park or field for over an hour a day is necessary for keeping them happy.
Cavalier King Charles Spaniel
As for the Cavalier, they are a lot calmer than the Jack Russell.
One or two short walks every day is all they need to be happy and stimulated.
They will gladly sit on the couch all day if you let them.
However, exercise is important to ward off obesity.
Cavajack Exercise
As both breeds have significantly different exercise requirements, it is hard to predict how energetic any one Cavajack puppy may be.
However, be prepared for them to be as energetic as a Jack Russell, just in case.
This means being able to set aside a few hours each day to exercise and play with the Jack Russell Cavalier King Charles mix.
Seeing how much energy your puppy has to give as they grow can help you gauge how much exercise they will need daily.
Training
As for training, while Jack Russells are a very intelligent breed, they can be a handful to train.
They can sometimes struggle to focus and become easily distracted.
The Cavalier, however, can be a breeze to train.
They are very attentive and eager to please and pick up new commands quickly.
Depending on which parent the Cavajack takes after, they may be easier or harder to train.
If you are struggling to train your Jack Russell cross King Charles Spaniel on your own, it is always recommended to hire a professional.
Otherwise, your dog may grow up to be the boss of you!
Ideal Home for a Jack Russell King Charles Mix
A Cavajack would do best in a loving family who can keep up with their potentially high exercise requirements by being outdoorsy and energetic themselves.
Having a good space to play, such as a well-sized, secure yard might be necessary for a very energetic Cavajack.
A variety of toys, with regular new ones, can help keep them mentally stimulated and happy.
However, it isn't recommended to house a Cavajack with particularly young children.
It is possible they may have inherited the Jack Russell's intolerance for rough play.
Since children often cannot realize how rough they are being, it can cause a defensive reaction from the dog.
Other Pets?
The Cavajack could also possibly exhibit possessiveness towards its toys and other objects that it calls its own, which can also cause issues.
It also may not be recommended to house the Cavajack with other pets if they have taken heavily after the Jack Russell parent.
This is because the Jack Russell can sometimes tend to display negative behaviors towards other animals, such as aggression.
To be safe, if you are housing a Cavajack with other family pets it is vital to socialize the Cavalier King Charles Jack Russell cross as soon as possible.
Separation anxiety can also be a problem.
Therefore, to prevent negative traits developing, a Cavajack may need a home that always has at least one person around to keep the dog company.
Finding and Purchasing Cavajack Puppies
As the Cavajack is one of the more popular crossbreeds, finding a local breeder shouldn't be too difficult.
Good ways to browse breeders involve searching online and more local avenues, such as through newspaper advertisements.
When looking for a breeder, it is best to look for ones that have had positive customer reviews.
Recognition from established breeding societies can also be a good sign.
This can help ensure this breeder is trustworthy and experienced.
What to Look For
Once you have found a puppy you like, check over the puppy yourself.
If all seems well, ask to check the parent dogs over.
A trustworthy breeder will have no problem with you seeing the parent dogs as well.
When looking at the parent dogs, check to see that they can move without showing any discomfort or lameness.
It's also worth checking their eyes for any signs of irritation.
To completely ensure the health of the parent dogs, ask to see the following health evaluations for both breeds.
They ideally need to have been passed recently.
For the Jack Russell, a Patellar Evaluation and an Ophthalmologist Evaluation will be necessary.
The Cavalier will require an MRI for evidence of syringomyelia, a Hip Evaluation, a Patellar Evaluation, a Cardiac Exam, and an Ophthalmologist Evaluation.
Good health in the parent dogs can help ensure that the Cavajack puppy will be free of any potentially nasty genetic disorders.
Is the King Charles Cavalier Cross Jack Russell Right for Me?
Cavajacks have the potential to be very sweet and entertaining dogs.
However, they can require a lot of time and effort to meet their needs.
They have the potential to have very high exercise requirements.
Families must be prepared to be able to give over one hour of heavy exercise via play and walking a day if the Cavajack has the energy levels of a Jack Russell.
Therefore, this breed can fit well with an energetic and active family.
If it's not the dog for you, consider other breed's like the Cavachon.
Training May Be Needed
Families must also be able to train the dog correctly or to hire a professional to do it for them.
The Cavajack can potentially be quite a handful, and therefore it is not a dog recommended for first-time owners.
Housing this dog with young children is also not recommended, and other pets may cause issues with certain Cavajacks.
It is very important to consider whether this breed will fit well into your current family situation.
They may also have problems with separation anxiety and require as much company as possible throughout the day.
In the end, only you can make the decision on whether this breed is right for you.
Consider whether you have the time to care for them properly and the family situation for them to fit into.
Let us know your favorite thing about the Cavajack in the comments below!
References
Bellumori, TP, et al, Prevalence of inherited disorders among mixed-breed and purebred dogs: 27254 cases (1995-2010) Journal of the American Veterinary Association, 2013
O'Neill, DG, et al, Longevity and mortality of owned dogs in England The Veterinary Journal, 2013
American Kennel Club
The Kennel Club UK
Jack Russell Terrier Club of America
Vidoni, B, et al, Diagnostic and genetic aspects of patellar luxation in small and miniature breed dogs in Austria Wiener Tierarztliche Monatsschrist, 2005
Harasen, G, Patellar luxation The Canadian Veterinary Journal, 2006
Farias, FHG, et al, An ADAMTS17 Splice Donor Site Mutation in Dogs with Primary Lens Luxation Investigative Ophthalmology & Visual Science, 2010
Summers, JF, et al, Prevalence of disorders recorded in Cavalier King Charles Spaniels attending primary-care veterinary practices in England Canine Genetics and Epidemiology, 2015
Oberbauer, AM, et al, Inheritance of cataracts and primary lens luxation in Jack Russell Terriers American Journal of Veterinary Research, 2008
Famula, TR, et al, Heritability and complex segregation analysis of deafness in Jack Russell Terriers BMC Veterinary Research, 2007
Get Pippa's free dog training tips delivered to your inbox