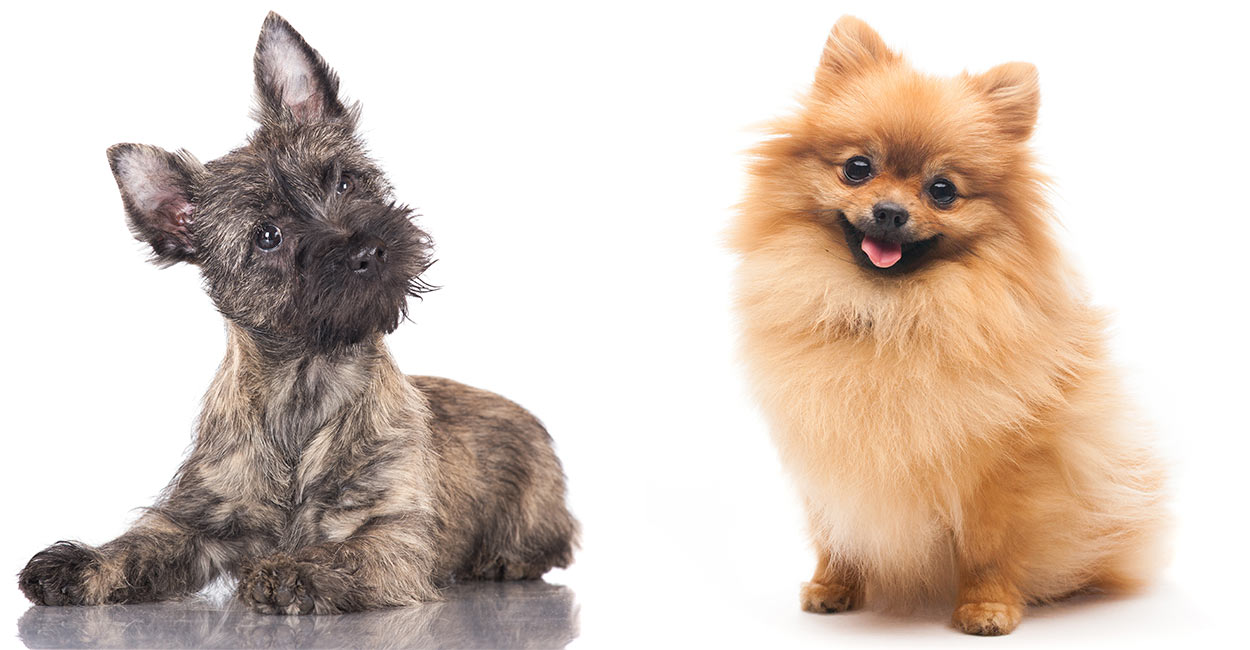 The Cairn Terrier Pomeranian mix is a somewhat elusive crossbreed. Considering the many positive traits of its purebred parents, it's a mixed breed that definitely deserves a second look.
The Pomeranian Cairn Terrier mix is a designer dog just like the trendy and immensely popular Labradoodle.
Whereas the Labradoodle is a mix of Labrador and Poodle parents, the "Cairanian" is a cross between the spritely Cairn Terrier and the frisky Pomeranian.
But before we do, let's address the controversial issue of mixed breed dogs, a category that the Cairn Terrier Pomeranian Mix belongs to.
Mixed breed dog controversy
Mixed breed dogs are also called crossbreeds or designer dogs.
One of the goals in mating two purebreds, such as the Cairn Terrier and the Pomeranian, is to develop a dog with the best, most desired traits and characteristics of each breed.
But along the way, certain questions have been asked about this well-intentioned practice.
First off, no one can claim to know the outcome of a mixed breed dog's character. It is impossible to predict how two sets of distinct DNA will express themselves in a third party body.
In fact, some individuals would prefer that purebreds not be mixed, so that the characteristics of each breed remain constant and relatively predictable.
On the other hand, keeping DNA pools tightly locked up creates other issues. For example, lack of diversity in a breed's gene pool increases the risk of inherited disease.
Proponents of crossbreeding think the mixing of gene pools raises the odds that a dog will have a healthier genetic profile.
In response, some breeders have countered that this assumption is incorrect.
What is the truth? The best way to stay informed on any issue is to keep up with the current body of research.
Origins of Pomeranian and Cairn Terrier
Originating in the 1500s, the Cairn Terrier is a small-sized working dog from Scotland. Initially the Cairn was used to track and hunt game, and as such was a valued canine to hunters and farmers.
The Cairn was all the more prized because of his ability and willingness to chase game in and along the rugged and punishing shores of his homeland.
In the beginning, they were bundled into the same group as the Scottish Terrier and the West Highland White Terrier.
These breeds, however, began distinct lines in the 1900s.
Today this dog is a versatile character, an agile pup with watchdog potential, born from hunting origins and today a faithful forever friend.
The Cairn Terrier was recognized by the AKC in 1913.
Pomeranian
The Pomeranian has a razor-sharp personality and stays lively and alert to its surroundings.
He is quick to engage with others and doesn't shy away from being the center of attention. But he is also the type who is content to sit in your lap.
The Pomeranian is from Pomerania, a bay off the coasts of modern-day Germany and Poland.
Originally a much larger canine breed, they were developed from the Spitz, working dogs found in the Arctic. The first Poms weighed in at 20 to 30 pounds.
The Pom took off in popularity when Queen Victoria brought one home with her after a trip in 1888.
By the beginning of the 20th century, the Pom was popular in America as well. The first member of the breed was registered to the American Kennel Club in 1898, and the organization formally recognized it in 1900.
Cairn Terrier Pomeranian Mix Size 
The cute and feisty Cairn Terrier carries himself with an alert, upright look, as if ready for anything that comes his way!
The purebred tops out at around 9.5–10 inches and averages 13–14 pounds.
In contrast, the pint-sized Pom will usually grow to about 6–10 inches tall and tips the scales (barely!) at about 3–7 pounds.
Both dogs can be expected to reach around 15 years of age on average.
Understandably, Cairn Terrier Pomeranian mix dogs are small, with their dimensions mirroring those of their parents.
Coats of Cairn Terrier x Pomeranian
When it comes to the texture and quality of the Cairanian's fur, the cross will resemble one or the other parent's coat, or have a mixture of each fur type.
The Cairn Terrier sports a full and bushy outer coat on top of a soft undercoat.
Thiers is an all-weather coat and colors include red, silver, black, cream, deep red, brindle, and light gray.
Like the Cairn Terrier, Pomeranians boast a beautiful double coat. The coat is thick and should be brushed regularly to maintain its appearance and keep mats at bay.
The outer coat is straight and long with a rough texture, and the undercoat is short and soft, although dense.
The Pomeranian comes in shades of black, white, brown, sable, red, orange, cream, and blue. Variations include brown and tan, black and tan, brindle, and spotted.
Did I mention that she has an elaborate, curly, plumed tail to boot?
The Pom is a seasonal shedder.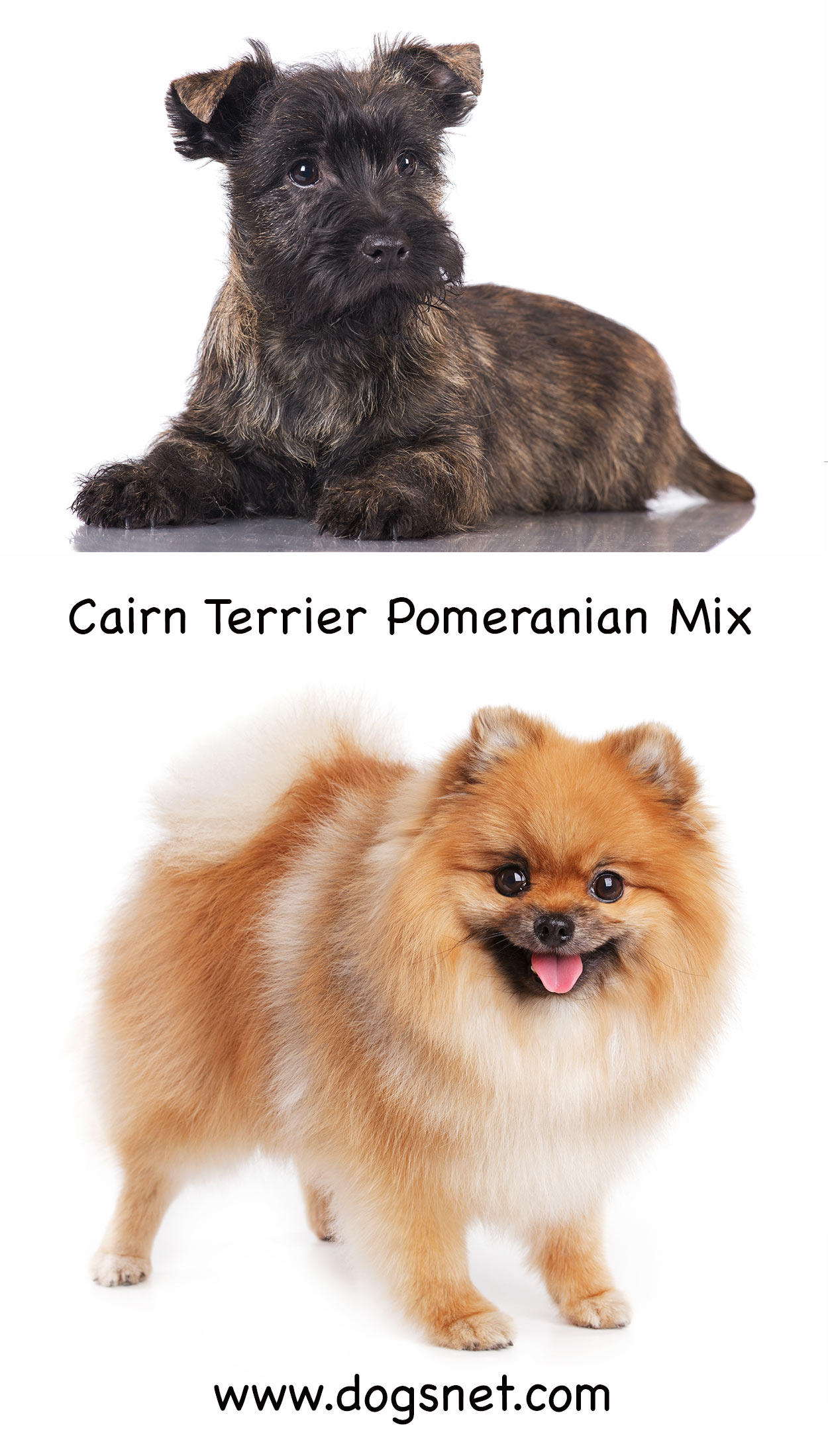 Cairn Terrier Pomeranian Mix Temperament
Although the Pomeranian is a toy breed and the Cairn Terrier is a small breed, both possess tons of confidence and a self-assuredness that belies their small size.
If you're curious as to what kind of personality the Cairanian inherits, the answer is both simple and complex.
The easy answer is that the Cairn Terrier Pomeranian Mix breed's temperament is influenced by the temperamental profiles of both parents.
But in reality the matter of personality is actually a bit more complicated.
First of all, an animal's temperament is influenced by both nature and nurture. Second, it's impossible to predict the combination of traits that any mixed breed dog will inherit.
A Cairn Terrier Pomeranian Mix pooch may inherit the best qualities of each parent, the worst, or an uneven stew of both positive and negative traits.
No one, not even the pup's breeder, can foretell how biology will blend to create a unique canine being.
With this predictable unpredictability in mind, we're going to take a closer look at both the Cairn Terrier and the Pomeranian in order to get a better idea of what kind of offspring they engender.
Cairn Terrier Pomeranian Mix Temperament 
Did you know that it was a Cairn Terrier who played Dorothy's faithful sidekick Toto in The Wizard of Oz?
Casting a Cairn was a perfect choice, since the dog is known as a scrappy character willing to go to the moon and back to achieve his goal!
Just like loveable Toto, Cairn Terriers have the capability to be loyal and alert little companions.
They have a reputation for possessing a mind of their own, but early training should help the little guy to understand his boundaries.
If the Cairn is not taught and trained with a firm but friendly hand early on, it may be difficult to rein in his natural, but destructive, free-range instincts.
These include chasing smaller animals, digging, barking, etc.
With proper training and socialization, Cairns will do fine with children and other dogs, but the AKC recommendation is that such interactions are best supervised.
Likewise, the AKC recommends the same type of supervised interactions for the lively Pomeranian. 
Much like the Cairn Terrier, the small Pomeranian is a jovial extrovert, possessing immense stores of energy.
He is a dog who is pleased with himself, and you will be too, as long as early and firm training is given to reinforce good doggie manners.
For example, the Pom is a dog who likes to hear the sound of his own bark!
Since barking is a self-reinforcing behavior, be sure to work on this during an early window of time when your pup is amenable to learning.
Each parent is a self-assured, independent dog, so most Cairn Terrier Pomeranian Mix breeds should be confident dogs.
They will require early positive reinforcement training and plenty of socialization
Cairn Terrier Pomeranian Mix Grooming
The Cairn Terrier coat is a handful! Don't let the casual shaggy appearance fool you!
It actually takes a bit of work in order to achieve his "shabby chic" look.
His coat is short but wiry.
Brush it often so that it doesn't mat and tangle into a difficult mess.
On the bright side, the Cairn sheds seasonally, but minimally overall.
Be sure to keep the hair around the eyes trimmed back so that she can see straight and to avoid irritation and possible abrasion to the eye.
Although the splendid fur of a Pomeranian is certainly attention-getting, it is not a ridiculously high-maintenance coat. Regular brushing is enough to keep the hair tangle-free.
Neither breed is considered to be hypoallergenic.
The Cairanian fur will resemble that of his parents, with any possible color combination conceivable.
Cairn Terrier Pomeranian Mix Health
Cairanians are prone to the same medical issues as their parents, with a higher risk for any health problem that afflicts both parents, such as Legg-Perthes and patellar luxation.
Patellar luxation occurs when the kneecap moves out of position and is common in small dogs.
Legg-Perthes is a bone disease that strikes many small dog breeds, including Cairn Terriers and Pomeranians.
The hip is affected and may necessitate surgery to correct. Symptoms such as limping occur before the first year of age and the prognosis is better the sooner it is detected and treated.
In general, Cairns are considered to be a relatively healthy breed, but they are prone to the above-mentioned joint issues as well as eye issues.  
Melanocytic glaucoma is an inherited disease that occurs with a high frequency in the Cairn Terrier, afflicting mostly middle-aged to mature dogs.
It develops slowly, and at first you will see a darkening and swelling of the iris. Regular checkups are recommended to catch the disease at an early and treatable stage.  
As far as the Pom goes, unfortunately collapsing trachea is a common problem in this breed. It occurs when the trachea weakens and loses shape, making breathing difficult.
It is a potentially life-threatening issue so seek medical attention if your little one is coughing or emitting a honking noise.
Pomeranians are also known to suffer from Severe Hair Loss Syndrome, aka, Black Skin Disease. In affected dogs, alopecia can occur when the puppy coat sheds but the fur fails to grow back.
Secondarily, alopecia is common in older dogs when their normal coats begin to severely thin.
Cairn Terrier Pomeranian Mix Exercise
The Cairn is active and spritely. They can do fine in an apartment space if given regular exercise such as a daily walk, a trip to the dog park, etc.
They have a tendency to run off and chase after the things that catch their attention. It is wise to keep your Cairn on a leash in public until you know how she typically reacts to distractions.
Toy breeds such as the Pomeranian do not require an inordinate amount of exercise to stay healthy.
They are still active and will need a regular physical outlet to maintain their well-being. A daily walk or a trip to the yard for some activity can be enough to satisfy your little one's exercise needs.
As with other traits, the Cairn Pomeranian mix could have the energy level of either parent or a mix of both.
Choosing a Cairn Terrier Pomeranian Mix
The Cairn is a likable dog, showing traits of enthusiasm and bravery. Keep in mind that these characteristics are made socially acceptable through proper training.
Without early training the Cairn's natural gusto and lively nature can turn into an ingrained disposition that is more stubborn and willful than it is charming and playful.
The little dog will be a faithful companion. Until you have a good sense of how he behaves on play dates, it is best to supervise his interactions with children and other pets.
Pomeranians have a high canine IQ and desire to please their owners. They can be a joy to have around the house.
But they possess a high energy level and require early and positive training in order to become well-mannered house pets.
Their curious and sparkly personalities make Poms terrific companions, and are even lap dog material.
Children should be cautioned against playing too roughly with this friendly furball. Think twice if you have very young kids, as the Pom should be handled with care.
The Pomeranian Cairn Terrier mix will be ideal in a home that can supervise interactions with children and has plenty of time for training, especially when the puppy is young.
How to find  Cairn Terrier Pomeranian mix puppies
When you choose a purebred dog or first generation cross, it is crucial to work with a responsible breeder. They should show you health clearances for the pups, and ideally for both of your puppy's parents.
For example, you want to know about hip scores if you are interested in a Cairanian.
In addition, breeders should help you to understand the needs and proclivities of individual breeds, thus shedding light on a crossbreed's potential profile.
Cairn Terrier Pomeranian mix
Like any crossbreed, the Cairanian will resemble his parents in looks, health, and temperament. This is doubly true for the traits that both parents have in common.
Both the Pomeranian and the Cairn Terrier are little dogs with huge personalities and lively natures. No doubt the Cairanian will enjoy showing off its dazzling personality!
But he will need training to learn how to control his inherited natural ebullience. Then it becomes a positive, not a negative or distracting, trait.
Share any experiences you have had with the Cairanian in the comments section below!
References
Frank, L., Growth hormone-responsive alopecia in dogs, Journal of the American Veterinary Medical Association, 2005
Hanselman, B.A., Melanocytic glaucoma in a cairn terrier, Canadian Veterinary Journal, 2002
Johnson, L., Tracheal Collapse Diagnosis and Medical and Surgical Treatment, Veterinary Clinics" Small Animal Practice, 2000
Leroy, G., et al, Inbreeding impact on litter size and survival in selected canine breeds, The Veterinary Journal, 2015
Van De Sandt, R., et al, Abnormal ocular pigment deposition and glaucoma in the dog, Veterinary Ophthalmology, 2003
Get Pippa's free dog training tips delivered to your inbox