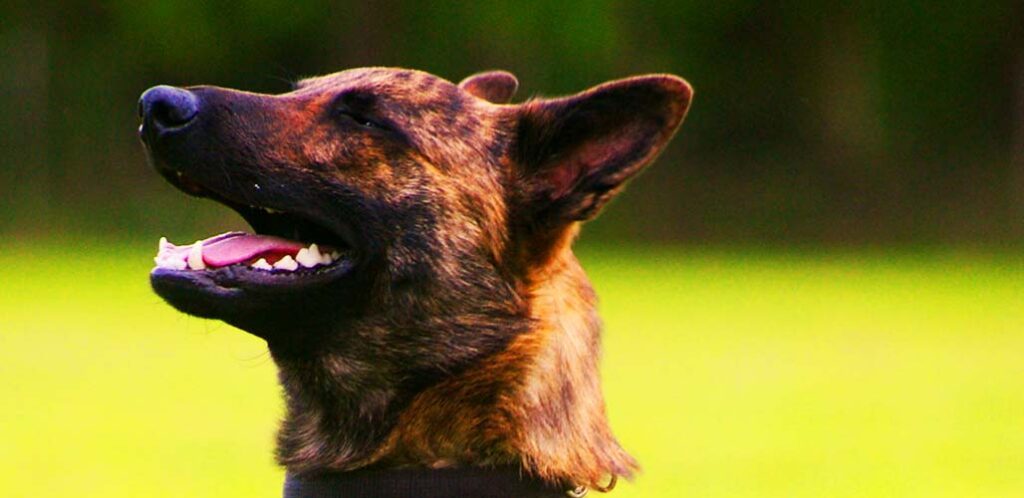 Brindle German Shepherd Dogs have dark fur with stripes of brown and black. Their coats have a mottled, flecked effect that makes for a very striking pattern. Although it isn't an official German Shepherd color, you can still occasionally find purebred brindle German Shepherds, or German Shepherd mixes. The Dutch Shepherd is also sometimes mistaken for a GSD. Today we'll look at where these patterns come from in German Shepherd puppies, how to find a brindle German Shepherd dog and what this color means for your hard working, affectionate, protective companion.
Contents
The German Shepherd is an intelligent, athletic, and brave dog breed. These dogs are common as loyal, affectionate family pets, and as working dogs, particularly alongside the police and military. Many German Shepherds have black and tan coloring. But, is it possible to find a purebred brindle GSD? Let's take a closer look.
What is a Brindle German Shepherd?
The German Shepherd breed harks back to the late 1800s. They were bred by a man named Captain Max von Stephanitz, who aimed to create the ideal all-round herder. Over time, the breed developed, evolving from the original herding role to other working roles, such as a guard dog, and a military dog.
Brindle refers to a color type, a pattern made up of alternating stripes of light and dark coloring. But, it's not an officially accepted shade or pattern according to the German Shepherd AKC breed standard. This doesn't mean a purebred German Shepherd cannot have this coloring. In fact, some of the earliest GSD ancestors had stripes! But, it's much more common to find other solid shades and bicolor shades.
Can a German Shepherd be Brindle?
According to the AKC breed standard, brindle is not an accepted color or pattern for the German Shepherd breed. But, this doesn't mean you won't find German Shepherds with these markings. In fact, one of the earliest German Shepherd ancestors, a dog named Horand von Grafrath, born in 1895, had some brindling on his coat.
So, it's entirely possible to find a brindle dog. But, many breeders will stay away from GSDs with this coloring, instead aiming to breed puppies that align with the official breed standards. If you see one out and about, there's a chance you may actually be looking at a similar breed, like the Dutch Shepherd, in which these patterns are much more common.
What Causes Brindle Coloring?
All dog coat colors come from two pigments: black (eumelanin) and red (pheomelanin). The genes that cause brindle coloring are found at the K locus. But, the gene (kbr) is recessive to the genes that cause black coloring (K). So, a dog must receive two copies of the gene to have stripes in their coat.
These markings aren't visible on black fur. But, you'll be able to see this pattern on colors that come from the pheomelanin pigment, such as tan. Stripes can look different from one dog to the next, there's no set way that these genes are expressed. So, some German Shepherds may have very small amounts of brindling, and others may have more extensive markings.
Is a Brindle German Shepherd Rare?
Brindle German Shepherds are not very common. There are two main reasons for this. Firstly, as we already know, the genes that cause coloring are recessive. If a dog inherits only one copy of the gene, they will have black fur. They will only express as brindle if they receive a copy of the gene from each parent.
Secondly, brindle is not an officially accepted German Shepherd color. So, many breeders will seek to avoid it in their breeding lines. Instead, they will usually stick to officially accepted colors, such as black and tan, grey, and even white.
If you're looking for a German Shepherd-like dog with this coloring, you might have more luck searching for a Dutch Shepherd or a mixed breed.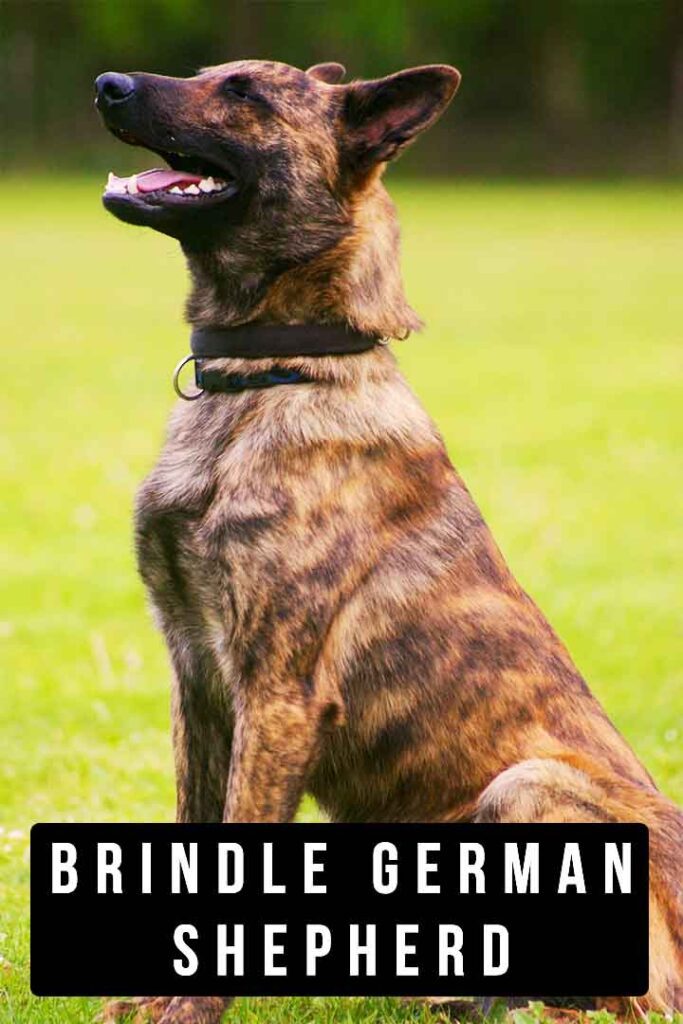 Are Brindle German Shepherds Friendly?
When trained and socialized well from a young age, a German Shepherd can be a friendly, affectionate dog. However, they are also likely to be energetic, loyal, and highly intelligent. This can mean that they are easily bored, and need to make their own fun if not properly stimulated and exercised.
On top of this, if not socialized well a GSD can show aggression and territorial behavior. So, it's important to give your GSD positive, calm experiences with as many different people as possible when they're a puppy. This includes people wearing different clothing, people of different ages, in vehicles, in new environments, and so on. Good socialization before 12 weeks is a great way to reduce any aggression in the future.
Are Brindle German Shepherds Purebred?
According to the AKC breed standard, a purebred German Shepherd cannot be brindle. But, this doesn't mean that you won't stumble across purebred German Shepherds with brindling in their fur. DNA tests are a great way to find out if your German Shepherd is purebred. There are also resources like pedigree databases that you can look at.
Purebred brindle German Shepherds are uncommon because this is not an official shade and is caused by recessive genes. Instead, it can be easier to find a mixed breed with this fur, such as a German Shepherd Pitbull mix. There are also similar purebred breeds whose breed standards include this pattern of coloring, such as the Dutch Shepherd.
Are Brindle German Shepherds Healthy?
The genes that cause brindle coloring are not yet linked to any health issues. But, this doesn't mean that a brindle German Shepherd will be perfectly healthy. They'll be at the same risk of health issues as any other GSD. So, it's a good idea for owners to familiarise themselves with the most common breed health problems. These include:
Musculoskeletal problems
Otitis externa
Osteoarthritis
Ear disease
Hip and elbow dysplasia
Pancreatic acinar atrophy
Megaesophagus
Degenerative myelopathy
von Willebrand's disease
Hemophilia A
Hereditary multifocal renal cystadenocarcinoma
Choosing a reputable breeder and giving your German Shepherd the best possible daily care is a great way to reduce the likelihood of these problems. Feed a good quality food in the correct amounts to avoid excess weight and obesity. Give your GSD plenty of exercise and mental stimulation. And, attend regular veterinary checks, especially if you notice any unusual behavior.
German Shepherd vs Dutch Shepherd
The Dutch Shepherd is a herding dog that's very similar to the German Shepherd. Both are large dogs with dense, double-layered coats. Both are also very intelligent, loyal to their family, and have high energy needs to fulfil. The Dutch Shepherd is known to be good with children, but can be a little more aloof around strangers and other dogs.
One of the major differences between the two is their accepted colors. The German Shepherd comes in a wide range of accepted colors, but brindle is not included in this. So, German Shepherds with brindling will not be accepted for show. However, the Dutch Shepherd is accepted in both silver and gold brindle. So, you may have more luck finding a Dutch Shepherd if your heart is set on this pattern.
Finding a Brindle German Shepherd Puppy
Since brindle is not an officially accepted color, you may struggle to find breeders who specialize in this shade, or who breed for it at all. Most GSD breeders will stick to the official breed colors. But, that's not to say that brindle puppies will never appear in a litter. If your heart is set on this coloring, reach out to breeders and let them know what you're looking for. They may be willing to contact you if a puppy appears in a litter.
Brindle coloring is uncommon, but not desirable in the eyes of most breeders, since it is not an official color. So, it's unlikely that breeders will increase the price of these puppies compared to other shades. In fact, some may do the opposite and lower the price of brindle puppies. Typically, you can expect to pay somewhere between $1200 and $2500 for a German Shepherd puppy. But, it will depend on location, demand, and other factors.
More important than any other factor is to choose a reputable breeder that provides good care for their dogs and who prioritises health and socialization. Alternatively, you can look in rescue centers for German Shepherds with this coloring. These dogs are often cheaper, and may already have some basic training. But, work with breed center staff to ensure you're bringing home the right dog for you.
Do You Have a Brindle German Shepherd?
Are you currently looking to bring home a German Shepherd with some brindling in their coat, or do you already have one of these interesting dogs? We would love to hear your experiences and thoughts on this color in the comments!
Readers Also Liked
References and Resources
Get Pippa's free dog training tips delivered to your inbox