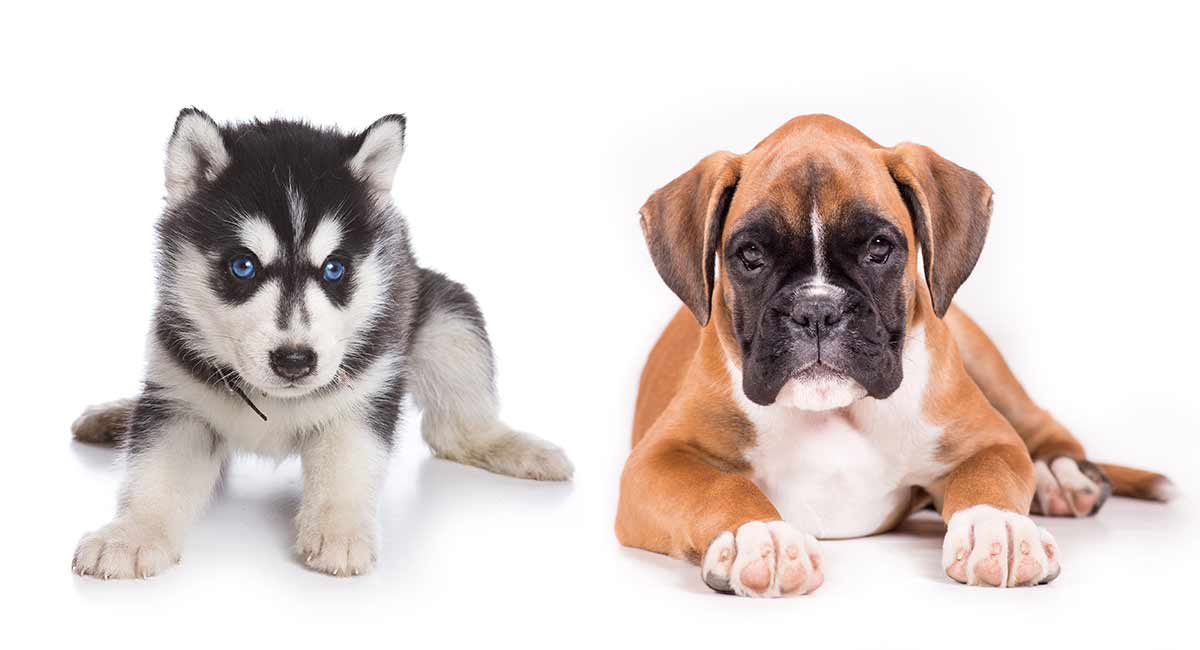 Welcome to your complete guide to the Boxer Siberian Husky Mix, a hybrid dog breed which is also known as the "Boxsky."
This somewhat unusual mix produces a large, highly energetic, and intelligent dog, often with the Husky's gorgeous blue or golden eyes.
They can be very rambunctious and prone to doing their own thing, thanks to the Husky's independent nature, but they are also some of the most loyal and affectionate dogs that you'll ever meet.
Like what you've heard so far?
If so, read on to find out more about the Boxer and Siberian Husky breeds, what you can expect the cross to look and act like, a few possible health problems to look out for, and how to select your perfect puppy.
Designer dog controversy – pros and cons of hybrid dogs
There seems to be a misconception that hybrids are lower quality than purebred dogs because they are "inbred" and/or are always full of health problems.
That is certainly not the case!
It doesn't matter if a dog is a mutt or purebred; a perfectly healthy puppy can be achieved by only crossing unrelated dogs that have also been tested for genetic health problems to keep their resulting offspring's genes healthy."clean".
Breeding dogs (purebred or mutt) with known health issues or without testing them for genetic health problems increases the risk of future generations being afflicted with various health conditions.
For additional information, check out this article on Purebreds vs. Mutts.
In fact, inbreeding is what creates "dirty" genes (unhealthy genes). This article explains how specific breed combinations and creating future generations using dogs from separate families produces the healthiest hybrid offspring.
What is a Boxsky?
A Boxsky is a mixed breed that combines a purebred Boxer with a purebred Siberian Husky.
Let's take a closer look at the Boxsky's heritage!
Where did the Boxer Husky Mix come from?
Boxer Origin
The Boxer breed was developed in Germany, circa late 1800s.
Boxers are thought to have descended from large dogs which were used to track and capture large game, such as bears and bison.
However, Boxers weren't necessarily valued for their hunting abilities. Rather, they were sought for a plethora of jobs, from military work (around World War I) and service work (seeing eye, guarding, etc.) to ranch work.
The popular breed made its way to America in the early 1900s, and the American Kennel Club (AKC) began accepting Boxers as a member of the working group starting in 1904.
Today, you'll still find Boxers dominating sporting events and competitions, but they are also beloved pets.
Husky Origin
The Siberian Husky also comes from a hunting background, but in (you guessed it!) Siberia.
The Husky's earliest ancestors can be traced to thousands of years ago, where they were used as the hunting dogs and traveling companions of nomadic people.
Then, in the early 1900s, they were exported to Alaska and Canada, where they were trained to be sled dogs. This is the job that people commonly associate with Huskies.
Huskies later made their way to the United States, where the AKC began registering them as another member of the working group in 1930.
You can still find Huskies pulling sleds (and winning lots of sled-pulling competitions and races), but they also make devoted and loving family pets… as long as they aren't left alone for too long and get plenty of exercise!
Let's talk more about the Boxsky's expected temperament.
Siberian Husky Boxer Mix temperament
Hybrid dogs may look and act a little more like one parent breed or the other; it's hard to say with certainty how a mixed breed will turn out.
High energy
However, there is one trait that a Boxsky will certainly inherit, and that is a tremendously high energy level.
Both Boxers and Huskies were bred to be working dogs, which means that they are capable of going like the Energizer bunny all day long and then some! This breed requires plenty of space to run and play, with several long walks per day, at minimum.
Due to the Husky's tendency to wander off and a high prey drive, a Boxsky will also benefit from a fenced-in yard.
Additionally, neither Boxers nor Huskies like to be left alone. They want to be around their humans and actively participate in their lives.
Socialization
Boxers are known to be wary of strangers. Huskies aren't going to greet a stranger with a ton of enthusiasm, but they aren't going to be aggressive toward strangers, either.
Therefore, we recommend socializing a Boxer or Husky mix with other animals and people.
Once a Boxsky is properly socialized, one thing that you probably won't need to worry about is their suitability for a family with children.
Both parent breeds have been known to be excellent with children, although supervision of play time would be a good idea until you know that things won't get too rough.
Training
Furthermore, both Boxers and Huskies can have an obstinate, "I'll do what I want, when I want to" temperament while in training. This stubborn streak can put a damper on their training progress, so be sure to use lots of positive reinforcement!
Finally, we'd be remiss if we neglected to mention that a Boxsky may inherit the Husky's tendency to howl. If you live in an area with neighbors close by, this may not be a good situation for you.
How big will a Husky Boxer Mix get?
Another certainty for Boxskies is their medium- to large size.
Based on the Boxer and Husky's typical heights and weights, a Boxsky may reach anywhere from 35 to 80 pounds and 20 to 25 inches tall at the shoulder.
As is the case with any dog breed, females will stay on the smaller end of the above size ranges.
Boxsky colors
A Boxsky may be a solid color with white markings, or she may be bicolored or solid white.
If a Boxsky inherits Boxer coloring, then her coat color may be one of the following:
She may also inherit the Boxer's black mask and/or white markings.
On the other hand, if a Boxsky inherits Husky coloring, then her coat color may be one of the following:
Agouti and white
Black and white
Gray and white
Red and white
Sable and white
White
She may also inherit the Husky's white mask.
Boxer x Husky grooming and shedding
Regardless of whether a Boxsky inherits a Boxer's or Husky's coat, the grooming requirements will be roughly the same.
A Boxer's short, smooth, and shiny coat sheds minimally and requires a little weekly touch-up with a curry brush- at most.
The Husky's double-coat also needs a weekly brushing, but with a toothed comb to keep it from tangling or matting. The coat sheds profusely and completely seasonally, so the amount of dog hair will be much more if a Boxsky inherits this coat type.
Siberian Husky Boxer Mix health
In addition to common canine health problems, such as joint issues and skin allergies, dogs of mixed breeding may also be prone to any diseases or defects that are common in their parent breeds.
In the case of the Boxsky, both parent breeds are susceptible to vision and eye problems, hip dysplasia and other joint problems, bloat, and bleeding disorders.
To learn more about some of the diseases and health conditions that commonly affect Boxers, refer to this article on the Boxer Dog.
To learn more about some of the diseases and health conditions that commonly affect Huskies, refer to this article on the Siberian Husky.
Here are a few diseases that may affect a Boxsky due to his lineage:
Hypothyroidism
This condition results when the thyroid does not create enough of the thyroid hormone, which causes a slowed metabolism and subsequent weight gain. Other symptoms may include hair loss and/or dry skin. According to the Merck Veterinary manual, hypothyroidism is most commonly seen in mid- to large-sized breeds between the 4 and 10 years old. Once diagnosed, you must give your dog thyroid hormone replacement pills for life.
Wobbler syndrome
Boxers are prone to Wobbler syndrome, which causes compression of the spinal cord and spinal nerve roots in the neck. The compression creates nerve issues which prevent the dog from feeling his feet normally, so he may move with a wobble or drunken-looking gait. This debilitating condition also causes severe neck pain.
Epilepsy
According to veterinarian Jay McDonnell, there is a high incidence of epilepsy in both Boxers and Siberian Huskies. The condition usually presents within the first few months of the puppy's life, and it results in convulsions, fits, or seizures which can range from the dog seeming unfocused or like he is staring into space to the dog collapsing and barking, clenching his teeth, and/or losing control of his bodily functions. Epilepsy requires lifelong medication to control the seizures.
Degenerative myelopathy
Degenerative myelopathy, or hind leg paralysis due to spinal cord problems, is most common in German Shepherds due to their hip and spinal structure. But a 1983 study of three related Huskies presenting with progressive dysfunction of their hind limbs strongly suggests that degenerative myelopathy also has a genetic component in Siberian Huskies. Furthermore, according to a 2009 study, Boxers seem to be overly susceptible to developing the condition, but a genetic cause has not been identified.
Eosinophilic Granulomatous Gastroenterocolitis
This disease is also known as inflammatory bowel disease (IBS), and as it does in humans, it can be triggered by certain foods, medications, or chronic digestive conditions. IBS causes ulceration and inflammation of the digestive tract, which makes it painful for the dog to eat. As a result, they may go off their food and become lethargic and often develop diarrhea. A 2006 study suggests that Huskies are particularly at risk for developing IBS.
Cushing's disease
Cushing's is caused by the formation of tumors on the adrenal gland, and according to the Merck Veterinary Manual, Boxers are among the dog breeds which are most commonly affected. The condition causes a dull and/or patchy hair coat (due to related hair loss and/or dermatitis), a potbelly appearance, general malaise, and frequent urinary tract infections. Once Cushing's has been diagnosed, a dog may require lifelong medication, surgery to remove the tumor(s), and/or radiation therapy.
Bladder disease
Some Huskies may be born with an ectopic ureter. This means that one (unilateral) or both (bilateral) ureters (tubes that carry waste products that the kidneys filter to the bladder) open somewhere other than the bladder. Thus, the dog cannot urinate properly. Surgery is required to fix this defect.
Laryngeal paralysis
This is the collapse, paralysis, and eventual wasting of a dog's voice box due to blunt trauma to the neck or throat, but it can also be caused by tumors in the neck, certain health conditions (such as Cushing's), or it can sometimes be an inherited condition. According to the VCA Animal Hospital, laryngeal paralysis seems to be inherited in Siberian Huskies. When a dog has laryngeal paralysis, she may breathe rather noisily, sound weird when she barks, and/or have a decreased tolerance to exercise. Thankfully, the condition can usually be treated with anti-inflammatory medication, medication to help open your dog's airways, and surgery (if needed).
Because there are many genetic conditions which may be passed on to a Boxsky, if you are thinking of getting a Boxsky puppy from a breeder, then we recommend only purchasing from one who uses genetic testing. This may decrease the odds of your future puppy having some of the aforementioned problems.
Husky cross Boxer exercise requirements
As we've already mentioned, the Boxsky will need lots and lots of exercise to keep him content.
After all, Huskies were bred to run-run-run (and pull sleds piled with weight) for hours on end, and Boxers were also bred to work all day long.
A couple of long walks daily, some weekly trips to the dog park, and plenty of interactive play time in between should keep a Boxsky happy and healthy.
Don't forget the Husky's strong prey drive, which a Boxsky may inherit. This could necessitate a fenced-in yard and more on-leash time than off-leash time while you're out in public.
How long will a Boxsky live?
A Boxsky may live for anywhere from 10 to 14 years.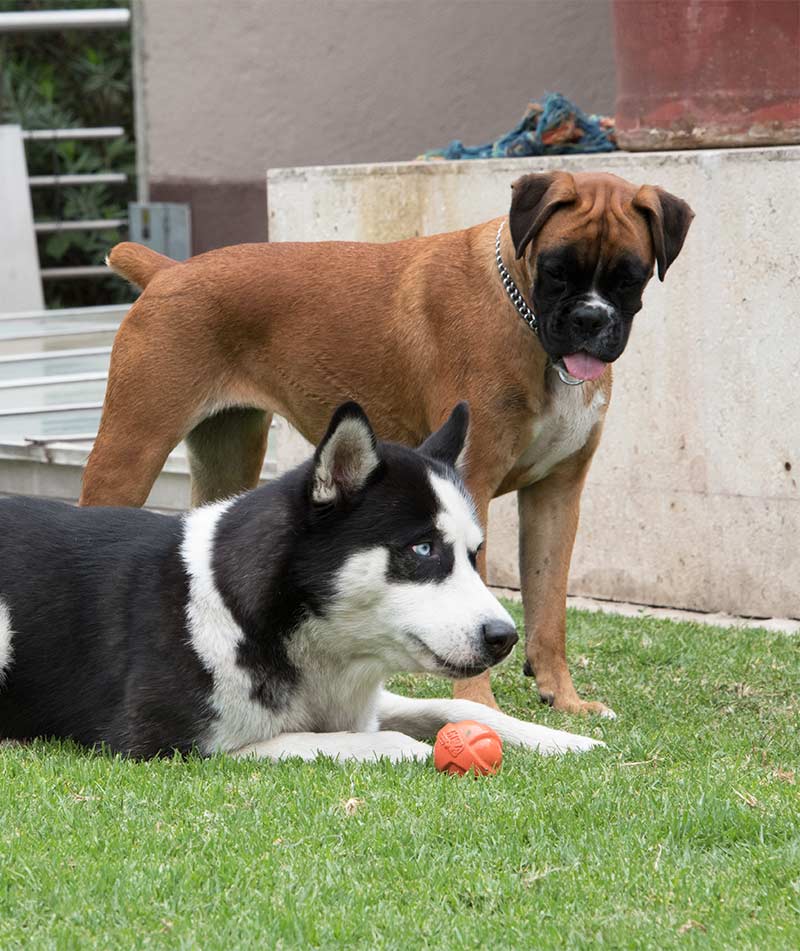 Buying Boxer Husky mix puppies
Don't ever buy a puppy just because a breeder has one available!
To be sure that you purchase a healthy puppy from a responsible breeder, only buy from a breeder who uses genetic testing. This prevents undesired traits or health conditions from being passed down multiple generations.
Also, be sure to only purchase from a breeder who keeps their breeding stock and puppies in clean facilities, with plenty of food and water. Beware of dirty and poorly lit kennels with neglected, thin, and/or ill dogs.
Cost of Boxer Husky mix puppies
The amount that you'll pay for a Boxer Husky puppy depends on whether you're purchasing from a breeder or adopting, and if the former, what value the breeder places on their stock, the availability of puppies, and how much money the breeder has already spent to ensure the health of the puppies.
Due to its size and the Husky's popularity, you can probably expect to pay a few hundred dollars (give or take a few hundred, based on the aforementioned criteria) for a Boxer Husky mix pup.
Boxsky rescue
Not everyone has the money or the desire to purchase a puppy from a breeder, and that is just fine!
If you're looking for a full-grown Boxsky, or if you prefer to adopt a puppy, then you might consider checking in with your local animal shelter or humane society.
Additionally, some rescues specialize in certain breeds and their mixes only. You might also consider searching for and contacting Boxer- or Husky-specific rescues to see if they come across any Boxskies.
Boxsky – summary
You may have been dreaming of owning a Boxer or Husky mix, but before you set your heart on a Boxsky, you must consider a few things.
Energy level
A Boxsky is going to be a very energetic dog who may also have a tendency to wander or chase after "prey." His energy knows no bounds, and if he doesn't have a chance to let it out, then he will be a very unhappy dog.
Space
He'll also be a pretty large dog that won't like being kept in too small of an area. He's a mix of two working breeds that are used to getting the job done for hours every day, so he's meant to stretch his legs!
Howling
He may not bark a whole lot, but there's a chance that he may inherit the Husky's tendency to howl when he's upset or lonely. This won't be a good thing if you have neighbors!
Socialization
Additionally, he may inherit the Boxer's leeriness of strange people, so you'll definitely want to socialize him from a young age.
You'll also want to socialize him with any other pets that you have or plan to have, as the Husky's prey drive may come out if a Boxsky sees your cat or another small critter running across the house!
Grooming
Shedding won't be too much of an issue, except for seasonal shedding. You may need to brush this dog's coat weekly to ensure that it doesn't get matted or tangled.
Health
Finally, there are a few health problems that a Boxsky may inherit. Genetic testing of breeding stock may be able to identify some of these before a puppy is even born!
If you're looking for a dog that is good with the family, then a Boxsky could make a wonderful friend for your children – these are some very loyal dogs! Just follow our recommendations before selecting your family's new best friend.
References and Further Reading
Bichsel, P et al. "Degenerative myelopathy in a family of Siberian Husky dogs," Journal of the American Veterinary Medical Association, 1983.

Carter, A., Oglesby, P. "Ultrasonographic diagnosis of unilateral ectopic ureter in a Labrador dog," Journal of the South African Veterinary Association, 2003.

Downing, R. "Wobbler Syndrome in Dogs (Cervical spondylomyopathy)," VCA Animal Hospitals,

https://vcahospitals.com/know-your-pet/wobbler-syndrome-in-dogs-cervical-spondylomyopathy

.

Greco, D et al. "Disorders of the Thyroid Gland in Dogs,"

http://www.merckvetmanual.com/dog-owners/hormonal-disorders-of-dogs/disorders-of-the-thyroid-gland-in-dogs

.

McDonnell, J. "Canine Epilepsy: An Information Guide," Veterinary Neurology and Imaging of the Chesapeake,

https://www.vetneurochesapeake.com/uncategorized/canine-epilepsy-an-information-guide/

.

Miller, A et al.  "Degenerative Myelopathy in Two Boxer Dogs," Veterinary Pathology, 2009.

Ward, E. "Laryngeal Paralysis in Dogs," VCA Animal Hospitals,

https://vcahospitals.com/know-your-pet/laryngeal-paralysis-in-dogs

.
Get Pippa's free dog training tips delivered to your inbox