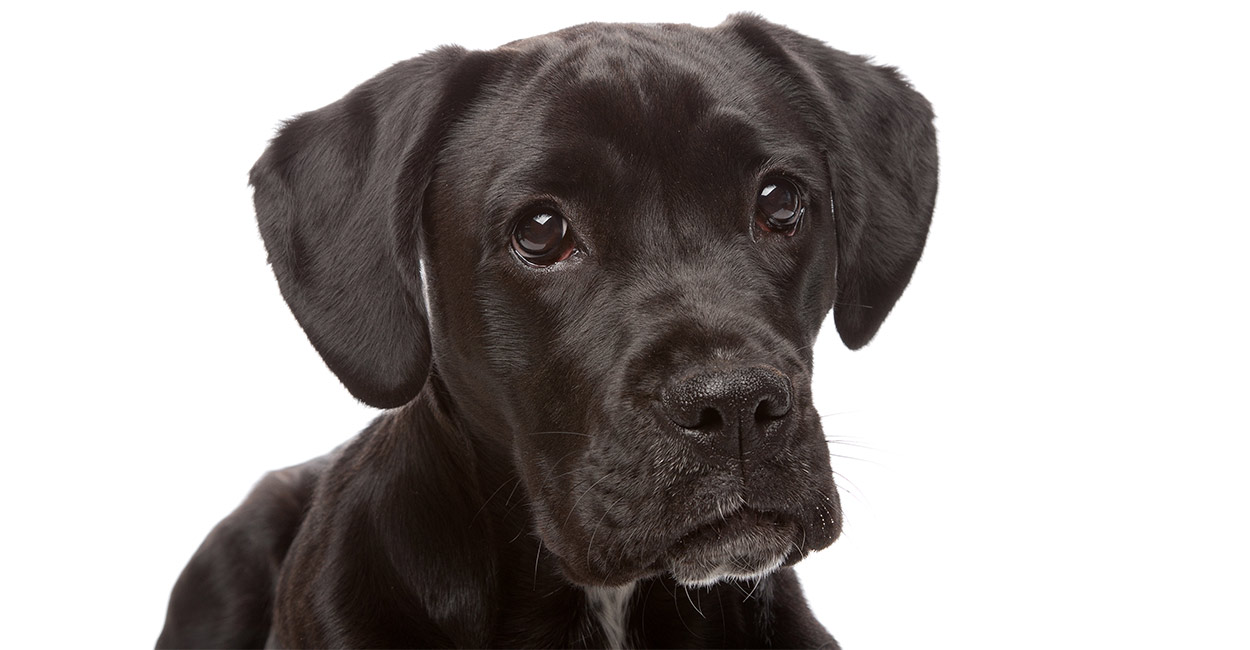 Welcome To Your Complete Guide To The Boxer Lab Mix.
Also Known As The Boxador!
We'll Give You All The Information You Need About This Cross Breed Dog, And Take An Honest Look At The Designer Dog Controversy.
So What Are We Waiting For? Let's Get Started!
Labrador Retrievers and Boxers are, separately, such great breeds.
The focused energy of the Boxer and the loyal nature of the Labrador are very desirable!
That's why it's no surprise at all that people want a combination of these two as their family pet.
But not everyone agrees that it's such a good idea.
In this article, we'll cover all you want to know about the crossbreed called the Boxador.
Which parent do they take after? What qualities can you expect from the mix?
Will you always get the best of both breeds? And where can you find one?
And look at whether it's a good idea to have a mixed breed dog.
Designer Dogs And Their Controversy
First generation hybrids really are the marmite of the dog world.
But why is it that so many people get hot under the collar when you mention these mixes?
Purebred dogs have a legion of fans. They love the predictability of their temperament and appearance, and the feeling behind having a dog with a pedigree.
But in recent years it has become devastatingly clear that the purebred world has a big problem.
Closed pedigree registers mean closed gene pools. And with no new genetic information getting through, many of the most love purebred dogs are in serious trouble long term.
Hybrid vigor is real and it's a great thing for our pets.
Provided the parents are both healthy, health tested dogs, mixing them together will spell good things for the future of our beloved canines.
But in the meantime, we can be sure that love 'em or hate 'em, crossbreeds are here to stay.
So let's put all that aside for now, and take a proper look at the Boxer Lab mix.
This is where you should come for information on lifespan, health, and pros and cons of the breed.
What is a Boxador?
The Boxador is simply a cute informal name give to the Boxer Lab mix.
And it is a pretty popular hybrid.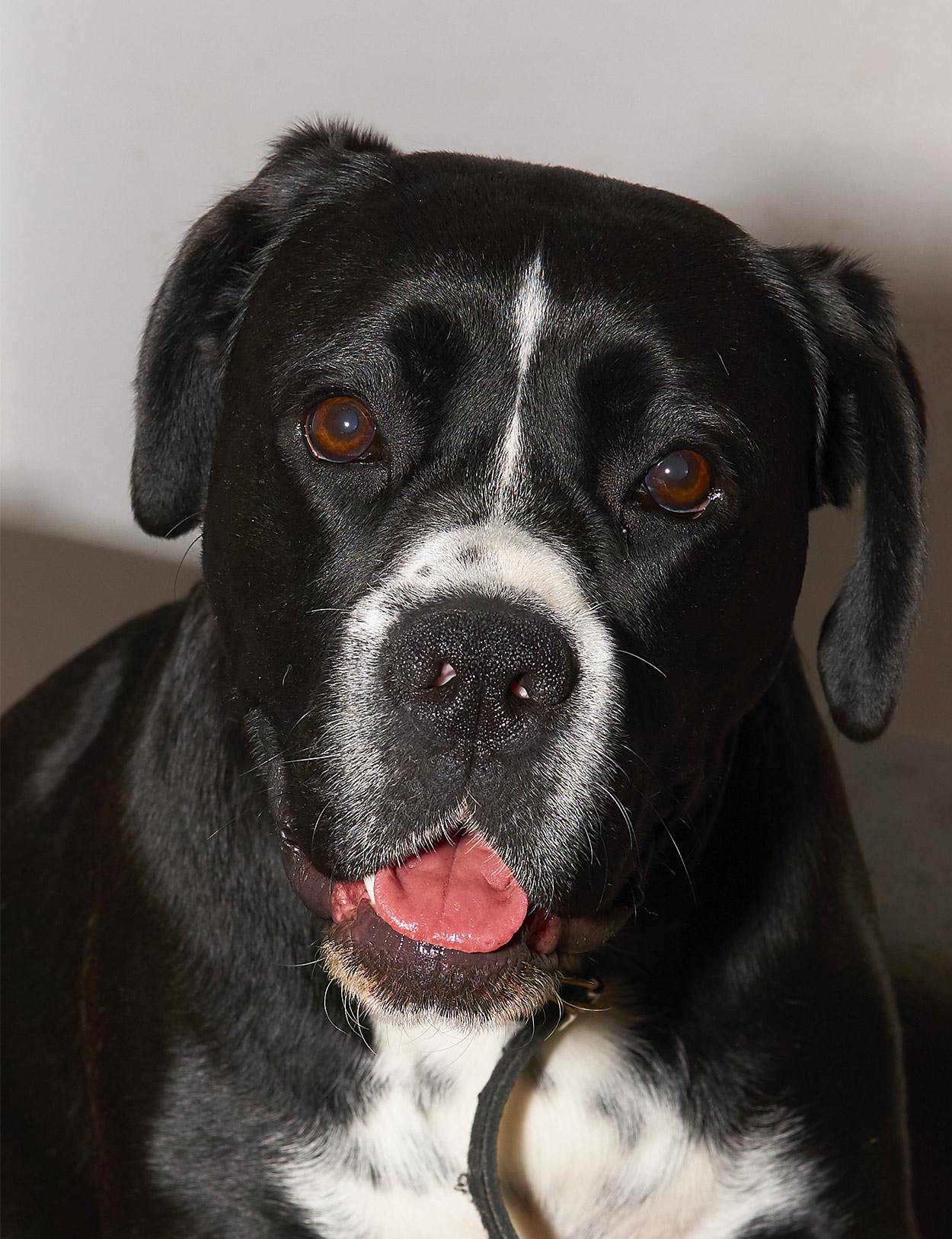 Mixed breeds have often been created in order to pass down desired traits of different breeds. The idea is to get a puppy that features attributes from both parents.
In the case of Labrador Boxer mixes, some might think mixing is desirable as an attempt to avoid some of the health problems that Boxers face.
Or to get Labradors with Boxer coloring – or to breed Boxer-style dogs with the loving nature of Labs.
Mixed breed dogs, though, are also a mixed bag.
You can't really predict which features they will get from each parent.
Which means you might not get what you desire from a Boxer Lab mix.
But first, lets look at exactly what Labs and Boxers are like.
Labrador Retriever
Labradors originally come from Newfoundland, where small water dogs bred with Newfoundland dogs to create the St. John's Water Dog. This dog is considered the Lab's main ancestor.
These dogs were bred to retrieve fish from traps and hooks for their owners.
In the 19th century, the Earl of Malmesbury reportedly imported one of these dogs to England. His family bred them to be hunters, and gave them their name.
Their skills generally include running, swimming, fighting, and using their strong sense of smell.
Labs were eventually recognized as a breed by the English Kennel Club in 1903, with some pedigrees originating earlier than that, in the 1870s.
The American Kennel Club recognized them in 1917, and they've been imported into the U.S. ever since. In fact, they've become the most popular breed of dog in America.
That's because they are friendly and outgoing, active and high-spirited. They are easy to please and make great family pets.
Labrador retrievers are athletic and well-balanced, with kind and intelligent eyes and a thick tail. Their coats are short and dense.
Boxers
The known history of the Boxer dates back to 16th century Europe. They are believed to be one of the descendants of fighting mastiff dogs from the high valleys of Tibet.
Boxers contain bulldog blood and may have a terrier strain as well. The Boxer is truly a favorite in Germany.
Boxers were bred to hunt and hold prey. They are short-haired, muscular dogs of medium size. Their muzzles are "undershot," meaning that the lower jaw extends past the upper, allowing for secure holding of prey.
This means that Boxers may snore. Also, they have a more difficult time regulating their own temperatures.
These dogs sport a square-shaped body, short back, strong limbs. defined muscles, a proud carriage, and a chiseled head with a broad, blunt muzzle. Their shoulders are long and sloping.
They move efficiently and powerfully.
The first Boxer was registered with the AKC in 1904, but it wasn't until the 1940s that people started taking notice. At that time, Boxers were winning Group and Best in Show honors at the AKC championship shows.
These dogs were developed as companion, working, and guard dogs.
Mixing Labrador Retrievers and Boxers
Mixing breeds together is, in general, a relatively new endeavor in the canine world.
When cross breeding takes place, the puppies that result can show a mix of traits that varies not just from litter to litter, but from individual to individual.
Some puppies may be more like their Labrador parent. Some might end up with more Boxer traits.
Because Boxador dogs are a newer type of hybrid, there hasn't been enough time to create a true, crossbred dog with reliable hereditary traits.
So if you're wanting one, just be prepared.
But what could your Boxer Lab mix look like? Let's investigate.
Boxador Weight
Labrador Retrievers weigh between 55-80 lbs.
Boxers weigh around 50-80 lbs.
There's really not that much difference in weight between the two breeds.
Because the dogs have similar weights, you can be fairly certain you're going to get a hybrid dog that falls within these ranges as an adult.
Remember that females of both species can be up to 10-15 lbs. smaller than the males.
They're still pretty heavy, both of them, so make sure you and your family can handle a dog of that size!
Boxer Lab Mix Size
In general, you simply cannot determine which parent a hybrid puppy will most resemble when it comes to size and weight.
Labrador Retrievers range from 21.5-24.5 inches in height.
Boxers again have a similar size range – 21.5-25 inches in height.
That makes them a good match in terms of size. You're not going to get too much variation.
You can be sure your Boxer Lab dog will be pretty big! As with weight, females will be smaller than males.
Boxador Colors
Labs come in three major colors: golden (yellow), chocolate (brown), and black. Some may have white markings.
Boxers come in brindle, white, and fawn colors, Brindle refers to a certain type of striping on boxer coats, and can feature different shades.
Boxers may also have black masks and markings in white, brindle, and fawn. White markings are called "flash."
Your Boxer Lab mix can inherit any of the classic colors associated with either breed! They will rarely be of one color.
Any dog's colors will depend on the parents, of course. It's likely that your Boxador could have the brindling, the black mask, and white markings on feet, face, and chest that are associated with Boxers.
Some traits are more dominant than others, too. Black boxadors and brown boxadors appear to be dominant when mixing these two breeds.
Yellow-colored Boxer Lab mix dogs are much more rare – we're not sure they even exist! White Boxadors may be possible, but hybrid dogs probably won't be pure white.
Labrador Boxer Mix Personality
One of the biggest selling points of the Labrador Retriever is its personality. Labs are friendly, outgoing, kindly, non-aggressive, and tractable.
People like their gentleness and intelligence. They adapt easily to different situations.
Boxers are more dignified and alert. They are self-assured, animated dogs that can be playful. Around children, they can be patient and straightforward.
People say Boxers never slow down, and they never grow up!
They show great courage and respond well to friendly overtures.
Boxers are smart, loyal, and very trainable. So are Labradors.
That means your mixed breed dog is likely to have some, all, or few of these qualities – it's just hard to know.
But keeping these personality traits in mind can tell you a little of what to expect from a mix of the two breeds.
Boxer Lab Mix Temperament
Boxers and Labradors alike are playful, sweet, and smart.
Boxers are strong, quick, busy dogs that require exercise and stimulation. They love a challenge.
Labradors are similarly active. They're versatile and fun!
Labradors are friendly and high-energy. Boxers may be more wary of strangers because of their guard dog background.
Both types of dogs are good with children. Boxers may need some supervision with other dogs, while Labs love playing with others.
Your Boxador puppy will be a mix of these traits, or there could be some unknowns thrown in as well.
Boxador Training
All dogs can benefit from basic training starting from puppyhood.
Labrador x Boxer puppies should be very amenable to training, as both breeds are easily trainable and eager to please.
Boxers especially require exercise, which additional specialized training such as agility training can provide.
Because they are large dogs, they do need stimulation both of the mind and the body. Such high energy pups need a place to use it!
Boxador Grooming and Shedding
Labrador Retriever coats are fairly distinctive. They are dense, short, and straight. Labs are not very soft, though they do have a soft, water-resistant undercoat.
Sometimes Labs have a wavy section down their backs, too.
Boxers have short coats. Their fur tends to be shiny and smooth, and lies close to the body.
Both dogs can shed quite a lot in season – as the weather turns warmer. Labs shed more year round.
Your Lab Boxer mix can show qualities of both types of hair, though it's somewhat more likely that they will take after the Boxer parent.
The means short, smooth hair that doesn't shed too much.
Regular grooming is important for your Boxer Lab mix, but their coats will easy to care for.
A quick brushing once or twice a week should be fine.
Boxer Lab Mix Health
Research shows that mixed breeds are healthier compared with their parent breeds.
Many purebred dogs experienced a genetic bottleneck at some point in their evolution, which means that there are fewer genes in the population, and more sensitivity to genetic diseases.
Because many heritable canine diseases are recessive, dogs need two copies of a faulty gene in order to get the disease.
Some genetic diseases, however, are common to all dogs. This means they are more likely to get them even if cross-bred.
Some of these diseases include cancer, epilepsy, autoimmune disorders, blindness, cataracts, heart disease, and kidney issues.
But improved lifespan is good news for crossbred Boxers especially, because Boxers are prone to more genetic diseases than many types of dogs.
If you get a Boxador, please do what you can to find out the health history of the parents. That way, you can better predict what types of inherited conditions your mix may be prone to.
It's super important to get your dog a health screening, too!
You will also need to consider the risks of mixing a brachycephalic dog with one without breathing problems.
Although you would hope the elongated muzzle would improve these structural problems in a mix, there is no guarantee that your Boxer Lab mix won't end up suffering.
To fully understand the potential health problems, let's look at each parent breed in turn.
Labrador Retriever Health
Labs are generally fairly healthy dogs, but can be prone to obesity.
Obesity can lead to health issues such as diabetes, arthritis, and other conditions.
Of the genetic diseases they are prone to, you'll find vision problems, joint problems and certain types of cancers high on the list.
They are vulnerable to hip and elbow dysplasia – more so than many other breeds of dog.
Hip and elbow dysplasia are developmental abnormalities in those joints.
Dysplasia can lead to pain, loss of function, and arthritis.
Labs can get centronuclear myopathy, leading to muscle weakness and wasting.
Some are also prone to exercise-induced collapse. If your dog has this, strenuous exercise can actually be fatal because muscles are too week and uncoordinated.
Retinal progressive atrophy is a degenerative eye disease that can lead to vision loss in Labrador Retrievers.
The long, floppy ears of Labradors are a breeding ground for germs, and they can suffer from allergies and infections as a result.
Boxer Health
Boxers are a brachycephalic breed.
That refers to the shortened, undershot muzzle. It might give a cute look, but it causes huge problems.
Breathing issues and temperature regulation problems often exist in these breeds.
Bracycephaly is a huge problem in some dog breeds, and in a dog like the Boxer who is so exuberate having issues keeping cool and catching your breath is a serious problem.
Heart disease is another serious issue.
Boxers are also more prone to myocardial disease, which affects the heart – in Boxers, especially the right ventricle. This inherited disease can lead to sudden cardiac death.
In fact, the version that Boxers get is named after the breed.
Boxer cardiomyopathy is degenerative and inherited as an dominant trait. Symptoms may not appear, but can include cough, breathlessness, and exercise intolerance.
Syncope, a loss of consciousness and fall in blood pressure, may also be a common symptom.
Aortic and pulmonic stenosis are the most common cardiac lesions in Boxers. That means their valves become abnormally narrow, restricting blood flow.
Additionally, Boxers are one of the most likely breeds to develop cancer. Lymphoma is one cancer that is high-risk in Boxers.
Cancer in dogs is analogous to human cancer, except that it is usually diagnosed later, so dogs have a shorter lifespan after the diagnosis.
Another disease sometimes seen in Boxers is Canine Degenerative Myelopathy, a nuerodegenerative condition of the spinal cord.
Initial symptoms include impaired coordination and stumbling. The disease is progressive, and can take up to a year to run its course.
One of the symptoms of this disease is hip dysplasia, another condition that affects several different breeds – including Labradors. It eventually leads to loss of function in the hip joints.
You may also need to watch out for corneal dystrophy, including corneal ulcers.
These ulcers fail to heal and can be characterized by weak attachment of the corneal epithelium, a protective barrier at the front of the cornea, to the anterior corneal stroma, the richest layer of the cornea.
Dogs with this condition experience pain in the eye. This is a chronic, superficial condition, and needs to be addressed by a vet.
Boxers may also suffer from allergies, kidney disease and hypothyroidism, among other conditions.
Boxer Lab mix health tests
A litter of Boxador puppies should still have health tested parents, despite being a mix.
Here is what to ask for proof of!
The Boxer parent should have a clear heart check, good hip scores and a recent eye test.
They should have a note from the vet declaring their breathing as clear, and you should hear no noise from them as they breathe when you meet.
The Lab parent should have good hip and elbow scores, clear eye test and be PRA clear at DNA test.
Boxer Lab Mix Lifespan
A Labrador Retriever's lifespan is about 12.5 years.
A Boxer's lifespan is just under nine years.
A Boxer Lab mix could range anywhere around this points.
Remember that lifespans are variable. They are determined by a number of factors, including diet, environment, and quality of life.
Genetics is another big factor, so you should definitely look at the health of a Boxador puppy's parents if you want a dog that lives a long time.
Boxer Lab Mix Breeders
Cross-bred dogs can definitely be found from reputable breeders.
Just make sure you know the difference between a good breeder and a bad one.
A good breeder will put the well-being of the dogs first. They will be looking to improve the line health-wise.
Dogs belonging to a good breeder will have healthy surroundings and be like part of the family. They'll be bonded to the breeder and the breeder's family.
Do your research, and visit the home where your potential pup is living if at all possible.
Assess living conditions for yourself, and make sure the breeder has health certifications for the dogs.
Consider making sure all documentation is in order even before you see your potential pup – it's going to be harder if you see those cute faces and then discover something's not quite right.
Boxador Puppies
Boxer Lab mix puppies are the cutest! But be smart before you buy. Remember that they are at risk for the same health issues as their parents, regardless of breed.
Puppies are generally weaned at about eight weeks, which is a good time to take them home.
You won't know how much of each breed you're getting, so be prepared to encounter the qualities of either breed in Boxer Lab puppies.
You'll need to start socialization immediately. Remember how smart these dogs are, and the they're going to need plenty of exercise.
Boxer Lab mix puppies can become great family dogs if you provide them with the stimulation and the order they need!
Boxer Lab Mix Price
You can probably except to pay from $350-$800 for a Boxador puppy.
Crossbred dogs can sometimes cost more than their purebred associates, but Boxadors are large dogs, and can be more challenging to place.
Also, they're not bred as often. Their low demand at the current time means that you can probably find a great family dog for a bit lower than you might expect.
Boxador Rescue
Can you adopt a Boxer Lab Mix? Yes, and it can be very rewarding to save a dog's life.
Boxer rescues and Labrador rescues will sometimes have mixes available. You may also find a mix at a shelter.
But there are risks involved. You won't have knowledge of their medical history, for example. That can be a big deal.
Also, you'll have less choice when it comes to age, temperament, gender, and other qualities you might care about.
You may have to be patient to get the dog you want.
But, if you're determined, you can make it happen.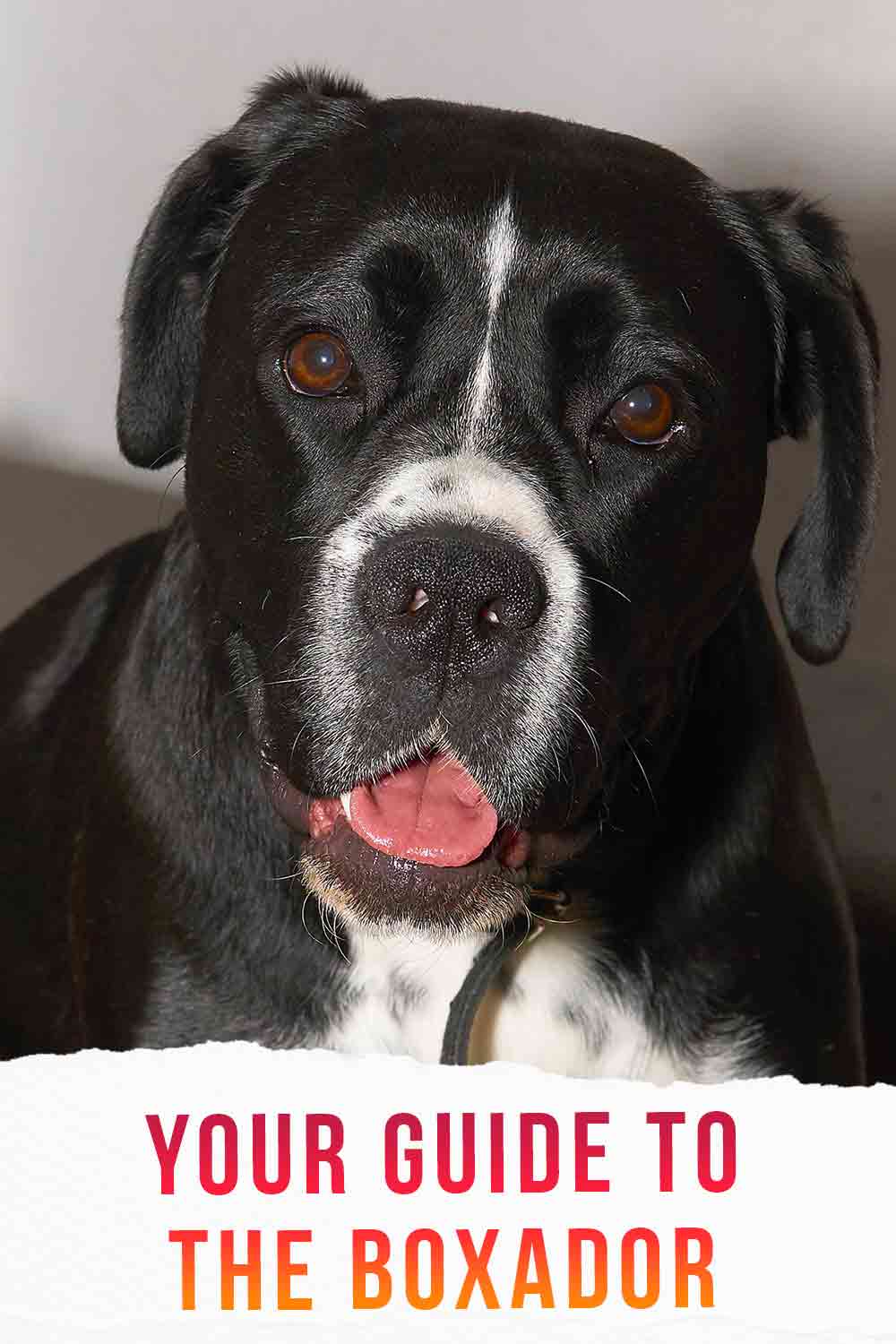 Is a Boxer Lab Mix Right for Me?
These are large and lively dogs when full grown. They'll need lots of time and activity.
They'll also need training and plenty of exercise.
On the other hand, they are incredibly loyal, sweet and almost puppy-like.
If you think you can handle all this, maybe a Labrador Boxer mix is right for you!
Sources
Bussadori, C. et al (2009). Congenital heart disease in boxer dogs: Results of 6 years of breed screening. The Veterinary Journal, 181(2).
Clemmons, R. M. Degenerative myelopathy. Veterinary Clinics of North America: Small Animal Practice.
Iuliana, I. (2013). Indolent corneal ulcers in dogs. AgroLife Scientific Journal.
Meurs, K. M.(2004). Boxer dog cardiomyopathy. Veterinary Clinics: Small Animal Practice..
Palermo, V. et al (2011). Cardiomyopathy in Boxer dogs: A retrospective study of the clinical presentation, diagnostic findings and survival. Journal of Veterinary Cardiology.
Proschowsky, H. F. et al (2003). Mortality of purebred and mixed-breed dogs in Denmark. Preventative Veterinary Medicine.
Rowell, J. L. (2011). Dog models of naturally occurring cancer. Trends in Molecular Medicine.
Sutter, N. B. and Ostrander, E. A. (2004). Dog star rising: the canine genetic system. Nature Reviews Genetics, 5.
O'Neill, DG. 2013. Longevity and mortality of owned dogs in England. The Veterinary Journal.
Get Pippa's free dog training tips delivered to your inbox