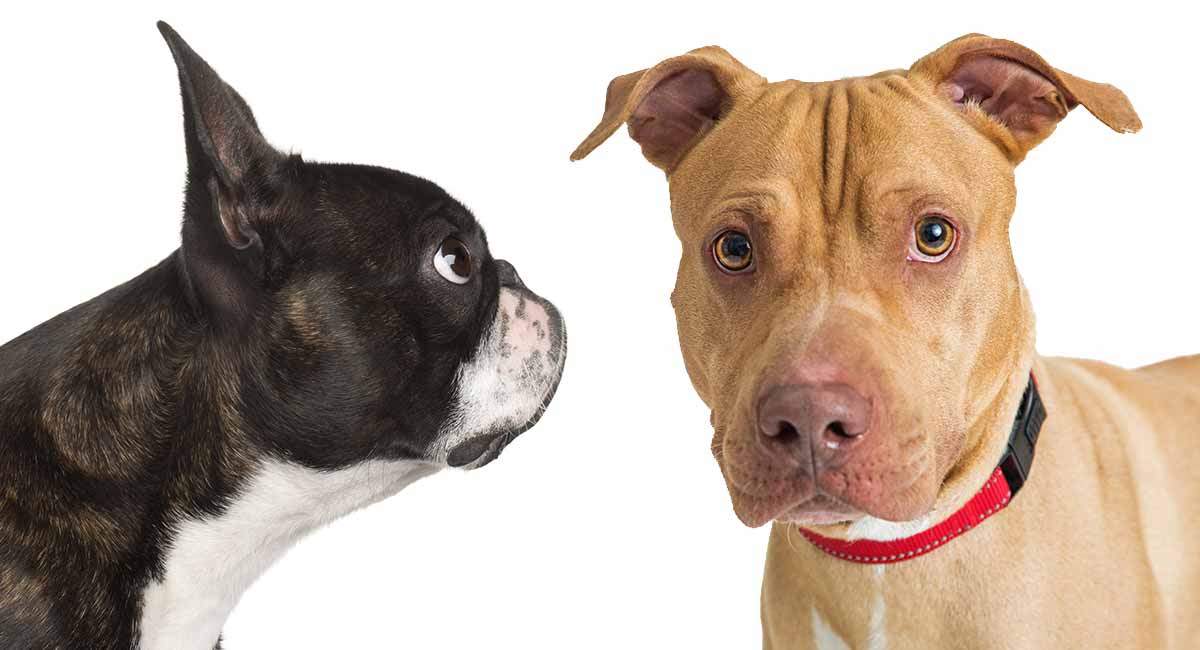 The Boston Terrier Pitbull mix combines two very different dogs which both have terrier lineage in their family trees.
Beyond size, they greatly differ in reputation as Pitbulls suffer from unfair associations with their past.
Both breeds are affectionate, playful, and loyal. However, a Boston Terrier Pitbull mix can inherit their health problems too.
This article discusses the characteristics of the parent breeds to see how they might combine to help you decide if a Boston Terrier Pitbull mix is the right companion for you.
Where Does The Boston Terrier Pitbull Mix Come From?
Most people are not familiar with the history of the Boston Terrier Pitbull mix. These two breeds were probably combined in recent decades with the rise of "designer dogs."
This breeding practice intentionally mixes breeds to blend desirable traits of the parent dogs. There is some controversy over designer dog breeding as purebred breeders do not want to mix genes into pedigrees.
Mix breed breeders are interested in the physical characteristics of their combinations. Additionally, people believe that there may be some health benefits to mixing genetics.
So, who's right in this debate? Both sides bring up good points. However, several other factors beyond genetics impact a dog's health. Their quality of veterinary care, diet and exercise also play a major role in a dog's health.
Boston Terrier History
The Boston Terrier we know today came from an English ancestor named "Judge" who arrived in the United States in the late 1800s. Judge was a Bulldog and English White Terrier mix. He was a cross that was intended to be a powerful pit fighting and ratting dog.
In the United States, Judge was bred with a small white female dog named Gyp. This initiated generations of selective breeding, resulting in smaller and more mild-manner versions of the original parents for companions.
So, this original breed was called the "Round Head." The name was later changed to Boston Terrier to honor the town in which it originated.
Boston Terriers are a breed native to the United States.
American Pitbull Terrier History
English breeders in the 19th century mixed Terriers and Bulldogs to create an eager, athletic, and strong dog.
These crosses made their way to the United States with immigrants. And in addition to being companions, they became popular working dogs on farms and ranches.
The Pitbull name has negative connotations due to this breed's past as fighting dogs. The unconscionable practice of using these dogs for bloodsport dates to 18th century England.
Fortunately, this practice is outlawed in many regions. But this remarkable breed is still overcoming reputation challenges.
Fun Facts About The Boston Terrier Pitbull Mix
The Boston Terrier has been the Mascot of Boston University for nearly a century.
In 1979, the government passed legislation to name the Boston Terrier the official dog of the state of Massachusetts.
The Boston Terrier is nicknamed the "The American Gentleman."
Pitbulls are one of several "bully breeds," a group which includes Bulldogs, Boxers, Bull Terriers, Mastiffs, and more. People believe bully breeds descend from an ancient Greek war dog known as the Molosser.
Several celebrities are passionate Pitbull owners and advocates for the breed, including Kaley Cuoco, Kevin Bacon, and Katherine Heigl.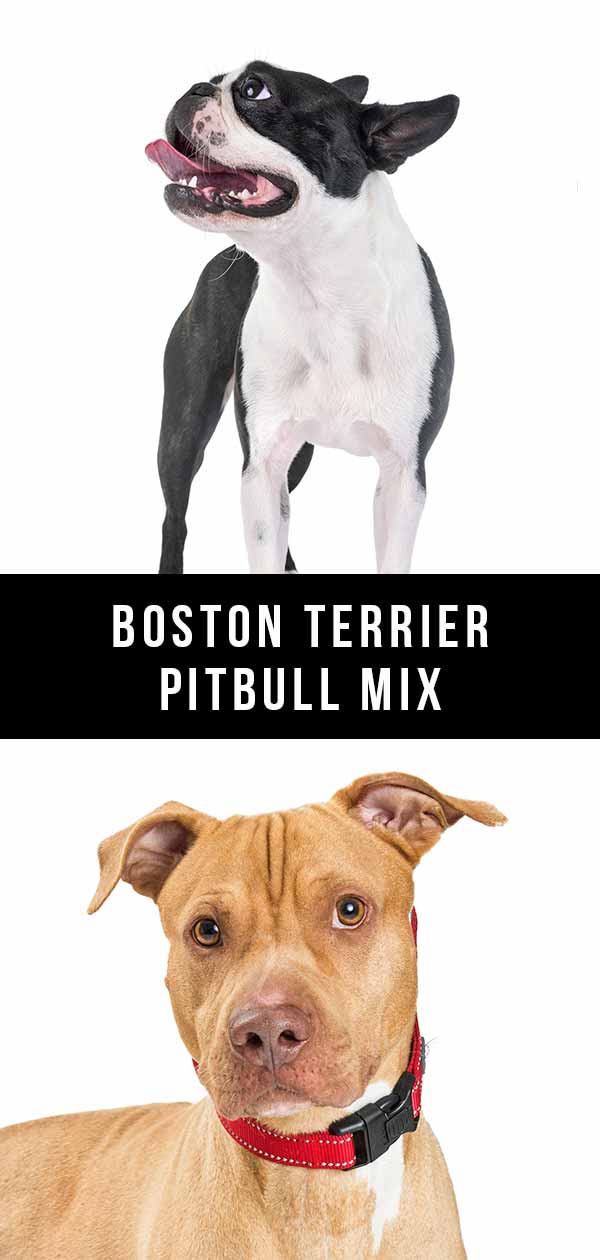 Boston Terrier Pitbull Mix Appearance
As with most dogs of mixed parentage, a Boston Terrier Pitbull's appearance will be hard to predict. As a result, offspring of mixed breeds may resemble one parent more than the other or have a nice combination of traits from both.
Both parents of this mix are in the Terrier group, so there are a few similarities in appearance. And both Boston Terriers and Pitbulls have a smooth, short coat and triangular ears are and will most likely be seen in mixed offspring.
But the parent breeds are quite different in size.
Boston Terriers are medium-sized and sturdy dogs. They stand 15 to 17 inches tall and weigh up to 25 pounds.
On the other hand, a Pitbull is muscular, but not bulky. A Pitbull may weigh 30 to 60 pounds and stand up to 20 inches tall. Its body is lean and muscular.
A mix of the two breeds will be in between the size of the parents. But as with any mixed breeds, it's possible for a puppy to reach the maximum size of one of its parents.
Subsequently, they might end up being up to 60 pounds! Therefore, if the breed's size is a feature you'd like to be sure of, consider adopting a fully grown Boston Terrier Pitbull.
Boston Terrier Pitbulls' coloration may be the distinctive black-and-white tuxedo look of the Boston Terrier. However, that's not a guarantee. This mix can also be mostly black or light brown with white markings.
Boston Terrier Pitbull Mix Temperament
American Pitbull Terriers are confident, loving, and protective. If properly bred, socialized, and well cared for, a Pitbull will be an affectionate and kind family companion.
But the Pitbull breed is still overcoming a reputation of aggression and violence. Irresponsible breeding and improper care have caused this controversy. Currently, legislation banning Pitbulls and similar breeds exist in certain places worldwide.
In contrast, the Boston Terrier breed is known to be friendly and easygoing. They are true companions with a lively disposition.
A Boston Terrier Pitbull mix can potential to be high-spirited, sociable, and lovable.
Training Your Boston Terrier Pitbull Mix
Early training and socialization are important for all puppies. Certainly, for a dog with Pitbull blood such as this mix, socialization from a young age will be important for stemming any potential issues with aggression.
Pitbulls are agile, athletic, and eager to get to work. They're excellent competitors in obedience and agility courses. The United Kennel Club states that Pitbulls are enthusiastic and eager to please.
Similarly, Boston Terriers are very trainable and eager to learn.
A mix of these two breeds should be fairly easy to train!
A Boston Terrier Pitbull mix will need at least 30 minutes of exercise daily. Of course, more is always better! It will love to play tug-of-war and do agility exercises.
Most importantly, if your mixed pup has the flattened face of a Boston Terrier be sure to limit exercise, especially on hot days, due to its breathing and body regulation difficulties.
Boston Terrier Pitbull Mix Health
Dog breeds can suffer from a variety of health problems, some of which may be genetic or conformational.
Conformational health issues stem from selectively breeding dogs to enhance certain physical traits. For instance, the flattened face and compact head of a Boston Terrier (known as brachycephaly) can lead to several dangerous health issues.
Certainly, a Boston Terrier Pitbull mix will be at risk of inheriting health issues from its parents as well as any conformation issues associated with the breeds.
Not all dogs suffer from these health issues. But it's important to know the risks associated with each breed.
Examinations and screening tests are available for many health conditions. A responsible breeder will have these test results on hand to share with you.
The average lifespan of the Boston Terrier Pitbull is 12 to 13 years.
If your mix inherits brachycephaly, you will want to make sure it is not obese, is not overly excited, and is monitored or has a life jacket around bodies of water.
Finally, proper veterinary care, in addition to a healthy and loving home, can help create a long, happy life for a Pitbull Boston Terrier Mix.
Boston Terrier Health Risks
Unfortunately, Boston Terriers are at risk of several health problems. Some of their health issues are associated with their well known flat face and big eyes.
The Boston Terrier Club of America states that this breed is at risk of 20 different eye diseases including cataracts, cherry eye, corneal ulcers, and glaucoma.
The flattened face and shortened skull of a Boston Terrier is known as "brachycephaly." It is associated with several health problems:
heatstroke
dental problems
bulging eyes
airway obstruction and narrow nostrils
In addition, the breed is at risk of the following:
hemivertebrae
deafness
patellar luxation
The Boston Terrier Club of America recommends that breeders conduct an annual eye examination, patellar luxation examination, and congenital deafness examination.
Moreover, there is also a DNA test for the risk of early-onset juvenile cataracts.
Pitbull Health Risks
Responsibly bred Pitbulls are relatively healthy. However, they have the following health risks:
actinic (solar) keratosis (sun damage to the skin)
bloat
cancer
cataracts
congenital heart disease
hip dysplasia
hyperthyroidism
von Willebrand's disease
Do Boston Terrier Pitbull Mixes Make Good Family Dogs?
The health issues associated with the brachycephaly of Boston Terriers are very serious and likely to occur with this mixed breed.
Consequently, although a well cared for and socialized Boston Terrier Pitbull mix would make an excellent family companion, we cannot recommend this mix.
Seeking breeders for puppies of this mix will propagate this serious conformational issues of the Boston Terrier breed.
Rescuing A Boston Terrier Pitbull Mix
If you desperately need this mix in your life or happen to find one in a shelter, we do recommend looking for an adult Boston Terrier Pitbull mix to adopt.
Knowing the health and behavioral risks associated with this breed will prepare you for any surprises that come up along the way.
Unfortunately, shelter dogs don't always have their full health or behavioral history readily available.
Boston Terrier Pitbull Mix Products and Accessories
Our experts research the best products for pups and their proud owners. Here are some recommended products to peruse for a Boston Terrier Pitbull mix:
Pros and Cons of Getting A Boston Terrier Pitbull Mix
Cons:
Health risks associated with brachycephaly
Irresponsible breeding may result in aggression
Pitbull breed mixes are sometimes banned in certain areas or housing types
Pros:
A kind and loyal companion
Low maintenance fur
Easy to train
Similar Boston Terrier Pitbull Mixes and Breeds
Because of the health risks associated with the breed, we sadly don't recommend any mixes with a Boston Terrier parent But here are some other breeds and mixes to consider:
Boston Terrier Pitbull Mix Rescues
You can start your search with organizations that specialize in the parent breeds.
US
UK
Canada
Australia
Please leave a comment about your organization below to get added to the list!
Is A Boston Terrier Pitbull Mix Right For Me?
If you're prepared to take on training and socialization right away, a Boston Terrier Pitbull mix is right for you
On the other hand, health issues are a major concern with this mixed breed, so we can't recommend breeding.
But if you're able to rescue a Boston Terrier Pitbull you will have a sweet and fun companion!
References And Resources
Get Pippa's free dog training tips delivered to your inbox