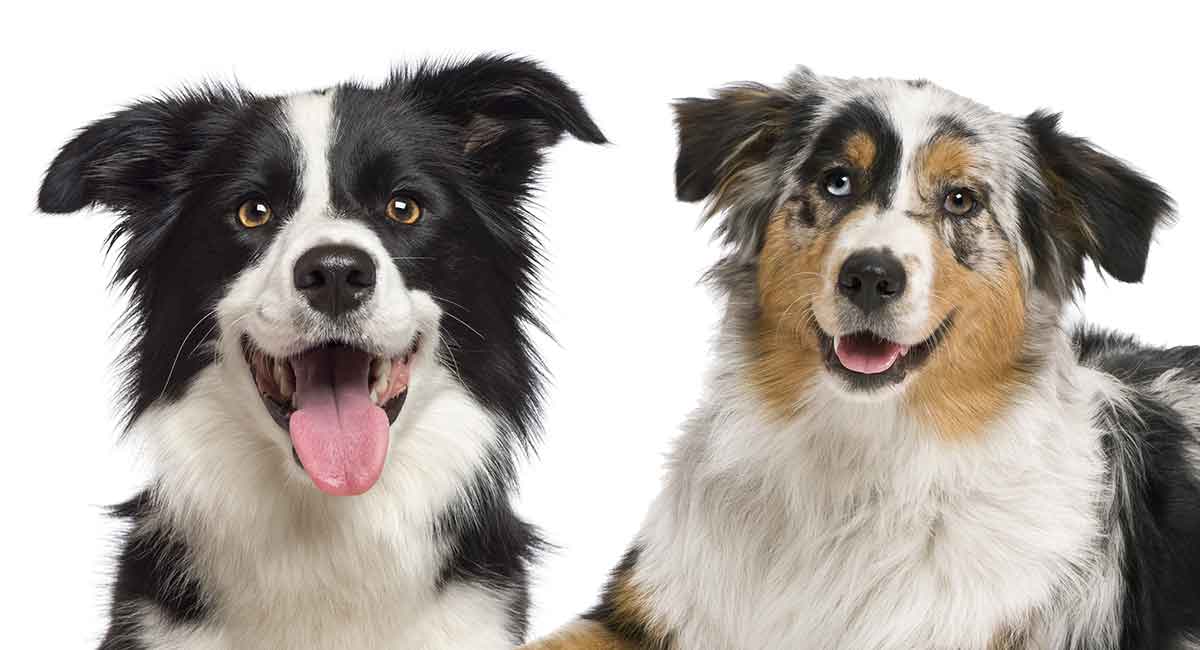 If you're on the hunt for a brainy breed, you may find yourself looking at the Border Collie Vs Australian Shepherd.
But how do you decide? Keep reading!
Border Collie Vs Australian Shepherd History
The Border Collie is an ancient dog descending from Roman and Viking herding breeds.
Hailing from Britain, the Border Collie has been described by experts as the world's most efficient herding canine.
The incredible intelligence, tenacious work ethic, and stunning look of this breed have captivated the hearts of dog enthusiasts around the world.
Today, the Border Collie continues to melt hearts both in the home and on the hillside.
But what about the Australian Shepherd?
Although the name might suggest otherwise, the Australian Shepherd, or Aussie as they are sometimes called, hails from the American West.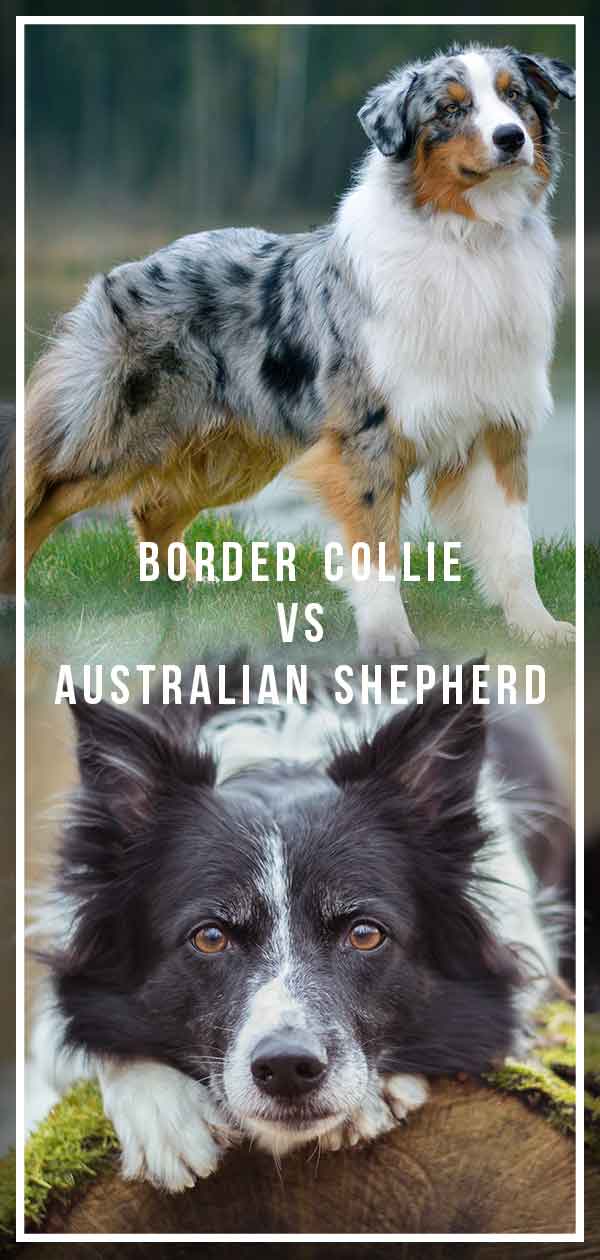 While this dog does have some Australian roots, most experts accept that the Aussie is an all-American breed who was in fact once considered a cowboy's best friend!
Modern-day Aussies enjoy a wide array of positions, including working as therapy dogs, herding on the ranch, performing in the rodeo, and as beloved family companions.
Border Collie Vs Australian Shepherd Appearance
The Border Collie is the smaller of the two breeds, but not by much—, they stand between 18 to 22 inches tall and weigh approximately 30 to 55 lbs.
They have short, floppy ears and a long, plumed tail, and a coat that comes in both smooth and rough varieties.
The Border Collie coat comes in a variety of combinations including
black
white
blue
red merle
lilac
brindle
chocolate
blue merle
gold
red sable
liver
How Do The Aussie's Looks Compare?
The Aussie can grow to be 18 to 23 inches tall and weigh 40 to 65 lbs.
Their coats are typically long and dense, with a double layer to protect them from the elements. This coat requires regular grooming.
They also have has short, folded ears just like the Border Collie and usually, a long tail.
Although some can be born with a naturally bobbed tail.
Many Aussie owners or breeders choose to dock their dogs tail for cleanliness or safety reasons.
The Australian Shepherd may also have blue eyes, brown eyes, or one eye of each color, and the Aussie coat comes in a wide range of colors, including
merle
red merle
red tricolor
black
black tricolor
red
Border Collie Vs Australian Shepherd Temperament
Both the Border Collie and the Australian Shepherd are intelligent breeds with loads of energy and may not be the best choice for novice dog owners or those with busy schedules.
These breeds need tons of exercise and training to ensure their energy and mind-power are harnessed in positive ways.
But which breed makes the better pet for families?
According to the American Kennel Club, (AKC), both breeds can do well with families as long as they are properly socialized and trained at a very early age.
However, a prospective owner should keep in mind that, in particular, the Border Collie prone to natural herding instincts.
Therefore, they may be tempted to herd smaller children or other household pets about your home.
The Right Kind of Home
For this reason, the Border Collie is better suited calm households and families with older children.
Border Collie can also become very attached to their families, but they may be aloof with some strangers.
Thus, it is very important to socialize this breed from as early as seven months to ensure they are used to different people and environments.
On the other hand, Australian Shepherds bond closely with their families and are eager, outgoing, and in most cases, get along well with everyone.
However, they can sometimes become territorial and overprotective of their domain and family.
The Aussie will need lots of socialization and obedience training just like the Border Collie, and an owner who understands how to deal with breeds that have high levels of intelligence and attachment tendencies.
Border Collie Vs Australian Shepherd Training Requirements
Due to their high levels of intelligence, the Border Collie and the Australian Shepherd are delightful to train and will amaze their owners with their ability to learn.
In fact, Border Collies are famously intelligent, with many studies continuing to wow scientists.
However, with intelligence comes independent thinking, and both of these breeds can be a bit much for the novice owner.
If you underestimate these dogs, you could end up being outsmarted by them.
Consistent training, exercise, doggy jobs, and toys that challenge your dog's mind, like doggy puzzle toys, are a great way to keep these dogs busy and happy.
Training guides for Aussies and Border Collies
Training should always be firm but loving, and experts stress the importance of positive reinforcement training methods.
This includes treats and lots of praise instead of punishments and scolding.
It's also important to remember, the Australian Shepherd is especially prone to separation anxiety when left alone for several hours at a time.
Bored or anxious dogs can become destructive, so if you're considering an Aussie or Border Collie for a pet, you may want to consider crate training.
Border Collie Vs Australian Shepherd Exercise Requirements
Both the Aussie and the Border Collie will require plenty of exercise—both of these dogs are herding breeds and need plenty of outdoor time.
The Border Collie will need more rigorous exercise than the Australian Shepherd, as they were bred as working dogs and without jobs, can get quite bored.
This means your dog will need space to run freely as well as two or more hours devoted to exercising every day.
The Australian Shepherd will also need plenty of exercising, although they should be alright with doggy jobs and an hour or so of exercise
As long as you provide a space or yard where your dog can often run and play.
Both of these breeds need space to run and do best in homes with large, fenced-in yards and families who are active.
So, make sure you can provide your dog with the unique amount of exercise it takes to keep these breeds happy and healthy.
Border Collie Vs Australian Shepherd Health
All dogs are susceptible to genetic health issues. It's important to be aware of potential health issues specific to the breed you are considering.
Both the Border Collie and the Australian Shepherd have a lifespan of 13 to 15 years but can both suffer from hip dysplasia and epilepsy.
However, they can also be prone to a few different health issues.
Border Collie Health
For example, the Border Collie can be prone to
deafness
progressive renal atrophy
Collie eye anomaly,
trapped neutrophil syndrome
and neuronal ceroid lipofuscinosis.
The National Breed Club suggests a hip and ophthalmological evaluation for your Border Collie.
Aussie Health
But what about the Aussie?
Along with hip dysplasia and epilepsy, Aussies are prone to cancers and cataracts.
Recommended health tests for an Australian Shepherd include elbow, hip, and ophthalmological evaluations.
Keep in mind that a healthy lifestyle, including a diet of high-quality dog food specific to your particular breed's weight, activity level, and age, will help maintain their overall health.
Australian Shepherd vs Border Collie grooming
Proper grooming will also help to keep your Border Collie or Australian Shepherd in peak condition.
The Border Collie requires a bit more brushing, regardless of whether your dog has a rough or smooth coat.
In addition, this breed will need brushing at least twice a week and occasional bathing with a high-quality dog shampoo.
The Australian Shepherd will require occasional brushing once or twice a week and bathing only as needed.
Both breeds will need a thorough brushing more often during shedding season, which happens twice a year.
They will need their nails trimmed regularly and their ears cleaned often to keep them clear of infection.
Which Breed Makes a Better Pet?
Both the Border Collie and the Australian Shepherd make loving pets for the right owners.
Remember, both of these breeds are highly intelligent and active, which means they can be high maintenance all around and may not be suitable pets for the newer dog owner.
Furthermore, keep in mind that if you have very young children, the Border Collie could be prone to herding them about the house.
For this reason, Border Collies are better suited to households with older children.
The Australian Shepherd does well with kids of all ages.
Although, if not socialized and trained properly he can be prone to territorial behavior and overprotective of his family.
Rescuing an older dog means you can learn much more about their temperament before it's time to come home.
Do you know of any great shelters in your area? Please post their information in the comments section!
Which dog did you choose?
Have you already made the choice between a Border Collie and an Australian Shepherd dog?
Which did you bring home, and what clinched it for you?
Let us know in the comments box!
References and Further Reading
Pilley JW and Reid AK.2011. Border Collie Comprehends Object Names as Verbal Referents. Behavioral Processes.
Diederich C and Giffroy J-M. 2006. Behavioral Testing in Dogs: A Review of Methodology in Search for Standardization. Applied Animal Behaviour Science.
Howell TJ, King T, and Bennett PC. 2015. Puppy Parties and Beyond: the role of early age socialization practices on adult dog behavior. Veterinary Medicine: Research and Reports.
Irion DN et al. 2003. Analysis of Genetic Variation in 28 Dog Breed Populations With 100 Microsatellite Markers. Journal of Heredity.
Acumen L. 2011. The Genetic Connection; a Guide to Health Problems in Purebred Dogs. Second Edition.
Coren S. 2006. The Intelligence of Dogs. Free Press
Get Pippa's free dog training tips delivered to your inbox