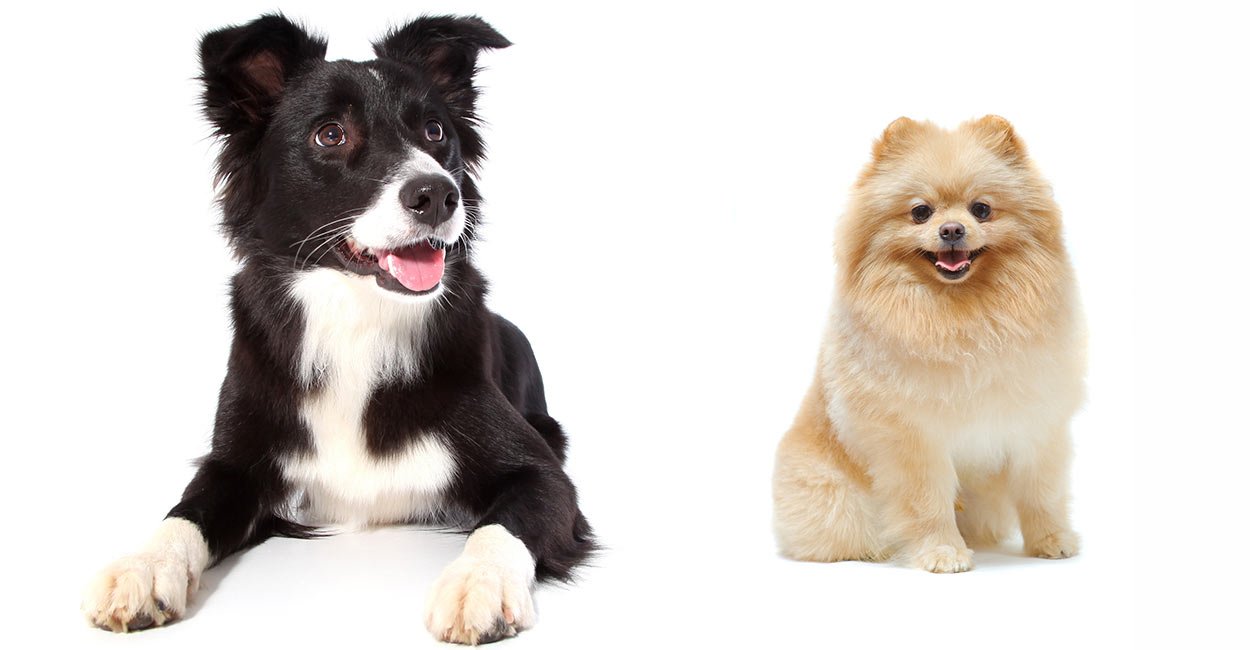 Welcome to our complete guide to the Border Collie Pomeranian mix.
Take an in-depth look at this unusual pairing to decide whether this cross is the right choice for your family.
Choosing the right dog is an important decision.
The type of dog to choose can add another layer of complexity.
Adopting a crossbreed raises even more questions.
What combination would be best for your lifestyle as a dog owner?
What combinations might offer the best health outcomes?
Learning about the two purebreds that created your potential pet can offer informative insights.
Facts About Crossbreeding
Crossbreeds, called "designer dogs" by some, are enjoying rapidly increasing popularity.
Crossbreeding of the toy Pomeranian and the herder Border Collie is controversial in the minds of some.
Proponents of pedigree dogs point to the predictability of looks and temperament as major selling points.
But purebred dogs were themselves once crosses too.
They exist as a result of generations of combining different breeds to achieve particular traits.
And the closed registers that they are now on have created small gene pools.
Controversy Regarding Crossbreeds
Gene pools may have poor effects on their health in the long term.
Biologists and geneticists believe health outcomes are better with crossbreeds than purebred counterparts.
The primary reason they believe so is because the gene pool is more diverse.
But what does this mean for the Border Collie Pomeranian mix?
Let's take a look.
Border Collie Pomeranian Mix
A Border Collie Pomeranian crossbreed is the result of breeding a female Border Collie with a male Pomeranian.
This is usually carried out via artificial insemination due to the size differences.
Mixed breed puppies vary greatly in appearance.
No breeder can guarantee any particular physical or behavioral traits or consistency.
The size, weight and other characteristics of the parents provide at least some insight into outcomes.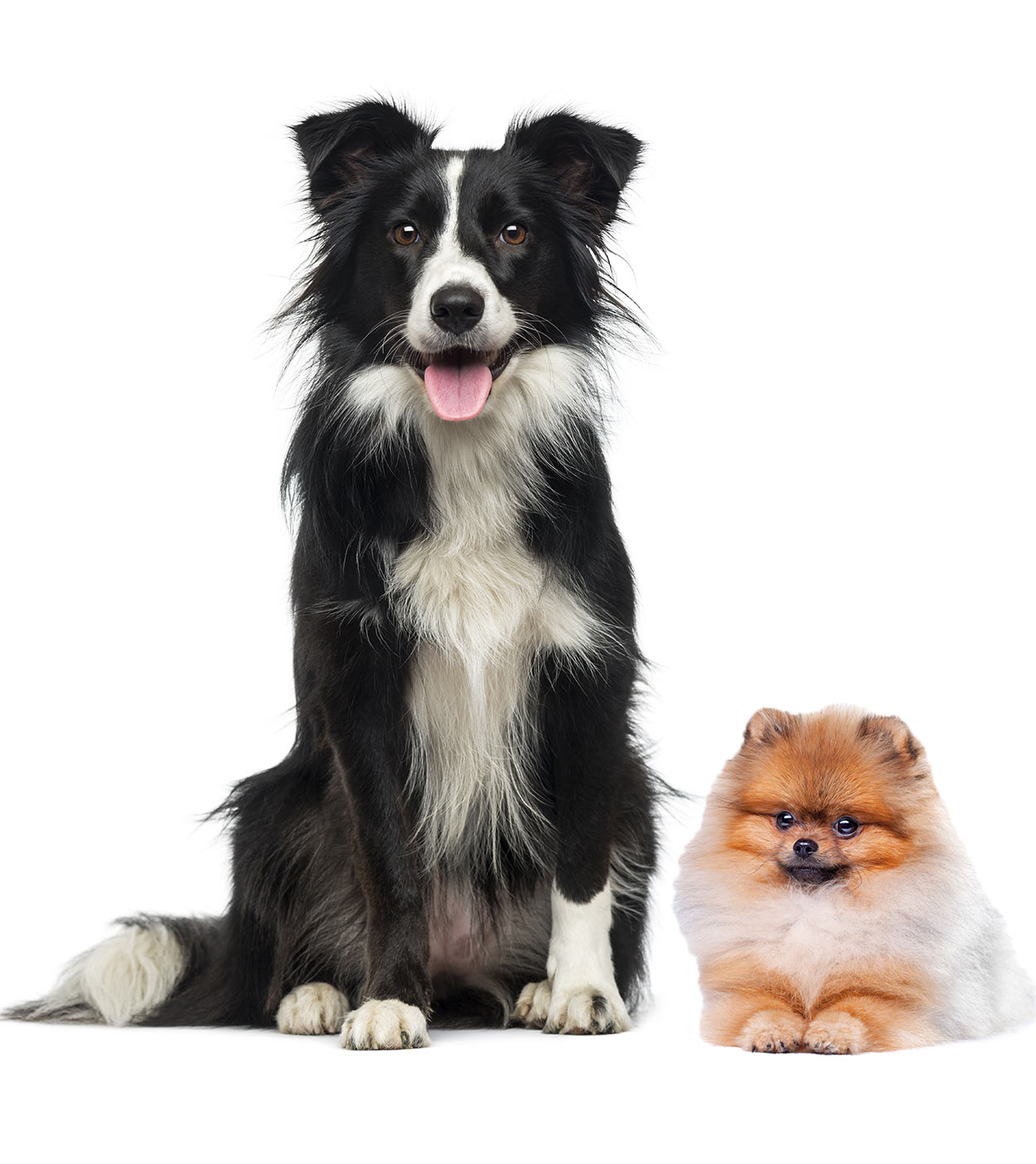 Where Does the Border Collie x Pomeranian Come From?
To understand the origins of the first-generation Border Collie cross Pomeranian, examine the parent breeds.
Origins of the Pomeranian
The toy dog recognized today was bred down to its current toy size from larger ancestors.
These big dogs pulled sleds and herded in a province of Germany once known as Pomerania.
Ancestors were descended from the Spitz, common in the arctic region of Iceland.
The American Kennel Club officially recognized the breed in 1888.
They were rated the 22nd most popular dog breed.
Origins of the Border Collie
The Border Collie's origin can be traced to the border between Scotland and England.
Years of selective breeding produced perhaps the world's premier sheepherding dogs prized for their:
herding eye
intelligence
ability to train
workday endurance.
The American Kennel Club officially recognized the breed in 1995 and rates them as the 38th most popular dog breed.
Pomeranian and the Border Collie Appearance
The Pomeranian and the Border Collie are both double-coated, and each has a short and dense undercoat.
The top coat of the Pomeranian is coarse and stands out from the dog's body.
The Border Collie's is also coarse, but it can be straight or wavy.
The Pomeranian Border Collie mix has a double coat.
However, variations make it unpredictable with regard to length or texture.
Each is a seasonal shedder, and Pomeranians need to be brushed on a regular basis.
Border Collies, especially those who are working dogs, accumulate debris and require regular brushing.
Pomeranian and the Border Collie Colors
Both breeds come in a variety of colors, so the color of crossbred puppies is quite variable.
There are 17 combinations of Border Collie colors including:
black/white
sable/white
chocolate/white
lilac or slate/white
red/white
the striking merle (main colors are muted and produce beautiful swirls, streaks and splotches).
Eye colors vary from deep brown to blue. Pomeranians also vary greatly.
Pomeranian and the Border Collie Coat Colors
Coats can be:
cream
orange
red
sable
brown
black
blue
brindles
merle.
Pomeranian eyes are dark and more almond-shaped than the ovals of Border Collies.
Border Collie Pomeranian Mix Size
It is important to bear in mind that the Pomeranian is a toy breed, and the Border Collie is medium-sized.
A female Border Collie (think "Fly" who adopted the piglet in the movie "Babe") stands between 18-21 inches.
She likely weighs between 27 and 42 pounds.
A male Pomeranian typically stands 6-11 inches and weighs between 3 and 7 pounds.
Pomeranian Body Types
The body types of Pomeranians and Border Collies are quite different.
Crossbreeding them perhaps raises the most questions.
Pomeranians have necks set into their shoulders, which allows their heads to be held high.
The compact body of the toy Pomeranian contrasts with the moderately long body of the medium-sized Border Collie.
The feet of Pomeranians are cat-like, compact and well-arched.
The forequarters of the Pomeranian feature shoulder blades and upper arms that are equal.
Border Collie Body Types
Border Collies have necks that are proportionate to the length of their bodies and are slightly arched.
They have deep, strong pads with moderately arched toes.
The forequarters of the Border Collie has shoulder blades and upper arms that are equal.
Border Collies, however, because of the work they're bred for, are more athletically built.
They also have moderately broad chests and longer legs.
Border Collie Pomeranian Mix Characteristics
Pomeranian faces are often called foxlike, and their expressions suggest intelligence and alertness.
Border Collies are famous for their intelligence, alertness and eager expressions.
Pom ears are small and erect, while Border Collie ears are medium-sized.
Their ears can be erect and/or semi-erect, and are very mobile.
Because the tails of the two breeds are different, Border Collie Pomeranian mix puppies' tails exhibit considerable variation.
A Pomeranian's tail is quite distinctive; it is a heavy plume set high that lays flat on the back.
Border Collie tails are low and set off a gracefully sloped body shape.
Border Collie Pomeranian Mix Temperament
To understand the typical Border Collie Pomeranian mix temperament, we need to look at the two parent breeds again.
Remember your pup could look more like a Pom but act more like a Collie.
Make sure you are happy with both potential personality outcomes, or a combination of the two.
Pomeranian Temperament
Pomeranians are extroverts that are popular as companion dogs.
They are playful, energetic and sometimes lapdogs.
These dogs are not reputed to bark excessively. But they require supervision with other dogs and children.
They are territorial and loyal to their owners.
Pomeranians need excellent recall training and leash walking from a young age.
Because their stomachs are small, do not feed them treats in addition to their regular diets.
Use toys instead of food to train these house dogs.
Border Collie Personality
Border Collies like to work. They are natural, agile athletes.
Their remarkable intelligence makes them highly trainable.
These dogs tend to be good with other dogs and older children.
Because they're so eager to please, they enjoy socializing with people when work is done.
Border Collie Temperament
They typically do not bark excessively and are affectionate with their owners. They may be less so with strangers.
Border Collies excel at agility, herding and obedience. They thrive when they are working at any of these activities.
The internet is full of videos of Border Collie freestyle exercises like "dancing" with their handlers.
You can see videos of them performing stunts and tricks as well as herding sheep and cattle.
Owning a Border Collie is a significant responsibility because of their need for abundant physical and mental activity.
Additionally, they also have a joy for responsiveness.
Border Collie Pomeranian Mix Training
Because this cross comes from two potentially energetic parents, a good training routine is essential.
Make sure that you are familiar with positive reinforcement training.
Start working on your new friend's recall the week you bring her home.
This is not a mix suited for a home with family out for much of the day.
Pomeranian Border Collie Mix Health
Another important consideration when buying a puppy is the potential for health problems.
Mix breeds can be healthier due to a larger gene pool.
However, they can still inherit diseases from either of their purebred parents.
It's vital that each parent is health tested.
Hip Dysplasia
The most common, according to the most recent data (2015), is hip dysplasia.
The Border Collie parent of your puppy should therefore have good hip scores.
Epilepsy
Epilepsy is another genetic disease that can be a concern for Border Collies.
In a study of 49 Border Collies with epilepsy, survival time improved when they were over 2 years old at the onset.
Unfortunately, 71 percent of those Collies treated with anti-seizure medication were resistant to it.
Remission rates are 18 percent.
It's important therefore to ask the breeder whether there is any family history of epilepsy in the Border Collie side.
Walk away if there is.
Collie Eye Anomaly
There is now a DNA test for Collie Eye Anomaly (CEA).
This eye disease doesn't necessarily result in vision loss.
Moreover, the availability of the test helps breeders avoid CEA passing down through litters.
Merle Health Issues
Deafness in merles, especially those with predominantly white heads and two blue eyes, occurs frequently.
In fact, one study showed that 2.7 percent of dogs with one merle gene were unilaterally deaf.
Ten percent of those with double merle were.
It's best to avoid buying a puppy with a merle parent.
Hereditary Methemoglobinemia
Jared Jaffey, DVM, MS, discovered a distinct mutation that causes a disease in Pomeranians.
He found it during the course of researching hereditary methemoglobinemia in dogs and cats.
This condition varies in how it affects Pomeranians, causing fatigue, feeling faint or having gastrointestinal problems.
Luxating Patella
Luxating patella (also known as "trick knee") is also common in many toy breeds, including Pomeranians.
It is congenital and caused by obesity. Surgery could be necessary.
The method for this depends partially on the severity of the condition.
Ramps or steps help with climbing assistance.
Alopecia in Pomeranians
Alopecia X affects Nordics like the Pomeranian and other toy breeds.
There is ongoing research to identify the genetic marker for Alopecia X.
This is a skin disease that can cause coat loss in dogs that are otherwise in good health.
High urinary corticoid: creatinine ratio has been linked to alopecia development in Pomeranians.
Border Collie Pomeranian Mix Life Expectancy
You can estimate the life span of a Border Collie and Pomeranian mix based upon their parents.
The average life span of a Border Collie is around 13 years.
Pomeranians live on average just under 10 years.
Smaller mixed breed dogs live a little longer than their peers.
Expand the life span of this mix with quality health testing.
Border Collie Pomeranian Puppies
A good Pomeranian x Border Collie breeder provides a lot of information.
They give evidence of health tests for both parents.
Your intuition is often a reliable guide.
One study suggests that testing for certain behaviors had low predictive ability.
This includes:
curiosity
fear
sociability
irritability.
How your puppy turns out as an adult is a combination of nature and nurture.
Locating a Quality Breeder
Finding a specific crossbreed like the Border Collie Pomeranian mix can be challenging since it is not an official breed.
Once you do locate a breeder, it is important to meet one or both parents.
Assess the conditions of the puppies' housing, socialization and nutrition.
Ask as many questions as you feel that you need to ask to become confident about choosing your puppy.
An honest, reputable breeder is knowledgeable and unafraid of questions.
If the same dogs produce other litters, ask to see pictures.
Inquire about the size and traits of the earlier litters.
Ask if the owners of the bred pups are references.
Is a Border Collie Pomeranian Mix Right for Me?
Pet ownership is a lifetime commitment.
Dogs require access to outdoors, time, attention, training and varying degrees of exercise.
For finance to-dos, you should:
require proper nutrition
request vaccinations
find veterinary care
schedule occasional boarding or perhaps daycare (depending on your lifestyle).
Be prepared for a dog that is more Pom than Collie, more Collie than Pom, or a real blend of the two.
And make sure you check out our naming guides if you get one of these puppies!
References and Further Reading:
Adams, V.J., et al., 2010, "Methods and Mortality Results of a Health Survey of Purebred Dogs in the U.K.," Journal of Small Animal Practice
Cerundolo, R., et al., 2007, "Alopecia in Pomeranians and Miniature Poodles in Association with High Urinary Corticoid:Creatinine Ratios and Resistance to Glucocorticoid Feedback," The Veterinary Record.
"Genetically Linked Diseases in Border Collies," American Border Collie Associaiton Health & Genetics Committee
Hulsmeyer, V., et al., 2010, "Epilepsy in Border Collies: Clinical Manifestation, Outcome, and Mode of Inheritance," Journal of Veterinary Internal Medicine
"Idiopathic Epilepsy in Border Collies," Border Collie Boards
Maldarelli, C., 2014, "Although Purebred Dogs Can Be Best in Show, Are They Worst in Health?" Scientific American
O'Neill, D.G., et al., 2013, "Longevity and Mortality of Owned Dogs in England," The Veterinary Journal
Platt, S., et al., 2008, "Prevalence of Unilateral and Bilateral Deafness in Border Collies and Association with Phenotype," Journal of Veterinary Internal Medicine
Riemer, S., et al., 2014, "The Predictive Value of Early Behavioural Assessments in Pet Dogs – A Longitudinal Study from Neonates to Adults," PLOS one
Strain, G.M., et al., 2009, "Prevalence of Deafness in Dogs Heterozygous or Homozygous for the Merle Allelee," Journal of Veterinary Internal Medicine
Vezzoni, A., et al., 2010, "Double Pelvic Osteotomy for the Treatment of Hip Dysplasia in Young Dogs," Veterinary and Comparative Orthopaedics and Traumatology
Wangdee, C., et al., 2013, "Evaluation of Surgical Treatment of Medial Patellar Luxation in Pomeranian Dogs," Veterinary and Comparative Orthopaedics and Traumatology
Warnock, J., et al., 2004, "Retrospective Analysis of Canine Miniature Total Hip Prostheses," Veterinary Surgery
Get Pippa's free dog training tips delivered to your inbox