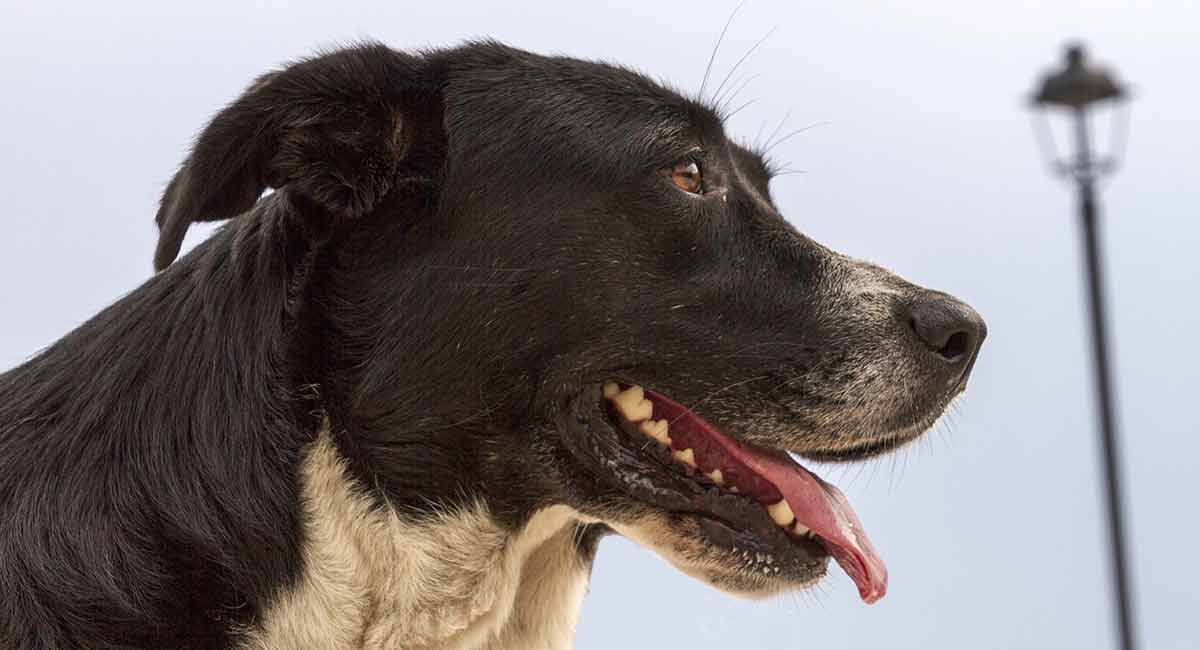 The Border Collie Labrador mix combines two popular breeds into one brilliant, friendly companion.
This mix can grow to between 18 and 21 inches tall, weighing from 35 to 70 pounds as an adult. It is known for being friendly, loyal, and very active.
This mix needs time commitment. But the rewards when caring for a Border Collie Labrador far outweigh the effort.
With enough exercise and attention, he is a great pick for many owners and families.
Where Does the Border Collie Lab Mix Come From?
When you think of the herding group, the first breed to come to mind is probably the ever-active Border Collie. But where did this hardworking spirit come from?
Border Collie Parent History
The Border Collie is born out of the ancient conquests of Britain. Rome's conquests brought bulky herding dogs. These dogs stayed in the British Isles for centuries. Later, Viking invasions brought a smaller herding dog to Britain.
These two breeds mixed over the years. They made the first Border Collies. These were then selectively bred for the intelligence and athleticism common in the herding group.
The first true Border Collie was born in 1893. All Border Collies are great-grandchildren of this first pioneer pup.
Since then, Border Collies have regularly topped lists of smartest dogs. Plus, they have become champion agility breeds. The breed was inducted into the United Kennel Club in 1961 and the American Kennel Club In 1995.
Labrador Parent History
Labs also have a history as dedicated coworkers and companions. These traditional duck retrievers are from Newfoundland. No one is sure why they became associated with Labrador.
After making its way to Canada, visiting English nobles noticed the Labrador Retriever breed. They popularized it as a hunting dog. The breed has proved very useful in wetland areas as they are great swimmers.
Fun Facts About the Border Collie Lab Mix
The Labrador Retriever has an "otter" tail. This helps it to move more efficiently in water than other breeds.
The word Collie comes from Scotland and means sheepdog.
Old Hemp, the first Border Collie, was known for his subtle, less-aggressive herding technique.
Old Hemp fathered 200 puppies.
In the 30 or so years after Old Hemp's life, all but two winners of the International Sheep Herding Championship were his children, grandchildren or great-grandchildren. Now that's an athletic dynasty!
Border Collie Lab Mix Appearance
A Border Collie Labrador mix will probably be somewhere between 35 and 70 pounds. It will be muscular and athletic. This mix can be from 18 to 21 inches tall.
A member of this mix breed might have long or short fur. Long hair around the neck and ears are typical features.
The iconic black and white pattern is the most common among Border Collies. But, they can actually be any color or pattern.
By official breed standards, "The Border Collie appears in all colors or combination of colors and/or markings."
Although this is true, the most common Border Collie Labrador colors will be some combination of black, white, chocolate or yellow.
Border Collie Lab Mix Temperament
Any Border Collie mix will show one trait above all others: intelligence. One study in Behavioral Processes showed that a Border Collie had learned over 1000 words.
This Border Collie was also able to learn some structural elements of language. Such as how some words refer to nouns and some to commands.
But this extreme intelligence can be both a positive characteristic and a negative one. This will all depend on how each individual dog is raised and cared for.
The good news is that Border Collies are generally very cooperative when rewarded with positive reinforcement techniques from a young age. Much of this mix breed's temperament will likely hinge on the owner's dedication to their training.
Natural Instincts
You'll probably notice that a Border Collie Labrador mix naturally tries to herd any group due to the Border Collie's uncanny instincts. They'll probably also have a natural affinity for water as Labradors are some of the best swimming breeds.
Both Labradors and Border Collies are highly affectionate people-pleasers. This should bode well for owners as they wrangle the Border Collie's intelligence through positive reinforcement training.
Labradors are generally outgoing and independent. Border Collies, on the other hand, can be shy around strangers.
Negative Reinforcement and Aggression
Border Collies exceeding intelligence can also make them quite sensitive to any sort of negative reinforcement. Over time, Border Collies and their mixes can grow aggressive due to anxiety if routinely exposed to fear-based "training."
However, both of these breeds a generally rank very low in terms of aggressiveness. Neither breed is likely to be predisposed to aggressive traits if trained and socialized properly. Labrador Retrievers, in particular, are among the least aggressive dog breeds.
As with all breeds, a gentle hand will produce a confident, cooperative and friendly companion.
Training Your Border Collie Lab Mix
Both of these breeds need a ton of regular exercise. Collies can become very destructive when bored. Or not given an outlet for their energy. Labradors could become overweight or potentially destructive in youth if unexercised.
Although Labradors do slow down quite a bit with age, Border Collies do not. So you'll need to be prepared for at least a decade and a half of regular exercise before you get a Border Collie Lab mix.
Training and socialization are also very important to a Border Collie Labrador mix's temperament. Border Collies can become shy, anxious and even aggressive if not properly socialized or trained.
Any anxiety mixed with a Labradors strength and biting power could end in disaster. So do not forgo training or socialization under any circumstances. This is true for all breeds, but particularly this mix, which can be both powerful and sensitive.
Training Guides
If you need pointers for training, the Happy Puppy Site has a ton of great information regarding obedience, crate and potty training.
Athletic and agility training are highly encouraged with this mix breed. But keep an eye on your dog's joints as they exercise. Both of these breeds are prone to hip dysplasia and other joint problems.
Border Collie Lab Mix Health
A Border Collie Labrador mix will likely have a long and healthy life. They can live into their mid-teens if well cared for. But they are prone to several health risks.
You'll need to get your Border Collie Labrador Retriever the following health screenings:
Ophthalmologist Evaluation
Hip Evaluation
Elbow Evaluation
EIC DNA Test
Labrador Health Problems
Labradors are prone to hip dysplasia, heart disorders, muscular weakness and an eye condition called progressive retinal atrophy. According to Canine Genetics and Epidemiology, "The most common disorders [in Labs] were obesity, otitis externa and degenerative joint disease."
Young Labradors are also at risk for exercise-induced collapse. So make sure that your Border Collie Lab mix is old enough before you start any sort of agility or athletic training.
Also be vigilant for signs of bloat. This is a common life-threatening issue that can occur in any full-bodied breed, such as the Labrador Retriever.
Border Collie Health Problems
This breed are prone to some of the same illnesses, such as hip dysplasia and progressive retinal atrophy. They are also at increased risk of collie eye anomaly, deafness, epilepsy, trapped neutrophil syndrome and neuronal ceroid lipofuscinosis.
You'll need to brush a Border Collie Lab mix about twice a week. During shedding season, you may need to brush daily.
Do Border Collie Lab Mixes Make Good Family Dogs?
Border Collies and Labrador Retrievers both bond with their families. The Border Collie in this mix may not be highly tolerant of poking or prodding by children. But the trainability of this breed can mitigate this factor.
This mix would make a great family dog for an active, outdoorsy family.
Rescuing a Border Collie Lab Mix
Both of these breeds are popular in the western hemisphere. So, some of these mixes are bound to end up in shelters.
With Border Collie breeds, temperaments can depend a lot on nurture more than nature. If possible, try to bring home a Border Collie Labrador mix rescue for an overnight visit before officially adopting.
Finding a Border Collie Lab Mix Puppy
If you are looking to get a Border Collie Lab mix puppy, you should be very careful not to support pet stores or puppy mills. These places often source puppies in an unethical manner. It may be tempting to rescue a puppy from this type of breeder. But this will only make the issue worse.
Check out the Happy Puppy Site's guide for more information on ethically sourcing puppies.
Border Collie Lab Mix Products and Accessories
The Happy Puppy Site recommends the following products for a Border Collie Labrador mix:
Pros and Cons of Getting A Border Collie Lab Mix
Overall, owning a Border Collie Labrador mix breed has several important pros and cons. Let's take a look at them.
Cons
Huge time commitment
Requires highly attentive training
Requires extreme levels of exercise
Heavy shedding
Pros
Highly intelligent
Affectionate
Loyal
Hard Working
Alert
Athletic
Similar Border Collie Lab Mixes and Breeds
The Happy Puppy Site does approve of this breed. But the high maintenance of these dogs means they might not suit everyone. Consider these if you are looking for similar mixes:
Border Collie Lab Mix Rescues
Although there are not any Border Collie Labrador Retriever mix rescues (yet!), you may want to check out these parent breed rescues.
Is A Border Collie Lab Mix Right For Me?
This is a truly remarkable mix breed. But, it may not be right for everyone. If you do not consider yourself both highly active and dutiful, a different breed might be a better option.
But if you are able to give this mix the high degree of love, care, exercise and mental stimulation it requires, it will be a truly amazing companion.
References and Resources
Blackshaw, Judith K. "An Overview of Types of Aggressive Behaviour in Dogs and Methods of Treatment." Applied Animal Behaviour Science. 1991.
Breur, G. J., et al. "Genetics of Canine Hip Dysplasia and Other Orthopaedic Traits." The Genetics of the Dog.
Duffy, Deborah L., et al. "Breed Differences in Canine Aggression." Applied Animal Behaviour Science. 2008.
Lsmeyer, V., et al. "Epilepsy in Border Collies: Clinical Manifestation, Outcome, and Mode of Inheritance." Journal of Veterinary Internal Medicine. 2010.
McGreevy, Paul D., et al. "Labrador Retrievers under Primary Veterinary Care in the UK: Demography, Mortality and Disorders." Canine Genetics and Epidemiology. 2018.
Pilley, John W., and Alliston K. Reid. "Border Collie Comprehends Object Names as Verbal Referents." Behavioural Processes. 2011.
Get Pippa's free dog training tips delivered to your inbox