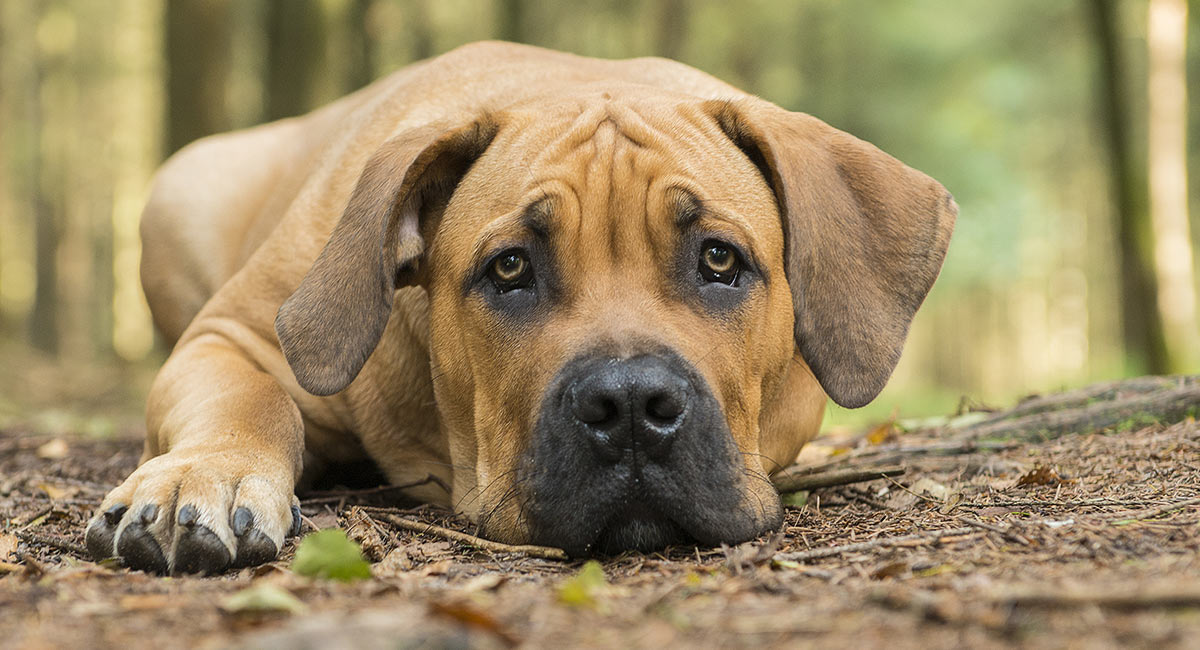 So, you think you might want a Boerboel dog?
These adorable pups are big, sweet, stately, and fun!
They have soulful dark eyes, too!
But they're not necessarily for beginners.
What do you need to know about these dogs before you get one?
Here's all the Boerboel information you need to make the right choice!
What Is The Boerboel Dog Breed?
Boerbels are a mastiff-type breed, with a name that means "farm dog."
Their ancestors were Assyrian dogs that moved into Africa once the Assyrians conquered Egypt. Alexander the Great is credited with taking these dogs into Europe.
There, the Assyrian canines developed into two strains with different purposes. The mastiff for protection and soldiers, and the hound for hunting.
In 1652, a Dutch man named Jan van Riebeeck went to Cape Horn of South Africa with his family, bringing his dog along to found Capetown. This dog was a "Bullenbitjer."
He wasn't the only one who took his dog – other settlers brought dogs from many countries. South Africa had its own dogs too, of course.
The original Dutch settlers of South Africa and those who left the Cape Colony to settle in other parts of South Africa, known then as the Boer Republics, were called the Boers (or "farmers").
Survival in Africa was difficult for dogs, who moved with their owners from the Cape Colony to other places in South Africa after 1838 in a movement called the Great Trek, or Die Groot Trek.
The dogs became very hardy in a tough environment, and helped their humans with more than just companionship. They were the first line of defense against predators and often hunted and tracked for their owners.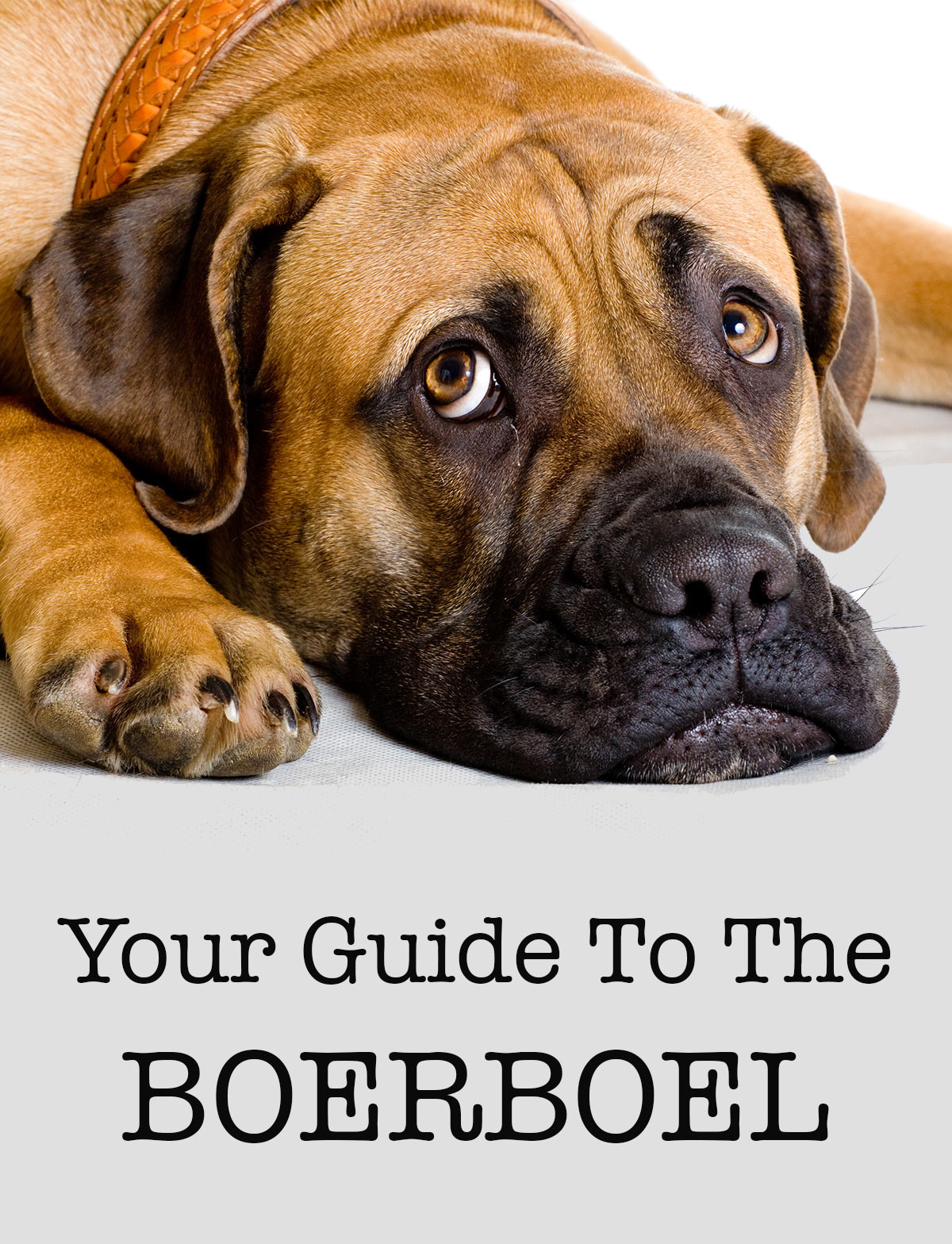 Later History Of The Boerboel
In 1938, the De Beers family imported a Bull Mastiff to guard diamond mines.
Breeding with this Mastiff and other dogs, including English Bulldogs and possibly the Rhodesian Ridgeback, caused their dogs to become the Boerboels we know today.
But as Africa became more urbanized, Boerbels continued to breed with other types of dogs and became in danger of dying out.
In the 1980s, a group of Boerboel lovers saved the breed by finding around 72 genuine Boerboels in geographically isolated places, then registering them as Boerboels.
The breed was then exported into other countries.
They were recognized as a breed by the American Kennel Club in 2015.
However, they may still be relatively hard to find.
Boerboel Appearance
Boerboel dogs have dark colored stomach fur and skin, along with a darker-colored roof of the mouth and perhaps a dark face mask.
This has been assumed to help protect them from the heat of the sun!
Boerboel colors can be:
brindle
brown
tawny
cream
black
reddish-brown.
Boerboels are powerful and muscular, with suppleness and strength apparent in their movements.
These are calm, confident dogs.
Their heads are blocky, broad, and square, with filled cheeks and a bit of wrinkling in the forehead.
If you like big Mastiff style dogs, they won't disappoint!
Boerboel Weight
Boerboel dogs are big dogs!
This is not a breed you want to handle if you have no experience with dogs.
It's even better if you have experience with large ones.
That's because male Boerboels stand 24-27 inches, and females usually grow to 22-25 inches.
As adults, full grown Boerboels weigh 150-200 lbs.
That's a lot to handle around the home!
So make sure you understand if you want one that they do get heavy and can be quite strong.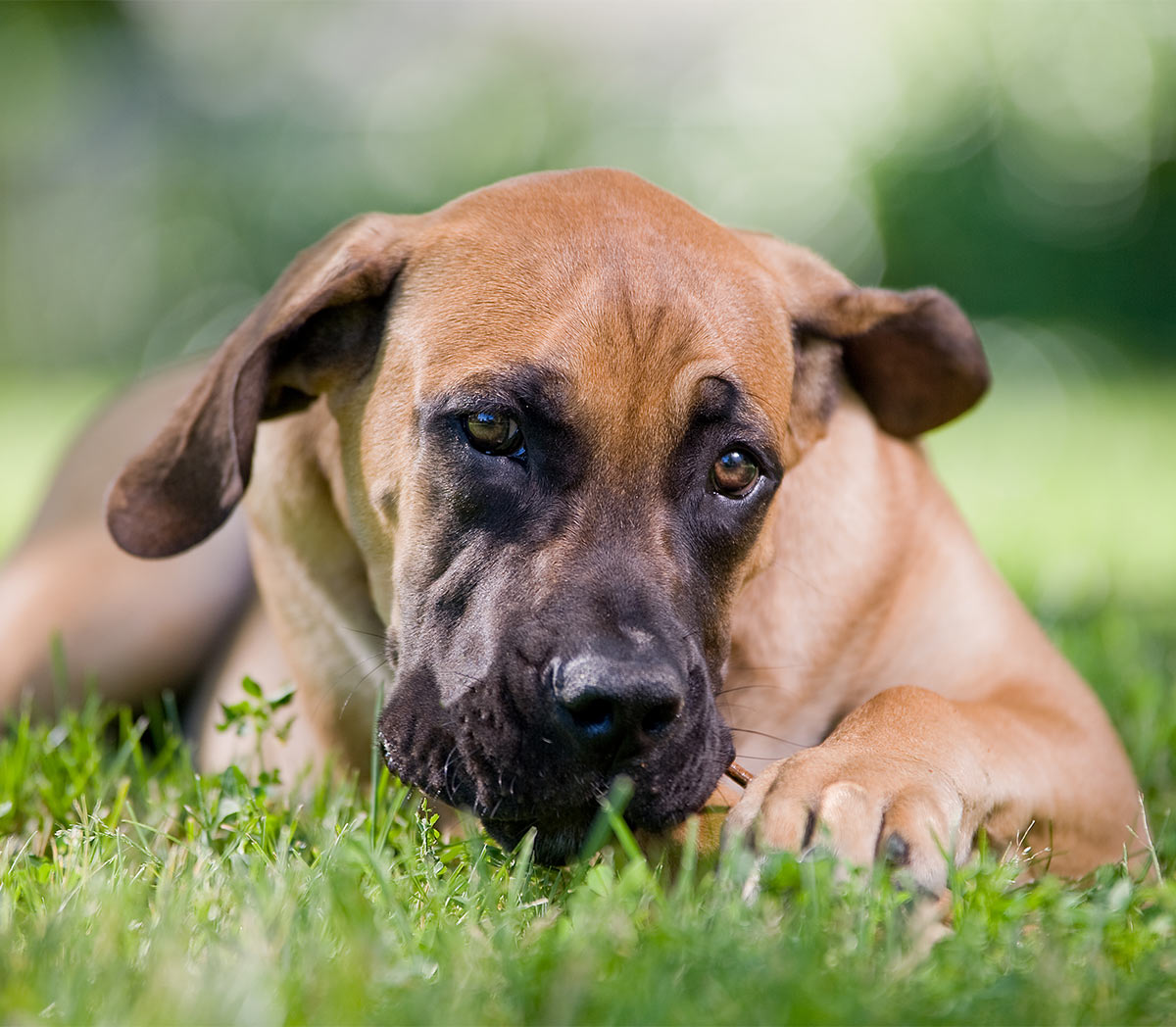 Boerboel Temperament
These South African dogs are smart, stable, self-assured, and protective to boot.
They adore their families, especially kids, so they are great for families that can handle large, loving dogs.
They'll bark, when necessary. They're good with cats, livestock, and other pets, and are very aware of wild animals.
They may need supervision when meeting other dogs, but can be good with them as well. However, Boerboels may not be suitable for dog parks, and must be carefully introduced to other big dogs.
They may not do well with other large dogs if those dogs show aggressive behavior.
Boerboel dogs are fairly active. They move quickly, but have a regal bearing and generally prefer to watch what's going on.
Boerboel Socialization
Given the right environment and stimulation, these giant Boerboels can be sweet, wonderful additions to your family. They're extremely loyal.
But you should make sure that you are aware of all the issues regarding this breed before you buy.
And do what you can when bringing one into a pet environment to reduce their less desirable guarding or aggressive instincts.
There are two main things you can do to help with this. One is to meet the parents and ensure they are both of a temperament to accept and be comfortable around strangers.
The other is socialization from early puppyhood.
Importance Of Socialization
From 8 to 14 weeks old make sure you have different visitors. Every day if possible!
This will help your pup to grow up being comfortable with people coming into their home.
You should also aim to take them out somewhere busy on a daily basis during this period.
Encourage strangers to pet the pup and give him a treat.
Before their second vaccinations you won't be able to put them down on the floor, so a good front facing dog sling is ideal as they are big from an early age and you can get rather tired!
After 14 weeks the socialization window closes, but it is still hugely beneficial to continue to accustom them to other people and animals.
Try to have visitors and take them out somewhere busy at least twice a week.
Boerboel Training
As farm dogs, and big ones at that, South African Boerboels were bred to be intelligent, obedient and willing to please.
They do well with training, both in terms of basic obedience skills like sitting and heeling, and with more endurance-based or strength-based training.
They are the most agile of the Mastiff-type dogs, so agility training would work well. In fact, they may need structured training to be well-adjusted and focused.
Don't be fooled by their easygoing nature as puppies! Boerboels require a lot of physical activity.
Boerboels can be taught to pull weight, which develops their chest, torso, back and neck muscles. They may also benefit from sporting dog training, or being trained to hunt.
Their confident nature means that they can take over the house if you're not careful! Boerbels thrive in a home where they'll be carefully, appropriately trained.
And, because they are protective as well as playful, training can help curb their territorial tendencies. Left alone, big Boerbels can become destructive and reckless.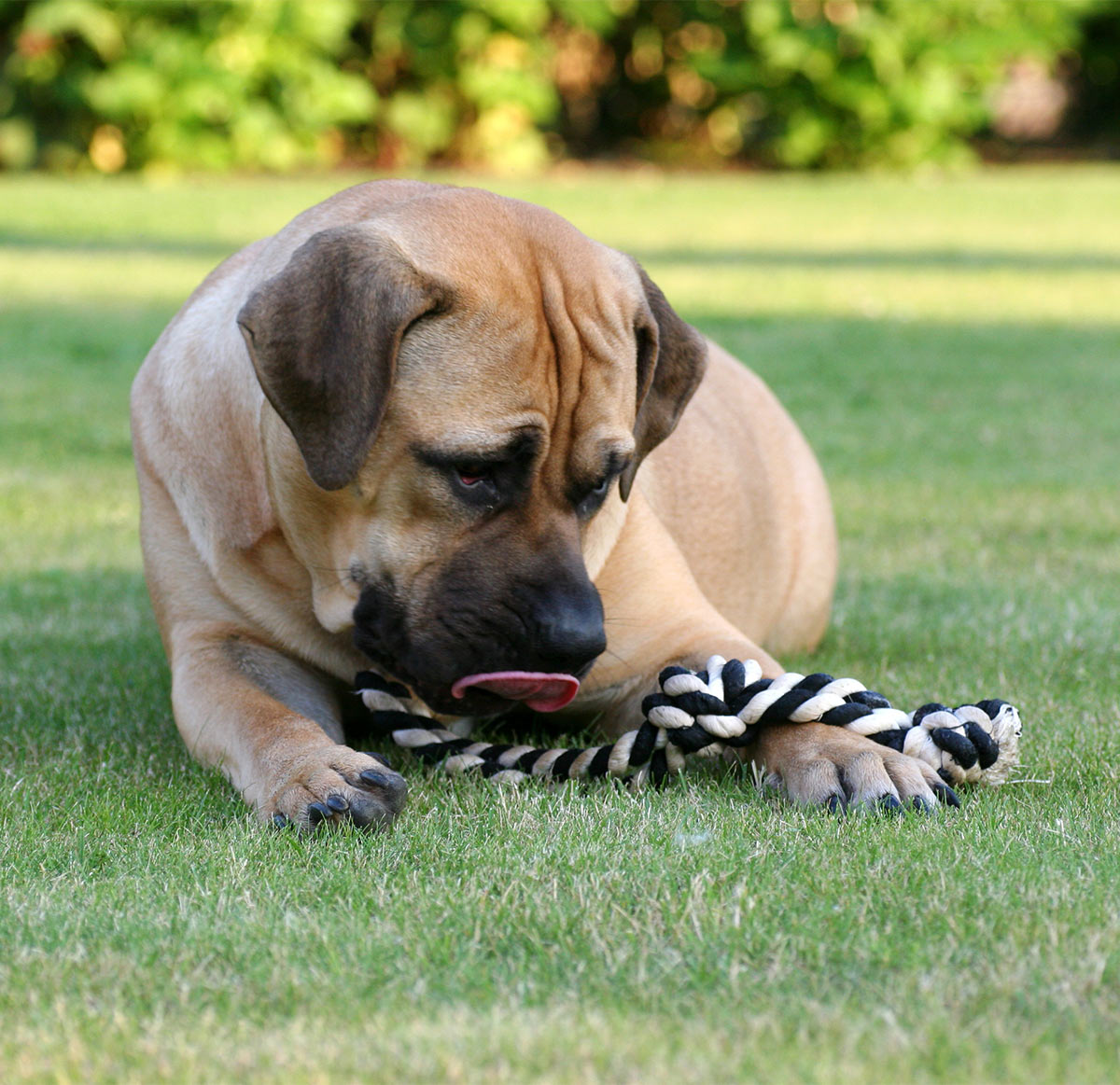 Boerboel Health
Boerboel dogs are hardy and known for their good health. They don't have too many inherited diseases, but there are some health issues to watch out for.
These include:
bloat
dysplasia in the elbows and hips
eye disorders such as entropion and ectropion
cervical spondylomyelopathy
vaginal hyperplasia.
Obesity
Because they are big dogs, it is important to make sure Boerboels are kept at a healthy weight. They are high-risk for obesity and musculoskeletal diseases.
Obesity in large dogs is often associated with metabolic issues such as insulin resistance and dyslipidemia (high cholesterol levels in the blood).
Significant weight gain may also lead to the development of orthopedic disorders such as osteoarthritis and intervertebral disk disease.
Elbow And Hip Dysplasia
Elbow dysplasia refers to several different developmental abnormalities that can be found in a dog's elbow joint.
Similarly, hip dysplasia refers to the abnormal development of the hip joint.
The causes are not exactly known, but may be a result of genetics, defects in cartilage growth, diet, or physical trauma.
This type of growth disturbance is most often seen in large dogs. There is a genetic component.
Dysplasia can show up in dogs by 4-6 months of age. Eventually, damage to the cartilage and inflammation cause progressive arthrosis (a type of arthritis) in dogs.
This causes pain and a loss of function in the hip and elbow joints. In hip dysplasia, the hip joints become looser in varying degrees, leading to coxarthrosis (arthritis in the hips).
Dysplasia worsens with normal wear and tear on your joints and cartilage. Boerboels may become lame or crippled as a result of these conditions.
The incidence of elbow and hip dysplasia in dogs has been found to be higher in South African breeds than in American breeds.
Eye Disorders – Entropion And Ectropion
In entropion, the eyelid is inverted inward, so that eyelashes rub against the eyeball. In cctropion, the eyelid is everted outward, so that the edge of it doesn't touch the eyeball at all.
Either one of these conditions can cause eye problems.
Entropion, which is common in breeds with abundant head folds like the Boerboel, may lead to ulcers and cornea scarring. The condition may be exacerbated by the weight of the wrinkles, which causes ptosis (drooping) of the super eyelid.
Entropion may be corrected by surgery not just to correct the upper eyelid, but to reduce the skin folds or suspend the brow.
Ectropion may lead to eyelids not meeting properly and a drooping lower eyelid, making it impossible for tears to cover and hydrate the eye.
Surgery may also be indicated here, to trim the eyelid and close the skin. If other eyelid abnormalities exist, though, it may not work completely.
A dog with either one of these conditions could lose vision, or even the globe of the eyeball itself, unless the eyelid positions are corrected.
Cervical Spondylomyelopathy
Another disease common in large breed dogs, this one compresses the cervical spinal cord or associated nerve roots at the neck, causing neurological deficits and neck pain.
It is also called the "wobbler syndrome" because dogs that have it walk in a wobbly way. This condition is most often seen in Boerbels and other breeds when dogs are about three years of age.
Other symptoms are weakness, a short stride, muscle loss, paralysis, and difficulty getting up.
If it's serious, your vet may recommend surgery. Physical therapy may also help.
However, treatment of this disease is still evolving, as the mechanisms leading to it are still not well understood.
Vaginal Hyperplasia
The condition of vaginal hyperplasia can make it look like your female dog is having a miscarriage.
In actuality, it is a result of estrogenic stimulation. It looks like a mass protruding from the dog's vulva.
Basically, this is a prolapse. The mucous membrane lining the vaginal walls affects the uterus in such a way that it slips out of place.
It is not a tumor, but it does interfere with copulation. Reluctance to breed might be the only symptom. Your dog may also appear to be straining to urinate.
Generally, this condition resolves on its own if the prolapsed mass is small, but you can help it along by cleaning the tissue, applying an ointment, and making sure no additional trauma (like licking) occurs.
Surgery may be indicated in severe cases. Note that this condition may recur when the dog is in heat.
The best way to prevent vaginal hyperplasia is to have your female dog spayed.
Uric Acid-Related Conditions
In scientific studies, South African Boerbels have been shown to be genetically prone to a condition called urate urolithiasis, due to excessive secretion of uric acid in urine.
This is an autosomal recessive condition, which means that individual canines must have two copies of the mutation in order to have the condition.
The result of urate urolithiasis is that kidney stones, bladder stones, and other crystalline structures may form inside the body.
How Long Do Boerboels live?
Boerobel dogs can live for 10 years.
Their lifespan depends on many different factors, including health, environment, diet, genetic predisposition to illness, and quality of life.
Some dogs will not live as long, because of physical issues.
And they can have some expensive and uncomfortable medical problems along the way.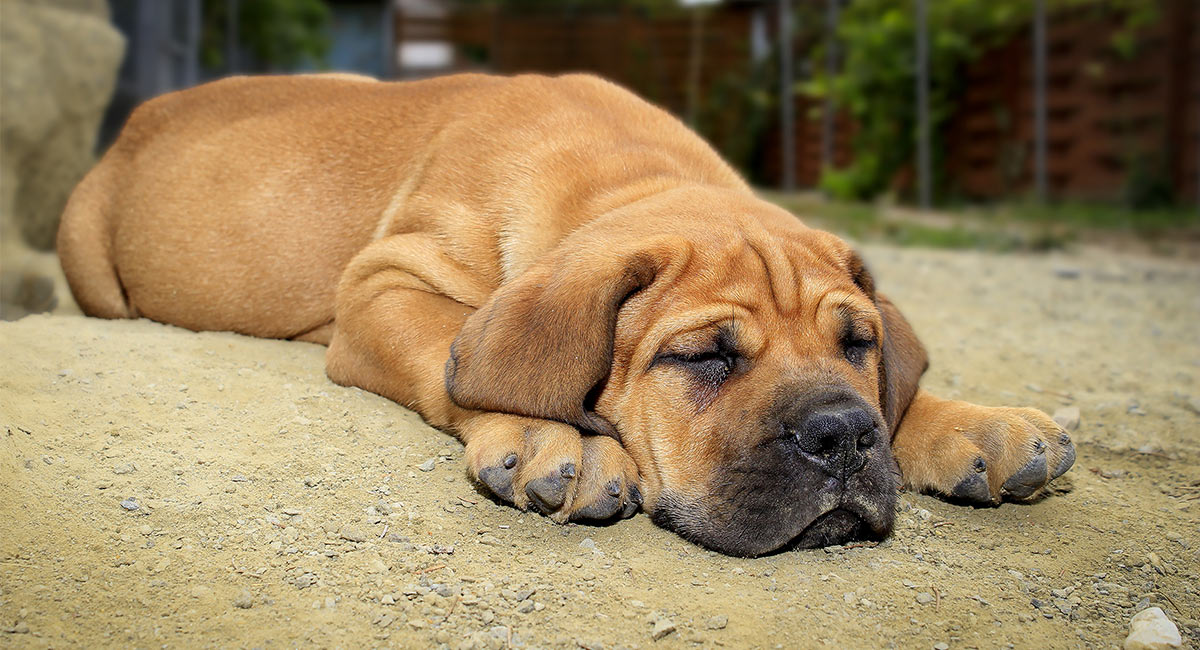 Boerboel Breeders
If you are set on a Boerboel puppy, then finding a good breeder is vital. You'll have to do your research first.
Make sure your breeder strives to improve the breed through intelligent mating choices. Having good ethics is important!
Make sure the breeder offers health certifications, has a strong knowledge of the puppies' lineage, and is available in the future for advice and information.
Ask a lot of questions. Try to examine for yourself the conditions under which your potential pet lives.
They must have full health tests for both parents, as a minimum they should have excellent hip and elbow scores and a recent clear eye test from the vet.
Do not buy a puppy from a parent that has required surgery for entropion or ectropion. Make sure you see all health documentation before you make a commitment to take a Boerboel puppy!
Finally with this breed due to the potential behavioral issues, it is very important to meet both parents. They should be comfortable meeting a stranger, and have a clear and strong bond with their owner.
Be aware that you might need to travel to meet the father.
Boerboel Puppies
You should be able to find a South African Boerboel puppy for $450-$2,500, although some may cost even more – up to $7,000.The average price for one is about $1,500.
At the low end of the range, you'll find dogs without championship bloodlines. The more expensive puppies will have exceptional genetic lines and papers.
These puppies are so cute! But you'll have to shell out some money if you want one.
Don't forget to budget for food, vet visits, flea control, training, toys and beds, crates, grooming, and spaying or neutering.
Boerboel Rescue
As with many desirable breeds, breed-specific rescues for African Boerboel dogs do exist. Occasionally, these dogs may also turn up in regular animal shelters too.
If you can help rehome a Boerboel, that's great!
But Boerboels are still generally rare. It might take some time to find the right animal for you and your family. If you're set on one of these dogs, you should be patient.
There are also risks. Boerboels in shelters are unlikely to be championship quality, if you care about such things, and their health situation and age may not what you were looking for.
So, think carefully about what you want in a dog before you decide whether to get one from a breeder or a rescue.
Is The Boerboel A Good Pet?
Well, that all depends on you. Can you handle a giant dog? Can your family handle one?
Are you okay with the idea that you must be very careful with your dog when you're out and about? Remember, Boerboels need to be supervised around other dogs.
Are you willing to put in the time to socialize and train your Boerboel properly? In such a big dog, this is an absolute necessity.
Taking on this big breed is a big deal. Meeting both the puppy's parents is essential, as is getting proof of health testing.
And taking into account their rarity you might have a long wait.
A Boerboel isn't for everyone and there are some lovely alternatives in the world of bigger dogs.
Why not consider a German Shepherd Dog as an alternative? Although they have their own issues, you will probably find it easier to find a healthy one.
Or, if you love big dogs, check out some of these Mastiff Mixes!
If you have experience with this breed, let us know about in the comments section below!
Resources
Adetola, A. R. et al (2016). Evaluation of body mass index and plasma lipid profile in Boerboel dogs. Nigerian Journal of Physiological Sciences, 31.
da Costa, R. C. (2010). Cervical spondylomyelopathy (Wobbler Syndrome) in dogs. Veterinary Clinics of North America: Small Animal Practice, 40(5).
Karmi, N. et al (2010). Estimated frequency of the canine hyperuricosuria mutation in different dog breeds. Journal of Veterinary Internal Medicine, 24(6).
Kirberger, R. M. (2017). Phenotypic hip and elbow dysplasia trends in Rottweilers and Labrador retrievers in South Africa (2007-2015): Are we making progress? Journal of the South African Veterinary Association, 88.
Kirberger, R. M. and Stander, N. (2007). Incidence of canine elbow dysplasia in South Africa. Journal of the South African Veterinary Association, 78(2).
Kirberger, R. M. and Fourie, S. L. (1998). Elbow dysplasia in the dog: pathophysiology, diagnosis and control: review article. Journal of the South African Veterinary Association, 69(2).
Post, K. et al (1991). Vaginal hyperplasia in the bitch: Literature review and commentary. The Canadian Veterinary Journal, 32(1).
Van der Woerdt, A. (2004). Adnexal surgery in dogs and cats. Veterinary Opthalmology, 7(5).
American Boerboel Club
American Kennel Club
Get Pippa's free dog training tips delivered to your inbox