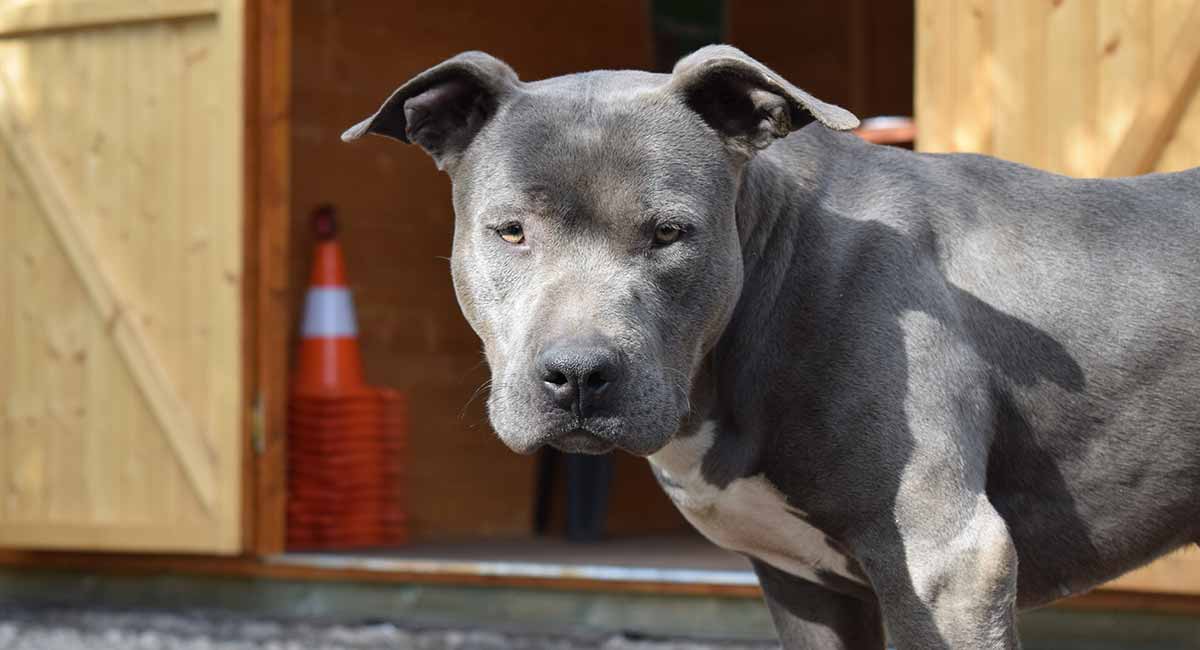 Blue Nose Pitbull refers to American Pitbull Terriers who have a blue nose. They are not a unique breed.
This unusual coloring is a recessive trait that is caused when certain genes trigger less melanin production in a dog.
Thinking about taking home a Blue Nose Pitbull?
These cool-looking dogs are rare and beautiful—and they stand out!
So, where does this unique nose color come from? And what are the pros and cons of the Blue Nose Pitbull? Read on to find out!
Origins of the Blue Nose Pitbull Color
First of all, let's get our wording straight. When we say Pitbull, we are referring to American Pitbull Terriers.
Sometimes the term Pitbull is also used for American Staffordshire Terriers and Staffordshire Bull Terriers. All of these are Pitbull breeds.
But, not all of them are recognized by the various Kennel Clubs that validate purebred bred dogs.
The American Pit Bull Terrier is not recognized by the American Kennel Club, but the American Staffordshire Terrier and the Staffordshire Bull Terrier are.
The United Kennel Club is the first club to have recognized the American Pit Bull Terrier.
But the breeds look so similar that it can be hard to tell them apart.
History of Pitbull Breeds
Pitbulls are thought to descend from ancient Roman fighting dogs, which were used to entertain spectators.
The modern Pitbull breeds began when breeders in the UK crossed Bulldogs and Terriers to get a breed with the Terrier's persistence and the strength of a Bulldog.
Eventually, immigrants brought these dogs to the U.S. There, ranchers used them to catch semi-wild cattle, herd livestock, and as family companions.
Pitbulls can come in all colors and color patterns, except merle. This is a good thing since merle is associated with certain health issues.
Unfortunately, the Blue Nose Pit comes with its own set of health problems.
But before we go into more detail, first let's talk about the genetics of the coat color, as well as the appearance, temperament, and training requirements of this breed.
Genetics Behind the Blue Nose Pitbull Color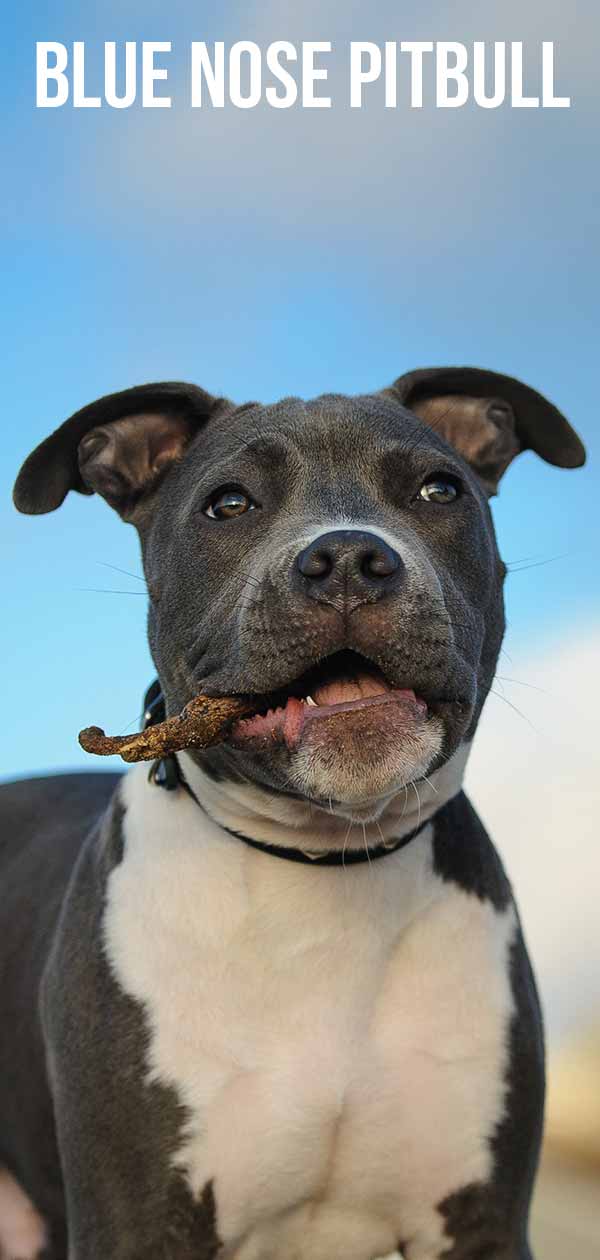 Dog colors and patterns are guided by two basic pigments: eumelanin (black) and phaeomelanin (red).
When these pigments are acted upon in different ways, they show up as the variations in dog coats that we see.
In a dog's chromosomes, you'll find loci or fixed positions where their genes are located. Each gene is a sequence of DNA that results in certain traits, like coat color.
Coat color and markings are controlled by up to 8 different genes. This includes a dominant black gene, the agouti gene, a brown gene, and an "extension" gene.
Not all of the genes result in different colors. Instead, some of these genes control whether the color pigments are expressed. So, it gets pretty complicated!
So What Causes the Blue Nose?
To keep it simple, the blue nose is what's known as a recessive trait. It only occurs when certain genes trigger less pigment (melanin) production in a dog.
Since blue is a recessive trait, both of the alleles that come together to make up a gene must code for that particular color at that particular location—producing a blue nose.
Some breeders try to breed blue-nosed dogs together in an attempt to get puppies with blue noses. But this can cause problems.
Therefore, you should avoid breeders that perform these unethical practices.
Blue Nose Pitbull Appearance
The American Pitbull Terrier is a medium-sized dog with a short coat, solid body, and a broad skull. Their tails are low and tapered.
They are strong and muscular-looking and their ears are small.
But what makes the Blue Nose Pit puppy so striking is, of course, that amazing blue nose.
The nose, eyelids, toenails, and skin of the Blue Nose Pitbull is a blue-gray color, sometimes described as gray with a blue tinge.
This is what makes them so desirable!
Pitbulls of any color seem to have a bad reputation. So let's look more closely at their temperament.
Blue Nose Pitbull Temperament
Despite the bad rap, Pitbulls are often known for their gentleness with children, enthusiasm, clown-like behavior, and overall friendliness.
In fact, they make terrible guard dogs because they are so outgoing.
But they can be difficult to handle, especially for first-time dog owners, and don't tend to get along so well with other dogs.
Interestingly, the American Temperament Testing Society rates American Pitbull Terriers as slightly less likely to show aggression than the Golden Retriever!
If that's the case, then, why do Pitbulls have such a bad reputation?
Pitbull Aggression
Some experts think it has to do with bite style and strength. And the fact that once they bite, Pitbulls often don't let go.
The United Kennel Club acknowledges that American Pit Bull Terriers can be aggressive.
However, the breed standard also states that "aggressive behavior toward humans is uncharacteristic" of this breed.
Some researchers believe the Pitbull may have developed this reputation in part from the fact that this is a popular breed. More dogs mean more opportunities for aggression.
But this breed is brainy as well as brawny.
Blue Nose Pitbull Intelligence
Pitbulls are well known for intelligence.
So, they need both mental and physical stimulation.
If you have a Blue Nose Pitbull, you'll have to take this into account. Make sure your dog's life is filled with suitable activities and exercise.
They do well with all dog activities, including agility training, hunting, weight pulling, therapy work, and obedience.
Pitbull Breed Popularity
Pitbulls are definitely a popular breed. In 2012, Vetstreet data determined that the American Pitbull Terrier was one of the top three breeds in 28 different states!
Still, some communities ban Pitbulls because of their reputation for aggressiveness.
And remember, Blue Nose Pitbulls are not a separate breed, so they will also fall under the wrath of these communities.
That means, if you own a Pittie, you'll need to be prepared for a negative response from certain people who may see you and your dog's distinctive profile on the street.
So, what about caring for your Blue Nose Pitbull?
Blue Nose Pitbull Grooming Needs
With their short hair, American Pitbull Terriers—including the blue-nosed version—require minimal grooming.
Their coat only needs a weekly brush and that's it!
They do shed, therefore, a brushing a little more frequently can help reduce the number of hairs they lose.
This breed is prone to allergies and skin issues, so make sure to check for rashes and other signs.
Also, pit bulls sweat a lot and may require more regular bathing than you'd think.
Make sure to trim their nails, clean their ears, and brush their teeth, too. This can prevent infection and dental issues.
So, now that you know how to groom your Blue Nose Pitbull, how do you train one?
Training Your Blue Nose Pitbull
Training and socialization from an early age are important for all dogs, but especially for Pitbulls.
After all, they're big and strong and have a tendency to be wary of other dogs.
Training can temper some of that protective loyal natures that can lead to aggressive behavior.
Training can also exercise their minds in a way that helps them release their huge amounts of energy.
Best Training Methods
Fortunately, because they are intelligent and eager to please, it's easy to train a Blue Nose Pitbull. However, they can be stubborn.
Pitbulls are known to be quite emotional, but socialization can help them get past their insecurities so that they don't lead to fear and nervousness.
Because of this, we recommend positive reinforcement training methods. If you treat Blue Nose Pitbulls with both love and discipline, you won't regret it!
In addition to training and socialization, making sure your Pitbull gets enough exercise is incredibly important.
Blue Nose Pitbull Exercise Requirements
American Blue Nose Pitbull dogs are known for their high energy levels.
They will benefit from working activities, exercise, and mental stimulation.
Pitbulls have a strong prey drive, and they are good climbers and jumpers. They also like to dig.
Moreover, they are very strong—pound for pound, they may just be the strongest dogs out there!
They sweat a lot and may need help regulating their body temperature, so make sure to give them some cool-down time after you exercise them.
If you decide you definitely want a Blue Nose Pitbull, you must be sure you can manage all of these different qualities.
Health Concerns of the Blue Nose Pitbull
Blue Nose Pitbulls may at greater risk of mange, alopecia, allergies, and skin issues due to thyroid problems than other Pitbulls.
There is also a higher chance that Blue Nose Pitbulls may experience common Pitbull health problems such as
immune disorders
heart disease
cataracts
neurological disorders.
Close Relations
Because the blue nose trait is extremely rare, there's a good chance most Blue Nose Pitbulls are closely related to one another.
This so-called inbreeding increases the chances that a recessive trait such as the blue nose will appear.
But for the same reason, unfortunately, it also increases the chances that a recessive disease or problematic health condition will appear.
Their low melanin levels may also affect the immune and nervous systems, which can result in deafness, poor vision, skin issues, and a negative temperament.
Finding Your Blue Nose Pitbull Puppy
You could try an online search for breeders of Blue Nose Pitbull puppies.
Just remember that you must be even more careful vetting a breeder for these special dogs.
That's because of the increased health problems that inbred Blue Nose Pitbulls may have.
Some breeders might also be tempted to make you pay more for the privilege of purchasing a Pitbull with the blue nose markings.
Make sure the Pitbull breeder is honest and upfront about health issues. Don't fall in love with a pup without first looking into the medical histories of the parent dogs.
Alternatively, Pitbulls often make up a large percentage of dogs in shelters that are in need of a new home!
Who knows, you may find a Blue Nose Pitbull pup that needs to be rescued!
Is the Blue Nose Pitbull Right For You?
Only you can decide if this unique dog is right for your home.
Just remember, this breed is known for their high energy levels, intelligence, and stubbornness. So, first-time dog owners may find them difficult.
Make sure you're prepared to provide adequate training and socialization, as well as plenty of outdoor activities for your new companion.
Training and socialization are particularly important to prevent aggressive behaviors.
In general, this breed is loving and gentle and will make the perfect pet for the right owner. If you love Blue Nose Pitbulls, you might also want to check out the Red Nose Pitbull! You can even look at different colored fur on Pitbulls! 
Have you decided to welcome a Blue Nose Pitbull into your family? Or perhaps you already own one of these rare and beautiful dogs.
Tell us your story in the comments below!
References and Further Reading
Stahlkuppe J. 2000. American Pit Bull Terrier Handbook. Barron's Educational Series.
Schmutz SM and Berryere TG. 2007. Genes affecting coat color and pattern in domestic dogs: a review. Animal Genetics. DOI: 10.1111/j.1365-2052.2007.01664.x
Get Pippa's free dog training tips delivered to your inbox