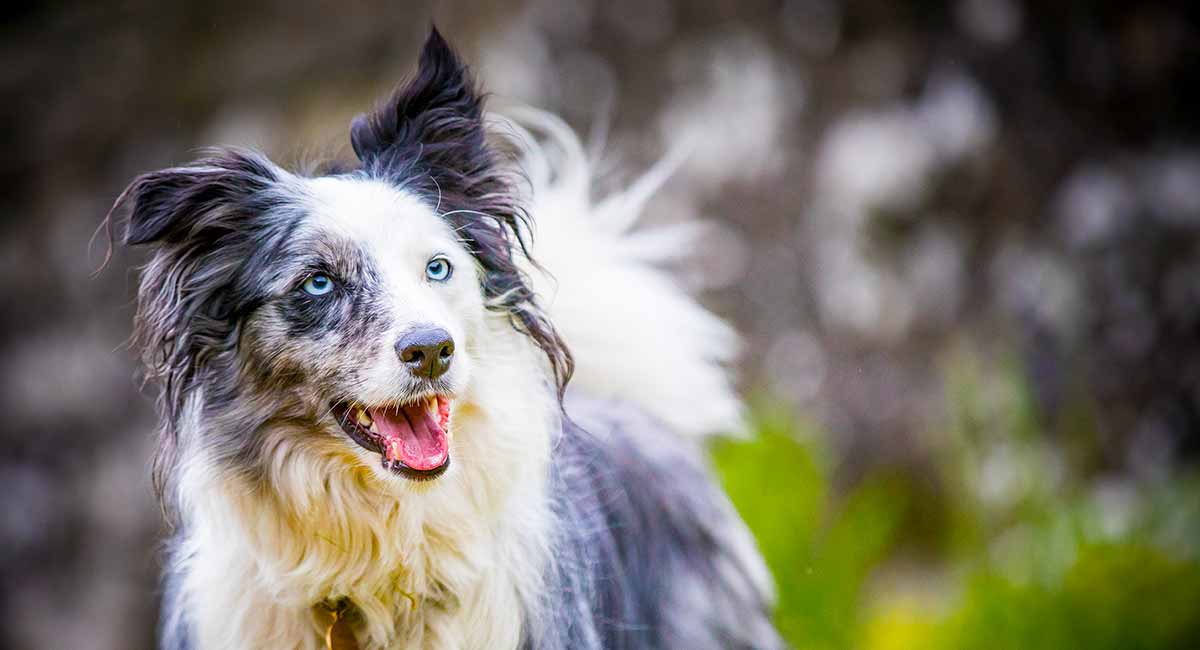 If you're looking into getting a Collie, you may well be considering the possibility of welcoming a blue merle Border Collie into your home. And understandably so, they're almost unbelievably gorgeous dogs.
There really is something just mesmerising about the rare merle coloring when it comes to the classic herding breed of the Border Collie. The combination can make for one of the most stunning-looking and remarkable dogs on the planet.
But are there drawbacks from these dogs being 'blue'? Does the unique hue inform the dogs' attitudes and personality in any way…?
The following article is designed to explore the world of blue Border Collies and enlighten anyone interested in this type of dog.
We'll look into the background and history of them, discover all about their appearance and behaviour, their health and much more besides.
Blue and white Border Collies are quite something. As you're about to learn…
History & Origins of the Blue Merle Border Collie
Border Collies as we know them date back from the 19th century. We've bred and lived with these dogs ever since, valuing them as great companions and pets. But, ultimately, Border Collies are working dogs.
Collies have an innate herding instinct that has made them perfect for working on farms, keeping livestock under control. Their work ethic, ability to learn and boundless energy have proven to be such desired traits, that farmers all over the world now think of the breed as invaluable.
The breed first came to prominence in and around the Scottish borders well over a hundred years ago now. With most most purebred Border Collies able to trace their lineage back to one stud dog, 'Old Hemp'.
If, however, you care to look back far enough, you'll find collie-like dogs dating all the way back to the 1st century…
It's thought that there have been blue merle Border Collies for as long as there have been Border Collies too. So this unique mottled dog is not a modern creation.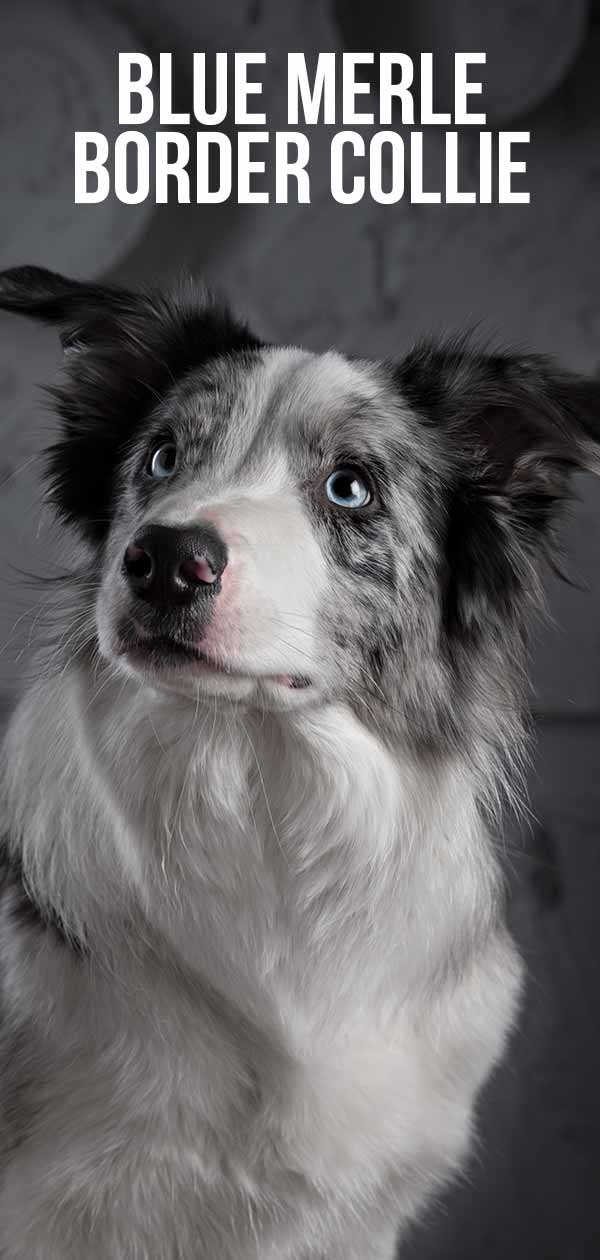 Blue Merle Border Collie Appearance
The American Kennel Club describes Border Collies as:
'a well balanced dog of athletic appearance, displaying style and agility in equal measure with soundness and strength.'
Which is about as succinct and accurate a description as you're likely to come across.
The body of the average Border will be longer than it is tall, with a fairly long and low-set tail. Collies are known to have wide, flat heads, with snouts which are roughly the same length as their skull.
A Border Collie's nose color will almost always match the main color of its body. While their ears can either be erect, semi-erect or 'floppy'.
Border Collies are medium sized dogs and stand anywhere between 18 and 22 inches tall (at the shoulder). They generally weigh in anywhere between 30 and 50 pounds.
When fully grown, female Collies tend to be a little smaller than males.
Coat-wise, there are two main varieties – smooth and rough. When it comes to color, a Border Collie can come in just about any color and pattern you may find in a dog.
Collies that are blue merle will have the distinctive black and white mottled or dappled effect that you would expect from any 'merle' dog. The main dark color will be diluted and those affected spots, patches and areas give off the appearance of almost being 'blue'.
This isn't exactly scientific, but while we're discussing what merle Collies look like… Blue Border Collie puppies might just be the cutest things it's possible to bear witness to. Seriously.
They inspire some adorable puppy names too.
Blue Merle Border Collie Eyes
Border Collie blue eyes are really quite captivating indeed. The pale blue, light green or faded amber is – ironically – eye catching and rather beautiful. So it's little wonder that so many people are so taken with them.
The reason behind the stunning and unique eye colors of merle dogs is simple – genetics. Not that genetics are all that simple to understand, of course!
The gene which causes merle coloring in Border Collies and all other dog breeds is the same one which causes the unusual eye colors.
This special 'merle gene' is called heterozygous (also known as homozygous) and can merely cause light-colored eyes. But it can also cause quite severe eye abnormalities as well. Including
small eyes (microphthalmia)
off-centre pupils (corectopia)
cataracts
blindness.
Merle coloring – or the gene behind it – can also be responsible for causing other medical issues too…
Health of the Blue Merle Border Collie
Bred ethically and correctly, there is no huge danger specific with this kind of dog. But there is an increased risk of health issues when two blue merles mate.
Breed a merle with a non-merle and there's no real danger at all. But breed two merles together? You're introducing a 25% chance of what's known as a 'double merle' puppy.
These dogs have a much greater chance of developing some quite serious health issues. Many are deaf and most will suffer with ocular issues.
Vets and dog experts recommend that all double merles are spayed or neutered to prevent their genes passing on.
That said – deaf, blind and deaf and blind dogs can still lead happy lives. They just take a lot more care and attention. Owners absolutely must be prepared to adapt their lives around the special needs of such animals.
So there is a slight increase in health risks with these dogs. Such risks are not huge and issues are not exactly commonplace (particularly with intelligent and ethical breeding).
But it's vital that anyone adopting, rescuing or buying a blue merle Border Collie gets them fully check over by a vet.
Blue Merle Border Collie Temperament
While the characteristic markings of a blue merle may make them look quite different to regular Border Collies, the coloring make no impact on the personality, behaviour or temperament of the dog.
The pattern or coloring of a dog – whatever it is – has no influence on the way they behave. Attitude and temperament is much more governed by breed (and, of course, the training and socialisation that he dog receives).
So expect your blue merle Border Collie to be
highly intelligent
fun
loving
extremely athletic
have bags of energy and
be keen to herd everything and anything.
Just like any other Border Collie.
Do also expect quite a demanding dog that craves attention and love and may possibly suffer with a little separation anxiety when you're not around (this is manageable, though).
Popularity of the Blue Merle Border Collie
Border Collies are loving, fun, energetic and brilliant companion dogs. They're also fiercely intelligent and excellent working dogs. So they are a breed that is always in demand. They're extremely popular.
Throw into the mix that a blue merle dog is utterly captivating to look at and it's a winning combination. Rare and beautiful markings only serve to make this dog even more sought after.
Due to this high level of approval, desire and demand, you may well find that you have to pay quite a lot more for a blue merle Collie than a regular Border Collie. SO be prepared for that.
Blue Merle Border Collie Grooming
The color of a dog's coat should have no bearing on your grooming regime. Whether their coat is black, white or merle, it still requires regular brushing. Especially if the hair is long and prone to matting.
To ensure that grooming is not a chore, it pays to brush your dog's coat from as early in their life as possible. If they get used to it as a puppy, it should be a straightforward, simple and even enjoyable job as they get older.
Blue Merle Border Collie Training
Owners of blue merle Border Collies need make no special allowances for training. The coat doesn't impact the dog's ability to learn. So just treat them as a normal Border Collie.
Borders are known for their high energy levels and willingness to work with humans. So they should find training fun. Keep them occupied and motivated and you'll find a Border Collie to be an excellent student.
To get the best results from your training, be sure to start your programme as early as you can. Blue merle border collie puppies – like all puppies – may be challenging to train, but it's more than possible and will pay dividends in the future.
Risks in Breeding Blue Merle Border Collie
Blue merle Border Collie breeders, as we've touched upon, should avoid breeding merles with one another. Only the most unscrupulous of breeders will consider doing so.
Intentionally mating merles together may create pretty-looking blue merles to sell, but it also creates heightened chances of serious medical problems. Knowingly buying a puppy from two merle parents only encourages this unconscionable practice.
Of course, if you're adopting and a blue merle border collie rescue is top of your list, there are no such dilemmas (provided you do not plan on having them breed with another merle).
The only issue you'll likely encounter is that they are rare and popular. As such, you're very unlikely to stumble across a blue merle Collie down your local dog rescue centre.
Do your homework on the dog, research their background and ensure you have everything they need and then make your decision accordingly.
Blue merle Border Collies are about as beautiful as dogs come. So if you decide to get one, fully commit and enjoy your life with your new best friend!
References and Resources
Get Pippa's free dog training tips delivered to your inbox