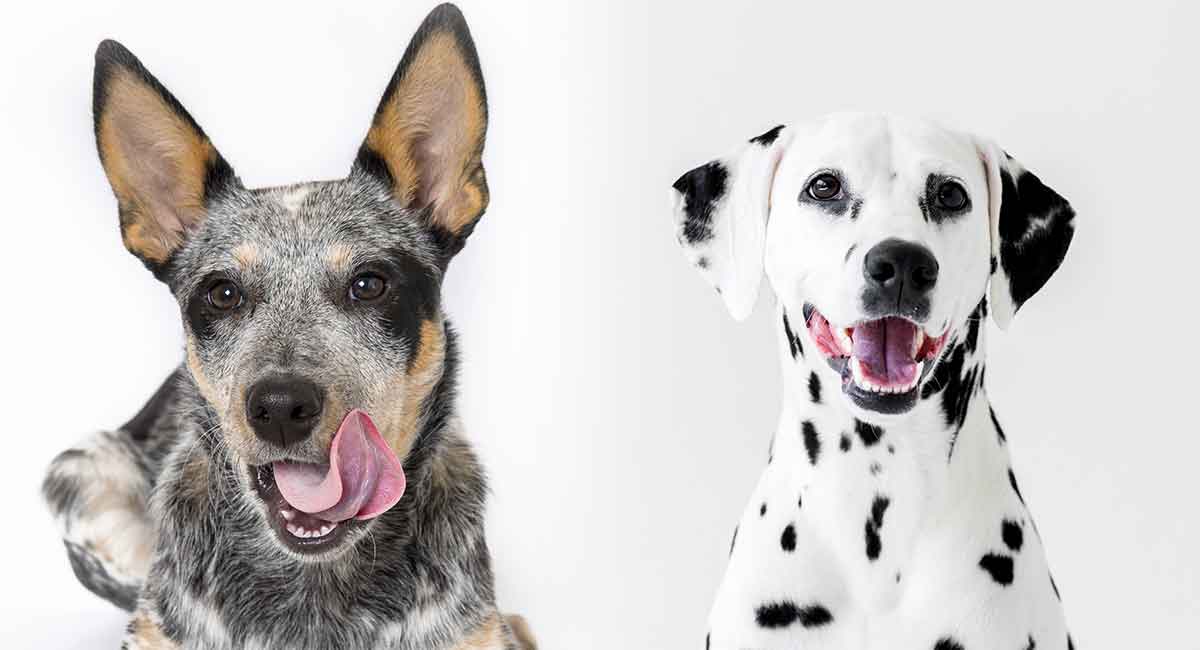 The highly intelligent Blue Heeler Dalmatian mix, also known as the Dalmatian Heeler, combines two active hardworking breeds.
From serious health issues and exercise requirements to temperament and appearance, this article  covers everything you need to know about the Blue Heeler Dalmatian mix.
Is the Blue Heeler Dalmatian mix the right dog for you?
Read on and find out!
Where Does the Blue Heeler Dalmatian Mix Come From?
Blue Heeler is another name for the Australian Cattle Dog.
The Blue Heeler handle comes from their cattle driving days when they'd nip the heels of the herd to keep them in line.
To further confuse things, this breed is also referred to as the Queensland Heeler or Red Heeler.
They're all the same breed, and when you cross one of them with a Dalmatian, you get the Blue Heeler Dalmatian mix.
No one claims to know exactly when this breed came into existence.
Like most mixed breeds, they've likely been around for the past two decades.
The Mixed Breed Debate
Crossbreeding is still a fairly new practice, but an increasingly popular one.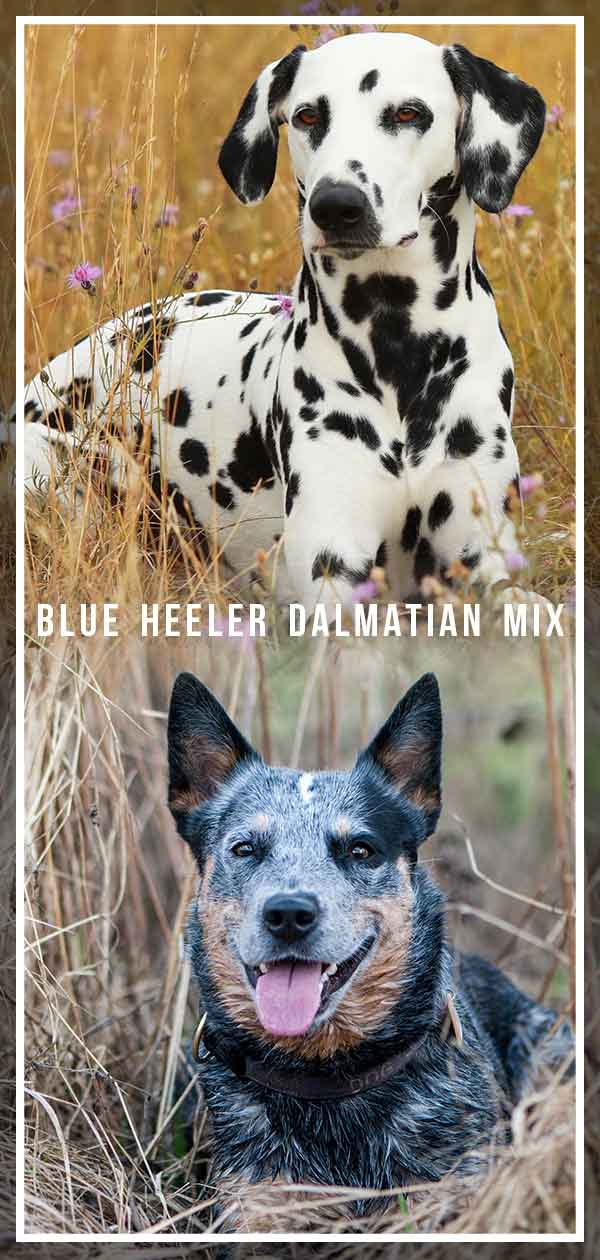 Some dog lovers believe purebreds are superior to hybrids. They view mixing two different breeds as contaminating the bloodline.
Those who choose a mixed breed dog often do so because crossbreeding reduces the chances of inheriting genetic health problems.
You can find more information about the ins and outs of crossbreeding here.
Origins of the Blue Heeler
In the early 1800s, British settlers created the Blue Heeler or Australian Cattle Dog as a tough herding dog.
The dog they brought with them from England was known as the Smithfield.
Unfortnuately the poor Smithfield was ill-suited to the high temperatures and rough terrain of the Australian interior.
So, Smithfields were crossed with Dingoes and other breeds, including the Scottish Highland Collie, the Black and Tan Kelpie, and the Dalmatian, to create the Blue Heeler.
Origins of the Dalmatian
The origin of the Dalmatian is highly disputed.
In the early 1800s, they were associated with a region along the Adriatic Sea once known as Dalmatia, now known as Croatia.
Their unique job was to trot alongside horse-drawn coaches and guard the rig when it was left unattended.
This was the beginning of a long and friendly relationship between Dalmatians and horses.
The breed has long been associated with firefighters, since back when fire engines were pulled by horses.
The Dalmatians would run in front of the carriage, guiding the horses and clearing the path.
Fun facts about Blue Heeler Dalmatian Mix
Bluey, an Australian Cattle Dog born in 1910,  lived to be 29 years and 5 months and is the oldest dog to have ever lived, according to the Guinness Book of World Records.
All Blue Heeler puppies are born white and stay that way until they are 8 to 12 weeks old, regardless of their color as adults.
The Dalmatian is the only actual spotted dog breed, and like the Blue Heeler, all puppies are born completely white.
Nicknames for Dalmatians include The English Coach Dog, the Carriage Dog, the Plum Pudding Dog, the Firehouse Dog, and the Spotted Dick.
Blue Heeler Dalmatian Mix Appearance
Blue Heelers can stand from 17 to 20 inches and weigh between 35 and 50 lbs.
They have a compact and muscular physique with a face that resembles the Australian Dingo and upright ears.
Their fur is short and comes in either blue-gray or red with distinctive speckled patterns.
The Dalmatian can stand between 19 to 24 inches and weighs between 45 and 70 lbs.
Thanks to their striking black or liver-colored spots, the Dalmatian is one of the most recognizable breeds in the dog world.
The Dalmatian is tall, slim, and gracefully proportioned with powerful hindquarters for an elegant gait. This handsome dog also has floppy ears, a long tail, and a velvety coat.
The Blue Heeler Dalmatian mix could be a combination of the two parents or may take after one more than the other.
Their ears might stand straight up or hang down, and their coat can come in a wide range of colors and patterns.
Blue Heeler Dalmatian Mix Temperament
Just like appearance, the temperament of a mixed bread can favor one parent breed over the other or could be a combination of both.
Given the high intelligence and extreme energy levels of both parents, you can expect your Blue Heeler Dalmatian mix to have these traits.
Their active mind will also require mental stimulation to prevent them from becoming destructive.
If your puppy takes after the Blue Heeler, their natural herding instincts may come out. This could be a problem if you have young children or small pets.
One study from Australia found that some Blue Heelers can show aggression towards people.
The Blue Heeler is known to be tough and independent, whereas the Dalmatian loves to be around people and may develop behavioral problems if left on their own too often.
Training Your Blue Heeler Dalmatian Mix
Early socialization is very important to ensure your Blue Heeler Dalmatian mix becomes accustomed to a variety of people and situations.
Potty training should also start as young as possible—using a crate can be very effective when you're not at home.
Both parent breeds are extremely intelligent, and while the Australian Cattle Dog can be quite willful, Dalmatians are highly sensitive.
Regardless of which breed your puppy takes after, positive reinforcement training is the way to go.
Exercising Your Blue Heeler Dalmatian Mix
The Blue Heeler Dalmatian mix will inherit plenty of vigor and energy, and need a lot of exercise time.
Outdoor excursions and games that challenge their intelligence will keep them from getting bored and exhibiting behavioral issues.
If you're a runner looking for a companion, look no further. This pooch has plenty of stamina.
However, you should be aware that the Australian Cattle Dog is prone to joint diseases which could impinge on their exercise schedule.
Life Span and Health Concerns of the Blue Heeler Dalmatian Mix
The Blue Heeler has a lifespan of 12 to 16 years and the Dalmatian has a lifespan of 11 to 13 years.
Deafness is a problem for both of these breeds.
Interestingly, deafness in the Dalmatian is linked to its coloration. Approximately 15 to 30% of this breed are affected and about 5% are deaf in both ears.
The Blue Heeler can also inherit deafness. As such, your Dalmatian Heeler mix may be at a high risk too.
A reputable breeder will test both parents and their litters to ensure the puppies are not completely deaf.
Hip Dysplasia, an abnormal formation of the hip socket that can cause arthritis, is common in many dogs, including both of these breeds.
Urinary stones can be a problem for the Dalmatian since they have high levels of uric acid in their urine.
Progressive retinal atrophy (PRA) is a common problem for the Blue Heeler and can cause vision loss.
Other heritable health conditions of the Dalmatian include skin issues, allergies, epilepsy, and hyperuricemia.
You can find a complete list of all recommended health tests for the for the Blue Heeler and the Dalmatian on their respective breed health websites.
Grooming and Feeding Your Blue Heeler Dalmatian Mix
Both parent breeds have short coats that require weekly brushing.
The Blue Heeler has a double-layer coat that will shed quite a bit twice a year. Despite their short coat, Dalmatians shed heavily.
Occasional bathing with a proper dog shampoo should be fine for this mixed breed. Ear care, teeth brushing, and nail clipping should also be done regularly.
You should feed your dog food that is appropriate for their age and size.
Since both parent breeds are active, your Blue Heeler Dalmatian mix will require high-quality food to meet their nutritional needs.
Does the Blue Heeler Dalmatian Mix Make a Good Family Dog?
A well-bred Blue Heeler Dalmatian mix can make an excellent family dog. They're generally patient with children and other pets, but they can become rowdy while playing.
They should always be supervised around small children.
Behavioral problems could arise if your dog is left alone too often or hasn't been properly socialized.
In addition, a high energy dog like the Blue Heeler Dalmatian mix will require a huge commitment in terms of exercise.
This smart breed will be loyal and devoted to a family with the time and energy to keep up with their needs.
Rescuing a Blue Heeler Dalmatian Mix
Before searching for a breeder, you should seriously consider the advantages of adopting a pet.
An older rescue dog will likely be trained, have all their shots, and may even be spayed or neutered.
By choosing to adopt, you're giving a home to a dog that is desperately in need of one.
The popularity of the 101 Dalmatians movies saw a huge surge in people wanting one of these unique looking dogs.
Unfortunately, this led to less reputable breeders churning out Dalmatian puppies who were often poorly bred.
Learn more about rescuing a puppy from a shelter here.
Finding Your Blue Heeler Dalmatian Mix
Since mixed breeds like the Blue Heeler Dalmatian mix appeared on the scene in the 1990s,  they have continued to gain popularity.
Whether it's because they are thought to be less likely to suffer health issues or just because they're so incredibly cute.
If you're choosing to buy a puppy, avoid pet stores and puppy mills. The dogs are treated poorly while being used to produce as many offspring as possible for profit.
A reputable breeder is the best place to get your puppy. The breeder should be able to provide you with a record of genetic health tests for both parents.
Make sure they have had the parent dogs properly screened, particularly for conditions that affect both parents breeds such as deafness.
Find more detailed information about where to buy a puppy here.
Blue Heeler Dalmatian Mix Products and Accessories
An intelligent dog like the Blue Heeler needs mental stimulation to keep them from getting bored and misbehaving.
Check out some toys for Blue Heeler dogs from problem-solving games and puzzles to multi-level games.
Pros and Cons of the Blue Heeler Dalmatian Mix
Cons
As both parents are very active working dogs, your Dalmatian Heeler will need a lot of exercise time.
Their natural herding instinct can make them overly cautious. Don't be surprised if they nip at your heels in an attempt to herd you!
There's a high probability they'll shed a lot.
If left alone, they can suffer from separation anxiety.
Pros
The Blue Heeler Dalmatian mix is highly intelligent, loyal, and loving.
As long as they're well socialized, they're excellent with children and other pets.
They should be relatively easy to train using positive reinforcement techniques.
Blue Heeler Dalmatian Mix Rescue Shelters
Here is a list of rescue organizations who specialize in rehoming Blue Heelers, Dalmatians, and their mixes.
If you'd like to be added to this growing list of Blue Heeler and Dalmatian rescue organizations, please post your organization's details in the comments box below.
Is a Blue Heeler Dalmatian Mix Right For Me?
The Blue Heeler Dalmatian mix can make a great pet for the right family.
One of the most important things to keep in mind about this breed is that they will need approximately two hours of exercise a day.
If you don't lead an active lifestyle yourself, this probably isn't the right dog for you.
These highly active dogs can be a lot to handle for first-time dog owners.
In saying that, if you have lots of time and energy to spend with a dog, you and the Blue Heeler Dalmatian mix could make a terrific match.
Do you have some additional facts about the Blue Heeler Dalmatian Mix? Please share them in the comments below.
References and Further Reading
Universities Federation for Animal Welfare
Blackshaw JK. 1991. An overview of types of aggressive behaviour in dogs and methods of treatment. Applied Animal Behaviour Science.
Strain GM et al. 1992, Brainstem Auditory‐Evoked Potential Assessment of Congenital Deafness in Dalmatians: Associations With Phenotypic Markers. Journal of Veterinary Internal Medicine.
Nouh SR et al. 2014. A Retrospective Study on Canine Hip Dysplasia in Different Breeds in Egypt. Global Veterinaria.
Carvalho M et al. 2003. Role of urinary inhibitors of crystallization in uric acid nephrolithiasis: Dalmatian dog model. Urology
Goldstein O et al. 2006. Linkage disequilibrium mapping in domestic dog breeds narrows the progressive rod-cone degeneration interval and identifies ancestral disease-transmitting chromosome. Genomics.
Get Pippa's free dog training tips delivered to your inbox