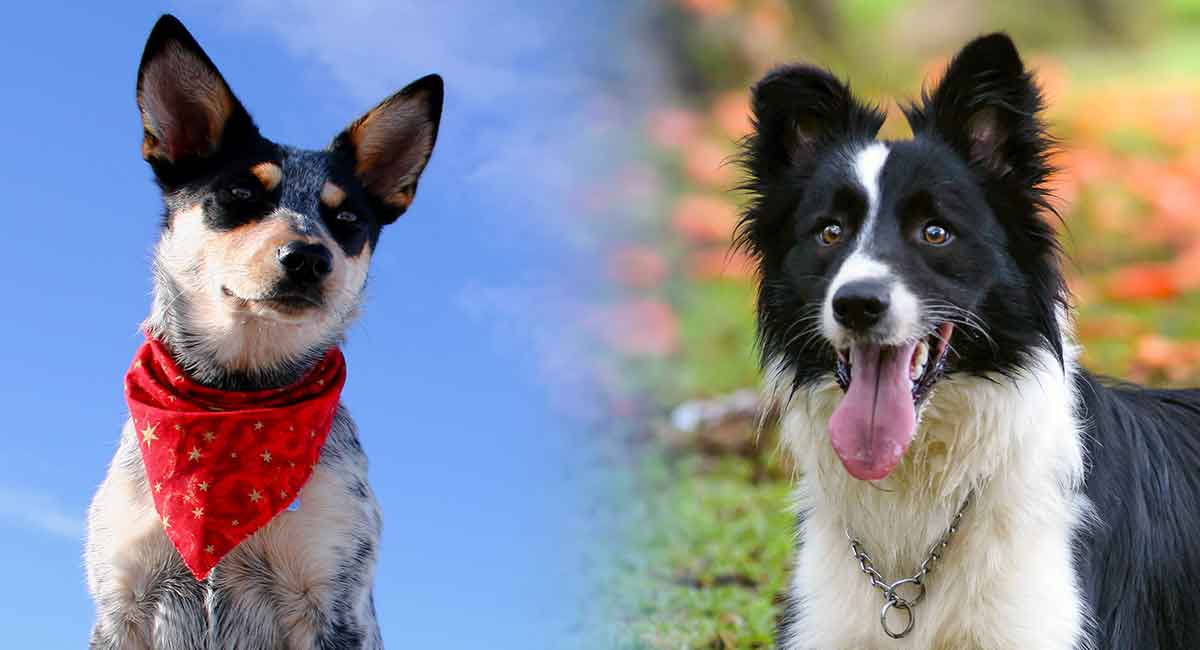 Are you interested in a smart, trainable, and energetic dog? The Blue Heeler Border Collie mix, often called the "Border Heeler," may just be a perfect choice!
Both the Blue Heeler, also known as the Australian Cattle Dog, and the Border Collie are hard-working herding dog breeds.
And the mix retains the characteristics of both parent breeds.
In this article, we'll take an in-depth look at this spirited and intelligent cross breed, so you can make an informed decision about your next best friend.
But first, let's look at the backgrounds of the parent breeds.
Where Does the Blue Heeler Border Collie Mix Come From?
The Border Collie is an old breed, descended from herding dogs brought to Britain by the Romans and the Vikings.
This active and alert dog is famous for being among the very best livestock herders. To say nothing of its reputation as one of the smartest dog breeds ever!
The Blue Heeler, or Australian Cattle Dog, is also descended from British herding dogs bred. Moreover, this breed is tough and robust enough to handle the Australian outback.
Other breeds the Blue Heeler is descended from include the native Australian dingo and even the Dalmatian!
Any Blue Heeler Border Collie mix is sure to inherit the energy, smarts, and work ethic of both parent breeds.
Is it true that a mixed breed is healthier than its purebred parents?
We'll talk more about health later, but for now, it's important to know that while cross-breeding could potentially lead to healthy genetic diversity, this has not yet been proven.
So you should always make sure your mixed breed dog comes from the healthiest of parents.
Fun Facts About the Blue Heeler Border Collie Mix
Both parent breeds, the Border Collie and Blue Healer, have reached Hollywood stardom!
Two Border Collies named Fly and Rex are well-known characters from the movie Babe.
A real-life Border Collie named Chaser recently gained fame as "the smartest dog in the world." You can meet him on this episode of 60 Minutes.
An Australian Cattle Dog is Mad Max's sidekick in the film The Road Warrior. Interestingly, another Blue Healer just happens to play a canine villain in Babe.
So, now that we've established the fame of the Border Collie and Blue Healer, what will your Blue Heeler Border Collie mix look like?
Blue Heeler Border Collie Mix Appearance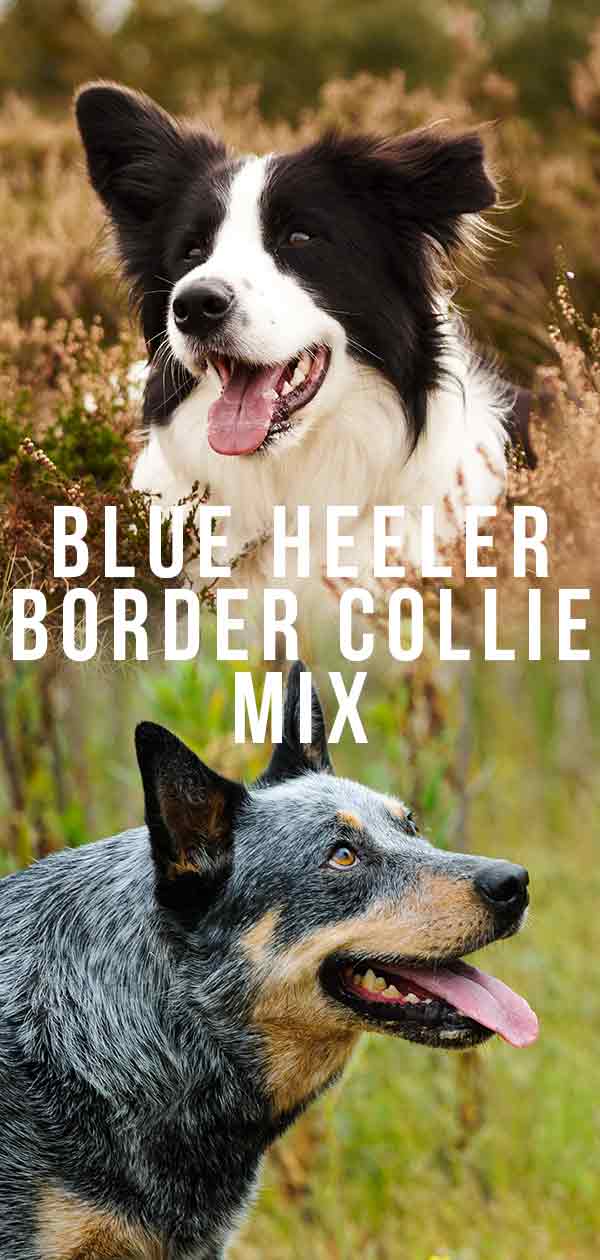 Let's take a look at the parent breeds first.
The Blue Heeler is a sturdy medium-sized dog. They usually weigh between 35 and 50 lbs and stand between 17 and 20 inches tall at the shoulder.
Australian Cattle Dogs have short, dense double coats that come in two colors: blue and red.
The Blue Heeler can have a coat that is solid, mottled, or speckled. Red Cattle Dogs unsurprisingly have a red speckled coat.
Border Collies are also medium sized dogs, but their build is more elegant than the stockier Blue Heeler.
Adult Border Collies weigh between 30 and 55 lbs and stand between 18 and 22 inches tall at the shoulder.
Most people picture a long black and white coat when they think of a Border Collie, but their coat can either be short or long ("smooth" or "rough"). It can also come in any color or combination of colors.
Mix Appearance
Like many dogs bred for their working abilities rather than their appearance, the breed standards of the Border Collie and Blue Heeler are less strict than other dog breeds.
Furthermore, as a mixed breed dog, your Blue Heeler Border Collie mix can inherit the physical characteristics of either parent breed, in any combination.
Generally, you can expect your mix to be an athletic medium-sized dog with a short to medium-length double coat.
Border Heeler colors and markings can vary quite a bit, but many are black mixed with areas of speckled white.
Blue Heeler Border Collie Mix Temperament
What kind of personality will your dog have?
Since both parent breeds have similar personalities, it's easier to predict what a Border Heeler's temperament will be.
The temperaments of most livestock herding dogs tend to be keen, alert, energetic, and smart.
It's important to note that Border Collies can be very high energy and the breed does not do well if they are not provided with adequate mental stimulation and exercise.
Blue Heelers can be a bit calmer than Border Collies, with many fans praising the breed's loyal and protective nature.
As with physical appearance, your mix's personality can favor one parent breed over the other. But one thing is for sure… your Border Heeler will need to spend lots of time with you to be happy.
So what about training?
Training Your Blue Heeler Border Collie Mix
Since the parent breeds are intelligent and have been bred to work alongside people, training should be easy, right?
Experts recommend early socialization and ongoing obedience training for smart and active herding dogs like the Blue Heeler Border Collie mix.
This type of dog requires physical and mental stimulation to keep them from getting bored. This will also stop them from engaging in destructive behavior when left alone.
Both the parent breeds as well as the mix do well in organized canine activities like herding, obedience, and agility trials.
But what about health? Is the Blue Heeler Border Collie a healthy dog?
Blue Heeler Border Collie Mix Health
Genetics and breeding play a large role in any dog's health. For a mixed breed dog, it's important to understand the potential health issues associated with both parent breeds.
While the backgrounds of the Blue Heeler and the Border Collie include vigorous livestock herding, both breeds can suffer from heritable health problems.
Like many of the medium- to large-sized breeds, the Australian Cattle Dog can suffer from hip and elbow dysplasia.
The breed is also prone to two inherited eye diseases, progressive retinal atrophy (PRA) and primary lens luxation, as well as congenital deafness.
Border Collies share some of the same inherited health conditions as Blue Heelers.
The breed can be prone to hip dysplasia, progressive retinal atrophy, and congenital deafness.
Border Collies can also suffer from some serious neurological problems, including epilepsy and a condition called Border Collie collapse.
Health Tests
Because your Border Heeler can inherit genetic health conditions from one or both parent breeds, it's important to choose a breeder that carries out adequate health screening on their dogs.
Health tests can come in the form of examinations performed by veterinary specialists or DNA testing.
All health tests should be documented and certified by a canine health organization such as the Orthopedic Foundation for Animals.
Does the Blue Heeler Border Collie Mix Make a Good Family Dog?
The Border Heeler can be an ideal pet for an active family with children.
Just be aware that if you have very young children or other animals, herding breeds can have a tendency to start herding your children and other pets!
Interactive play sessions with family members are essential for this high energy mixed breed.
They will thrive when included in your outdoor adventures and in organized canine activities like flyball.
Rescuing a Blue Heeler Border Collie Mix
Rescue can be a great option for potential owners seeking to adopt a Border Heeler, especially an adult dog.
Contact breed-specific rescue groups for both the Border Collie and Australian Cattle Dog to let them know you're interested in a mix.
You can also do a breed-specific search for a Blue Heeler Border Collie mix on pet adoption websites.
Finding a Blue Heeler Border Collie Mix Puppy
Avoid getting your Border Heeler puppy from an online advertisement or a retail pet store. Many of these dogs come from puppy mills and have chronic health problems.
Choose a responsible breeder who health tests their breeding stock and is willing to share all of the test results with their clients.
Your breeder should welcome in-home visits from customers and encourage you to meet all the puppies in the litter and the parents.
Raising a Blue Heeler Border Collie Mix Puppy
As we mentioned, early training is essential for an active intelligent dog like the Blue Heeler Border Collie mix.
It's important to start socializing and training your puppy right from the beginning. Consider enrolling your dog in a puppy kindergarten or working one with a professional trainer.
Herding dogs can be a challenge for inexperienced owners, so don't be afraid to ask for advice!
Blue Heeler Border Collie Mix Products and Accessories
Keeping your dog actively engaged in plenty of stimulating play sessions is essential for energetic intelligent breeds like the Border Heeler.
Besides making sure that you spend plenty of quality time with your dog, choose toys that will keep your dog occupied while you're away.
Pros and Cons of the Blue Heeler Border Collie Mix
Pros
The Border Heeler can be a loyal companion.
If you have required time and energy for a Blue Heeler Border Collie mix, sharing your life with one of these pups can be an absolute pleasure.
Cons
Border Heelers are not the best choice if you're looking for a lapdog or you spend a lot of time away from home.
Your dog's ancestors were bred to actively herd livestock alongside their humans. A bored Border Heeler that is left alone for long hours will get into some serious mischief.
Similar Blue Heeler Border Collie Mixes and Breeds
The Border Heeler is a popular mixed breed dog. But there are other herding breeds and mixes to consider if you're having trouble finding the right dog for you.
Purebred herding dogs come in all shapes and sizes, from the German Shepherd and Belgian Malinois to the Corgi and Finnish Lapphund.
Fans of mixed breed dogs can consider options like the cute "Aussie Sheltie" (Australian Shepherd Shetland Sheepdog mix) and the popular "Corman" (German Shepherd Corgi mix). Or perhaps the Border Collie Lab mix is the one for you!
Blue Heeler Border Collie Mix Rescues
So, do you have your heart set on a Border Heeler? As we mentioned earlier, breed-specific rescue organizations are a great place to look. Especially if you're interested in rehoming an adult dog.
In the US, check out Australian Cattle Dog Rescue and the Border Collie Society of America's list of state rescue groups.
In the UK, the Kennel Club provides links to Border Collie rescue groups. The Australian Cattle Dog Society of Great Britain maintains a list of available rescues.
Do you know any Blue Heeler or Border Collie rescues in Australia, Canada, or another country? Let us know in the comments section!
Is a Blue Heeler Border Collie Mix Right for You?
The Border Heeler can be a wonderful companion for the right person.
However, be aware that this mixed breed is not the best choice for less active seniors or apartment dwellers who spend long hours at work.
The Blue Heeler Border Collie mix is ideal for active adults and families who enjoy spending lots of time outdoors and interacting with their dog.
You may not have any sheep or cattle to herd, but your dog will love joining you for activities like flyball and agility trials.
Are you already sharing your life with a Border Heeler? Tell us about your best friend in the comments below!
References and Further Reading
Sommerlad SF et al. 2012 Prevalence of Congenital Hereditary Sensorineural Deafness in Australian Cattle Dogs and Associations with Coat Characteristics and Sex. BMC Veterinary Research.
Platt S et al. 2006. Prevalence of Unilateral and Bilateral Deafness in Border Collies and Association with Phenotype. Journal of Veterinary Internal Medicine.
Get Pippa's free dog training tips delivered to your inbox