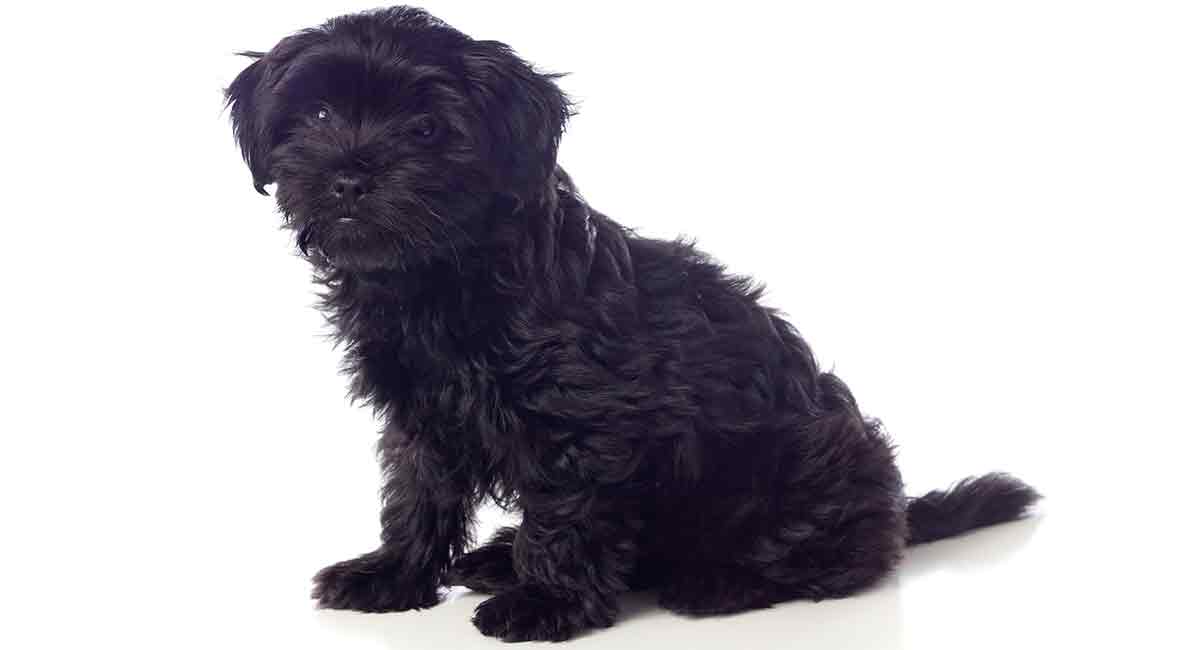 The Black Pekingese is one of many coat colors the modern purebred Pekingese dog can display. It can be all black, or be black with markings.
The black coat color is produced when a puppy has a dominant eumelanin (black pigment) gene.
The Pekingese breed comes in a huge variety of colors and sizes.
But this striking black fur on such a small dog makes the Pekingese look like canine royalty. It almost appears like they're wearing velvet cape as they float across the floor!
In this article, we take a look at the black Pekingese and learn more about their striking all-black coat color!
History of the Breed
The breed itself is also incredibly ancient.
To give you an idea, Asian legend suggests Buddha himself created these petite "lion dogs" by taking an actual lion and shrinking it down to a very small size!
Another legend tells the tale of a lion fell in love with a marmoset and the pair were granted divine permission to marry.
But only provided the lion would give up size and strength, which he did—and so, the Pekingese was born.
Modern Day Pekingese
Regardless of how the modern breed line actually evolved, when you get up close and personal with a Pekingese, it's easy to see this pup is a purebred canine through and through.
The breed has all the self-assurance of a precious overly-pampered pet. In fact, to hear Pekingese lovers tell it, this dog has no idea they are a dog!
The Pekingese expect and demand pride of place (usually in someone's comfy lap). And are absolutely certain they will receive the honor.
About the Black Pekingese Dog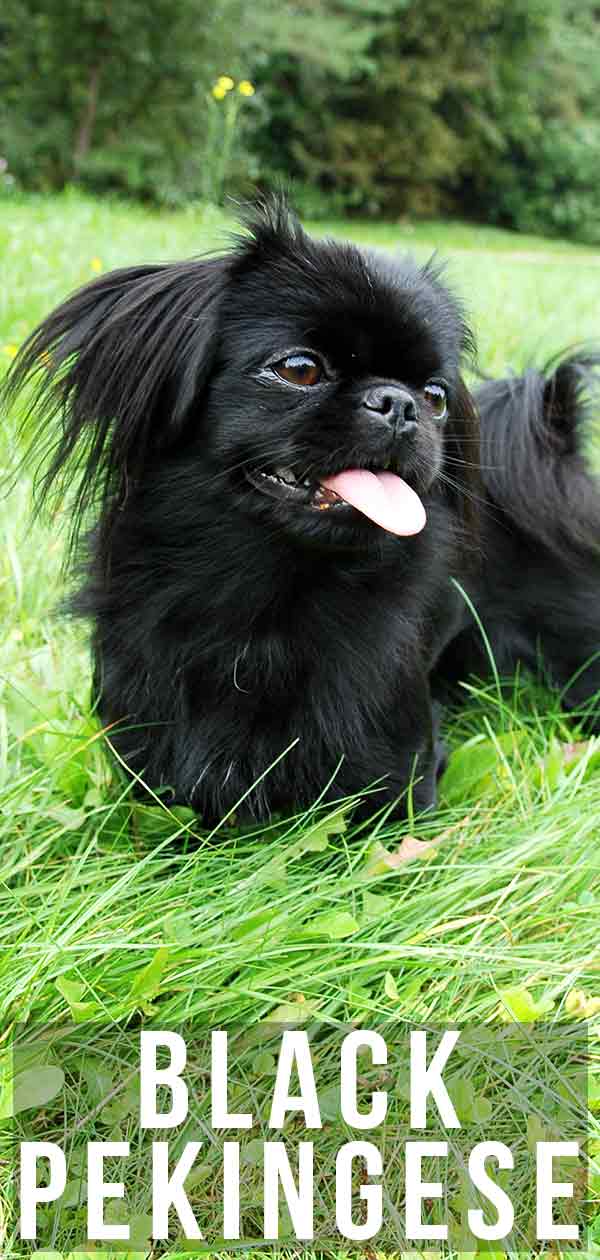 The black Pekingese can be all black or black with markings. These markings are usually tan or white, but can appear in several other colors as well.
What's so interesting about the breed's lineage is that early Pekingese dogs may have been extensively crossbred.
This means that "purebred" Pekingese were actually bred with a purebred dog of another breed to achieve certain desirable traits.
Desirable Pekingese Traits
Some of these traits include
the trademark long, straight hair
flattened (brachycephalic) muzzle shape
barrel chest
bowed legs
feathered tail and hocks
smooth and rough coat textures
variety of coat colors.
Influential Dog Breeds
It is believed the white coat or white markings of the Pekingese were added to the gene pool courtesy of a now-extinct Asian dog breed called the Happa dog.
In 1906, one such Happa dog named Ta-Jen was imported from Peking to the United States. The dog had a distinctive white spot of color between his eyes on his forehead.
Offspring of Ta-Jen were later crossed with the first known imported Pekingese, named Ah Cum, to produce the genetic line present in today's modern Pekingese.
Other potentially influential purebred dog breeds used by early Pekingese breeders include the Shih Tzu and the Pug.
Black Fur Genetics
Most people don't realize that the incredible diversity of dog coat colors, including the black Pekingese coat, stems from two basic pigments: red and black.
The black pigment is called eumelanin and the red is called phaeomelanin.
Certain cells called melanocytes are responsible for adding the appropriate pigment (known as melanin) to the coat, eyes, eye rims, nose, and lips.
When eumelanin is dominant in a puppy, a black Pekingese puppy will be produced with no other coloration.
In fact, the official breed standard states that the lips, nose, muzzle skin, and eye rims of the Pekingese should also be black—regardless of whether another coat color is also present.
Black and Tan Pekingese Dog
While there may only be two basic pigments that control for canine coat color, there are plenty of additional genes that direct how and when those black and red pigments are expressed.
In other words, whether or not the black and red pigments show up throughout a Pekingese dog's coat.
Let's take a closer look at another common and popular standard Pekingese coat color pattern, the black and tan Pekingese.
The black color is typically (but not always) dominant within this coat color pattern, except around the chin, above the eyes and on paws.
When this pattern occurs, it can really enhance the "lion's mane" appearance of the neck ruff!
Sometimes the black and tan Pekingese may also have white patches. If white is also present, the pattern is referred to as "parti-colored" instead of "black and tan."
Black and White Pekingese Dog
White is a particularly prized color in the Pekingese breed. This dates all the way back to ancient Asia, where white was the official color of mourning.
Therefore, an all-white dog was considered sacred.
Check out some of the different Pekingese color patterns here, including the all-white coat.
One highly common mistake people make is confusing white dogs with an albino.
Albino Pekingese
Albino is not a coat color at all. In fact, it is the genetic absence of pigment in the skin, eyes, and coat.
This creates the signature white skin, white coat, and pale eyes that characterize albinos of any species.
An albino Pekingese will not have any other coloration anywhere on their face or body.
Except for the eyes, which can be red, pale blue, or other colors depending on the underlying physiology, such as red blood vessels within non-pigmented irises.
Back to White Fur
In contrast, the white coat color occurs when neither the red nor black pigment shows up in the coat.
This absence of pigment in specific hairs or all over the coat causes the coat to appear white.
In addition to the premier all-white Pekingese coat color, the presence of white patches in specific places are highly prized and sought after in Asian culture.
In one historical account of the "first Pekingese dogs", dogs with a white blaze (marking) on their forehead between the eyes were said to have been "marked by the Buddha."
The black and white Pekingese coat color is not mentioned in the official Pekingese breed standard as being a coat color pattern, per se.
But both black and white are standard coat colors, as are white markings and a black mask.
Any combination of these can produce a black and white Pekingese.
Other Black Pekingese Coat Color Combinations
Pekingese puppies can display a number of other recognized (standard or non-standard) coat colors a Pekingese dog can display, including
biscuit
cream
fawn
fawn sable
gray
red
red sable
fawn brindle
white
gray sable
light red
red brindle.
What Affects Coat Color
Sometimes, the red coloration (phaeomelanin) can be affected by a dilute gene thereby creating a much lighter coat color.
Some cream or biscuit coat colors in the Pekingese can be so light they almost appear ivory or pure white. Particularly, when viewed in a certain light.
This holds true whether the color is expressed as part of a parti-color or single (self) color coat.
Similarly, sometimes a black Pekingese can also appear to be lighter than a true black for a variety of reasons.
Lighter Black Pekingese Fur
For example, when the black is affected by a dilute gene, the coat can appear brown, blue, gray, or blue-grey in color.
Sun exposure is another reason the black Pekingese may appear lighter.
Damage from the sun can start to fade black to brown, grey, or even a bluish-gay.
This is not unlike what happens when you spend time in the sun over the summer and your hair starts to develop highlights!
So, if you plan to breed your Pekingese and you have your heart set on producing black, black and white, or black and tan puppies, you'll definitely want to study coat color genetics!
Black Pekingese and Health
According to the official Pekingese breed standard, all coat colors are recognized and therefore, permitted in the show ring for dog competitions.
However, what is most interesting about black Pekingese and other black-coated dogs is that this coat color may also confer important immune system benefits.
More specifically, one study confirmed a link between black fur on dogs and improved immune function against both stress and infection.
This is particularly important for purebred dog breeds like the Pekingese.
Brachycephalic Breeds
The brachycephalic (flat-faced) muzzle shape can be problematic and cause serious lifelong health issues, including
respiratory problems
dental issues
eye infections
gastrointestinal challenges.
It is safe to say brachycephalic dog breeds, however cute, need all the extra immune system support they can get.
Is the Black Pekingese the Right Dog Breed for You?
Now that you've had a chance to learn more about the unique black Pekingese coat color and the most popular color patterns featuring black, is this the right pup for you?
We'd love to hear your thoughts in the comments section below!
References and Further Reading
Candille SI. et al. 2007. A β-Defensin Mutation Causes Black Coat Color in Domestic Dogs. Science. DOI: 10.1126/science.1147880
Schmutz SM and Berryere TG. 2007. Genes affecting coat colour and pattern in domestic dogs: a review. Animal Genetics. DOI: 10.1111/j.1365-2052.2007.01664.x
Get Pippa's free dog training tips delivered to your inbox