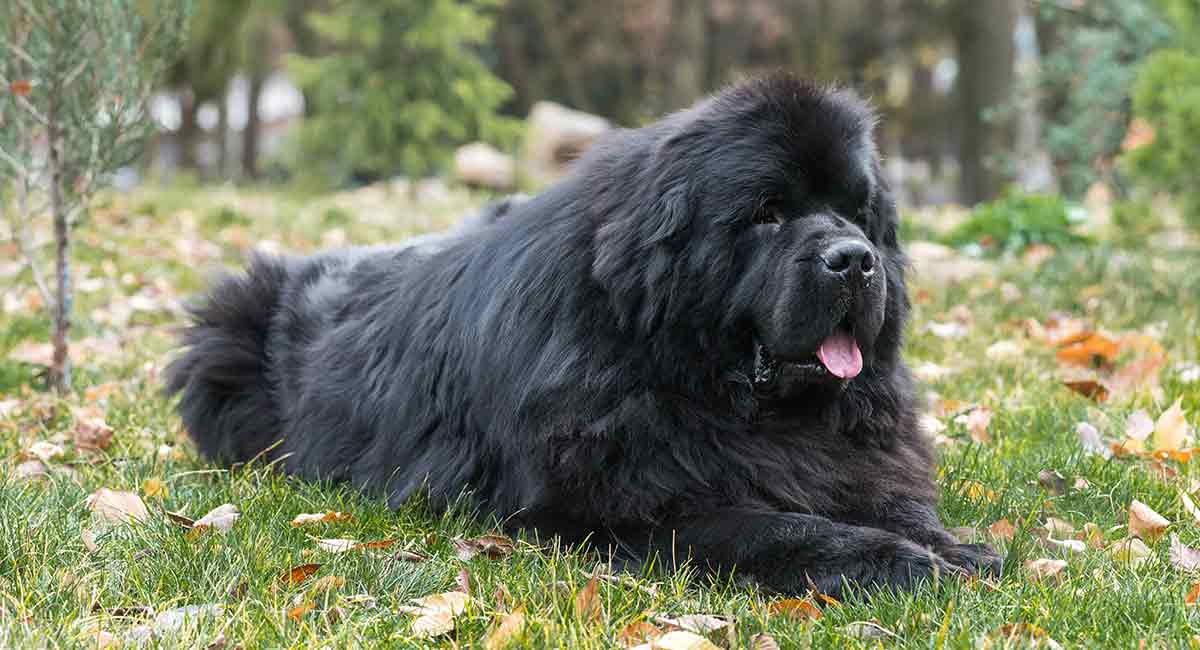 Black Newfoundland: The Newfoundland is a large Canadian breed known for its heroic nature and stunning size.
Fluffy, beautiful, and sweet to boot, this big breed makes a fabulous pet for those who don't mind all that fur and drooling.
But what about a Black Newfoundland? Are black Newfies any different from their other Newfie counterparts?
Join us as we discover the world of genetics and whether or not coat color plays a role in the Newfoundland's health and overall temperament.
What Is A Black Newfoundland?
The black Newfoundland dog is one of four color types of the purebred Newfoundland. As mentioned above, the Newfoundland is a large dog with lots of fur and hanging jowls that produce lots of drool.
He is a working dog who, although famously large, is known for his sweet and gentle disposition.
Is A Black Newfoundland Rare?
If you have gotten your hands on a gorgeous Black Newfie and are wondering if he is a rare color type, the answer is no.
Black Newfoundland dogs are not rare.
In fact, black is one of the most common colors of modern-day Newfs.
Newfoundlands also come in brown, grey, and white.
The color of your Newfoundland is a matter of genetics. Just as his size and sex will be determined by his parents, so will his coloring.
According to veterinarian Lynn Buzhardt, coat color in dogs is primarily determined by two basic colors—black and red. These colors are determined by the DNA of the parent breeds.
Interestingly, this article by J. Bondeson also states that Newfoundland dogs were once primarily white and black or white and brown.
This changed in the 1840s, however, after the "solid gene" was introduced to Newfoundland dogs in Britain.
According to Bondeson, the solid gene is dominant. Along with the dominant gene and selective breeding, black has now become one of the most common colors of a modern-day Newfoundland dog.
Still, just because your black Newfie isn't considered rare does not mean he isn't one of a kind. Keep reading!
Where Does the Black Newfoundland Come From?
As previously mentioned, the Newfoundland dog hails from Canada where he was primarily used by fisherman to haul heavy loads in from the water, like nets rich with the day's fresh catch.
The Newfie has webbed paws and a thick, double coat that helps protect him from harsh, cold environments. This makes him a natural born swimmer and an excellent candidate for heroic deeds.
Amazingly, this breed's sheer size and strength combined with his loyal personality and fierce bravery have made this breed a powerful superhero when it comes to water rescue.
Still considered one of the most prominent rescue dogs to date, the Newfoundland breed is employed all over the world to undertake daring rescue missions.
With that being said, you could consider the Black Newfoundland to be the Black Knight of the canine kingdom.
His Batman-like heroics and devoted disposition keep him ranked 35th of 194 on the American Kennel Club's list of America's favorite dog breeds.
But this is nothing new.
History is filled with incredible stories in which the Newfoundland stars, including those that describe a Newfie named Seaman, who assisted Lewis and Clark on their expedition across America.
But America isn't the only country to treasure this heroic breed.
England boasts a famous tourist attraction in Newstead Abbey dedicated to Boatswain, a Newfoundland owned by famed poet Lord Byron.
Known affectionately by many as a "nanny dog", the Newfoundland's outstanding patience and affinity for children has made him an exceptional family companion.
But the Newfie isn't all fun and games. Remember, this is a big breed whose thick coat sheds profusely and whose large jowls produce lots of drool.
But does a Black Newfoundland have different grooming requirements than other colored Newfoundlands?
Black Newfoundland Grooming
The black Newfoundland dog's coat is thick, dense, and double layered.
This means he will shed continuously year around and more profusely during shedding season, which is during the spring and fall months.
Luckily, the color of your Newfie won't make much of a difference when it comes to how you groom or care for him.
For the most part, any Newfoundland dog, whether or not he is black, black and white, brown, or grey will need to be brushed at least once a week to help reduce loose hair and prevent matting.
Your Newfie will also need his nails trimmed regularly and his ears cleaned to help prevent ear infections.
Also, while this breed loves water, he will really only need an occasional bath unless he gets himself particularly dirty. This is entirely possible considering this breed's fearless and adventurous nature!
How Big is A Black Newfoundland?
Newfoundland's are famously large dogs, so you can prepare for your Black Newfie to be anywhere between 130 to 150 pounds for males, and 100 to 120 pounds for females.
Newfoundland dogs can grow to be as tall as 28 inches, with females being only a little shorter, typically around 26 inches.
So yes, the Newfoundland is a lot of dog!
What Are the Physical Characteristics of a Black Newfoundland?
Beautiful, muscular, and big boned, the black Newfoundland is a massive combination of black fur and power.
He has a large head with floppy ears, a thick, water-resistant coat, a long tail, and massive paws.
His round, brown eyes and the loose skin around his face make for a sweet looking pup with a sincere expression. Although potential owners beware, a Newfoundland's hanging jowls lead to lots of excessive drooling!
Black from head to toe, a truly black Newfoundland won't have a speck of white on him. Although many Newfoundland's can be primarily black with a patch of white on their chest.
A Newfoundland is also said to carry his head high. The American Kennel Club calls him a "well-balanced dog", meaning he is for the most part proportionate, from big wet nose to long, wagging tail.
Lifespan and Health Issues in Black Newfoundlands
Most large breeds are notorious for having a shorter lifespan, and unfortunately, the Newfoundland is no exception.
This breed, whether he is black, black and white, brown, or grey, will live to be between nine and ten years on average.
The Newfoundland dog can also be prone to a number of serious health concerns, which can plague him regardless of his coat color.
These issues include Bloat, also known as Gastric Torsion, and orthopedic issues like hip dysplasia and elbow dysplasia.
A black Newfoundland dog can also be prone to suffering from heart issues. These include Dilated Cardiomyopathy (DCM), and subvalvular aortic stenosis (SAS).
You should also keep an eye out for cystinuria, a genetic disorder that affects the kidneys and can lead to kidney or bladder stones.
And while the above list may sound daunting, we should note that all breeds, whether they are purebred, crossbreeds, or mutts, are prone to genetic health issues.
With any dog, it is important to maintain good health by ensuring he gets the proper amount of exercise, eats a good, balanced diet, and sees his veterinarian regularly.
Black Newfoundland Temperament
From what we have learned so far, it should come as no surprise that the temperament of the Black Newfoundland is ideal for those looking for a wonderful family dog.
This breed is loyal, even-tempered, and sweet in nature.
And while he is very large, he is not overly energetic. This is an indoor companion dog who will need only a moderate amount of exercise each day to stay happy and healthy.
In fact, according to the American Kennel Club, a good half hour of exercise each day should be just enough to keep your black Newfoundland happy and healthy.
Still, this breed loves outdoor activities and that includes swimming! He can be prone to getting messy but is a great listener and is easy to train.
Although there may not be an aggressive bone in your black Newfoundland's body, he is still a large breed who should be properly socialized and trained early on in puppyhood. This will help to ensure he grows up happy, healthy, and well rounded.
Always use positive reinforcement when training your black Newfoundland. Remember, this is a breed who is eager to please and will respond best to praise and treats over scolding any day!
Is A Black Newfoundland Born Black?
Puppies are born with soft puppy fur that often changes texture and color as they grow.
Newfoundland puppies can be born a number of shades and colors. While their coats will change, the colors they are born with will typically stay similar.
If you have a black Newfie puppy, chances are he will remain black as he gets older.
However, if you have a black Newfoundland puppy with a white chest, sometimes that white patch will go away as he ages, and he will turn all black.
As we mentioned above, Newfoundland colors range from brown, black, black and white, and grey, with variations of the shades in between.
Should I Get a Black Newfoundland?
Black Newfoundlands are wonderful dogs, and while they are massive in size, they are really quite docile and sweet.
They make for excellent indoor companions. An ideal home would be one that is large enough to accommodate their size while also allowing them free time in a backyard.
The right owner of a black Newfoundland will be prepared to take their dog on a walk every day for at least half an hour. It's also worth repeating you will need to be someone who won't mind lots of drool and loose hair from that Newfoundland coat in their home.
Remember, the Newfoundland is not an outdoor dog and does best in the home with his human family members.
He gets on excellently with children and other animals and will keep a watchful eye on them while being gentle, playful, and sweet.
Choosing a Healthy Black Newfoundland Puppy
If you have decided that a black Newfoundland is right for you, you will want to make sure you do plenty of research to ensure that you get your Newfie from a reputable and responsible source.
Breeding standards are very important when it comes to the Newfoundland, as irresponsible breeding practices can lead to health and temperamental issues.
When getting your black Newfoundland from a reputable breeder, you can expect to pay anywhere from $800 to $1500. If your Newfoundland puppy's parents are show quality the cost can be even more.
But how do you tell if you have come across a reputable breeder?
Most trustworthy breeders will have certifications proving their dogs have been health screened and are good to go. Don't be shy when asking questions or requesting to see this paperwork.
Don't have $1500 to fork over to a breeder?
If you are looking to save money, there are plenty of rescues dedicated to Newfoundland dogs.
You can adopt a black Newfoundland from a local shelter for anywhere between $50 to $100.
Best of all, most shelters will cover your dog's initial vet fees, ensuring your dog is ship shape and ready to go home with you!
Are you the proud owner of a black Newfoundland? We would love to hear from you! Share your comments with us below.
References
V.M.D. M.S. R.L. Pyle, D.V.M., D.Sc., D.F. Patterson, D.V.M., PhD., S. Chacko, The Genetics and Pathology of Discrete Subaortic Stenosis in the Newfoundland Dog, American Heart Journal,
Lynn Buzhardt, DVM, Genetics Basics – Coat Color Genetics in Dogs, VCA Hospitals,
Ross D. Clark, DVM, Medical, Genetic & Behavioral Risk Factors of Pomeranians, Origin, and History, Breeding and Whelping, Recognized Risk Factors in Pomeranians
A.Ruvinsky, J.Sampson, The Genetics of the Dog, Chapter 4, Page 81, Genetics of Coat Colour and Hair Texture
S. M. Schmutz, T. G. Berryere, Genes Affecting Coat Colour and Pattern in Domestic Dogs: A Review, Animal Genetics,
Tiffani J Howell, Tammie King, Pauleen C Bennett, Puppy Parties and Beyond: the role of early age socialization practices on adult dog behavior, Volume 6, pages 143-153
Anje C. Wiersma, Polona Stabej, Peter A.J. Leegwater, Bernard A. Van Oost, William E. Ollier, Joanna Dukes-McEwan, Evaluation of 15 Candidate Genes for Dilated Cardiomyopathy in the Newfoundland Dog, Journal of Heredity, Volume 99, Issue 1, Pages 73-80,
J. Bondeson, Historical Analysis of Newfoundland Dog Fur Colour Genetics, Open Veterinary Journal,
Get Pippa's free dog training tips delivered to your inbox