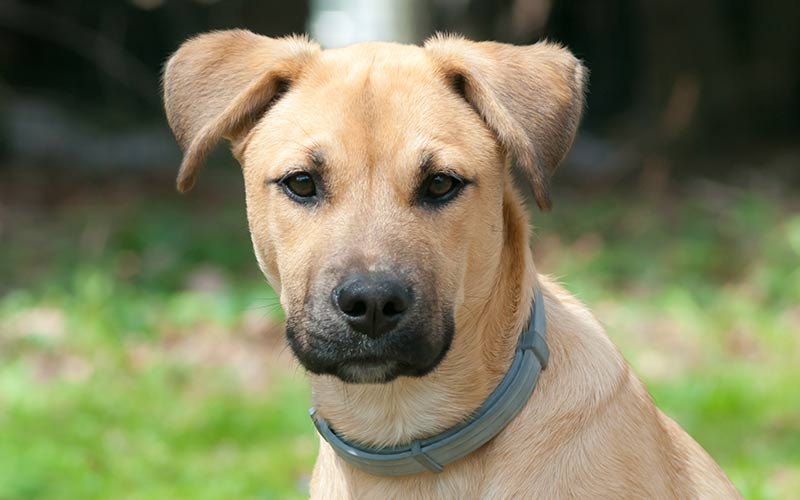 Welcome to our complete guide to the beautiful Black Mouth Cur dog breed.
Putting the pros and cons of this distinctive breed under the microscope.
The Black Mouth Cur can be described as a true dog lover's breed.
While not as well-known as some other dog breeds, once you discover this fascinating dog, you're sure to be an admirer for life.
Whether you're considering a Black Mouth Cur as a pet, a working dog, or are just interested in getting some Black Mouth Cur info to learn more about this breed, we'll tell you all you need to know about this special dog.
What is a Black Mouth Cur?
The Black Mouth Cur is a versatile working dog breed. Developed in the rural southern United States from dogs first brought to America from England.
They are hard working hunting and herding dogs, and recent interest in the breed has increased their popularity as companion animals as well.
The dog in the classic American children's novel about a boy and his beloved dog, Old Yeller, is thought to be a Black Mouth Cur.
Black Mouth Cur history
The Black Mouth Cur has a long and interesting history.
The English origins of the breed are evident in the name. "Cur" is an old English term for cattle-driving dogs.
When English settlers arrived in the American South, they brought their working dogs with them.
These dogs would eventually become the modern breed we know today.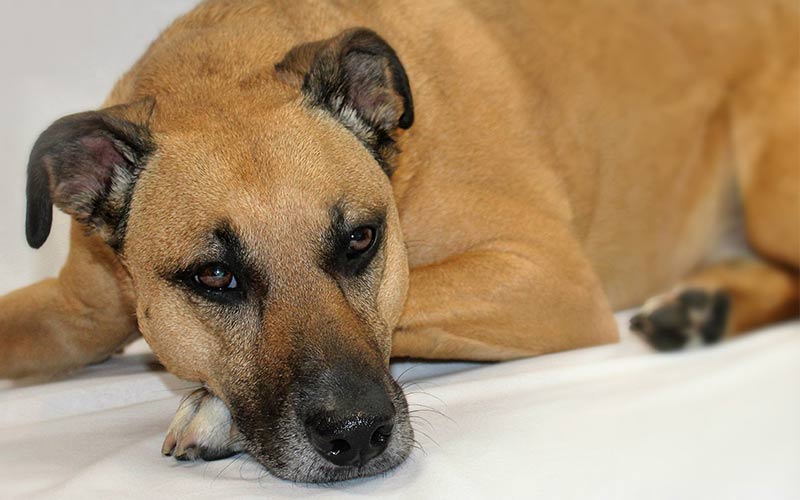 The word "cur" also refers to many types of treeing dogs common in the American South.
Treeing dogs are hunting dogs that drive animals (especially raccoons) up into trees.
Besides the Black Mouth Cur, other common treeing dogs include the Yellow Black Mouth Cur, the Southern Black Mouth Cur, and the Catahoula and Tennessee Brindle curs.
Is a Black Mouth Cur the right dog breed for you?
Long-valued as a tough and dedicated working dog, does the Black Mouth Cur make a good family pet, too?
Black Mouth Curs can be a great choice if you love active dogs and have lots of outdoor space.
Let's take a closer look at some of the key characteristics of the breed, so you can make an informed decision before acquiring a dog from a rescue or breeder.
Black Mouth Cur personality
Besides being used as hunting and livestock dogs, Black Mouth Curs were also bred to be loyal guardians of their human family members and farm property.
A main component of the Black Mouth Cur personality is their protective nature.
While they can be friendly and sociable with other animals, they are quick to defend anything they regard as their "turf."
Proper socialization can help to decrease these instincts.
From the day you bring your puppy home you will need to invite over lots of guests, of all shapes, sizes and ages!
Get them used to your home being somewhere that visitors are welcomed and enjoyed – which you can help by asking them to give your pup a treat or two on arrival.
You must also make sure to see both your pup's parents, and look at how happily they welcome you into their home.
They don't need to be overly delighted to see you, but should seem relaxed and comfortable.
Black Mouth Cur temperament
The Black Mouth Cur temperament can best be described as brave, tenacious, and always eager to please their owners.
Their long history as a working dog breed makes them smart, alert, active, and very trainable.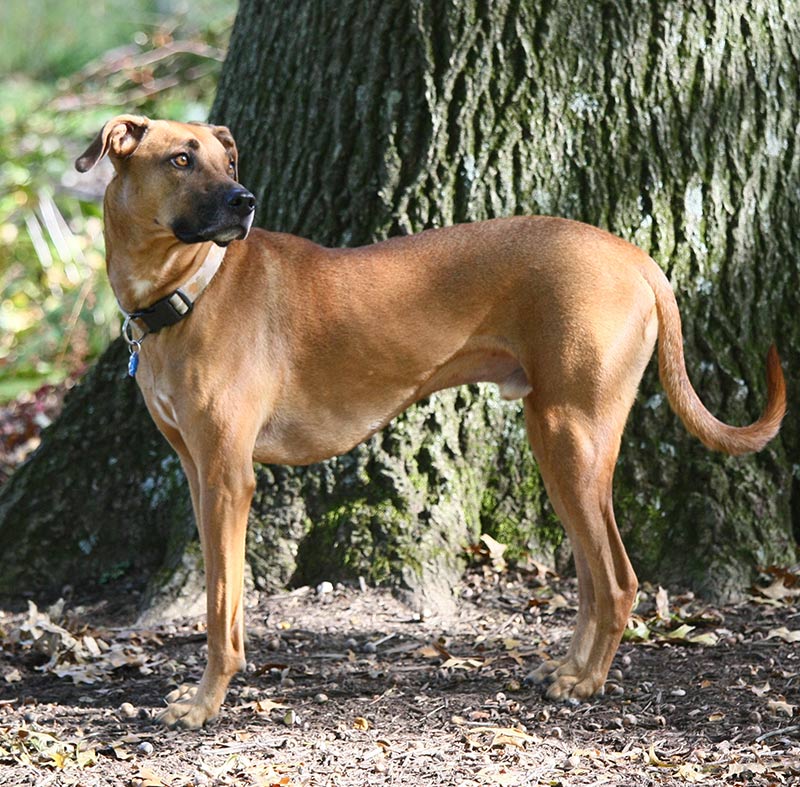 Training is key to socializing a purebred or Black Mouth Cur mix.
Because they are high-energy dogs that are protective of home and family, they should be properly trained from puppyhood to ensure that they don't misbehave around other people or animals, especially strange dogs and small pets such as cats.
Black Mouth Cur hunting
For active and outdoorsy owners, it doesn't get much better than a Black Mouth Cur hunting dog!
If you are interested in hunting with a Black Mouth Cur, be prepared for a loyal, tough, and hard-working hunting companion.
The Black Mouth Cur dog breed is a very versatile hunting dog.
Experts note that this type of large, athletic dog is well-suited to many types of hunting.
Including large game like wild pigs, bears, and mountain lions, as well as smaller game such as squirrels, raccoons, and rabbits.
Black Mouth Cur weight
Adult Black Mouth Cur weight ranges between 40 and 90 pounds, depending on the dog's sex, health, and genetic background. Females can be as small as 35 pounds.
Owners prefer treeing males to be on the smaller side, while herding males tend to be at the high end of the weight scale.
Black Mouth Cur health problems
A generally healthy and robust breed, thanks to its background as an everyday working dog, the Black Mouth Cur has fewer genetic diseases than more stereotypically "purebred" dogs.
Experts note that because owners have depended on the strength and stamina of these dogs, genetic defects are much more likely to be weeded out of the gene pool.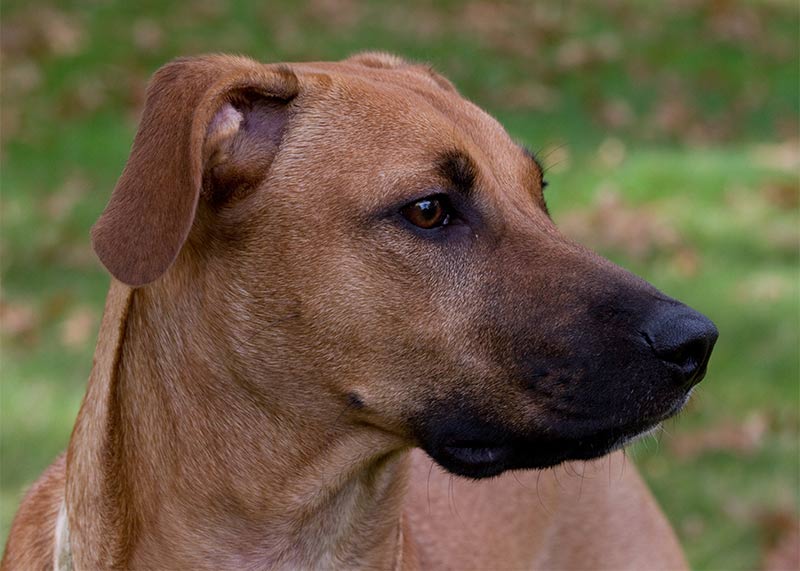 But there are still a few health issues potential owners should know about.
Drop eared breeds like the Black Mouth Cur can be prone to ear infections.
This is especially likely if they spend most of their time outdoors in damp conditions…not uncommon for a Black Mouth Cur.
Their ears should be examined on a regular basis. Look for ear mites and signs of infection.
There should be no wax build-up or unpleasant odor.
Regular cleanings are key to maintaining healthy ears in your Black Mouth Cur dog.
Some skeletal and eye issues have also been reported.
Your dog should be monitored for hip and elbow dysplasia. Dysplasia can be common in large-breed dogs.
It occurs when the joint is improperly formed, leading to pain and loss of function.
When buying a puppy both parents should have good hip scores to help reduce the chances of your pup suffering.
Eye Problems
Eyelid problems called entropion and ectropion, cataracts, and a condition known as progressive retinal atrophy (PRA), which can cause blindness, are eye problems seen in Black Mouth Curs.
Entropion is when a dog's eyelids turn inwards and ectropion occurs when the lids fold outwards.
In cataracts, the lens of your dog's eye can cloud over, leading to vision problems. PRA is a genetic condition that causes the retina to deteriorate.
A reputable Black Mouth Cur breeder will not breed dogs with genetic conditions like PRA.
When buying a puppy, ask whether any testing has been done on the puppy and its parents.
All reputable breeders will be able to show you certification that the puppy does not have bone or eye defects.
Black Mouth Cur life expectancy
The Black Mouth Cur has a long lifespan for a larger-sized dog, thanks mainly to its breeding history as hearty working dog.
The life expectancy ranges from 12 to 16 years.
Black Mouth Cur price
If you are thinking about acquiring a Black Mouth Cur puppy from a breeder, expect to pay between $300 and $500, with dogs on the lower end of the price range being quite common.
The Black Mouth Cur generally costs much less than similar dog breeds, such as the Rhodesian Ridgeback, which can be over $1,000.
Black Mouth Cur breeders
Your Black Mouth Cur breeder needs to be interested in the temperament and health of their puppies.
Both parents should have been health tested for hip and elbow dysplasia and have good scores.
They should also both be clear for PRA and have never had an operation to correct entropion or ectropion.
They should be happy to help you arrange to meet both parents if you wish, but the mother is essential and should be with her puppies when you visit.
A good breeder will ask you lots of questions about the time you will spend with the puppy, socializing and training her as she grows.
Black Mouth Cur Puppies
Black Mouth Cur puppies are—of course—completely adorable! But before choosing a puppy, it's important to know if you want a dog for hunting, herding, or simply companionship.
Because they are such active and intelligent dogs, early training and socialization is essential, so be prepared to make that commitment.
Should you get a male or female puppy? Gender is less important than a good overall temperament if you are looking for a family pet.
Black Mouth Cur rescue
Looking to adopt a Black Mouth Cur? The large and energetic Black Mouth Cur can sometimes be more dog than a novice owner can handle.
This means that there are many available for adoption around the U.S.
While there is no national Black Mouth Cur rescue organization, many local shelters and rescue groups do feature available Black Mouth Curs.
Black Mouth Cur mix
Don't care if your Black Mouth Cur is a purebred? A Black Mouth Cur mix just may be the perfect dog for you.
Since curs have always been working dogs, many admirers are open-minded about pedigree, and are happy to share their lives with a mixed breed.
Black Mouth Cur mixes are easy to identify if they retain the general body type and distinctive dark muzzle of the breed.
Mixes are often available for adoption, and some commonly-seen cross breeds include Boxers, Pit Bulls, German Shepherds, and Labradors.
When you buy a mix breed puppy, the other parent also needs to be fully health tested for diseases relevant to their own breed.
Should I buy a Black Mouth Cur?
Is a Black Mouth Cur the perfect dog for you?
The ideal owner is an active, outdoorsy, and experienced dog person.
If you live in a small city apartment and work long hours, the Black Mouth Cur is probably not the breed for you.
You will also have to commit to thoroughly socializing your puppy, choosing one from friendly health tested parents and to spending time each week training him for the rest of your dog's life.
If you appreciate a loyal, active, intelligent, and protective dog, it doesn't get much better than the Black Mouth Cur…a real dog for true dog lovers!
References
Get Pippa's free dog training tips delivered to your inbox