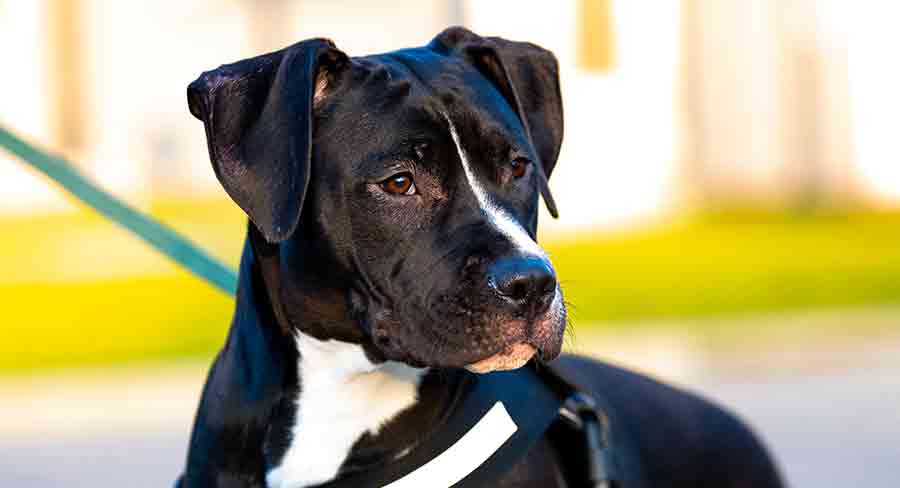 Black and white pitbull dogs carry a specific type of coat color gene, called a white spotting gene.
Regardless of which pitbull breed they belong to, having a lot of white in their coat increases their risk of deafness.
But in every other respect, they will be just like the other members of their breed.
What is a Black and White Pitbull?
A black and white pitbull is a dog belonging to one of the pitbull breeds, with a black and white coat.
The dog breeds generally though to be 'of pitbull type' are:
American Pitbull Terriers (also known as APBTs)
Staffordshire Bull Terriers (also called Staffies)
American Staffordshire Terriers (a.k.a. Amstaffs)
American Bulldogs
and Bull Terriers.
They are also sometimes known as 'bull type' dogs, or the 'bull type terriers'.
All of these breeds are accepted in black and white by their official breed standard. But, each breed standard places different emphasis on what ratio of black to white is most desirable.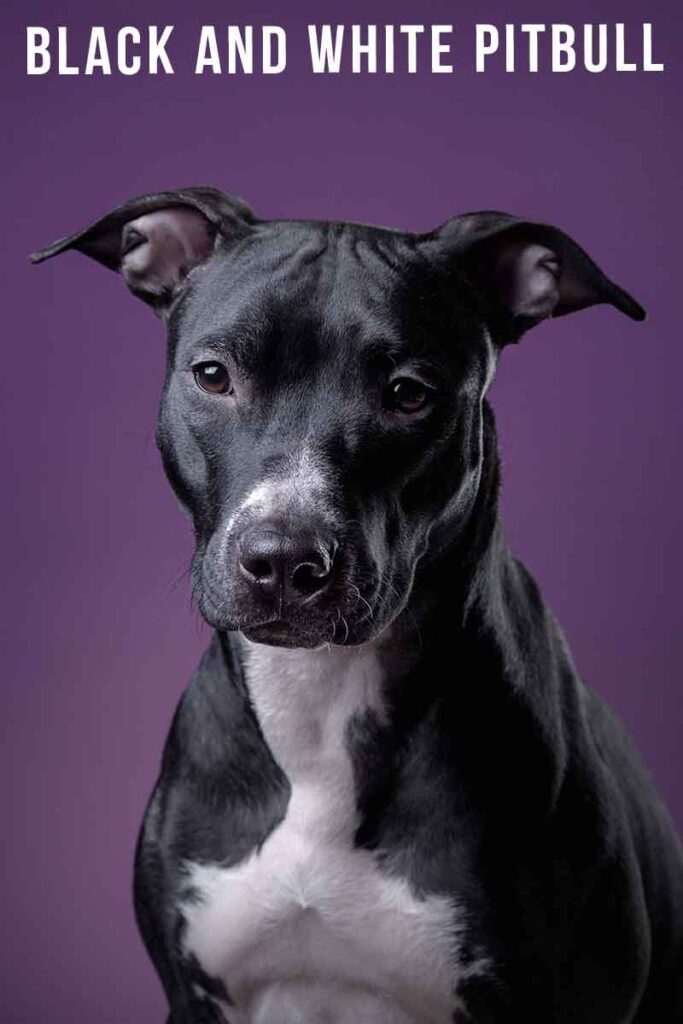 The Amstaff breed standard discourages black and white dogs with more than 80% white in their coat. Entirely black dogs are acceptable.
American Bulldogs must have some white markings, and anything less than 10% white in their coat is considered a serious fault.
Bull Terriers are divided into white and colored varieties. White dogs can have small black markings on their head. Colored Bull Terriers can be black with white markings, but the breed standard favors brindle coats, so plain black coats are relatively uncommon.
Only the Staffie and the ABPT breed standards are completely neutral on exactly what a black and white pitbull dog belonging to their breed should look like.
Black and White Pitbull Genetics
All black and white pitbulls are black with white markings, as opposed to white with black markings.
This is true even for dogs that are mostly white, with just a small amount of black.
Their white markings are caused by white spotting genes.
Researchers haven't determined yet exactly how many types of white spotting gene there are, or how they interact with each other, and with other genes.
But we do know that the spread of white markings always follows the same pattern.
The smallest white markings start with a medallion on the chest, a white muzzle, white socks, and a white tip on the tail.
From this starting point, white markings always spread 'inwards', over the belly, and around the saddle and neck.
The last patches of black left on dogs with large white markings are always on the ears, and at the base of the tail.
Black and White Pitbull Health
The health of a black and white pitbull depends upon genetic factors (such as their specific breed, and the individual health of their parents) and environmental factors (such as their diet, and how much exercise they get).
All of the pitbull breeds are more than averagely prone to:
Degenerative myelopathy
Hip dysplasia
Elbow dysplasia
These all have a hereditary, genetic component. So dogs should be tested for them before they're used as part of a breeding programme, in order to protect the next generation.
In addition:
APBTs, Staffies, Amstaffs and American Bulldogs are also prone to thyroid disease.
Staffies, Amstaffs and American Bulldogs are more than averagely likely to have to visit the vet with dental problems.
Over a quarter of Amstaffs carry the faulty gene for neuronal ceroid lipofuscinosis – a neurological condition that causes anxiety, aggression, and loss of learned skills. Breeding dogs should be tested so that two carriers aren't mated together.
In addition to hip and elbow dysplasia, American Bulldogs are also prone to diseases of their knee joints.
And Bull Terriers have higher rates of heart disease and eye disease than the other pitbull breeds, or the general dog population.
The white spotting gene, and deafness
Finally, dogs with lots of white in their coat are also more likely to be diagnosed with deafness or hearing loss.
This is thought to be because the white spotting genes affect melanocytes – cells which play roles in both pigment production, and making delicate sound-receiving hair cells for the inner ear.
Dogs with a mostly white coat, or whose white areas cover one or both ears, are more likely to be diagnosed as deaf.
Black and White Pitbull Temperament
Black and white pitbull temperament is usually in line with the temperament of the rest of their breed.
All of the pitbull breeds are playful, intelligent, quick problem solvers, and famously devoted to their human families.
But they were also all developed from dogs originally used in dog fighting and other blood sports.
And for this reason, they are still more likely than the average dog to display dog-directed aggression.
Black and white dogs with some deafness due to the amount of white in their coat might also behave differently as a result of their hearing loss.
For example why might be more easily startled.
Are black and white pitbulls dangerous?
Pitbull type dogs, and in particular American Pitbull Terriers, have a reputation for being aggressive, and even dangerous.
Several factors increase the probability of a dog behaving aggressively. Including
old age
being male
fearfulness
small body size
being their owner's first dog
and their breed.
Pitbulls tend to score highly for strange dog directed aggression, but low for human-directed aggression.
In fact it's often said that they make terrible guard dogs, because they're so friendly!
But, in a world where lots of other people own dogs too, the risk of dog-directed aggression is something to be prepared for.
Ask breeders what a puppies' parents are like with other dogs, and plan lots of positive experiences with calm, older dogs before they reach 12 weeks old.
And while people are actually relatively unlikely to be bitten by a pitbull, unfortunately when it does happen, the likelihood of the injury being severe is increased.
Pitbull type dogs were bred for impressive jaw strength, so they can do a lot of damage.
Your Black and White Pitbull
All of the pitbull type dogs can have black and white coats.
But, you are more likely to meet some types than others – black and white Bull Terriers are somewhat rare, for example.
To find out more about each of the pitbull types which is readily available in black and white, visit us at the following pages:
And you can read more about the other pitbull colors here:
Finally, bear in mind that in some regions, it is illegal to own an American Pitbull Terrier. Check your local legislation before you commit to a dog!
Do you already have a black and white pitbull or are you bringing one home?
Which breed does your pup belong to?
Tell us about them in the comments box down below!
References and Resources
Baranowska Korberg et al. A Simple Repeat Polymorphism in the MITF-M Promoter Is a Key Regulator of White Spotting in Dogs. Plos One. 2014.
Duffy et al. Breed differences in canine aggression. Applied Animal Behavior Science. 2008.
Golinko et al. Characteristics of 1616 Consecutive Dog Bite Injuries at a Single Institution. Clinical Pediatrics. 2016.
Mikola et al. Aggressive behaviour is affected by demographic, environmental and behavioural factors in purebred dogs. Scientific Reports. 2021.
Orthopedic Foundation for Animals
Strain. The genetics of deafness in domestic animals. Frontiers in Veterinary Science. 2014.
Get Pippa's free dog training tips delivered to your inbox