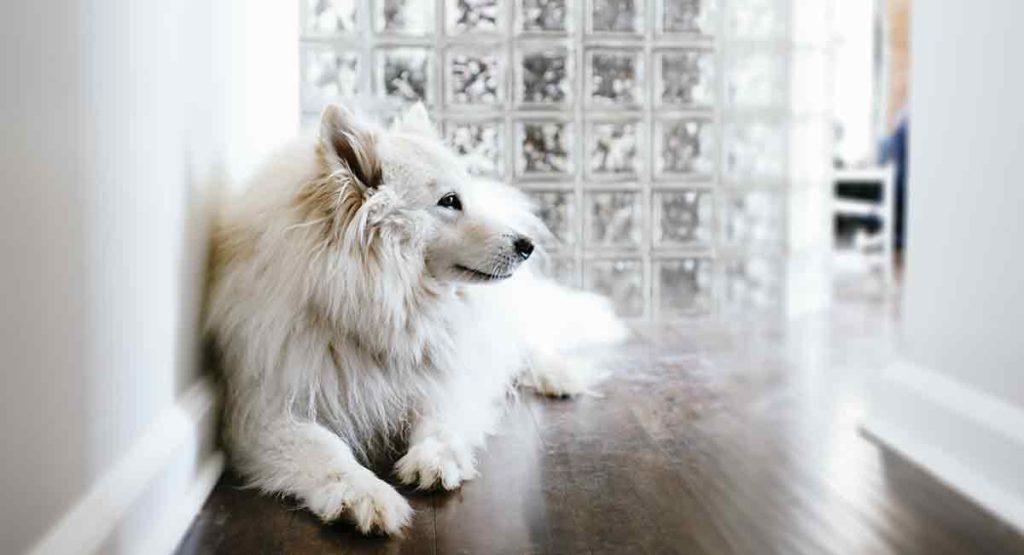 Big white dog breeds are popular all over the world, as the list you are about to enjoy can attest!
In this article, you will meet large white dog breeds from all across the globe.
From North America to Siberia, Japan to Ireland, South America to Italy, people are sharing their lives with big white dog companions they love.
The diversity in these dogs' appearance is often remarkable.
Some of these big white dog breeds look more like mops while others appear to be canine fashion models.
So now let's meet some of the most beloved big white dog breeds from around the world!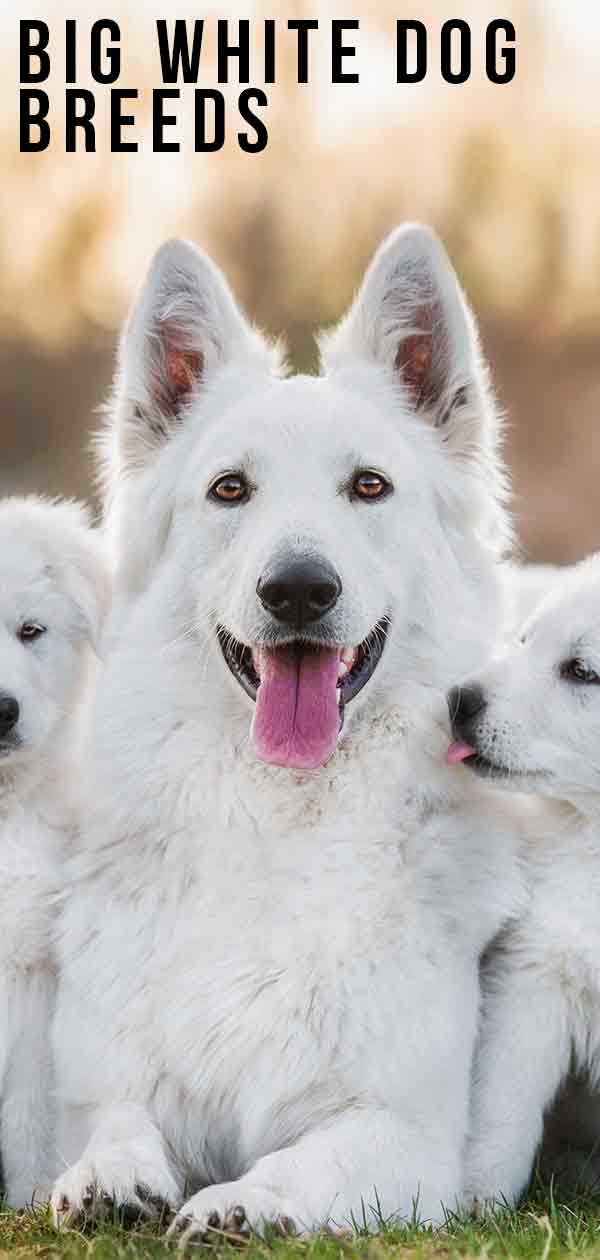 #1 Afghan Hound
The Afghan Hound is such a distinctive large white long haired dog most people recognize this elegant, statuesque dog on sight.
The self-assured and photogenic Afghan Hound a frequent top pick for canine movie roles and fashion photographs.
An Afghan was also the first-ever successfully cloned dog.
Afghan Hounds are not always white-coated, but they are the only bearers of the gene that delivers their human-like hair coat.
Adult Afghans typically weigh 50 to 60 pounds and shed very little.
Like nearly all purebred dog breeds, Afghan Hounds can struggle from certain breed-associated health issues.
For Afghans, these issues include anesthetic sensitivity, bloat, hip dysplasia, thyroid issues, and eye issues.
The Afghan's typical life expectancy is 12 to 18 years.
#2 Akita
The Akita, or Akita Inu, is an ancient big white fluffy dog breed that hails from Japan's mountainous regions.
The most famous Akita dog is Hachiko, a name you may recognize from the Hollywood movie of his life!
Hachiko exemplified this breed's famed loyalty.
Akita dogs are brave and strong and have been bred to serve as hunting and guard dogs for centuries.
This can create some training issues in modern-day pet Akitas, who may not intuitively understand that the family cat or a visiting neighbor is not a threat.
Akitas can weigh 100 to 130 pounds at maturity and this dog's thick, lush coat often makes an Akita look even bigger.
While the Akita is not always white-coated, white is a standard coat color for this breed.
Akita dogs will shed seasonally but otherwise tend to do well with a once-weekly brushing. They love to be clean and don't tend to have any "doggy odor."
Breed-specific health issues associated with Akita dogs include hip dysplasia, autoimmune issues, eye issues, thyroid issues, von Willebrand's disease, and bloat.
The typical Akita life expectancy is 10 to 15 years.
#3 Borzoi
The Borzoi is a big furry white dog that is sometimes mistaken for a long-coated greyhound.
These dogs are canine aristocrats with an ancient pedigree.
Adult Borzoi dogs can weigh 75 to 105 pounds.
They are not always fully white-coated, but pure white is a standard coat color within the breed.
These dogs do shed moderately year-round and need regular brushing and raking to keep tangles and mats at bay.
Borzoi dogs are known to be prone to hip and elbow dysplasia, heart and thyroid conditions, degenerative myelopathy, and bloat.
Their typical life expectancy is 9 to 14 years.
#4 Briard
As big white dog breeds go, the Briard ("bry – are") is one of the biggest, fluffiest, shaggiest dogs out there!
The Briard's formal French breed name is actually Chien Berger de Brie ("shepherd dog of Brie").
This dog was bred to herd and guard livestock.
The Briard also has a long history as a military K-9 dog, often working the front lines carrying medical supplies and serving as a sentry guard.
The Briard's thick furry coat does need brushing every few days.
Otherwise, this dog's coat is often likened to that of a goat's – naturally self-cleaning and resistant to mats and dirt!
The Briard can struggle with hip and elbow dysplasia, eye issues including stationary night blindness, thyroid issues, and bloat.
Their typical life expectancy is 10 to 12 years.
#5 Dogo Argentino
The Dogo Argentino, also called the Argentinian Mastiff, is said to be a delightful pup in a daunting body!
This dog breed was originally developed in Argentina to participate in dog fighting.
Thankfully, today's Dogo Argentino dogs have also become popular as hunting, guarding and companion dogs.
The Dogo Argentino can weigh 80 to 100 pounds in adulthood, with a massive, heavily-muscled frame that makes this dog a powerhouse.
These dogs have such well-developed fighting, hunting and guarding instincts that they can need special socialization training to distinguish between guests and threats.
Typically, this dog's coat is pure white, but sometimes the Dogo Argentino can display a black facial patch that is within the breed standard. The Dogo Argentino is easy to groom and doesn't shed much.
Breed-specific health issues can include inherited deafness, thyroid issues, hip dysplasia, bloat, and skin issues.
The average life expectancy is 9 to 15 years.
#6 Great Pyrenees
The large white furry dog known as the Great Pyrenees is named after the European mountain range where they were first developed.
The Great Pyrenees was first employed as a canine shepherd helping human farmers guard valuable livestock.
When they were no longer needed in this capacity, Great Pyrenees enthusiasts worked hard to ensure the breed's continuity in other circles, including as companion canines to royalty.
Today, the Great Pyrenees is still quite popular. These dogs can weigh 100 to 130 pounds but are noted for the breed's placid temperament. They are smart and vigilant and make great guard dogs.
The Great Pyrenees' coat isn't always white, but white is a breed standard for this dog.
This dog's main health issues include bloat, thyroid issues, neurological conditions, hip and elbow dysplasia, blood disorders, eye issues and skin conditions.
The typical life expectancy is 10 to 12 years.
#7 Irish Wolfhound
The Irish Wolfhound may have an intimidating name, but this big white furry dog has a lovely calm temperament when not hunting!
It is worth noting these dogs are not good at guarding. They love kids and people and generally won't be able to tell the difference between a threat and a new friend.
This dog has a lean frame but overall is considered to be one of the biggest and tallest purebred dog breeds in the world.
An Irish Wolfhound can weigh 105 to 120+ pounds and stand 32 inches tall (paw to shoulder) – that is about seven feet tall if this dog were to stand on his back paws!
An Irish Wolfhound's running gait is often likened to a gallop – more like an equine than a canine.
The signature fluffy coat is not always fully white and can have other colors mixed in. Regardless of color, you can expect lots of shedding and lots of cleaning (although brushing duties are typically light) when you choose an Irish Wolfhound.
This dog can suffer from heart and liver issues, bloat, aspiration pneumonia, hip and elbow dysplasia, and bone cancer.
As with so many giant breed dogs, the Irish Wolfhound's average life expectancy is all too short: 6 to 8 years.
#8 Komondor
The Komondor is the large white dog you might vote "most likely to be mistaken for a mop."
This dog is always pure white, although the shade of white can vary within the breed. These dogs can easily reach 100+ pounds.
This utterly unique and stunning dog develops a singular thick white corded coat in adulthood that requires special ongoing care starting at around 9 months of age.
You won't ever have to brush your Komondor's adult coat, but you will need to offer regular baths.
Komondor dogs are guard and herding dogs at heart and definitely do best when they have a job or very regular activity and exercise.
They can be overly reserved and protective and early and ongoing socialization and training will be needed to help your Komondor adjust to family life.
Komondors are known to struggle with hip dysplasia, eye conditions, and bloat. The overall life expectancy is 10 to 12 years.
#9 Maremma Sheepdog
The Maremma Sheepdog takes its American name from the traditional Italian name Maremmano-Abruzzese. Maremma is pronounced "mare – emma."
These dogs can easily grow to be 100+ pounds as adults!
The Maremma Sheepdog's coat is first and foremost designed to protect this dog from the elements. You can expect quite a bit of shedding and you will need to keep your dog brushed to avoid mats and tangles.
Maremma Sheepdogs are big white sheep dogs and guard dogs who were originally bred and developed to guard livestock herds in remote areas in Italy. They are fabulous guard dogs and great herding dogs.
However, this dog is not bred as a typical "pet" dog, but as a pure working dog.
Without a job to do, the Maremma Sheepdog can be a tough dog to handle, especially because they generally do not ever learn to tolerate strange people well.
Maremma Sheepdogs can develop hip and elbow dysplasia, heart issues, luxating patella, degenerative myelopathy, eye conditions, and bloat. The typical life expectancy is around 13 years.
#10 Poodle
Is there any more distinctive big white fluffy dog breed than the venerated Poodle?
The Poodle today is bred in three wonderful sizes: the Standard Poodle, the Miniature Poodle and the Toy Poodle.
Of course, only the Standard Poodle is considered a large white fluffy dog. These dogs typically weigh 40 to 70 pounds as adults. They are actually tall and quite lean under all that thick curly or corded hair.
The Standard Poodle, as well as the Miniature and Toy Poodle, isn't always white-coated, but there is no denying the beauty of an all-white Poodle in full show coat! White is a standard breed coat color.
A Poodle's coat requires lots of care and brushing. However, this dog is perhaps the most famous non-shedding dog in the world, so you will have minimal if any cleaning to do.
Standard Poodles can have certain breed-specific health issues including hip dysplasia, von Willebrand's disease, eye issues, epilepsy, skin issues, autoimmune conditions, bloat, and epilepsy.
The typical life expectancy is around 12 years.
#11 Samoyed
If you are looking for a big white puffy dog, the Samoyed might well be your new pet dog! The Samoyed's unofficial nickname, "Smiling Sammie," gives you some hints about the personality that comes with all that fluff!
This dog was originally bred in Siberia to hunt reindeer. The thick white coat protects this dog from the elements, so it will shed regularly and you can count on plenty of brushing and cleaning.
The Samoyed actually looks bigger than it is because of the big fluffy coat. These dogs typically weigh between 35 and 64 pounds as adults.
Breed-specific health issues can include hip dysplasia, bloat, heart issues, diabetes, thyroid, and heart conditions. The typical life expectancy is 12 to 14 years.
#12 Siberian Husky
The Siberian Husky is a big white furry dog that was originally bred by the ancient nomadic Chuchki tribe to work as a sled and hunting dog in Siberia.
The Siberian Husky is truly an amazing athlete. Balto, one of the most famous Siberian Husky dogs, even had a movie made about his life-saving sled run to bring vaccines to a remote village!
As puppies, Siberian Huskies are all white fluff. While the Husky's coat is not always all white, their all-white coat is particularly eye-catching! Huskies shed a lot nearly year-round.
Siberian Huskies are smaller than they look under all that fur. The adult Husky typically weighs 40 to 50 pounds in adulthood.
This breed can be prone to bloat, blood disorders, thyroid issues, hip dysplasia, hearing issues (deafness), skin, and eye problems. The typical life expectancy is 12 to 15 years.
Which are your favorite big white dog breeds?
Do you have a favorite among these big white dog breeds?
We'd love to hear about your top picks and why you love these big white dogs the most!
References
Buzhardt, L., DVM, "Genetics Basics – Coat Color Genetics in Dogs," VCA Animal Hospitals, 2016.
Schmutz, S., et al, "The Genetics of Cream Coat Color in Dogs," Journal of Heredity, 2007.
Gleason, S., "Dogs and people share 'albino gene,'" Futurity/Michigan State University, 20014.
Svensson, J., "Why white dogs are white," Physics/Uppsala University, 2014.
Coren, S., PhD., DSc, FRSC, "Your Dog's Coat Color Predicts His Hearing Ability," Psychology Today, 2012.
Benson, C., "Maremma FAQs," Maremma Sheepdog Club of America, 2017.
Quigley, A., "About the Komondor," Komondor Club of America, 2018.
Peters-Campbell, R., "So You Want a Borzoi?," Borzoi Club of America, 2007.
Hardy, C., "Briard Breed Information," The Briard Club of America, 2017.
Get Pippa's free dog training tips delivered to your inbox