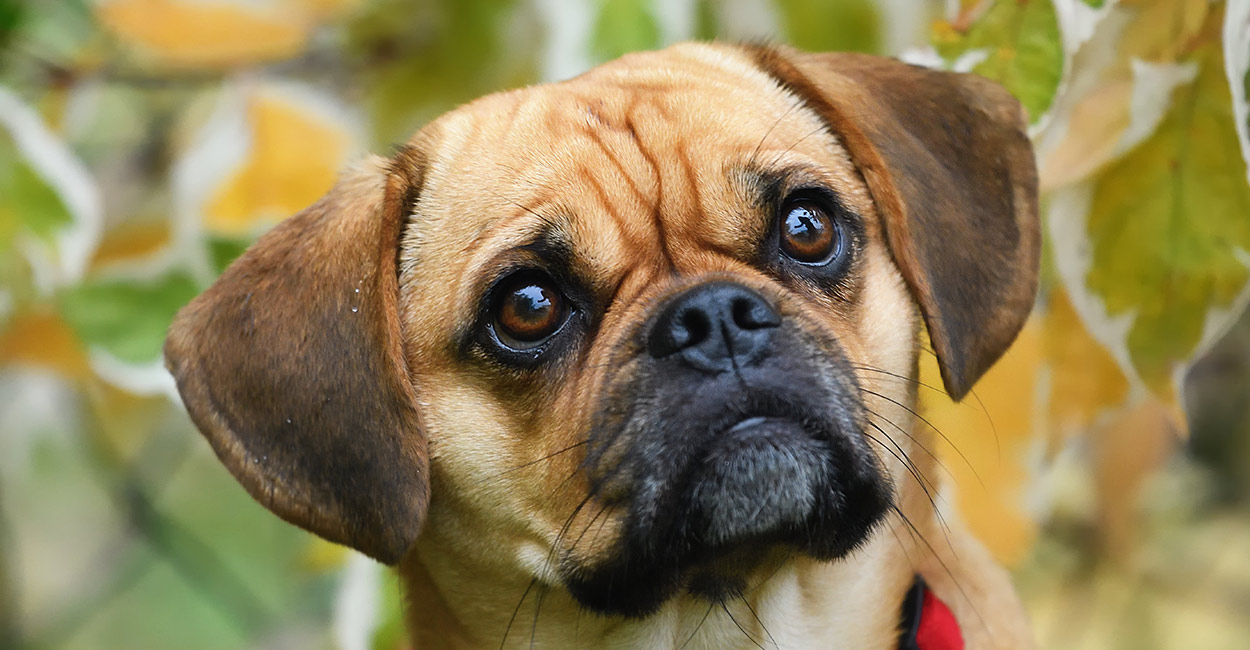 Welcome To Our Complete Guide To The Best Food For Puggles.
What do you get when you cross a Pug dog with a Beagle? A Puggle, of course!
No joke, a Puggle is actually the name of a new designer dog breed, and a really cute one too!
Puggles are currently the eighth most popular "designer breed" dog in the UK and the sixth most popular hybrid dog in the US.
Some Puggles lead posh lives, cohabitating with the likes of Jake Gyllenhaal, Sylvester Stallone, and Uma Thurman, among other celebrity owners!
Puggles are adorable to look at and have adorable personalities to match.
So it just makes sense you're eager to make sure you have your Puggle's company for as long as possible.
A big part of this is finding the best food for Puggles that will keep your canine bestie hale and hearty for many years to come.
So read on to learn more about the best dog food for Puggles!
What is the Best Food for Puggles?
Even the quickest glance at the "dog food" aisles of your local pet store will prove that you have a LOT of choices when it comes to dog food.
It may seem like there are so many options that it's impossible to decide!
But not every dog food will suit your Puggle's dietary and health needs.
A big part of choosing the best food for Puggles is first understanding the unique health issues common to the Puggle hybrid breed.
Puggles have three major health issues that as a result of their mixed breed parentage.
From the beagle side, they can inherit hip dysplasia and canine epilepsy.
From the pug side, they may inherit spine and neurological issues, as well as brachycephalic (flat-faced) issues with breathing and eye problems.
So how does this relate to your Puggle's dog food?
How to Choose the Best Food for Puggles?
Your Puggle will really benefit from having the following "extras" as a part of his daily nutrition:
Glucosamine and chondroitin are excellent supplements for joint strength, health, and mobility.
Essential fatty acids are essential for healthy joints, skin, coat, heart, liver, vision and digestion. Calcium and phosphorus for strong bones. Vitamins A, C, E for healthy vision and immune system.
Protein-rich, calorie-balanced diet for lean muscle development and to help your food-loving Puggle feel full longer and stay at a healthy weight.
Prebiotics and/or probiotics to aid in healthy digestion.
Smaller kibble that is easier for small breed dogs in general and brachycephalic dogs, in particular, to pick up, chew and swallow.
Puggles can also be prone to food sensitivities or food allergies.
If you think your Puggle may be allergic to his diet, the smartest first step is to schedule a visit to the veterinarian.
Your vet may prescribe a limited ingredient diet along with allergy testing to identify the culprit(s).
TIP: Learn more about the Puggle hybrid dog breed in this informative article.
Best Dry Food for Puggles
Veterinary science shows dogs can benefit from breed-specific dog food.
But as with all hybrid dog breeds, there is no way to predict in advance how much influence either parent dog may have on your puppy.
For example, your Puggle may have more "beagle" influence or more "pug."
Resulting in your Puggle having a unique combination of features and temperament unlike any other dog–even their puppy siblings!
However, this unpredictability can make it more challenging to decide on the best dry food for Puggles in advance.
If your Puggle has more beagle influence, you may want to try a beagle food formula.
On the other hand, if your Puggle has a stronger pug influence, a Pug-specific recipe might just be better!
One of the following special small breed foods may be the right recipe for your Puggle!
Purina Pro Plan is one of the dog food makers that creates special food for different size dog breeds, like the Focus Small Breed Formula.
This food has prebiotics to support healthy digestion and calcium/phosphorus for strong bones. It also has extra Vitamin A and essential fatty acids.
The highly rated and popular BLUE Life Protection Formula Adult Dry Dog Food for Small Breed Dogs is enriched with vitamins, minerals, and essential fatty acids.
As well as calcium/phosphorus and glucosamine/chondroitin for extra joint support.
The carrots, sweet potatoes, and peas are easy to digest and enable healthy digestion.
The Nutro Ultra Small Breed Adult Dry Dog Food is a protein-rich dry dog food includes salmon, chicken, and lamb.
Plus non-GMO whole vegetables, grains and fruits, vitamins and minerals and essential fatty acids.
Royal Canin has developed several different dog food recipes to meet the nutrient needs of different dog breeds including the Health Nutrition Beagle Adult Dry Dog Food.
This beagle recipe features essential fatty acids and balanced nutrition for joint and bone support.
The food also has a unique four-point kibble shape to help your Puggle slow down while eating.
Another Royal Canin favorite is the Breed Health Nutrition Pug Adult Dry Dog Food, a recipe specially formulated to meet the needs of pugs.
The recipe is nutritionally balanced to support your dog's healthy weight. And the three-point kibble shape is easier for flat-faced breeds to pick up and eat.
Best Dry Food for Puggle Puppies
Your Puggle puppy is part-Pug part-Beagle. But more importantly, a small breed dog that is utterly one-of-a-kind!
While all of this is wonderful, it sure doesn't make choosing the best dry food for Puggle puppies any easier!
These puppy food brands all feature extra nutritional enrichment puppies need plus some special extras that might suit your Puggle puppy perfectly!
Royal Canin makes special dog food recipes for different large and small dog breeds such as the Health Nutrition Pug Puppy dry dog food, designed with Pug puppies in mind.
The recipe includes extra essential fatty acids and uniquely shaped three-sided kibble to help your flat-faced Puggle puppy easily pick it up and chew it.
Full of essential fatty acids, prebiotics, and probiotics, the Eukanuba Puppy Lamb and Rice Formula puppy food may be a great option.
A full complement of vitamins and minerals are also included to support healthy brain, body, bone, muscle, and immune system function.
The wildly popular and highly rated Taste of the Wild Grain-Free High Protein Natural Dry Dog Food Puppy Formula is high in protein and smaller kibble will be easier for your puppy to chew.
It has added essential fatty acids, vitamins, minerals, amino acids and probiotics for healthy growth and lean muscle development.
Best Wet Food for Puggles
As any Puggle owners will attest, Puggles love to eat. They look forward to mealtimes with a natural gusto few other dog breeds can match.
Puggles are so fond of eating, in fact, that obesity can quickly become a real issue for this dog breed!
Wet food should always be a regular part of your Puggle's nutritional intake. However, along with the welcome hydration, it can add unneeded extra calories
So it's best to pick a wet food recipe that keeps weight management in mind.
Additions like green beans for fullness and grain-free for allergies will help your Puggle feel full and at the same time, maintain their weight.
If you're just starting to offer your Puggle wet dog food, the Purina Beneful Prepared Meals Stew Variety Pack Wet Dog Food can give you a feel for which recipes your pup prefers.
The pack includes beef stew, chicken stew, and lamb/rice stew and all recipes include 22 vitamins and minerals in a highly palatable chunk-style stew.
The IAMS Proactive Health Wet Dog Food is another tasty wet dog food recipe featuring beef, rice, carrots, and green beans.
Green beans, in particular, are great for helping your Puggle feel full without adding lots of extra calories.
With IAMS, you can choose from two wet food styles: chunks in gravy or pate. Each style has plenty of added essential fatty acids, vitamins, and minerals.
If your Puggle is dealing with sensitive skin or allergies, Hill's Science Diet Sensitive Stomach & Skin Wet Dog Food is a highly palatable and easy-to-digest recipe of salmon and vegetables.
It also includes green beans, carrots, and apples, as well as vitamins and minerals. The loaf-style wet food is grain-free and easy on your dog's tummy.
Best Wet Food for Puggle Puppies
Introducing your new Puggle puppy to wet puppy food for the first time is one of those fun "firsts" to savor!
Your food-centric Puggle will likely dig right in, so you want to be confident you are offering complete nutrition.
There are several highly rated and popular wet food puppy recipes your Puggle puppy will really enjoy!
The turkey, chicken and herring recipe in Wellness CORE Natural Wet Canned Grain-Free Puppy Food is free from grains, soy, wheat, corn, artificial ingredients, and preservatives.
Made in the US, it's designed to be a complete and balanced puppy food containing essential fatty acids, vitamins, and minerals to help your puppy grow up strong and healthy.
The CANIDAE Grain Free PURE Dog Wet Food for Puppies contains limited ingredients and is also grain-free, moreover, it contains essential fatty acids, vitamins, and minerals.
These will help your puppy's still developing digestion learn to digest wet food with ease. The pate-style recipe that can be served on its own or mixed in with dry kibble.
The IAMS Proactive Healthy Puppy Food is an easy-to-digest chicken and rice recipe incorporated into a tasty pate.
It includes high-quality animal protein, vitamins, minerals, and essential fatty acids for a healthy coat, skin, bones, digestion, muscles, and immune system.
Best Limited Ingredient Food for Puggles
If you suspect your Puggle may be struggling with food allergies, your vet may recommend a limited ingredient diet.
Your vet may have specific food recommendations, but if not, the following options offer high-quality nutrition packed inside the limited ingredients.
The Wellness Simple Natural Limited Ingredient Dry Dog Food for Small Breed Dogs contains salmon and potato.
It's grain-free and also free from gluten, fillers, and artificial ingredients. The smaller kibble size is easier for flat-faced breeds to pick up and chew.
The Natural Balance Limited Ingredient Diets Dry Dog Food contains a lamb meal and brown rice formula that is free of all artificial ingredients and preservatives.
It features a protein-balanced recipe with vitamins, minerals, essential fatty acids and the smaller kibble is easy for flat-faced breeds to eat.
This popular and highly rated Instinct Limited Ingredient Diet Grain-Free Recipe Natural Dry Dog Food by Nature's Variety is based on pure turkey protein.
It has no dairy, eggs, potato, wheat, corn, or soy and no artificial ingredients or preservatives.
The sole vegetable is high fiber, easy to digest peas. A full complement of vitamins and minerals are included to offer your Puggle a balanced diet.
Best Food for Puggles
Luckily, there are many high-quality commercial dog food brands that feature limited ingredient diets, so you will have plenty to choose from.
As always, if you are unsure, take your vet's advice about the best food for Puggles.
We hope you have found this article on the best food for Puggles helpful!
Does your Puggle already have a favorite food? Did your vet recommend one of these brands for your new Puggle dog? Please share your story in the comments section!
References and Further Reading
Cornell University College of Veterinary Medicine
Beitz D et al. 2006. Your Dog's Nutritional Needs: A Science-Based Guide for Pet Owners. Committee on Nutrient Requirements for Dogs and Cats.
Get Pippa's free dog training tips delivered to your inbox