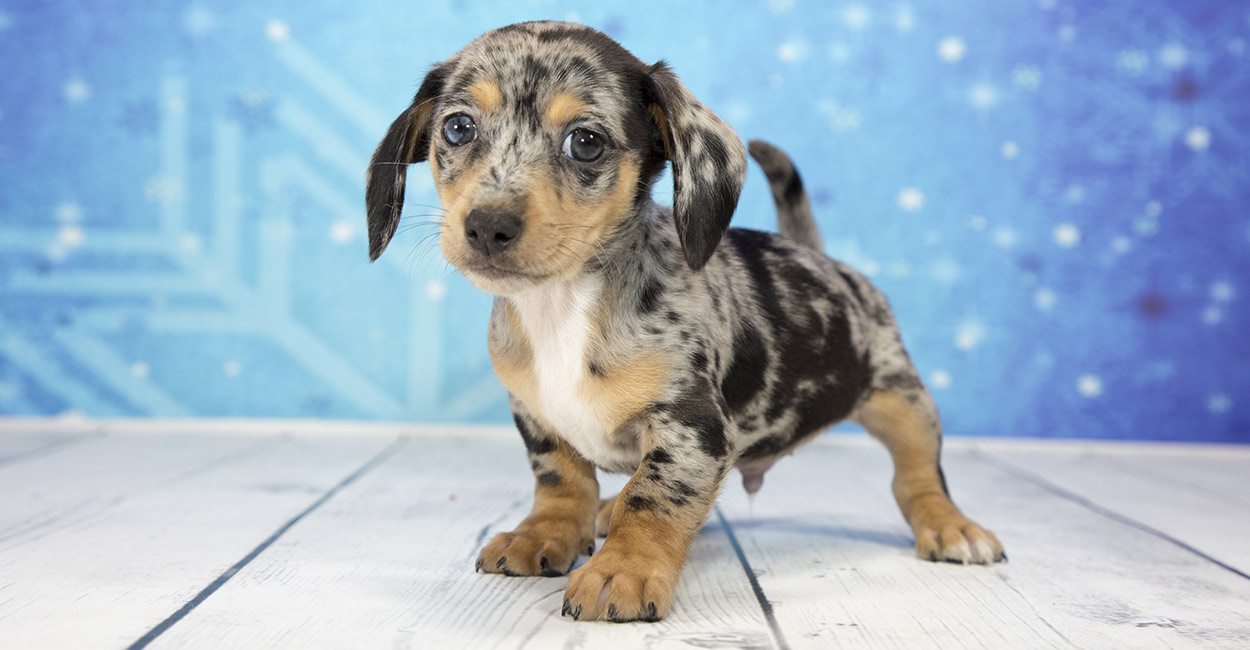 Welcome to our complete guide on choosing the best dog food for Chiweenies.
The Chiweenie is a small designer dog, the result of breeding a Chihuahua with a Dachshund. If you know anything about these two pure breeds, you can infer that the Chiweenie is a spry little animal who brings a fun, high-spirited, smart, and loyal attentiveness to your home.
Did you also know that the Chiweenie has a couple of evocative nicknames? The "Mexican Hotdog" and the "German Taco" are two "tasty" monikers used to describe this dynamic pooch.
Which provides us with the perfect jumping off point to discuss the best dog food for Chiweenies!
All of these products were carefully and independently selected by the Dogsnet team. If you decide to make a purchase from one of the links marked by an asterisk, we may earn a small commission on that sale. This is at no extra cost to you.
How to choose the best dog food for Chiweenies
Chiweenie food should be chosen based on the potential dietary needs of the Dachshund and the Chihuahua. This is because all cross breed dogs inherit their parents' genetic profiles, including any unique nutritional needs.
Before we get too far into our discussion of the best dog food for Chiweenies, let's learn a bit about this wonderful mixed breed dog's background.
Chiweenie origin
It's generally assumed that the purebred Chihuahua was discovered in Chihuahua, Mexico in the 1850's, while Mexican ancestral dogs of this diminutive live-wire are believed to date back to the 1500's.
The American Kennel Club recognized the breed in 1904, and today the club ranks it as the 30th most popular dog in the U.S.
The Dachshund breed is affectionately described as a sausage or wiener dog due to its compact, tubular body. The breed originated in Germany over 300 years ago and today it is ranked by the AKC as the 13th most popular dog breed in the U.S.
Dogs have more or less become omnivores, meaning they can eat meat, grains, and vegetables. A small, active dog like the Chiweenie requires a diet that supplies an appropriate number of calories while sustaining a healthy, fit body.
This means the Chiweenie diet should include large amounts of high-quality protein that is low in fillers; the first ingredient in your pup's food should not be a grain or a vegetable.
In addition, the best food for Chiweenie dogs will be tailored to your individual pooch's size, stage of life, and activity level.
What is the best dog food for Chiweenie dogs?
Our reviews of the best Chiweenie food include puppy and adult foods for small breeds who typically have a higher metabolism. In addition, we recommend several formulations that include ingredients deemed beneficial based on the Chiweenie's medical profile.
Both Chihuahuas and Dachshunds are at risk for joint problems and eye issues. Dachshunds are also prone to disc and cartilage issues.
Glucosamine, chondroitin, and omega acids are all ingredients thought to help support joint health and many dog foods contain these healthy additives.
In addition, many puppy foods are supplemented with DHA, an important agent that has been indicated in healthy cognitive development.
Best dry food for Chiweenies
Finally, let's not forget that Chiweenies have inherited pint-sized mouths. If you choose a dry food for your pup it's important to provide her with one that she can easily pick up and chew within her slight mouth space.
So what is the best dog food for Chiweenies who prefer kibble?
Large, and sometimes even average size, kibble will be hard for these petite pups to handle. Luckily, many brands offer kibble specially designed for the smaller dog.
It's hard not to like a protein-rich, small bite product such as this one that is recommended by thousands of satisfied pet parents! Blue Life Protection Formula Adult Dry Dog Food* has been given the highest marks, and each 30 pound bag is filled with wholesome grains, plus healthy veggies and fruit.
There are no artificial colors, flavors or preservatives, and specialized ingredients support strong bones and teeth as well as a healthy immune system.
Farm-raised beef is the first ingredient listed in each 15.5 pound bag of Purina Beneful Incredibites For Small Dogs*. It's complemented with real carrots and peas.
The nutrient-dense recipe helps support a smaller dog's higher metabolism, and the easy-to-chew mini bites are tailor-made for little pups.
Beef is the first ingredient in Purina One Smartblend Small Bites* that also includes other high-quality protein to support muscle health. Omega-6 fatty acid is included to help your dog to maintain a glossy coat and healthy skin, while glucosamine is present for joint health.
The small-bite kibble is available in a variety of sizes, including 4 and 8 pound bags.
Pedigree Small Breed Adult Dry Dog Food* is highly rated. Roasted chicken is featured in this formulation that includes antioxidants, vitamins, and minerals to help support your small breed dog's unique needs.
In addition, Vitamin E is present to help maintain a strong immune system.
Lets look at Taste of the Wild Grain Free Dry Dog Food*. Would you believe that over 10,000 satisfied pet parents have given this brand top marks? Venison and Bison are the top two listed ingredients, and the recipe includes an ideal amino acid profile for building strong muscles.
In addition, multiple superfoods are present that feature natural antioxidants for a healthy skin and coat.
Probiotics are included for a healthy GI tract, and there is zero grain, wheat, or artificial flavors or colors that may upset the stomach.
Nutro Ultra Senior* is specially made for older, small breed dogs. this premium formula features 12 vibrant superfoods that do their part to support strong teeth and a strong immune system.
Each 8 pound bag includes three protein sources: chicken, lamb, and salmon. The food is made with non-GMO ingredients and contains no artificial flavors, colors, or preservatives. There is zero corn, wheat, or soy protein.
Best wet food for Chiweenies
The typical Chihuahua weighs 6 pounds, but a Dachshund can reach up to 30 pounds. How do these stats translate to the Chiweenie's body mass?
It's reasonable to assume that your Chiweenie baby will weigh somewhere between 8 to 12 pounds. Does your little one prefer a wet food to a dry kibble?
And what is the best dog food for chiweenies that prefer canned options?
If so, there are plenty of hydration-rich small breed formulas that will go a long way toward pleasing your Chiweenie's taste buds and enhancing her mealtime experience.
Made in the USA, Nature's Variety Instinct* includes chicken and liver to form an excellent base of animal proteins that support strong muscles. At the same time, the recipe's caloric levels are optimal for smaller breeds.
The loaf texture has no artificial colors or preservatives, and no grain, wheat, or soy.
Specially made for small breed dogs 1-year and older, Nutro Ultra Wet Dog Food for Small Breeds* is made from lean, all-natural ingredients.
In addition, supplements are present which support strong eye and heart health, healthy skin, a shiny coat, and a fit immune system.
Halo 12-Pack Grain Free Chicken and Salmon Small Breed Dog Food* is a great option. Whole salmon and chicken comprise the high-quality proteins that are needed to meet the special nutritional needs of small breed dogs. The grain-free recipe includes non-GMO peas and carrots, and there are zero artificial colors, flavors, or preservatives.
The formulation is also packed with the essential vitamins, minerals, and antioxidants necessary to support a healthy skin and coat, while healthy fats provide energy.
Each petite 3.5 ounce food cup (included in a pack of 12) of Blue Devine Delights* provides the perfect size portion of high-quality protein that your little one needs to fuel her body.
What pup could say no to a tasty meal that includes chicken, real bacon, egg, and cheese?
Next up, Hill's Science Diet Small Breed Savory Stew*. This highly regarded brand's recipe offers complete and balanced nutrition for small dogs over 7 years old, and it comes in a convenient peel and serve cup that holds the perfect proportion for little dogs.
It features optimal levels of high-quality lean proteins and aids healthy digestion via ingredients such as gentle fibers.
This holistic grain- and gluten-free wet dog food from Solid Gold* is sure to please the hungry palates of small and toy breed puppies and adult dogs alike!
Formulated with healthy vegetables, the recipe provides plenty of fiber to aid in proper digestion and comes in a convenient, easy-to-serve container. There is zero corn, wheat, or soy in the formulation.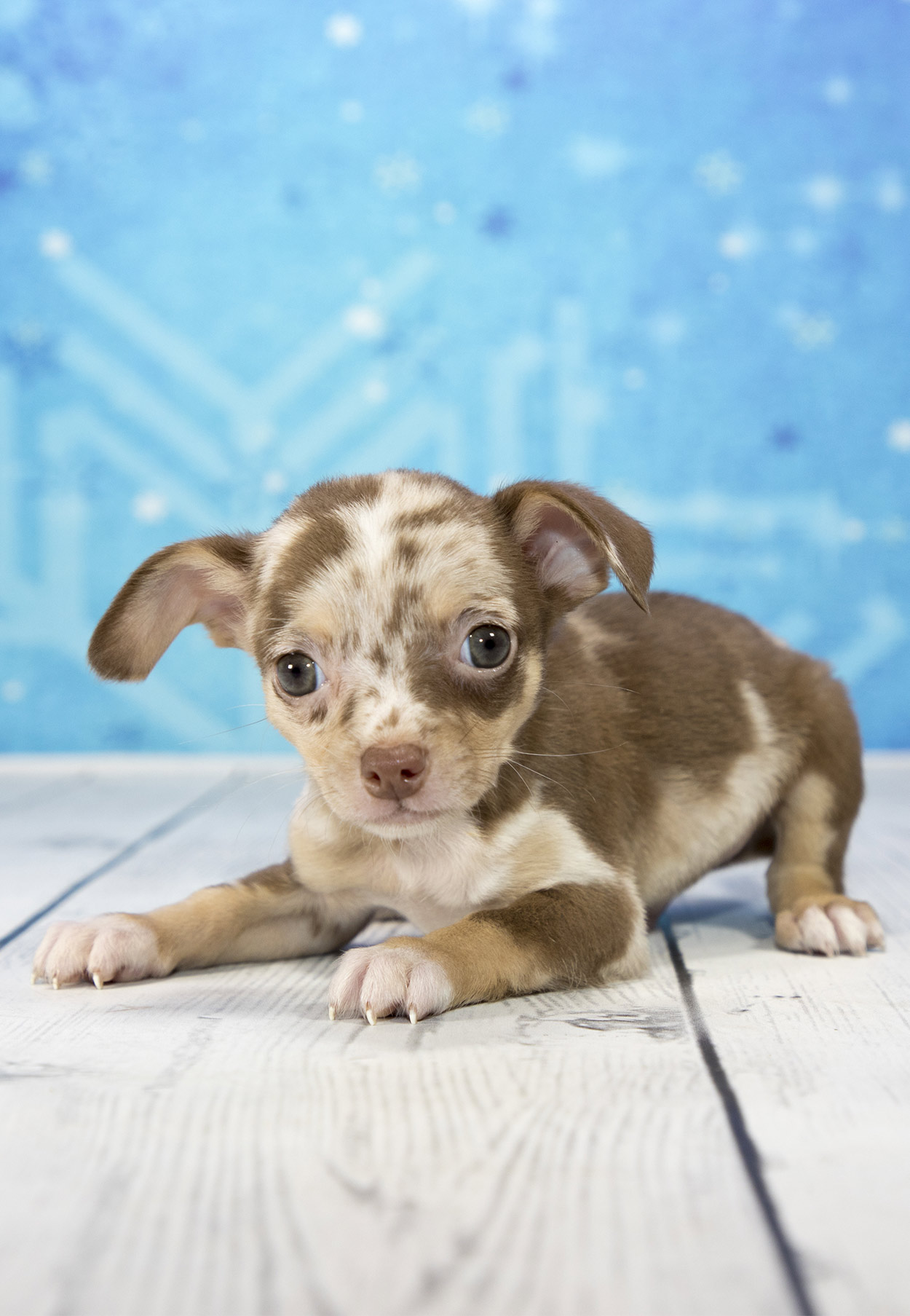 Best wet food for Chiweenie puppies
Puppy food contains specialized ingredients to support developing bodies, including young canine needs such as bone and muscle strength, emerging dental health, and immune system function.
Research shows that probiotics and antioxidants play an important role in supporting the developing canine immune system, in particular during the first few months of a puppy's life. These selections offer first-rate wet food options for your Chiweenie puppy.
Wellness' Core Natural Grain Free Puppy Formula* contains natural DHA for brain and eye development and is 100% grain free. The premium proteins include herring, turkey, and chicken.
The product is made in North America and it's backed by the brand's Wellness Guarantee.
Let's look at Hill's Science Diet Small Breed Stew For Puppies*. This premium dog food for small and toy puppies comes in a convenient peel and serve cup that holds the perfect portion for your petite bestie.
Optimum levels of high quality lean protein are complemented with ingredients that promote healthy digestion, including gentle fibers.
Deboned chicken is the number one ingredient in Merrick's Lil' Plates* specially formulated to meet the nutritional needs of small breed pups. It provides grain-free nutrition with zero gluten ingredients in order to aid in digestion.
The portions are perfectly sized for small breed pups and the food is cooked in the USA.
Real chicken is the first listed ingredient in Purina's 100% complete and balanced formulation for puppies*.
Combined with a delicious flavor, the recipe features high-quality ingredients designed to support a lean, ideal body mass.
This gourmet lamb and rice formulation from Cesar is a complete and balanced puppy food that features a pate texture perfect for smaller mouths.
In addition the tasty food is fortified with the vitamins and minerals needed to help smaller breeds maintain optimal health. A convenient container features an easy, peel-away lid.
Deboned turkey is the number one listed ingredient in Merrick's grain-free formulation for small breed pups*.
Healthy peas, carrots, sweet potatoes, and apples are also included.
The 3.2 ounce entrée is perfectly sized (with smaller pieces) for your small pup.
Best dog food for Chiweenies: In Summary
A complete and balanced Chiweenie dog food provides nutrients in the correct ratios for your special pooch, depending on his size, age, special needs, etc.
Overall the best dog food for your active, Chiweenie mixed breed is one that is packed with protein, contains zero artificial ingredients, and comes with a flavor big enough to satisfy even the tiniest canines!
Affiliate link disclosure: Links in this article marked with an * are affiliate links, and we may receive a small commission if you purchase these products. However, we selected them for inclusion independently, and all of the views expressed in this article are our own.
References and Further Reading
Get Pippa's free dog training tips delivered to your inbox