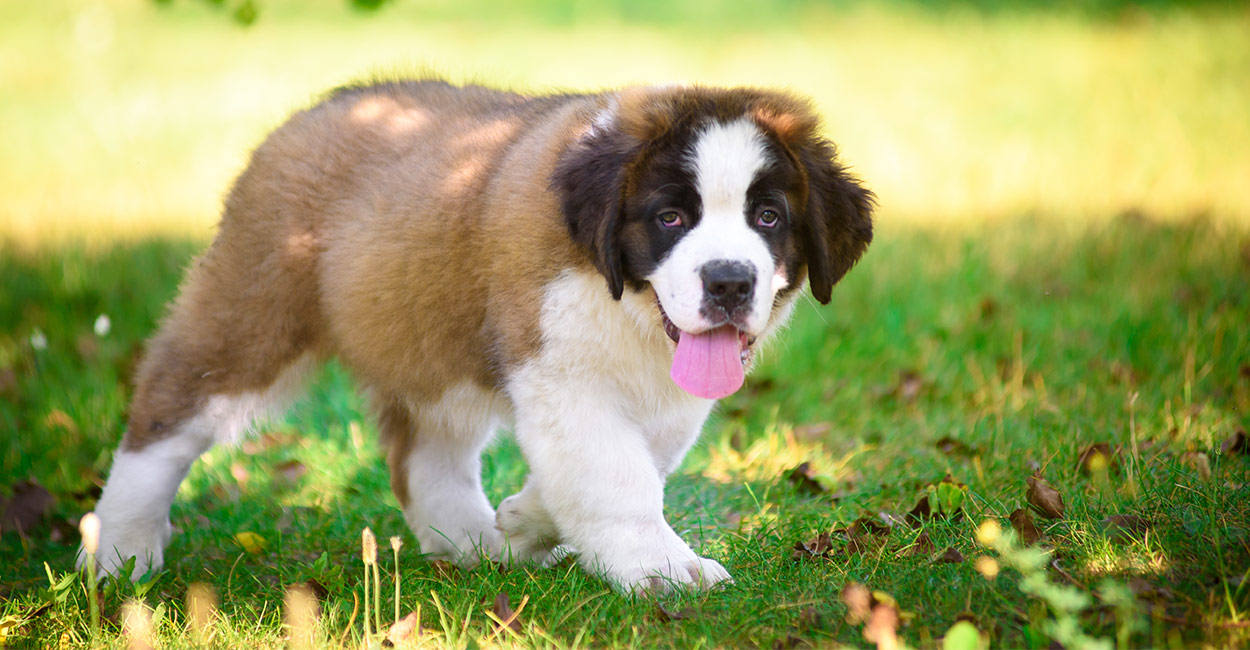 Struggling to groom your St. Bernard? Welcome to our complete guide on St. Bernard grooming and how to find the best brush for St. Bernard dogs.
The St. Bernard is an amazing dog. Originally, these massive mastiffs had the most important job any canine can have – saving lives.
The St. Bernard dog lived and worked with the monks of Great St. Bernard Hospice and Monastery, rescuing travelers caught in the region's intense snow storms.
These dogs are so smart and dedicated that they were often sent out alone in small packs of two or three dogs to locate buried travelers by scent.
The dogs would use their massive bodies to dig through the snow and excavate the buried victim.
Then one dog would sit on top of the person to warm them while the other dogs would run back to the monastery and alert the monks to come and collect their next hospice patient.
In total, the St. Bernard dogs and their monk partners are said to have saved more than 2,000 travelers' lives to date. Incredible, right?
These dogs have worked tirelessly by our sides and for our safety for hundreds of years. They are the most loyal of companions and are fabulous with kids and other family pets.
But what does the St. Bernard dog need from us? Well, grooming, for starters!
In this post, we are going to look at the St. Bernard dog from a different perspective and learn how to groom and care for your St. Bernard's coat.
You will learn St. Bernard grooming tips, discover the best Saint Bernard grooming tools, and learn how to groom a St. Bernard puppy as well as an adult dog.
St. Bernard coat type
Many dog lovers don't realize the St. Bernard dog is bred for two different coat types: long and short.
The short coat is mostly smooth and straight and the long coat often has a bit of a wave to it. Both coat types are very dense and water-resistant, with a coarser outer layer and a thick insulating undercoat.
However, when it comes to shedding and grooming, both the short coat St. Bernard and the long coat St. Bernard shed heavily seasonally and less heavily year-round. Both dogs need lots of regular brushing and grooming for healthy fur and skin!
Breeders and professional groomers recommend brushing your St. Bernard dog at least two or three times per week. If you start this routine when your dog is still a puppy, she will likely grow to enjoy these times and love being brushed and groomed!
St. Bernard grooming tools
These St. Bernard grooming tools are considered staples for any St. Bernard dog owner.
Courtesy of the Saint Bernard Club of America, here is a supplies checklist you can use as a guide:
Brushes: slicker brush and pin brush.
Combs: stainless steel comb and mat-splitter rake.
Scissors: straight and curved.
Nails: nail clippers and styptic powder.
Ears: ear cleaner and cotton swabs/cotton balls.
Bathing: shampoo and conditioner.
Conditioning spray.
The best approach to grooming a St. Bernard is to make sure your dog's coat is completely tangle- and mat-free before you bathe him. This way, you won't have the extra-difficult job of trying to restrain an impatient, wet dog while you work out tangles!
Best brush for St. Bernard dogs
Choosing the best brush for St. Bernard dogs is easy once you understand that your dog has a thick, double layer coat. This means you need larger brushes with longer tines that are strong and sturdy.
These highly rated and popular brushes will all work to get the job done!
Safari Pin & Bristle Brush for Dogs with Wood Handle, Large. This ergonomic, highly rated, popular pin & bristle brush is specifically recommended for the thick St. Bernard coat.
On one side, the pins are metal with nice rounded ends that won't abrade your dog's skin. On the other side, the bristle brush is smoothing.
Oster Large Combo Brush for Dogs. This double-sided pin & bristle brush is designed to meet the needs of large dogs with thick coats.
Its ergonomic handle will help you deal with "brushing fatigue" and the rounded bristles will make grooming comfortable for your dog.
Andis Premium 2-Sided Pin Brush. This well-made and popular pin & bristle brush will make brushing your dog easier on you as well as on your dog.
The pins have rounded edges for safety and the bristles help smooth your dog's coat as a finishing touch!
Best brush for St. Bernard mats and tangles
Professional groomers know where to look for hidden mats and tangles in a St. Bernard's coat. Often, these hidden mats will build up behind your dog's ears and on the insides of the hind legs.
These highly recommended St. Bernard grooming tools will help you work out any tangles in your dog's coat!
Evolution Undercoat Rake. Similar to the popular Furminator line, some dog owners say this tool is gentler but just as effective. It has metal bristles with smooth, rounded ends that won't feel rough against your dog's skin.
You can choose between a single and a double row, but you will probably want a double row for a long-haired St. Bernard. The pins rotate so there is much less risk of pulling your dog's fur as you brush.
The Pet Portal Self Cleaning Slicker Brush for Dogs. This wildly popular and highly rated pro quality slicker brush makes cleaning the metal tines a breeze.
Just push a button and all the fur is ejected from the tines! Be sure to order the brush size for medium/large dogs.
Happy Dogz Pro Slicker Brush. This very popular and highly praised slicker brush is one of the best dog brushes for St. Bernard coats.
It moves easily through thick coats and owners say their dogs actually like being brushed. The tines are metal and rounded on the ends for a gentle grooming experience.
Best comb for St. Bernard fur
Choosing the best comb for St. Bernard fur is simple once you realize what your St. Bernard dog needs – a strong, straight tine comb with rounded tips. These highly-rated, pro-quality combs will all fit the bill!
Andis Pet Steel Grooming Comb. This comb comes in 7.5-inch and 10-inch tines, depending on how thick and long your St. Bernard's coat is.
The comb itself is made of stainless steel with rounded-tip tines for skin safety. The tines go from narrow to wide spacing to groom small or large areas of fur safely.
Safari Grooming Comb for Dogs. This high quality, highly rated comb comes in 4.5-inch and 7.5-inch tines. The tines are stainless steel with rounded tips for skin safety.
The tines are spaced more closely together at one end than the other for grooming different areas on your dog (face versus body, for instance).
Pettom Pet Stainless Steel Grooming Tool Poodle Finishing Butter Comb. This high-quality, stainless steel comb has rounded tines for safety.
It can help you put the finishing touches on your St. Bernard's smooth, mat-free coat.
Choosing the best brush for St. Bernard puppies
The best brush for St. Bernard puppies will always be a gentle brush with rounded pins!
The earlier you start grooming your St. Bernard puppy, the better chance you will have to help her learn that the process isn't scary at all and she can even enjoy it!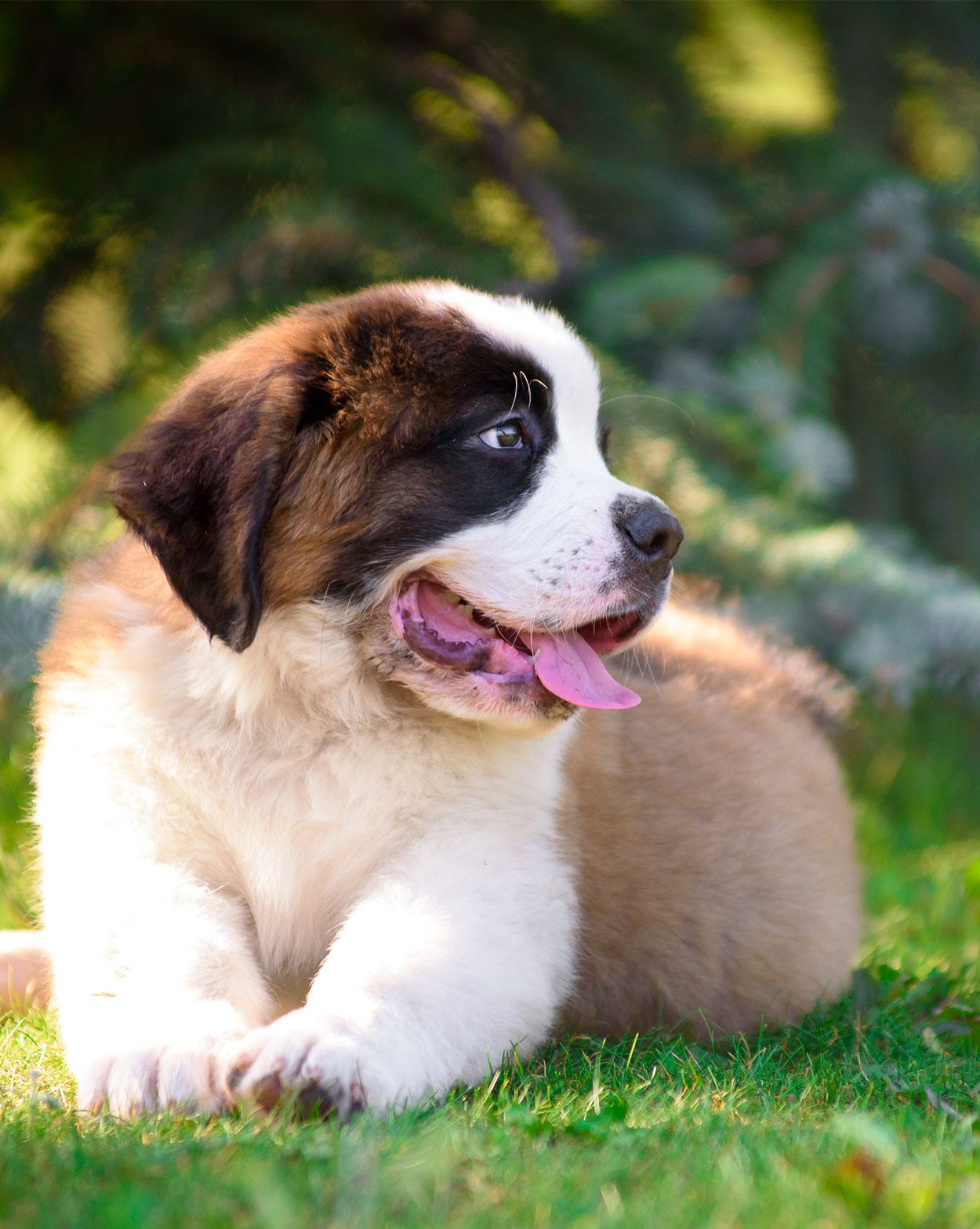 St. Bernard grooming fear
If you have rescued or purchased an adult St. Bernard dog, you might discover you are dealing with a fearful dog at grooming time. This can be especially true if your new dog isn't used to being groomed regularly or has had bad previous experiences with being shaved or groomed!
While you don't have to go to these lengths, this heart-warming story of how one man helped his St. Bernard get over her fear of being groomed will certainly give you some ideas for how to address your own dog's fears!
How to groom a St. Bernard
Grooming a St. Bernard is a skill you can learn. One great way to learn how to groom a St. Bernard is to watch videos of professional groomers working on their canine clients!
This fun 9.5-minute video by award-winning groomer Linda Kay takes a disheveled-looking St. Bernard named Pumpkin and gives her a grooming makeover! You will learn how to trim your St. Bernard's nails, clip out severe mats, use a slicker brush, and more.
Here is an easy video that is just over 6 minutes long from professional grooming service Tails 'N Tubs that shows you how to bathe and groom a big, furry St. Bernard.
We hope you have found this information helpful and that you've picked out the best brush for St. Bernard dogs as you begin regular grooming sessions with your sweet St. Bernard!
Do you have any favorite St. Bernard grooming tools or tips? Please drop us a comment to share – we love to learn from our readers!
References and Further Reading
AKC, American Kennel Club, 2018. 

Carter, R., "Basic Grooming for the Beginner," Saint Bernard Club of America, 2015. 

Geeson, E., et al, "Procedure," Ultimate Dog Grooming, Firefly Books, 2004. 

Beall, L., DVM, Saint Bernard, Aubrey Animal Medical Center, 2017. 
Get Pippa's free dog training tips delivered to your inbox