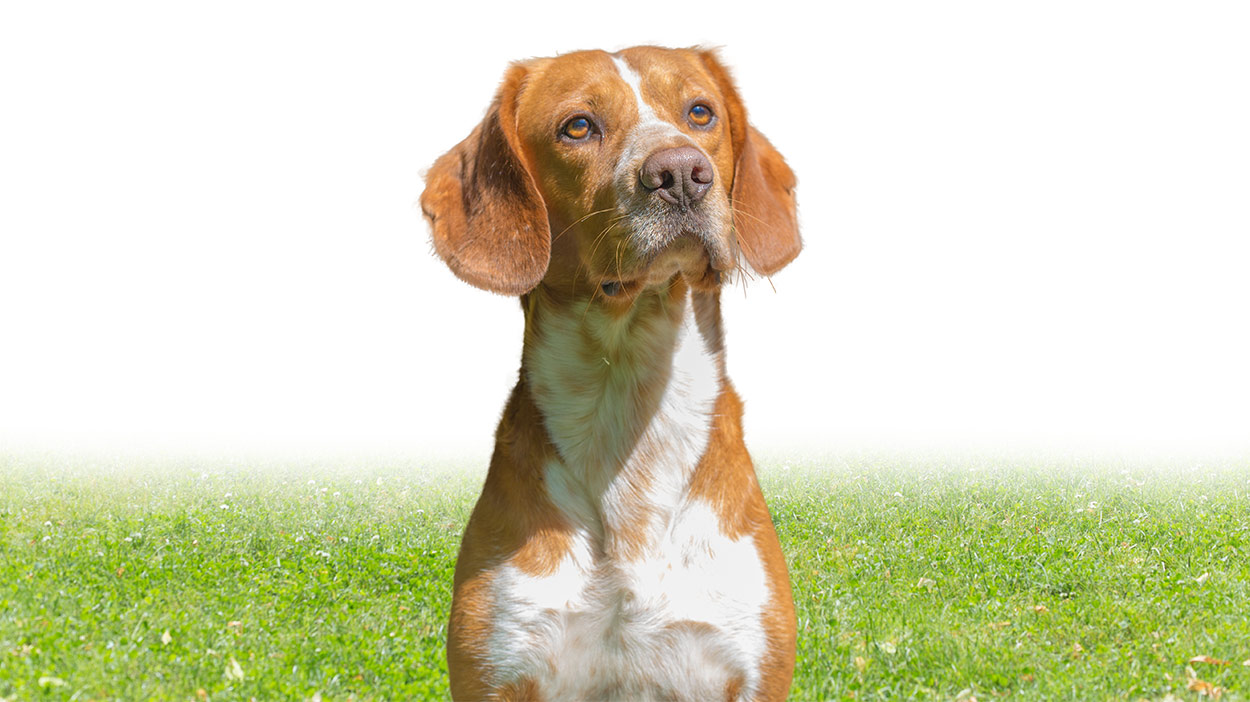 The Beagle Lab mix has undeniable appeal. After all, it combines two lovely breeds! But is this dog the right choice for you and your family?
The popularity of mixed breed dogs has skyrocketed over the past couple of decades. It's not surprising, then, that mixes of the most popular breeds are especially in demand.
One such crossbreed is the Beagle Lab mix.
The Labrador Retriever is the most popular breed in America, according to the AKC. You're probably already familiar with other Lab cross breeds like the Labradoodle and Goldador.
The Beagle is only slightly lower on the list. They're the country's fifth most popular breed and the most popular hound.
It only makes sense that a cross between these two lovable family breeds would also be popular. But is that a good thing?
Designer Dogs
You've probably heard purebred dog enthusiasts claim that crossbred dogs are unhealthy, overpriced, and unethically bred.
In reality, purebred dogs are much more likely than crossbreeds to face health problems.
This is because of the inbreeding and consequent lack of genetic diversity involved in breeding "pure" dogs.
Crossbreeding introduces a whole new set of genes, minimizing the chance that puppies inherit health problems.
Of course, because of that genetic diversity, the traits that crossbred puppies will inherit is unpredictable.
Puppies could get traits from either parent and the more genetically different those parents are, the more difficult it is to predict the traits their puppies will have.
Beagle Lab Mix History
Like with most mixes, the exact origins of the Labrador Beagle mix are unknown, but we know much more about the origins of the two parent breeds.
Both the Beagle and Labrador were bred as hunting dogs.
The Lab got its start when English aristocrats visiting Newfoundland in Canada had local St. John's dogs sent back to England.
From there, the English population diverged from the Canadian population and became what we now call the Labrador Retriever.
As for the Beagle, scent hounds of similar size date back to ancient Greece, and the word "Beagle" was used as a generic term for small hounds starting in medieval times.
The modern breed is comparatively much newer, having developed in the mid-nineteenth century when British hunters interbred other hound breeds including Harriers, North Country Beagles, and Southern Hounds.
History, however, only tells you so much about what you can expect from a breed, especially a mix, so let's take a closer look at some specifics regarding the Beagle Lab mix!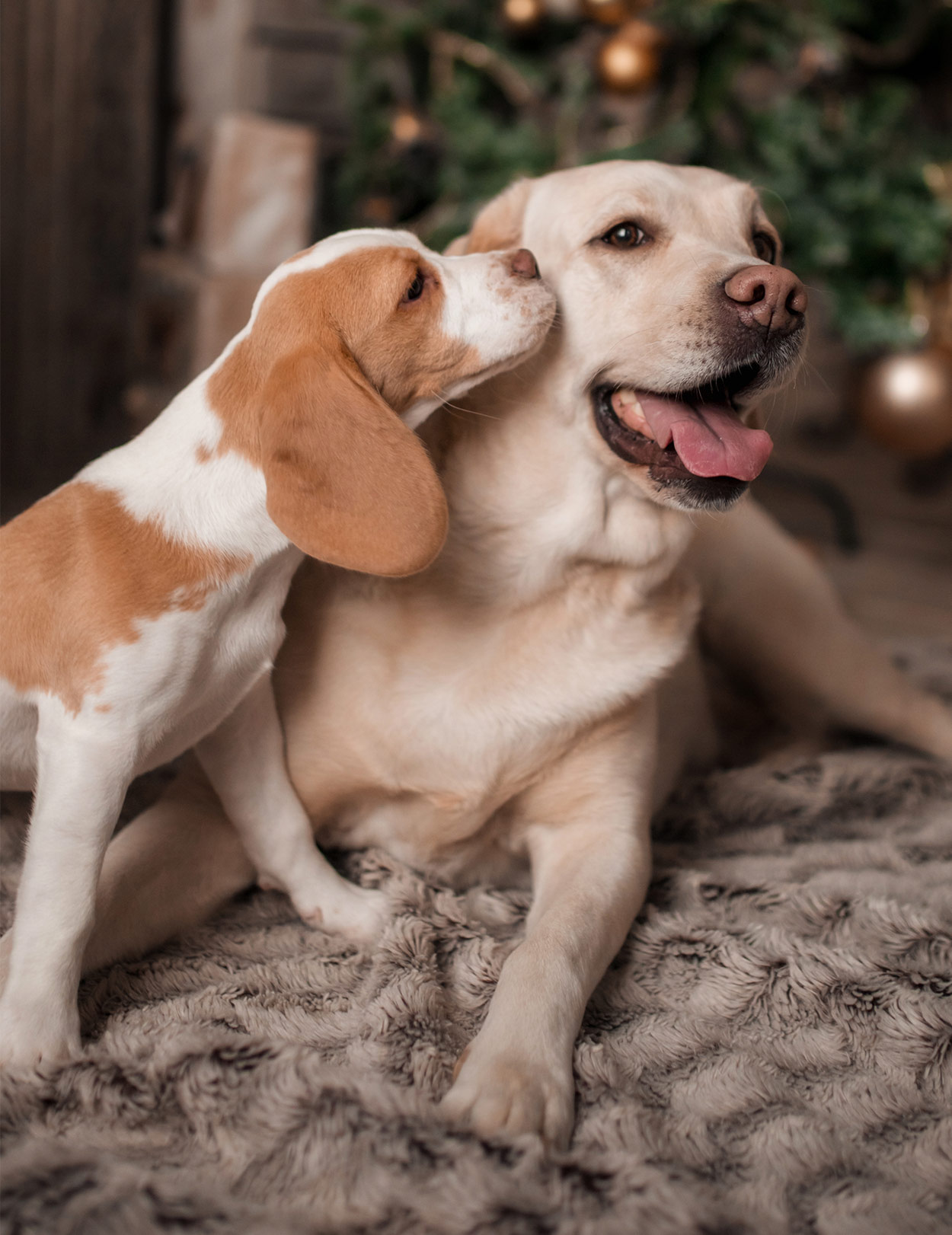 Beagle Lab Mix Full Grown
Adult male Labs generally reach a height between 22.5 and 24.5 inches, and a weight ranging from 65 to 80 lbs. Females are a little smaller, growing to be between 21.5 and 23.5 inches and between 55 and 70 lbs.
Beagles are much smaller, generally ranging from 13 to 15 inches in height and 20 to 30 lbs in weight, though smaller beagles are not at all uncommon.
It is therefore very difficult to predict the size that beagle lab mix puppies will grow to be, but you can expect a male Lab and Beagle mix to fall somewhere between 13 and 24.5 inches in height and 20 to 80 lbs in weight.
A female Beagle Lab mix puppy can be expected to be a bit smaller, with a possible height anywhere from 13 to 23.5 inches and a possible weight between 20 and 70 lbs.
See what I mean when I say that traits can be difficult to predict?
Beagle Lab Mix Characteristics
Another distinguishing characteristic of any breed is its coat, and fortunately this is a little more predictable for the Labrador and Beagle mix.  
Both the Beagle and Labrador have short, hard, straight, and dense coats, so the Labrador Retriever Beagle mix can be expected to have the same.
A Labrador Beagle may also inherit the Lab's oily, water-resistant quality, a soft undercoat, or both.
Coloring is more variable.
Beagle Lab Mix Coloring
The Lab's possible coloring is limited to black, chocolate, and yellow, with possible white markings.
On the other hand, the Beagle has a variety of possible colorations and markings.
These include single, bicolor, and tricolor patterns in:
black

tan

red

white

blue

liver

lemon

fawn.
Open markings, ticked patterns, and mottling are all possible.
A Beagle Lab mix could inherit any of the Lab or Beagle's possible coloring or a mix.  If you're looking for a Labrador Retriever Beagle mix with specific coloring, look for parents that exhibit the colors you desire.
For example, Black Lab Beagle mix puppies will likely have black present in their coloring, while a Chocolate Lab Beagle mix is likely to have more brown present in its coloring.
On the other hand, a Black Lab and Beagle mix will generally have less lighter coloring present in its coat.
Grooming A Labrador Cross Beagle
The Beagle and Labrador both have relatively low maintenance coats, as does the Beagle Lab mix.
However Labradors are prolific shedders. So you might have a lot of work on your hands during the molting season – which for Labs can be all year round!
A Lab Beagle mix dog will shed seasonally and only need weekly brushing and occasional bathing.
If a Labrador Beagle mix inherits the Beagle's hanging ears, they should also be checked weekly as their tendency to retain moisture can lead to infection.
Beagle Lab Mix Temperament And Behavior
The Lab and Beagle mix is friendly, outgoing, and happy-go-lucky.
They're easygoing and patient, but love to play and are prone to silliness.
This breed is good with children, strangers, and other dogs. The Labrador Beagle is also quite independent and intelligent.
Both parent breeds have strong instincts that can lead a Labrador Retriever Beagle mix into trouble if not carefully trained and kept contained.
As a scent hound, the Beagle likes to run wherever his nose picks up a scent, while the Labrador Retriever wants to swim in any body of water it sees.
A Labrador and Beagle mix may be relatively quiet like the Lab, or it could love to use that hound bay like a Beagle.
Beagle Lab Mix Training
The energetic and playful Beagle Lab cross needs at least two half hour exercise sessions a day, either in the form of a brisk walk or active play.
A Beagle Lab mix that doesn't get adequate exercise can be prone to mischief including escaping, destructive behaviors, and excessive barking.
The Labrador Beagle mix loves to run and may also enjoy swimming. They make great companions for hunting, fishing, and hiking. Trips to the dog park provide an excellent opportunity for Labrador Beagle mixes to socialize and exercise.
The Labrador is a people pleaser but the Beagle is far more independent, so training a Lab and Beagle mix could be a breeze or could be quite challenging.
Obedience training and socialization are essential to ensure that this outgoing dog is able to socialize politely and is easy to control despite his instincts. Training is especially important if you plan on taking the dog hunting or fishing.
Barking, chewing, and digging can be behavior problems for Labrador Beagle puppies.
These behaviors often decrease as the Lab and Beagle mix puppy matures, but training the puppy and redirecting the puppy's interest to more acceptable alternatives are necessary to prevent Beagle Labrador mix puppies from being too destructive.
Beagle Lab Mix Health
Though mixed breeds tend to be healthier than purebred dogs, they are by no means exempt from health problems.
To determine what health problems a Labrador Retriever Beagle mix might have, we must once again look at the two parent breeds.
 Beagle Health
Hip dysplasia is among the most common health conditions in Beagles, affecting 17.8 percent of the breed according to the Orthopedic Foundation for Animals (OFA).
Hip dysplasia occurs when the hip joint fails to properly form, causing the joint to grind during movement.  In dogs, dysplasia also commonly occurs in the elbow.
Epilepsy, a seizure disorder in which seizures occur without a triggering event, is also particularly common in Beagles in comparison to other dog breeds.
15.4 percent of Beagles suffer from degenerative myelopathy.  This disease impacts the spinal cord of senior dogs and leads loss of coordination and eventually paralysis.
Factor VII deficiency, a blood clotting disorder, is disproportionately common among Beagles.  
Various eye conditions are also common, particularly glaucoma and corneal dystrophy. Glaucoma refers to a group of eye disorders which damage the optic nerve, leading to a loss of vision and potentially total blindness.
Corneal dystrophy is a group of disorders in which substances from the body, such as fats and cholesterol, are deposited in the cornea, gradually impeding vision.
Finally, Beagles are particularly prone to obesity, which can lead to a wide variety of other conditions, including diabetes and cardiac issues. The life expectancy of a Beagle is 10 to 15 years.
Labrador Retriever Health
Like Beagles, Labs are prone to hip dysplasia, which affects 12.1 percent of Labs, but they're also prone to elbow dysplasia, which affects 10.4 percent of Labs.
Labrador Retrievers are also particularly likely to suffer from eye diseases, including corneal dystrophy, as well as cataracts, progressive retinal atrophy, and retinal dysplasia.
Cataracts is the clouding of the eye's lens. Progressive retinal atrophy is simply the degeneration of the retinal, while retinal dysplasia is a malformation of the layers of the retina, causing clumps or folds in the retinal tissue.
Exercised induced collapse (EIC), a genetic syndrome that causes a dog to become dangerously exhausted after just a few minutes of exercise, is also particularly common among Labradors.
Obesity is more common among Labs than any other breed.
The risk of obesity may be increased if the dog suffers from a thyroid condition, which affects 2.5 percent of Labs.
Labrador Retrievers have a life expectancy of 12.5 years.
Predicting Labrador Beagle Mix Health
Because most of these disorders are only common in either the Labrador or Beagle, a Beagle Lab mix is relatively unlikely to inherit them.
However, the health problems that are present in both the Beagle and Labrador do warrant special concern.
Hip dysplasia and corneal dystrophy can be detected through genetic tests, so be sure that the parents of any Beagle Lab mix puppies that you may want to bring home have been tested for the presence of these genes.
In fact, the breeder should be able to provide the results of all OFA recommended tests for both parents.
OFA recommends that breeding Beagles be tested for hip dysplasia and Musladin-Leuke Syndrome as well as eye, cardiac, and thyroid exams.
For Labrador Retrievers, OFA recommends a hip dysplasia test, an elbow dysplasia test, an eye exam, a test for exercise induced collapse, a D-locus DNA test, a Centronuclear Myopathy test, a cardiac evaluation, and a prcd-PRA DNA test.
Labrador Retriever Beagle mix owners can prevent obesity with regular exercise and regular, portion-controlled feeding, and should work with a vet to determine the right weight, activity level, and diet for their Labrador and Beagle mix.
Finding A Beagle Lab Mix Breeder
Choosing a reputable, experienced breeder is also essential for ensuring a healthy Beagle Lab cross.
Your breeder should be able and willing to provide a complete health history of both parents, especially the results of genetic testing.
They should also allow you to meet both the mother and all puppies in the litter that are still available. If the father is present, you should be able to meet him as well.
The puppies and parents should appear healthy and well cared for, and the mother should be either a pet or working dog.
The breeder should be able to provide references for the health of the puppies they produce, as well as a guarantee of the puppies' health.
The breeder should be willing to answer any and all questions you have about the breed or specific dogs, even after you have purchased the puppy.
Are Beagle Lab Mix Pups Good Family Dogs?
So now you know all about the Lab Beagle mix dog, including how to find a great breeder, but are you sure it's the right breed for you and your family?
The Beagle Lab mix is not a good breed for people who are unable to give it adequate exercise or who want a dog to relax on the couch with. If that's your speed, a Great Dane or English Bulldog may be a better choice.
The Labrador Beagle mix is also highly social. If there's no one in your home for long hours of the day, an independent Maltipoo or Whippet will do just fine.
On the other hand, the Lab and Beagle mix does great with active families.
In fact, parents may love that the children and dog can exercise and entertain each other!
Outdoorsmen and outdoorswomen will also enjoy the Labrador Retriever Beagle mix, which makes an enthusiastic companion on all sorts of adventures in the great outdoors.
Good Homes For Lab Beagle Mixes
The Labrador and Beagle mix does well in multi-dog homes and may even prefer the extra companionship, as the Beagle was historically bred to hunt in packs.
This makes them a potentially good starter dog for people planning to add more dogs to their family.
As well as perhaps a nice addition for families looking to give the dog they already have a new brother or sister.
Just be warned that older or inactive dogs may find the Beagle Lab mix's constant desire to play very annoying!
Does this sound like your family and home?
If so, then the Beagle Lab cross just might make an excellent addition to your family!
Leave us a comment and let us know how your dog search goes!
References and Further Reading
Bastien, B., A. Patil, & E. Satyaraj. 'The impact of weight loss on circulating cytokines in Beagle dogs.'

Veterinary Immunology and Immunopathology

, 2015.

Davison, L., et al. 'The Canine

POMC

Gene, Obesity in Labrador Retrievers and Susceptibility to Diabetes Mellitus.'

Journal of Veterinary Internal Medicine

, 2017.

Graham, K., C. McCowan, & A. White. 'Genetic and Biochemical Biomarkers in Canine Glaucoma.'

Veterinary Pathology

, 2016.

Keeshen, T. et al. 'Outcome of laparoscopic ovariohysterectomy or ovariectomy in dogs with von Willebrand disease or factor VII deficiency: 20 cases (2012–2014).'

Journal of the American Veterinary Medical Association

, 2017.

Kelawala, D. et al. 'Clinical studies on progressive retinal atrophy in 31 dogs.'

Iranian Journal of Veterinary Research

, 2017.

Lohi, H. et al. 'Expanded Repeat in Canine Epilepsy.'

Science

, 2005

Mellersh, C. 'The genetics of eye disorders in the dog.'

Canine Genetics and Epidemiology

, 2014.

Pont, R. et al. 'A Carbohydrate Sulfotransferase-6 (CHST6) gene mutation is associated with Macular Corneal Dystrophy in Labrador Retrievers.'

Veterinary Ophthamology

, 2015.

Taylor, S. 'Exercise Induced Collapse in Labrador Retrievers.'

Zion Kennels

, 2007.

Zeng, R. et al. 'Breed Distribution of SOD1 Alleles Previously Associated with Canine Degenerative Myelopathy.'

Journal of Veterinary Internal Medicine

, 2014.

The American Kennel Club
Get Pippa's free dog training tips delivered to your inbox