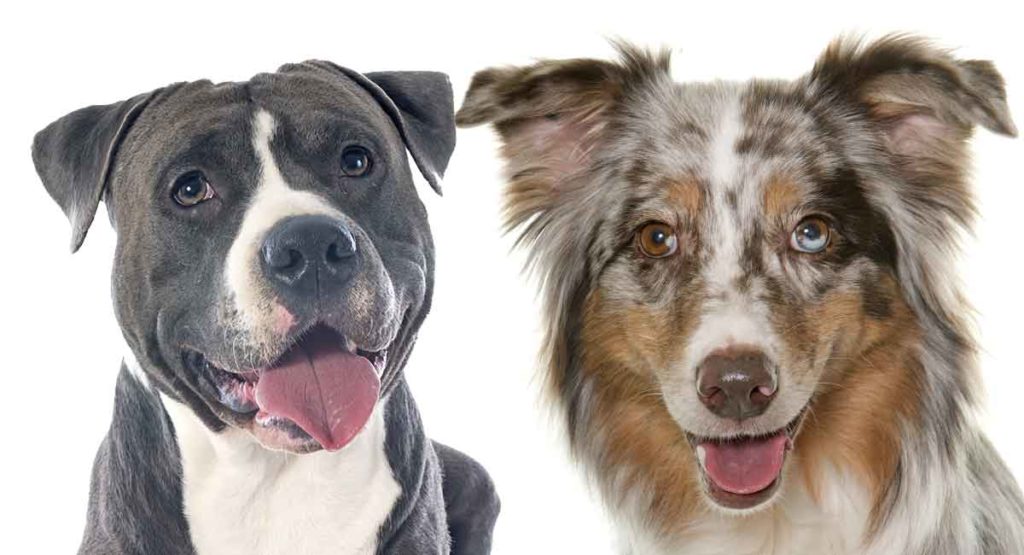 The Australian Shepherd Pitbull mix combines two very different dogs.
One is a classic working dog with distinctive markings. The other is a muscular terrier with a reputation that divides opinion.
The Aussie Pitbull mix is a collision of different looks, backgrounds and purposes.
So, what would a mix of these two very different breeds be like? And would they make a good addition to your family?
Where Does The Australian Shepherd Pitbull Mix Come From?
As is the case with many mixed breed dogs, the origins of this mix are not really known.
However, we know plenty about the origins of the parent breeds.
So let's take a look at each of them in turn.
Origins Of The Australian Shepherd
The Australian Shepherd is a breed that has been used for many years to herd livestock.
Despite its name, this breed began in Europe. It made a stopover in Australia, but really came into its own in America.
Hallmarks of the modern-day Australian Shepherd and the breeds involved in its development are their work ethic, hardiness, and dedication.
Origins Of The Pitbull
The Pitbull has a somewhat confusing past, as a few different dogs are referred to as "Pitbulls." These include the American Pitbull Terrier, the American Staffordshire Terrier, Staffordshire Bull Terrier, the Bull Terrier, and the Miniature Bull Terrier.
The origins of all these dogs go back to England, where they were originally bred for a violent sport known as bull baiting. In this sport, two dogs terrorized a bull until it collapsed or died from exhaustion or injury.
As time progressed, these activities were outlawed, and the purpose of the Pitbull changed. They were used as general herding, hunting, and companion dogs.
Down to this day, their reputation still hangs in the balance between loving companion and dangerous killer.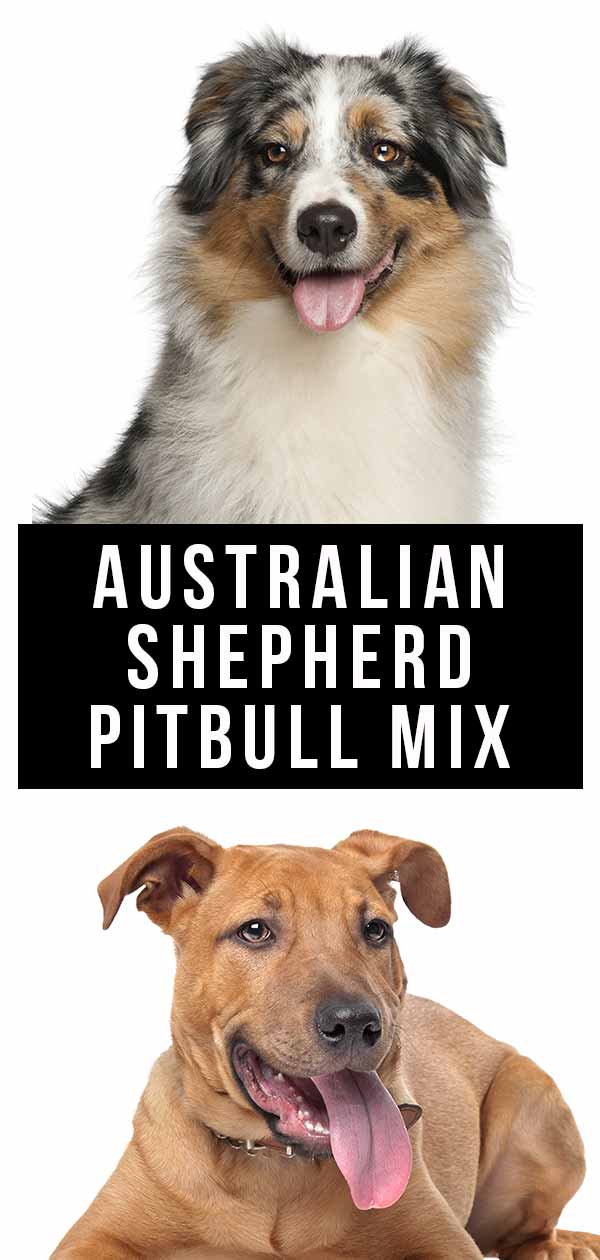 Putting The Two Together
Crossing these two breeds throws up a new controversy, as the emergence of "designer dogs" has both passionate supporters and detractors.
Those who advocate for purebred dogs claim that crossbreeds are overpriced, unhealthy, and unpredictable. It is true, due to the genetic diversity of first-generation crosses, that there is a level of unpredictability that comes with these dogs.
However, this genetic diversity also means cross breed dogs may be less likely to suffer the large range of health issues that purebred dogs can inherit.
One study published in 2011 found that the health issues inherent in many purebred dogs is one of the main animal welfare issues that concern veterinarians.
Particularly in the case of breeds with more extreme physical characteristics, issues such as bad joints, breathing difficulties, back problems, and difficulty giving birth are of serious concern.
Fun Facts About The Australian Shepherd Pitbull Mix
The Pitbull's reputation has seen both dizzying heights and crushing lows.
During the 1st and 2nd World Wars, they were something of a mascot for America, touted as the all-American dog, the embodiment of bravery and loyalty.
One particular Australian Shepherd named "Magic" rose to fame in the 1990s as a world class "disc dog." He performed Frisbee tricks in front of thousands of people at big sporting events.
Australian Shepherd Pitbull Mix Appearance
Mixed breed dogs are very difficult to predict accurately in terms of what they will look like.
This is because they can really take on the appearance of either of the parent breeds, favoring one more than the other. It's all up to chance.
The best bet for knowing what an Aussie Pitbull mix will look like is to know what each parent breed looks like to begin with.
Australian Shepherd
The Australian Shepherd stands 18 – 23 inches and weighs between 40 and 65 pounds.
They are a well-balanced dog, slightly longer than they are tall. They are sturdy, ready for work without being too heavy set.
Their medium length coat can be straight or wavy. The coat is shorter around the head, ears and the bottom of the legs.
Their colors and markings are one of their most defining features. They come in blue merle, black, red merle and red. All variations can come with or without white markings and/or tan points.
Their distinctive markings will sometimes also go along with piercing blue eyes, or even one brown and one blue eye.

Pitbull
It is a little trickier to define exactly what a "Pitbull" looks like, as there are a few different dogs that fall under this umbrella.
A defining characteristic is that they are muscular, with a short coat. They have a thick, broad head which is proportionate to the dog. Overall, they give an impression of strength and power.
They can range from quite short and squat in frame, to a more medium sized dog, such as the American Staffordshire Terrier. A Staffie generally will stand anywhere from 17 to 21 inches at the shoulder.
Again, weight will vary according to the variety of dog, but they can weigh anywhere up to 60 pounds.
These dogs come in just about any color, although breed clubs disqualify merle and albino dogs.
Australian Shepherd Pitbull Mix Temperament
You are likely aware that the Pitbull has a reputation as a dangerous dog. There is a persistent idea that they are aggressive, which coupled with their strength leads many to avoid the breed and its crosses altogether.
According to a study published in 2006, the Pitbull is not as likely to attack humans as many other breeds. They are, however, more likely to attack other dogs.
According to the study, the Australian Shepherd is more likely to attack strangers than some breeds but was not likely to attack their owners.
Like the Pitbull, the Australian Shepherd also scored higher than other breeds when it came to dog-related aggression.
Bite Concerns
While there is plenty a responsible owner can do to ensure they raise a sociable puppy, the way in which Pitbulls bite must also be mentioned.
It is a myth that they have the strongest bite strength in the canine world and can lock their jaws shut when they bite. However, there are some things worth being aware of when it comes to a Pitbull's bite.
A Pitbull will tend to bite and shake their head while holding on, which can lead to serious injury. They also have big mouths, which means they can wrap around a larger area should they bite.
The introduction of the Aussie may go some way in watering down this instinct, and the size of the jaw may also be smaller.
Nevertheless, it is always important to be aware of what instincts your dog has and be careful to train and socialize them accordingly.
Training Your Australian Shepherd Pitbull Mix
This does not mean that this mix is doomed to be vicious towards strangers and other dogs. Socialization is all important when it comes to raising a friendly dog that enjoys meeting new people and making canine friends.
Both breeds do have a tendency to be aggressive towards other dogs, and the Australian Shepherd toward strangers. So socialization is especially important for this mixed breed.
If you would like a head-start on how to train your dog, you will find the following articles helpful.
Both breeds are athletic and appreciate a good amount of running around each day with their human companions. They get bored if not given enough stimulation.
Australian Shepherd Pitbull Mix Health
The Australian Shepherd and the Pitbull both live between 9 and 15 years. So a mix of the two can also expect to see a similar lifespan.
Grooming should be relatively easy for this mix, since one parent has a very short coat.
Each breed is prone to certain health issues. There's a chance that these could be passed down to their offspring.
Australian Shepherd Health Issues
Being a working breed, the Australian Shepherd has been bred to move freely, which is generally good news for their conformation.
However, as with most breeds, there are some genetic conditions they are predisposed to, such as:
autoimmune thyroiditis
some cancers
eye problems
elbow and hip dysplasia
epilepsy
MDR1 drug sensitivity
They may also be susceptible to some allergies. These are not life threatening, but can lead to itchy skin which will impact the dog's quality of life.
For more detailed information about the health of the Australian Shepherd you can find plenty of information at the Australian Shepherd Health and Genetics Institute.
Pitbull Health Issues
It is a little harder to pinpoint exactly what conditions a Pitbull is susceptible to, since the name covers a few types of dog.
Therefore, it is important that you check with the breeder that both parents of the pup were healthy and were screened for common health conditions, such as the hip and elbow dysplasia.
In line with this, keeping your dog within a healthy weight range will go a long way to protect their joints, especially for heavy set, muscular breeds such as the Pitbull.
Pitbulls tend to suffer from sight problems and can also be susceptible to skin allergies.
Do Australian Shepherd Pitbull Mixes Make Good Family Dogs?
These dogs can make great family pets, but should only be considered if they are very well trained. It is vital that anyone considering this mix are prepared to put in the work needed to train, socialize, and exercise these dogs.
This breed is smart, strong, and perhaps a little shy around strangers.
If you have small children, it is advisable that they are never left alone unsupervised with one of these dogs.
We would recommend a well trained and socialized mix as a dog for a family with older children.
Rescuing An Australian Shepherd Pitbull Mix
Rescuing a dog is a great option if you would like to give a dog a second chance.
Sadly, some dogs were mistreated or neglected by their previous owners. Others had health or behavioral issues that the previous owner could not manage.
Therefore, time, patience, and money are required to give a rescue dog the home they need.
Of course, not all rescue dogs come from this kind of background. At times, their owner simply could not keep them when their situation changed.
Make sure you have an open, honest discussion with the rescue organization about your situation so that you can be sure to rescue a dog that will be a good fit with your family.
Finding An Australian Shepherd Pitbull Mix Puppy
While mixed breed dogs remain a controversial topic, they are growing in popularity. Some feel a mixed breed dog will offer the best of two breeds, such as size, temperament, health, or appearance.
One downside of this surge in popularity is that some have seen this as an opportunity to cash in.
The result is the existence of puppy mills. In these establishments, the mother and the puppy can suffer cruel neglect, both physically and emotionally, all in the name of churning out puppies and making a profit.
Often the cute puppies you see in the pet shop window are from one of these puppy mills. Similarly, if you buy a puppy online without visiting the premises, you may be supporting a puppy mill.
Pros And Cons Of Getting An Australian Shepherd Pitbull Mix
Cons:
May have the tendency to be aggressive toward strangers or other dogs if not socialized properly
Will need plenty of exercise
May get bored easily
Pros:
Great dog for an active family
Loyal
Intelligent
Similar Australian Shepherd Pitbull Mixes And Breeds
Here are some other breeds which share some characteristics with this crossbreed:

Australian Shepherd Pitbull Mix Rescues

If you're interested in adopting this mix, these rescue centers are a good place to start.
And if you come across any other resources that we don't have listed here, please leave us a comment below so we can add them to the list!
Is An Australian Shepherd Pitbull Mix Right for Me?
If you are an experienced dog owner and have the time and space to give one of these dogs the training and exercise they need, they can make a great pet.
They may not be the best choice if you are short on time or have small children that cannot be supervised when with the dog.
However, if you feel you and your family tick all the boxes, you will surely find an intelligent, active and loyal addition to your family in an Australian Shepherd Pitbull mix.
References And Further Reading
Scott, D.W., "A survey of canine and feline skin disorders seen in a university practice: Small Animal Clinic, University of Montreal, Saint-Hyacinthe, Quebec," Can Vet Journal, 1990
Safatle, AMV., et al "Retinal degeneration in a Pitbull dog: Electroretinographic findings," Archives of Veterinary Science, Brazil, 2005
Australian Shepherd Health and Genetics Institute
The Australian Shepherd Club of America
Lowe, J.K., "Linkage mapping of the primary disease locus for collie eye anomaly," Genomics, 2003
American Pit Bull Foundation
Taylor, J.J.H., "The origin and history of Australian Shepherds," AKC Gazette Magazine, 2009
Beuchat, C., "The myth of hybrid vigor in dogs… is a myth"
Yeates, J.W., Main, D.C.J., "Veterinary surgeons' opinions on dog welfare issues," Journal of Small Animal Practice, 2011
Love-a-Bull
Bloeme, P., Perry, J., "Disc Dogs! The Complete Guide," Hyperflite
"Official Standard of the Australian Shepherd," American Kennel Club
"American Pit Bull Terrier – Official UKC Breed Standard"
Duffy, D.L., Yuying, H., Serpell, J.A., "Breed differences in canine aggression," Applied Animal Behavior Science, 2008
Get Pippa's free dog training tips delivered to your inbox