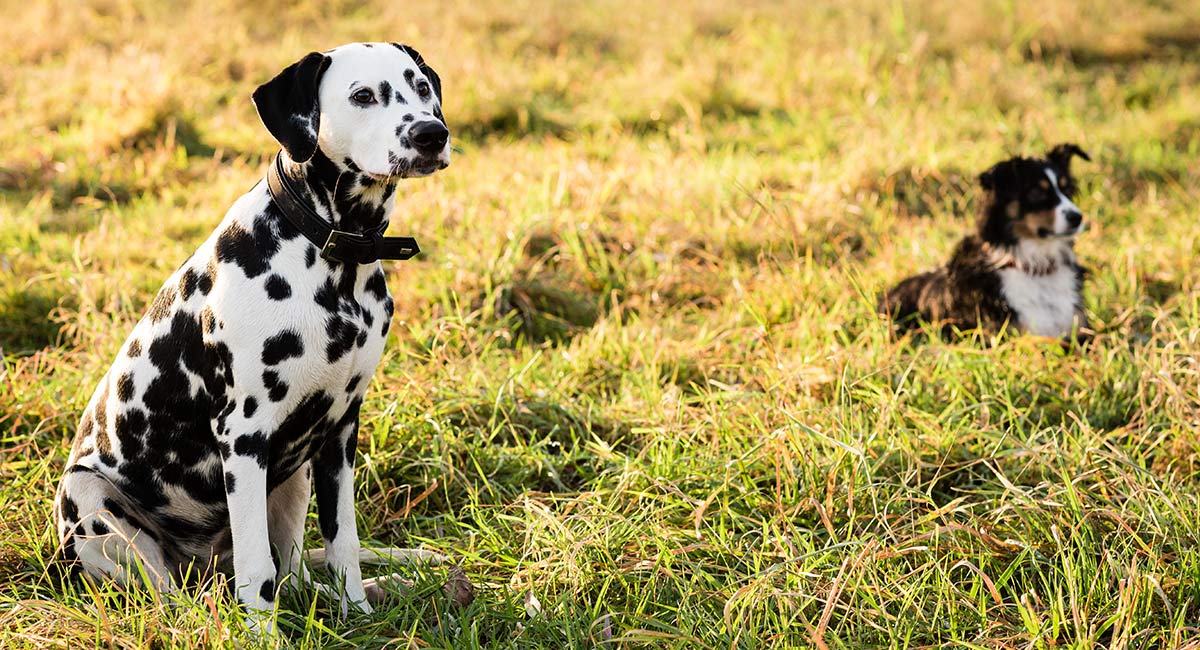 Did you know there are currently more hybrid or "designer" dog breeds today than at any other time in history? And that includes the Australian Shepherd Dalmatian mix.
The newer cross-breed brings together the rough-and-tumble mojo of the Australian Shepherd with the aristocratic nobility of the Dalmatian.
With this kind of genetic mashup, it can be hard to know what to expect in terms of personality, temperament, grooming, energy level and health issues.
So you may be finding it hard to decide whether to share your life with an Australian shepherd Dalmatian mix!
In this article, we'll take a close look at the Australian Shepherd and Dalmatian mix to give you all the information you'll need to decide if this is the right hybrid dog for you!
Purebred Dogs and Designer Dogs – Controversy vs Science
Even though hybrid or designer dogs have become more popular, the controversy still rages as to whether hybrid dogs should even exist at all!
Purebred dog breeders and enthusiasts point to genetic uncertainty to be the main reason to avoid the deliberate breeding of designer dogs.
In other words, purebred breeders have worked very hard to keep their bloodlines undiluted, and now people are deliberately crossing those bloodlines.
For purebred purists, this can feel like all their hard work is oh-so-casually being undone.
However, canine biologists and researchers say this very genetic intermingling may act to strengthen the future purebred gene pool.
Mixed breeding could also reduce the high incidence of certain serious (and sometimes fatal) heritable diseases associated with many purebred dog breeds.
This particular theory of deliberate crossbreeding for genetic strengthening is called "hybrid vigor."
Of course, way before there was ever such an animal as a designer or hybrid dog, what we had was simply called a mixed breed dog—or even better yet, the good ol' mutt.
For decades, there has been a working theory circulating among dog owners that mutts may be the healthiest dogs of all.
And now it appears there may also be some real scientific truth behind this argument. Find out more in this article.
For now, hybrid dog supporters and detractors may be best served by accepting each other's presence in the dog world.
Since it would appear that purebred dogs, designer dogs, and mixed breed mutts are all here to stay!
What is the Australian Shepherd Dalmatian Mix?
To understand the unique h Australian shepherd Dalmatian mix, it helps to learn more about each parent dog the Australian shepherd and Dalmatian.
Each parent has its own unique traits, strengths, and health concerns. So let's dive in and take a closer look!
Australian Shepherd vs Dalmatian
As you'll soon see, both the Australian shepherd and Dalmatian both have their own long and unique histories.
Origins of the Australian Shepherd
The name Australian Shepherd might immediately give you a hint as to its birthplace—but surprisingly, they actually hail from Europe, not Australia!
The dog which is known today as the Australian Shepherd arose from a much older European dog breed called the Pyrenean Shepherd (named for a nearby mountain range, the Pyrenees).
For decades, Pyrenean Shepherd dogs worked side-by-side with their keepers— people of the indigenous tribe known as the Basques.
The Basques resettled in Australia to try their luck as farmers and ranchers, where they crossbred the traditional Pyrenean Shepherd with collies and other Australian working dogs.
Over time, their efforts produced a new breed called the Australian Shepherd.
When the Basque people again decided to relocate to California, their new stateside neighbors dubbed these dogs as Australian Shepherds—or "Aussies" for short.
The name stuck, and Aussies soon became popular fixtures on farms and ranches, in rodeo shows, as search-and-rescue dogs, and service dogs.
Later, they moved into the show ring as a registered purebred dog breed in their own right.
Origins of the Dalmatian
The Dalmatian has many claimants to its original birthplace, which may be anywhere from Asia to the British Isles (which helps explain how these dogs picked up the nickname "plum pudding dogs").
However, the Dalmatian dog's name does accurately pinpoint its modern birthplace—the area previously called Dalmatia, now part of Croatia bordering the Adriatic Sea in Europe.
These dogs were bred to do a job that may be unique to them—guarding horse-drawn coaches!
Dalmatians guarded coaches for so many different people from all walks of life, from aristocrats to gypsies.
In time, Dalmatians were recruited to join firefighting squads and, still later, they were tapped to serve as escorts for the famous Budweiser Clydesdale horses.
Today, the Dalmatian is one of these few purebred dog breeds that is so much a part of the worldwide popular culture that most people can identify this dog by name.
Even if they are unfamiliar with dogs in general (the hit children's story "101 Dalmatians" certainly has helped!).
What is the Australian Shepherd Dalmatian Mix Like?
Whenever you're talking about a hybrid dog breed like the Australian Shepherd Dalmatian mix, it can be challenging to make any kind of blanket statement about what these dogs may grow up to be like.
The reason for this is because of how genetics itself works. One puppy in a litter may receive more genetic influence from their Australian shepherd parent.
Then another puppy in a litter may inherit more genetic influence from their Dalmatian parent.
So as a result, even two puppies within the same litter may have very different looks, personality and health issues.
Size, Height, and Weight of the Australian Shepherd Dalmatian Mix
Let's take a look at the size, height, and weight of each parent dog to determine the range of sizes, heights and weights an Australian shepherd Dalmatian mix puppy may inherit.
Australian Shepherd Size, Height, and Weight
Australian shepherds can vary in size depending on gender. Females tend to weigh between 40 and 55 pounds, while males tend to weigh between 50 and 65 pounds.
In height, female Australian shepherds may stand 18 to 21 inches, while males may stand anywhere from 20 to 23 inches.
In terms of overall size, these are working dogs to the core. They are lean and rugged and very strong and agile for their size.
Dalmatian Size, Height, and Weight
Dalmatians don't show quite as much variation based on gender. Their basic weight can range anywhere from 45 to 70 pounds and height may vary from 19 to 24 inches.
These dogs are also lean and rangy with extra-long legs and muscular bodies.
Defining Characteristics of the Australian Shepherd Dalmatian Mix
Next, let's take a look at the characteristics of the Australian Shepherd and Dalmation to give us a hint of what an Australian Shepherd Dalmatian mix may turn out like.
Defining Characteristics of the Australian Shepherd
The Australian Shepherd breed can be bi-color, tri-color or exhibit a dominant color pattern called merle. The basic coat colors are black, tan, liver/red, white.
Of these, black and liver/red are the basic underlying coat colors and white and tan are considered accent colors.
All-white Aussies are fortunately rare because this coat color is associated with blindness and deafness.
Defining Characteristics of the Dalmatian
The Dalmatian's trademark white coat with black spots is so distinctive it almost doesn't even need describing!
Temperament and Behavior of the Australian Shepherd Dalmatian Mix
Australian shepherd dogs and Dalmatians do share some temperament and behavior similarities, thanks to their shared heritage as working dogs.
Australian Shepherd Temperament and Behavior
Australian shepherds are very high energy, loyal and loving dogs. Overall, they have great potential to be wonderful family dogs.
They also make excellent service animals and have an incredible work ethic when "on the job."
However, Aussies also have very strong guarding and territorial instincts that can become problematic without strong, ongoing training.
They really need daily tasks to do and a lot of structure to go with their responsibilities.
Dalmatian Temperament and Behavior
Dalmatians have a long and illustrious history as working dogs. Their work ethic is very strong and they are smart and highly trainable.
Due to their long working history as coach guarding dogs, Dalmatians have moderate territorial tendencies, but these can generally be controlled with training.
These dogs can be reserved in temperament, but they are very loyal and loving and generally make good family dogs as long as kids are not too rough with them.
Dalmatians can make great service dogs and thrive when they are part of an active family and have a daily job to do.
Grooming and Caring for Your Australian Shepherd Dalmatian Mix
Depending on which parent dog your Australian shepherd Dalmatian mix puppy takes after, you may find yourself at one spectrum or the other when it comes to grooming and care!
Australian Shepherd Grooming and Care Requirements
Australian shepherds have a thick, double layer coat that is water-repellant so these dogs can shed profusely both seasonally and also shed throughout the year.
You will need to be prepared for regular grooming and brushing sessions with this dog breed!
Because these dogs are working dogs and are constantly on the go, it will be important to continually groom out debris and dirt.
It's also recommended to regularly check your dog over for parasites, ticks and other travelers brought inside from the great outdoors.
These dogs also tend to have furry, floppy ears, which makes regular ear checks and cleaning a priority during grooming sessions.
Due to dental issues, Aussies also need regular attention to their teeth, including frequent teeth cleanings.
Dalmatian Grooming and Care Requirements
Dalmatians are literally the near-opposite of Australian shepherds—they have short, neat coats that shed minimally and only need a weekly brushing to remove shed hair.
However, their ears also flop over like that of Aussies, so regularly ear checks and cleaning are necessary to keep ear infection at bay.
Health Issues of the Australian Shepherd Dalmatian Mix
Both Australian shepherd and Dalmatian purebred dogs can be prone to a number of heritable health conditions.
Unfortunately, there is no way to predict in advance which parent dog an Australian shepherd Dalmatian mix puppy may take after.
The only way to prepare is to be aware of the unique health challenges of each parent dog breed.
Working with a responsible, reputable breeder is the best way to limit the possibility that your puppy may develop breed-specific health issues inherited from either parent dog.
Australian Shepherd Health Concerns
As an enduring and ancient purebred dog breed, Australian Shepherds have a very well-documented genetic health history.
While the list of potential heritable health issues is lengthy, be aware that knowledgeable and conscientious breeders can do a lot to minimize or eliminate many of these.
Australian shepherds have a genetic sensitivity (MDR1) to many canine medications.
This means you will need to proceed with great caution when your dog needs medication or anesthesia for surgery.
Autoimmune diseases plague this dog breed and many are specific to individual genetic lines. Among the most concerning are:
autoimmune thyroiditis
lupus
inflammatory bowel disease
pemphigus (skin blistering)
diabetes mellitus
Hip and elbow dysplasia are also a possibility, as is the case with so many medium-to-large dog breeds. Surgery is currently the only option for correction.
Other health concerns include:
behavioral issues
cataracts
epilepsy
cancer
an umbilical hernia
reproductive issues in females
allergies
dental faults
You can also check the Canine Health Information Center (CHIC) registry to find out which genetic tests are currently recommended for Australian shepherd dogs.
Dalmatian Health Concerns
Dalmatians are quite prone to congenital (present at birth) deafness.
Research tells us two important facts: an estimated 12 percent of Dalmatians are deaf and blue-eyed Dalmatians are more likely to be deaf than brown-eyed Dalmatians.
Dalmatians, like many medium-to-large breed dogs, are also prone to hip dysplasia (joint malformation). This heritable condition can only be corrected surgically.
Dalmatians carry a gene mutation that can cause elevated uric acid levels that leads to the development of bladder stones.
However, the responsible gene has now been identified and efforts are underway to eliminate this mutation from future generations.
The most successful efforts to produce a dog free from the mutation is 99 percent Dalmatian and 1 percent Pointer.
Dalmatians are also susceptible to a number of other health issues, including:
epilepsy
kidney and liver dysfunction
juvenile renal failure
hypothyroidism
ocular disorders
skin/coat allergies
Many of these health issues can be avoided of the parent dogs are properly screened and tested prior to breeding!
You can also check the Canine Health Information Center (CHIC) registry to find out which genetic tests are currently recommended for Dalmatians.
Socialization and Training Requirements of the Australian Shepherd Dalmatian Mix
Both Australian Shepherds and Dalmatians require early and ongoing training and socialization to overcome their guarding and territorial tendencies.
These tendencies are one reason both purebred breeds make such good working dogs.
But in a non-working family setting, more structure and socialization will be needed to temper these traits.
You may find that involving your dog in agility or obedience classes, show competitions, are an asset in managing your dog's needs
Other helpful ways of giving your dog a daily "job" to do are service or therapy dog work and other similar structured activities
The Ideal Home for an Australian Shepherd Dalmatian Mix
The ideal home for an Australian shepherd Dalmatian mix dog is one in which your dog has plenty of outlets for their high energy, intelligence, and working dog nature.
But you don't have to be a rancher or farmer or involved in the show dog circuit to enjoy life with an Australian shepherd Dalmatian mix dog.
You just need to provide your dog with plenty of exercise, training, socialization, activity, and structure.
Does the Australian Shepherd Dalmatian Mix Make a Good Family Dog?
Both the Australian shepherd and the Dalmatian can make for very good family dogs under the right circumstances (see the previous section).
This bodes well overall for your chances of success with bringing an Australian shepherd Dalmatian mix puppy into your family.
How to Pick Your Australian Shepherd Dalmatian Mix Puppy
As with any hybrid dog breed where any given puppy in a litter may inherit more influence from one parent dog or the other—Australian shepherd Dalmatian mix puppies can be a truly mixed lot!
The best way to pick a good Australian shepherd Dalmatian mix puppy is to begin by selecting a highly responsible, reputable breeder to work with.
Make sure the parent dogs have been screened, tested and cleared for major heritable health issues.
Meet both parent dogs and spend time with them to get a sense of some of the personality traits your puppy may exhibit.
Talk with the breeder about your lifestyle and daily schedule and ask for guidance about which puppy from a given litter may be the best fit for your family.
Finally, select a bright-eyed, clear-eared puppy that is active, curious, open to being held and handled and played with and is accompanied by an initial health guarantee from the breeder.
Is the Australian Shepherd Dalmatian Mix the Right Dog for You?
This is truly a question for which there is no one single right or wrong answer!
So now that you know more about each parent dog and the predominant traits an Australian shepherd Dalmatian puppy may inherit.
Be sure to take a close look at your own interests, availability, and goals before deciding if this is the right dog for you!
Do you have an Australian shepherd or a Dalmatian dog—or a hybrid puppy?
Or are you considering sharing your life with this unique and wonderful hybrid dog?
Please drop us a comment. We'd love to hear your experiences and your story!
References and Further Reading
Australian Shepherd Health and Genetics Institute
Australian Shepherd Club of America
Bannasch D et al. 2008. Mutations in the SLC2A9 Gene Cause Hyperuricosuria and Hyperuricemia in the Dog. PLoS Genetics.
Get Pippa's free dog training tips delivered to your inbox