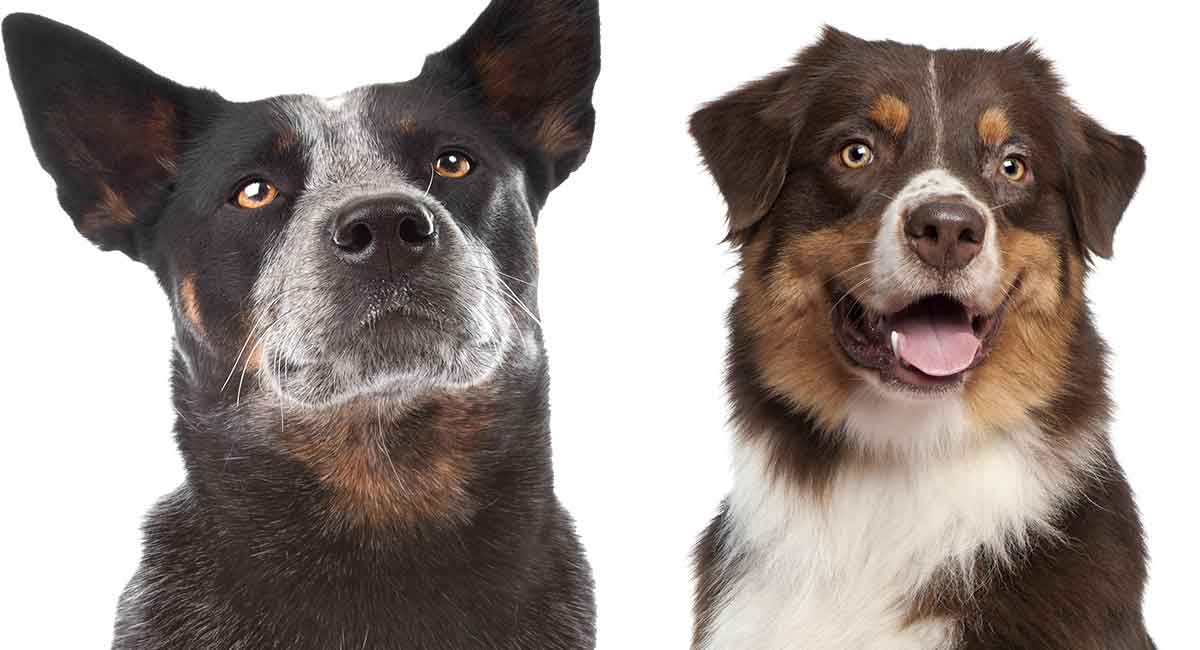 The Australian Shepherd Blue Heeler mix is also known as the Texas Heeler, Queensland Heeler or Australian Heeler.
They range from 30-65lbs in weight and 18-23 inches tall. They are intelligent, trainable and make great farm companions.
As a working dog mix, they settle best with active families who have lots of time for activities like agility training and working trials.
Continue reading for the history of the mix.
Where Does the Australian Shepherd Blue Heeler Mix Come From?
The Australian Shepherd Blue Heeler Mix is a cross between 2 popular working dogs, the Australian Shepherd and the Australian Cattle Dog.
Australian Shepherds can be traced back to the Basque region of Europe. Likely, the breed traveled to Australia and then on to America with settlers.
They were the dog of choice in the American 'Wild West' and are still popular farm dogs today.
The Australian Cattle Dog comes in a variety of colors, including a blue roan color. This, combined with its cattle-herding abilities, is where the name 'Blue Heeler' comes from.
Genetics of the Blue Heeler
In the Blue Heeler's genetic makeup, you'll find Dingo, Black and Tan Kelpie, Dalmatian, Bull Terrier and the Blue Smooth Highland Collie. 
There's a lot to be said for combining the two breeds, but is a mutt better to have then a purebred dog?
Purebred Dogs
Purebred dogs are the product of narrowing the canine gene pool. The dogs are only bred from their own breed, and genetic variation continues to shrink.
Due to the nature of purebred breeding, many offspring are produced from popular sires. This narrows the gene pool even further.
As most purebred dogs are a part of a small gene pool, any health ailments that were once cross-bred out, have a higher prevalence amongst the breed.
You can still get healthy purebred puppies, where the parents have been screened for common ailments amongst their breed. This ensures that they won't be passed on to their offspring.
Mutts can have their own range of health ailments. Generally, many mutts are the result of an unplanned pregnancy in a young female dog.
An unplanned pregnancy may mean that the female dog didn't have the optimum nutrition and care throughout her pregnancy. This can result in small unhealthy puppies and even stillborn pups.
With that being said, an unplanned pregnancy is very different from purposeful cross-breeding.
Cross-breeding two breeds, who are healthy and don't carry the same ailment genes, are likely to produce very healthy offspring.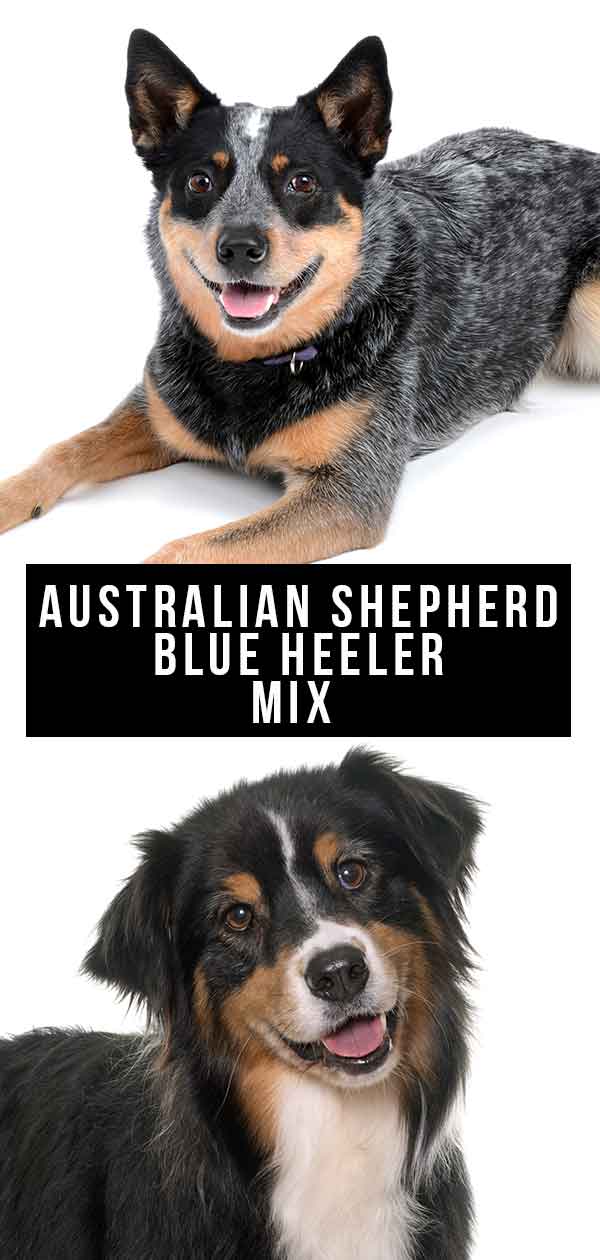 Fun Facts About the Australian Shepherd Blue Heeler Mix
Since both breeds are known for their intelligence and trainability, it's no surprise they are popular amongst celebrities and featured in films.
Many celebrities consider the Australian Shepherd an excellent companion. Most famously, Amanda Seyfried and her dog named Finn. They are often posing on Instagram together.
The list also includes Demi Moore, Tim Robbins, Steven Spielberg, and Steve Jobs.
The Australian Shepherd features in the following films:
Brokeback Mountain
Bark!
The Animal
Beverly Hills Chihuahua 3
Cow Dog
Daniel and the Superdogs
Darling Companion
Finding Friends
Flight of the Navigator
Fluke
The Famous Five 1, 2, 3 & 4
Marley and Me
Napoli Dogs
Red State
Saw
Within These Walls
They featured in many more, this list is only a snippet!
Australian Cattle Dogs also hold the heart of many celebrities including Matthew McConaughey and Owen Wilson.
Australian Cattle Dogs feature in the following films:
Brokeback Mountain
Babe
Born to Run
Devil's Hill
Doom Runners
Dusty
The Earthling
The Incredible Hulk
Mad Max
Man of Steel
Last of the Dogmen
Noah
Piranha
Red Dog
The Wedding Pact
The Tree of Life
The Australian Cattle Dog appears regularly in many Australian made films and TV series also.
Australian Shepherd Blue Heeler Mix Appearance
The Australian Shepherd weighs between 40-65lbs and is 18-23 inches tall. Blue Heeler dogs weigh between 30-50lbs and are up to 20 inches tall.
The mix could be anywhere in this range of height and weight. Females are generally on the smaller size, with males being at the top end of the range.
The Australian Shepherd has a double-coat that is mid-length. They often have longer fur on their legs, chest, and tail.
They come in four main colors: red merle, blue merle, red and black. Rarely they can be found in a tri-color. See this 2006 study on the Merle locus in Australian Shepherds.
They have unusual eyes, and can often have eyes of different colors (heterochromia).
Blue Heeler Coats
The Blue Heeler is also double-coated but has a short straight coat. They come in two main colors, red or blue.
They can have a mix of patterns, spots and markings depending on the individual. They often have a mask of dark fur over one or both eyes.
The mix's appearance could include any combination of features from the Australian Shepherd or Blue Heeler.
Australian Shepherd Blue Heeler Mix Temperament
Both breeds are intelligent, trainable, active and known herders. This makes them both the perfect farm working dog.
The Australian Shepherd is a highly active dog and would suit a very active lifestyle as a working dog. They are smart, alert and protective. They make fantastic companions provided they are socialized.
The Blue Heeler is known to be tough, and very physical. A 2007 study tracked working dogs, including Blue Heelers, who ran up to 20 miles in 38-degrees Celsius heat while herding cattle.
Blue Heelers are good guard dogs and are protective over their close family. They are social, but due to their herding instinct, they may herd small children. It is important to socialize them earn on to avoid any mishaps.
This 2016 study highlights common behavior problems in popular breeds including the Australian Cattle Dog.
Due to both dogs being extremely active, with instinctive herding behaviors, you can guarantee the mix to be a smart, active, and energetic working dog.
The Australian Shepherd Blue Heeler mix would be best living an active lifestyle as a working farm dog.
Training Your Australian Shepherd Blue Heeler Mix
All puppies will need to be house trained. Potty training should come easily to the intelligent Australian Shepherd Blue Heeler Mix. 
Due to the instinctive herding, and protective tendencies, an Australian Shepherd Blue Heeler mix will need to be well socialized to a variety of people, situations, and environments in order to be a good companion dog.
Basic dog training should always be taught, no matter the breed. The younger you start, the easier it will be.
The Australian Shepherd Blue Heeler mix, once fit and mature, is difficult to overwork. Care should be taken with young pups, hot weather and pregnant or old dogs.
Australian Shepherd Blue Heeler Mix Health
This mix is generally healthy, and their gene pools are a good match for each other. Each breed has its own health issues to look out for. Health screening should minimize the risk of any major health issues.
The mix could end up with a combination of any of these diseases, or none of them, depending on the parents.
Major Health Issues in the Australian Shepherd
Hip dysplasia
von Willebrand's Disease
Thyroid disease
Major Health Issues in the Australian Cattle Dog
Hip dysplasia
Progressive Renal Atrophy – this 1996 study highlights the problems with this disease
Blue Heeler Deafness – This 2004 study showed a rate of 3%
Expected Lifespan
Both breeds are expected to live for 13-15 years. The same should be expected for the mixed breed.
Grooming
Depending on whether your mix ends up more like the Shepherd or Cattle dog, you may need to groom your dog daily, or once a week.
A longer coat will require more grooming than a short coat.
Nutrition
All dogs thrive on a healthy, well-balanced diet. If you intend to work your Australian Shepherd Blue Heeler Mix, then you should feed enough calories to ensure your dog has the fuel to work.
You can look at feeding a raw diet to your dog, although this may become taxing and expensive when you try to feed a working dog the number of required calories and nutrients.
You can also opt for a high-quality grain-free kibble that contains all the nutrients required.
Don't forget to provide fresh drinking water at all times. Electrolyte supplementation may be necessary for dogs worked in summer.
Do Australian Shepherd Blue Heeler Mixes Make Good Family Dogs?
Yes, but with conditions. They must be well socialized from early on. In this case, it's better to have your dog from a puppy so you can ensure they are socialized properly.
If you are a low or middle activity family, this dog will not suit your lifestyle. They can be destructive if bored, left alone, or have too much energy to burn.
If you are a highly active family or live on a farm, then the Australian Shepherd Blue Heeler Mix will fit right in with your active routine.
Rescuing an Australian Shepherd Blue Heeler Mix
Rescuing a dog can be really rewarding. However, if you intend to work your dog, you may be better raising one from a pup and training it to suit your needs.
If your mix is going to be a family pet, then you can consider rescuing. Your first port of call should be your local animal shelters.
There are very few rescue shelters specialising in specific mixed breeds, but at the bottom of this article we'll link to some Australian Shepherd and Blue Heeler rescue agencies which might also have Texas Heelers come through their doors.
Finding an Australian Shepherd Blue Heeler Mix Puppy
No matter which breed of dog you choose, finding a healthy puppy from a recognized breeder should be your first priority.
Avoid pet stores and puppy mills as these pups can come from overbred mothers with a long list of health problems.
As we discussed above, a mix has a higher chance of avoiding serious health problems as the genes of 2 different breeds are being mixed. This is one of the reasons mixes are becoming increasingly popular.
For more information, visit our puppy search page to help you find your perfect, healthy pup.
Raising an Australian Shepherd Blue Heeler Mix Puppy
Like any puppy, this mix will need basic puppy training and then more advanced training for adult commands. Puppies require specialist care, nutrition, and monitoring to ensure they mature in a healthy way.
The Australian Shepherd Blue Heeler Mix will learn quickly through positive reinforcement. This is giving a reward for the correct behavior and ignoring incorrect behavior.
Pros and Cons of Getting an Australian Shepherd Blue Heeler Mix
Cons:
Needs a lot of exercise
Requires a lot of training
Requires socialization
Needs regular grooming depending on coat
May herd small children
Pros:
Good farm dog
Great herding dog
Good family pet for an active family
Trainable and intelligent
Similar Australian Shepherd Blue Heeler Mixes and Breeds
There are a few popular Blue Heeler mixes listed below:
Border Collie x Blue Heeler known as a Border Heeler
Labrador x Blue Heeler known as a Labraheeler
German Shepherd x Blue Heeler
Boxer x Blue Heeler
There are some popular Australian Shepherd mixes too:
German Shepherd x Australian Shepherd
Corgi x Australian Shepherd
Border Collie x Australian Shepherd
Labrador x Australian Shepherd
Australian Shepherd Blue Heeler Mix Rescues
There are some breed-specific shelters too which may have a mix:
USA
Aussie Rescue http://aussierescue.org/
Aussie and Me http://www.aussieandme.org/
Australian Cattle Dog Rescue Association https://www.acdra.org/
Arizona Cattle Dog Rescue https://arizonacattledogrescue.org/
Australia
Sweet Shepherd Rescue https://www.sweetshepherdrescue.com.au/
UK
Australian Shepherd Club UK https://www.ascuk.co.uk/information/rescue/
Please leave a comment below if you know of other rescue centers in your area.
Is an Australian Shepherd Blue Heeler Mix Right for Me?
If you lead an active lifestyle or are looking for the perfect farm companion, then the Australian Shepherd Blue Heeler Mix is the right dog for you.
If you are a busy family, with little time or energy to spend with a dog, then you should look for a less active small companion.
References and Resources
Clements, P., et al. (1996) "Recent advances in understanding the spectrum of canine generalised progressive retinal atrophy." Journal of Small Animal Practice 37, 155-162.  Accessed July 8, 2019.
Col, R., Day, C. and Phillips, C. (2016) "An epidemiological analysis of dog behavior problems presented to an Australian behavior clinic, with associated risk factors." Journal of Veterinary Behavior 15, 1-11. Accessed July 8, 2019.
Hampson, B. and McGowan, C. (2007) "Physiological responses of the Australian cattle dog to mustering exercise." Equine and Comparative Exercise Physiology 4, 37-41. Accessed July 8, 2019.
Hédan, B., et al. (2006) "Coat colour in dogs: identification of the Merlelocus in the Australian Shepherd breed." BMC Veterinary Research 2, 9. Accessed July 8, 2019.
Rehman, H. (2008) "Heterochromia." Canadian Medical Association Journal 179, 447-448. Accessed July 8, 2019.
Strain, G. (2004) "Deafness prevalence and pigmentation and gender associations in dog breeds at risk." The Veterinary Journal 167, 23-32.  Accessed July 8, 2019.
Get Pippa's free dog training tips delivered to your inbox