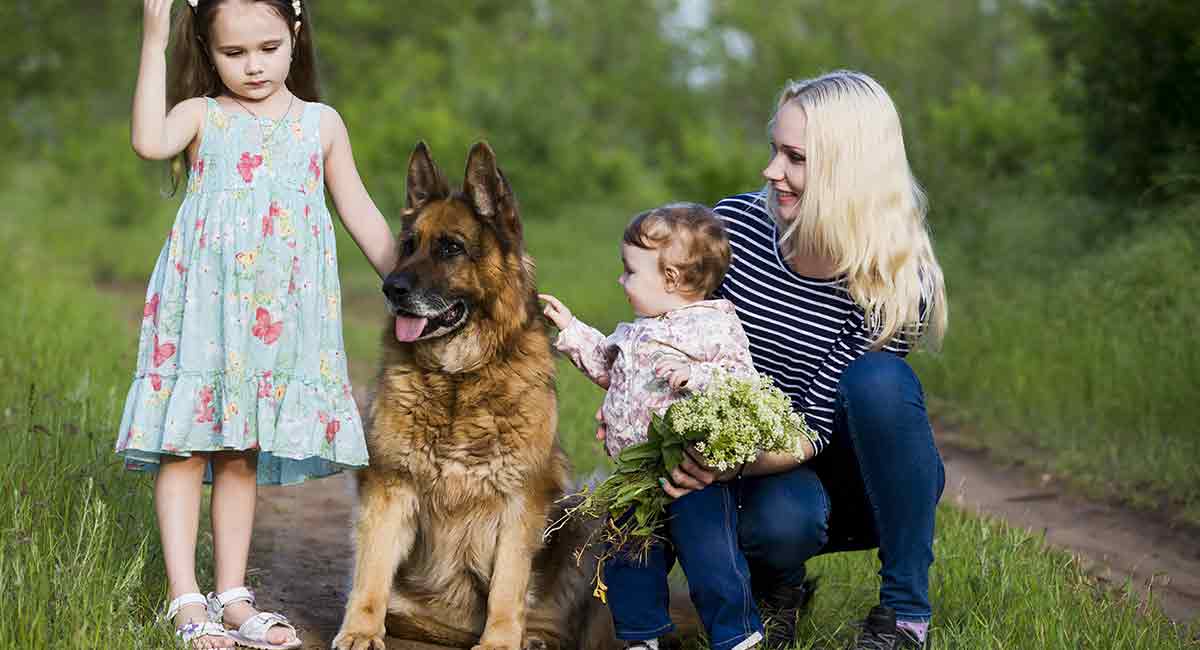 Are German Shepherds good family dogs?
Frustratingly, the most accurate answer tends to be, "It depends."
The German Shepherd, or GSD, is currently the second most popular pet dog in America!
However, not every dog breed is the right fit for every family situation.
Is a German Shepherd a good family dog for your lifestyle and set up?
Let's find out!
A Brief German Shepherd Family Dog History
The German Shepherd dog breed was not originally developed to be a family pet.
It is vital to emphasize this as we explore the question, "Are German Shepherds good family pets?"
All GSDs alive today can trace their lineage back to a single dog owned by Captain Max von Stephanitz.
Von Stephanitz began his breeding efforts in 1889.
By 1907, not even two decades later, the first German Shepherd dog entered the show ring half a world away in America.
By 1913 the breed had earned its first championship award.
German Shepherds distinguished themselves in military work during both World Wars and then continued to work in military and civilian service.
In 1932, a wildly popular movie called "Rin Tin Tin" introduced a new role for the GSD – a family pet!
German Shepherd Dog: Family Guarding Instincts
Is a German Shepherd a family dog?
Answering this question for yourself often depends on how you define the term family dog.
If you are primarily looking for a guard dog for your family and home, then a German Shepherd can be a slam-dunk choice!
Family Pet
But if what you are asking is do German Shepherds make good family pets, then you need to look deeper at what is required to ensure your GSD will be well trained and socialized to interact safely with other people and pets in your family and community.
Here, success absolutely depends on two factors:
the breeder you choose to work with
the socialization and training you provide to your dog
A health-focused, reputable breeder will aim to produce healthy puppies that will make excellent family pets.
This kind of breeder will also start the training and socialization process for you!
Once you bring your new puppy home, it will be up to you to continue with training and socializing so your dog learns to channel those strong guarding instincts to protect your family and home without causing unnecessary harm.
German Shepherd Family Guard Dog
For family protection, German Shepherd dogs that are well trained can be an ideal choice.
German Shepherds have always excelled in military, bomb detection, police, and guard dog work.
GSDs have served side by side with soldiers, police officers, and civilian security officers for decades, distinguishing themselves as heroes.
They have even worked for organizations like the U.S. Secret Service and the Central Intelligence Agency (CIA).
German Shepherd Family Personality and Temperament
The most common descriptions of the GSD breed include words like loyal, confident, smart, self-assured, steady, courageous and noble.
These are great traits and ones that would seem to lend themselves quite well to living in a family.
However, the German Shepherd dog was not initially bred for family and community life.
Here, looking at whether the German Shepherd is a good family dog requires particularly careful research into the GSD personality and temperament.
You need to understand exactly what this dog breed needs to succeed as a family pet.
For example, you need to understand that German Shepherds were bred to have intensely strong guarding instincts!
Original Attributes
The original founding father of the GSD breed line, Captain Max von Stephanitz's herding dog, Horand von Grafrath (Hektor Linksrhein), was chosen for an overt display of qualities von Stephanitz described as "primal" and "wolf-like."
This original dog was also described as highly intelligent, steady, and enduring.
It is these qualities that have allowed subsequent generations of German Shepherd dogs to learn how to become whatever their people need them to be.
That is, provided there is sufficiently good health and proper training to support this effort.
German Shepherd Socialization and Training Needs
The importance of early and ongoing positive socialization and training cannot be emphasized enough for a dog breed with such strong instincts to protect and guard as the GSD!
In fact, training and socialization can make the difference between answering yes and no to the question, "Are German Shepherds a good family dog?"
The good news is, German Shepherd dogs score so high on the "eager to please" scale that you will likely find your pup a delight to train!
Be Positive
What type of socialization and training does a German Shepherd dog need to succeed as a family dog?
The first and most important element is positivity.
German Shepherd dogs are incredibly intelligent and quite sensitive!
This is not a dog breed that will respond well to any kind of punishment or negative training methods.
You should start socialization and training as soon as your puppy joins your family.
Ideally, this process should begin before your dog even leaves the breeder.
This also makes your choice of breeder a particularly vital component of your new puppy's success as a family pet.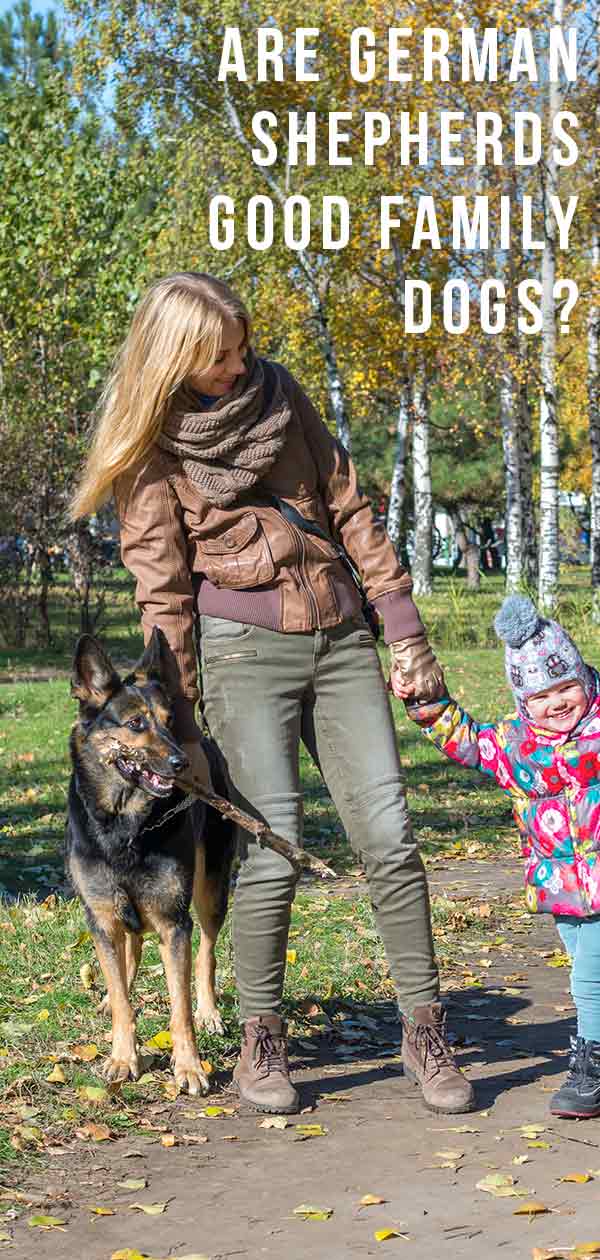 German Shepherd Family Dog: Male Versus Female Debate
Is this your first time getting to know the German Shepherd breed and trying to figure out are German Shepherds good family dogs?
You need to know there are some differences between male and female GSDs.
For this reason, depending on who you ask, you will find that different breeders, trainers and owners have many different opinions about whether a male or a female German Shepherd dog will make a better family pet.
In fact, evidence exists to show that both female and male German Shepherd dogs can make great family pets!
Generalizations about personality and temperament can help you make up your mind.
But the truth is that training and socialization can also have a noticeable effect on how well a GSD of either sex fits in as a family pet.
Let's take a look at the major generally acknowledged differences between male and female German Shepherd dogs.
NOTE: Ultimately, these gender-specific observations are just generalizations and are not meant to pigeonhole any GSD into a strict gender role. However, learning what breeders have to say about gender differences in German Shepherd dogs may offer some insights as you get to know the parents of any puppy you are interested in adding to your family!
Male GSDs
A fully grown adult male German Shepherd dog will usually weigh between 65 and 90 pounds.
They stand 24 to 26 inches tall (paw pads to shoulder).
Male German Shepherds typically look much more masculine than their female counterparts, with more pronounced, sharply defined features and a sturdier build.
A male GSD's protective instincts tend to extend to a defined territory that your dog regards as his.
This will include you and your family and also the entire premises surrounding your property.
This can work to your advantage if you are adding a German Shepherd to a family that already includes other pets, especially other dogs, since your GSD won't be as focused on who gets the most attention but on who enters and exits his territory.
Some breeders describe male German Shepherds as more independent and self-sufficient, as well as more inclined to wander farther to patrol their territory.
Female GSDs
A fully grown adult female German Shepherd dog will usually weigh between 50 and 70 pounds.
They stand 22 to 24 inches tall (paw pads to shoulder).
Female German Shepherds typically look like softer or more feminine versions of their male counterparts, with more delicate features and a lighter overall build.
A female GSD's protective instincts tend to center on you and your family – the individuals she regards as hers.
For this reason, female dogs often tend to be more clingy and cuddly.
As well, due to the intense focus on her family, a female GSD can sometimes develop jealousy towards other family pets, especially other dogs.
Some breeders assert that female German Shepherds are easier to train because of their intense need to guard and be with their family.
German Shepherds As Pets and Health: What to Know
German Shepherd dogs have suffered in recent decades due to selective breeding for specific conformation (physical appearance).
Back and joint issues such as hip and elbow dysplasia, ACL ligament tears, and the inability to stand and walk properly are associated with selective breeding and with early spay/neuter (before the age of one year old).
These types of health issues are life-limiting and extremely painful for your dog.
They are also very expensive to treat and can put additional stress on your whole family.
German Shepherd Shedding and Grooming
The German Shepherd dog does have a short coat, but it is a thick double layer.
One common question many aspiring GSD owners have is about shedding.
Like many working dog breeds, the GSD will shed quite noticeably at least twice per year (an event some call "the coat blow").
During this time, daily brushing will help you keep extra hair off the floors and furniture!
Otherwise, a good brushing a few times per week and regular baths will generally be all you need to do to keep your GSD's coat healthy.
Do German Shepherds Make Good Family Dogs: Pros and Cons
German Shepherd dogs are so popular as family pets today that only the venerated Labrador Retriever outranks them!
Having said that, there are distinct pros and cons to consider before making a decade-long commitment to sharing your family with a GSD.
Are German Shepherds good family dogs for your family?
Studying these pros and cons may help you decide!
Pros
Exceptionally gifted service and guard dogs
Typically gentle and loving towards their people
Sex-based personality and temperament differences can help you pick the right GSD for your family
High people-pleasing drive makes GSDs generally easy and quick to train
Love to be where you are and make great sidekicks for outdoor life
Loyalty is unmatched among dog breeds
Their people are their world
Working with a health-first breeder can minimize the risk of expensive health problems later on in life
Cons
Strong guarding instincts need to be directed with lots of early and ongoing socialization and training
May be standoffish or hostile with strangers and other animals
Poorly bred GSDs may develop costly health issues as well as behavioral issues
GSDs who are not well-trained and socialized may become aggressive
Can become destructive when bored or left alone too long during the day
May become jealous of other family pets, especially other dogs
A poorly trained GSD may bond closely with just one person and become inappropriately jealous of other family members
Can suffer from a range of serious heritable (genetic) health issues that require knowledgeable, expert breeding strategies to control for
Picking a German Shepherd Puppy
Sometimes being able to answer yes to the question of are German Shepherds good family dogs boils down to meeting the parent dogs and evaluating their health and temperament.
After meeting the parent dogs, it will be time to choose your puppy.
You want to look for a puppy that is friendly and outgoing and seeks you out for play and interaction.
Never choose a shy GSD puppy!
Be sure the puppy is bright-eyed and healthy and is willing to be held.
Make sure your new puppy is confident and curious and is happy to give and receive affection.
Are German Shepherds Good Family Dogs?
We hope that reading through this in-depth article about are German Shepherds good family dogs has given you the information you need about the German Shepherd dog breed!
As you now know, the German Shepherd as family pet can be a perfect pet dog for the right family.
Sources
Gerganoff, C., et al, "The History of the German Sehpherd Dog/What Should I Look For in a German Shepherd Puppy?," German Shepherd Dog Club of America, 2018.
Berk, D., "Male Versus Female," Vom Berk Haus German Shepherds Kennel, 2018.
O'Neill, D.G., et al, "Demography and disorders of German Shepherd Dogs under primary veterinary care in the UK," Canine Genetics and Epidemiology, 2017.
Hart, B.L., et al, "Neutering of German Shepherd Dogs: associated joint disorders, cancers and urinary incontinence," Veterinary Medicine and Science, 2016.
Wahl, J.M., et al, "A review of hereditary diseases of the German shepherd dog," Journal of Veterinary Behavior, 2008.
Get Pippa's free dog training tips delivered to your inbox