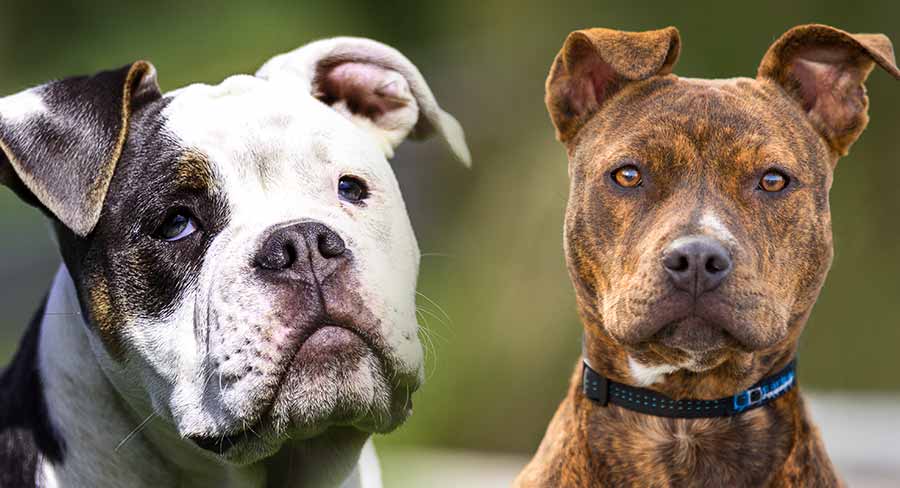 Comparing the American Bulldog vs Pitbull can be quite tricky because many people don't realise that the term "pitbull" doesn't refer to a single breed! There are actually five different dog breeds that commonly fall under the pitbull category. Some people will also include the American Bulldog in this category, to complicate things further. So, you must be sure which one you're referring to when comparing a pitbull to an American Bulldog.
The American Bulldog is similar to many other pitbull breeds in some ways. All are muscular, athletic dogs that form very strong bonds with their owners, and all descend from the English Bulldog. However, there are some key differences in appearance, history, health and more. Let's take a closer look.
American Bulldog vs Pitbull
So, what breeds fall under the pitbull category? Here are the five most common breeds considered a pitbull:
American Pitbull Terrier
American Staffordshire Terrier
Staffordshire Bull Terrier
Bull Terrier
Miniature Bull Terrier
Some people also include the American Pitbull in this list. So, you can see why it's going to be quite hard to compare an American Bulldog to a "pitbull" now! When most people say "pitbull", they are actually referring to the American Pitbull Terrier. However, in this guide, we will compare the American Bulldog to all five of the most common pittie breeds in the list above.
American Bulldog vs Pitbull History
One way in which the American Bulldog differs a little from most Pitbull breeds is in its early history. The American Bulldog descends from the English Bulldog breed, originating in the 17th Century. The emerging American Bulldog was used by farmers and ranchers as an all round working dog. They specialized in tasks such as guarding livestock, catching feral pigs, and more.
Similarly, pittie breeds descend from the Old English Bulldog, but were more often crossed with terrier breeds. Breeders originally bred pitbull dogs for fighting. These sports included dog fighting, bull baiting, and ratting. The term "pitbull" comes from their time fighting in pits. Over time, these practices became illegal. Some moved underground, but most pitties moved into different roles, including guarding, working roles, and companionship.
Nowadays, the American Bulldog and all pitbull breeds tend to be most common as companions. However, they are still in working roles in some areas. And, in some areas pitbull breeds, or dogs that simply look like pitbulls, are illegal. So, it's important to check local laws in your area before investing in any of these breeds.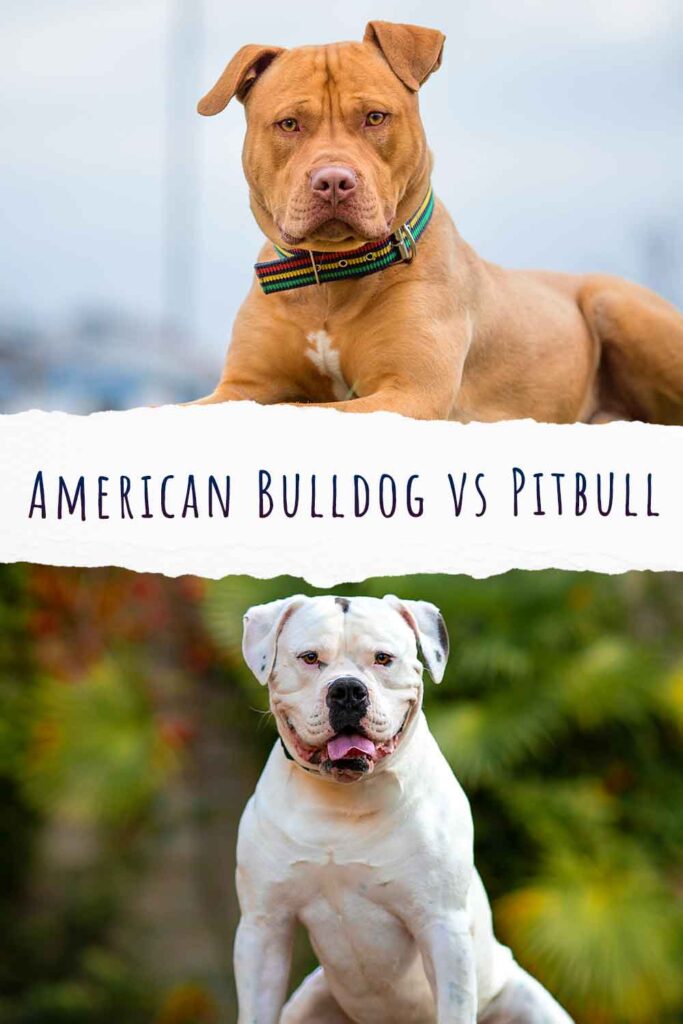 American Bulldog vs Pitbull Appearance
The American Bulldog and all pitbull breeds share a common ancestor: the English Bulldog. So, they do share some physical similarities. However, all were more commonly bred for their working or fighting ability than any particular appearance. All of these dogs will have a general muscular appearance with short, dense fur that comes in a huge range of colors.
American Bulldogs are the largest of all breeds in this comparison guide. They tend to grow somewhere between 20 and 25 inches tall, weighing between 60 and 100 pounds. The American Pitbull Terrier, American Staffordshire Terrier and Bull Terrier breeds are similar, but slightly smaller. In contrast, the Staffordshire Bull Terrier and Miniature Bull Terrier are much smaller. The Miniature Bull Terrier is the smallest of all, growing to between 10 and 14 inches tall, weighing from 18 to 28 pounds.
The Bull Terrier and Miniature Bull Terrier also look slightly different to other pittie breeds and to American Bulldogs, thanks to their face shape. They will have a curved muzzle, commonly described as an "egg shaped" head. All other breeds we are looking at tend to have a flat, wide head.
American Bulldog vs Pitbull Temperament
When it comes to temperament, American Bulldogs and pitbull breeds are all quite similar. All will be energetic, intelligent, and very loyal to their owners. All breeds in this guide have histories of working alongside people. Even though many pitbull breeds were bred to fight, it was vital that this aggression was never directed towards their human handlers. So, all six breeds in this guide are known to be people-centric and very loyal.
This loyalty can have its downsides. All six of the breeds we've looked at can have the tendency to protect their owners from strangers, and may react with fear if not properly socialized. Owners should make sure to socialize their dogs well to different people, animals, and experiences before 12 weeks to ensure they're confident and happy in new situations. It's particularly important to socialize pitbull breeds to other dogs, due to their history in dog fighting. And, American Bulldogs must be socialized well to other animals, due to their natural hunting instincts.
Many owners report that all 6 of these breeds are great with kids and other animals that they are raised with. But, socialization is still very important. And, if you have kids at home, make sure that you teach your kids the right way to interact with a dog. They will need to learn the signs that your dog is getting fed up, or overexcited to avoid any misunderstandings or aggression.
American Bulldog vs Pitbull Training and Exercise
All pitbull breeds, including the American Bulldog will need plenty of exercise. All have their roots in working and sporting histories, and all have muscular, athletic bodies. However, the Miniature Bull Terrier and Staffordshire Bull Terrier may need slightly less daily exercise than the other breeds in this guide, since they are on the smaller size. Because of natural chase instincts, it may be best to keep all of these dogs in a safely enclosed space when exercising them off leash. Especially if you aren't confident in your recall.
Obedience training is a must from a young age. Learning to keep all four paws on the floor can stop your pittie or Bully from knocking over anyone frail by jumping up! Positive reward training is the best method, as it will build on the strong bond between you and your dog. Plus, aversive methods have been shown to impact a dog's personality, increasing fearfulness and nervousness, which could lead to aggression.
American Bulldog vs Pitbull Health
Since the American Bulldog and other pittie breeds all descend from the English Bulldog, they do tend to share some common health problems. Health issues common to all 6 breeds we've looked at include:
Hip and elbow dysplasia
Allergies
Heart problems
Skin conditions
But of course, on top of this, there are some health conditions that are more common in certain pittie and bully breeds than others. Let's take a closer look.
American Bulldog Health
The American Bulldog is prone to a number of issues, including deafness, Canine Multifocal Retinopathy 1, Hyperuricosuria, Ichthyosis, degenerative myelopathy, and neuronal ceroid lipofuscinosis. Health tests can identify these issues before breeding to ensure that they aren't passed onto future puppies.
American Pitbull Terrier
Other common problems for the American Pitbull Terrier include hypothyroidism, retinal dysplasia, and heart disease.
American Staffordshire Terrier
Health issues that can affect the American Staffordshire Terrier include cerebellar ataxia, which is a brain disorder that can cause a decline in coordination and movement.
Staffordshire Bull Terrier
Specific health issues in the Staffordshire Bull Terrier include patellar luxation and eye diseases. They are also prone to L-2 Hydroxyglutaric Aciduria, which is a metabolic condition that can cause tremors, seizures, and dementia.
Bull Terriers
Alongside the earlier health problems, Bull Terriers can be prone to zinc deficiencies, deafness, and hereditary nephritis. These issues are also common in Miniature Bull Terriers.
American Bulldog vs Pitbull Puppies
No matter which breed you are favoring, it's important to get them from a reputable source. The best breeders will health test dogs for all of the above conditions before breeding them. This will minimise the chance that these health issues will pass onto puppies, as they will only breed from the healthiest parent dogs.
Prices of any of these breeds will vary depending on demand, availability, certain appearances, and on local legislation. Remember, pitbull breeds aren't legal in all parts of the world. So, it's important to check legislation near you before searching for a puppy in order to avoid the heartache.
Some bad breeders will still breed and sell pitbull dogs as "guard" dogs or for illegal fighting. However, these breeders are unlikely to health test parent dogs, and may breed the most aggressive pitties they can find. It's important to avoid these breeders and only choose puppies from reputable sources. Ask plenty of questions, see evidence of health tests in person, and make sure you meet the mother dog to gauge her personality and friendliness. This will help to ensure you're bringing home healthy puppies that are less likely to grow into aggressive or guarding dogs.
American Bulldog vs Pitbull Rescue
Since all of these breeds are relatively popular, you may also be able to find them available for rescue. In fact, there are many rescue centers dedicated to pitbull breeds across the world. These places will often also allow American Bulldogs, since they can also be categorised as a pitbull breed.
Many owners give up pitbulls if they are at all aggressive, if they are hard to handle due to a lack of training, or when they realise how much work these dogs need. This doesn't mean all pittie rescues will be aggressive. In fact, many are given up through no fault of their own, and will be great for the right family. Work closely with rescue staff to ensure that you can find a dog that suits your lifestyle. Rescuing a dog can be very rewarding, and is often much cheaper than bringing home a puppy.
American Bulldog vs Pitbull – Which is Best?
There's no real "best" breed when comparing the American Bulldog to the other five most common pitbull dogs. However, one may be more suitable for your home and your lifestyle. If you have less space at home, one of the smaller varieties, like the Miniature Bull Terrier or Staffordshire Bull Terrier may be most suitable. But, if you have a large, safely fenced yard, and plenty of time to dedicate to exercise and training, one of the larger Pitties, or the American Bulldog may be better for you.
All 6 of the breeds in this guide have similar needs when it comes to grooming and general care. They will all need plenty of socialization and training from an early age, to minimise any risk of aggression or guarding instincts. But, thanks to the popularity of these dogs, you should have no trouble finding your favorite, whether you're choosing a puppy from a reputable breeder, or a slightly older rescue dog. Just remember to check local laws before starting your search to avoid any disappointment.
Do You Have a Favorite?
Have you already decided which is best for you? If you're going to be bringing home one of these breeds, or you already live with one, let us know! We would love to hear your experiences with any of the 6 common pitbull breeds we've looked at in this guide. Which is your favorite?
Readers Also Liked
References and Resources
Get Pippa's free dog training tips delivered to your inbox