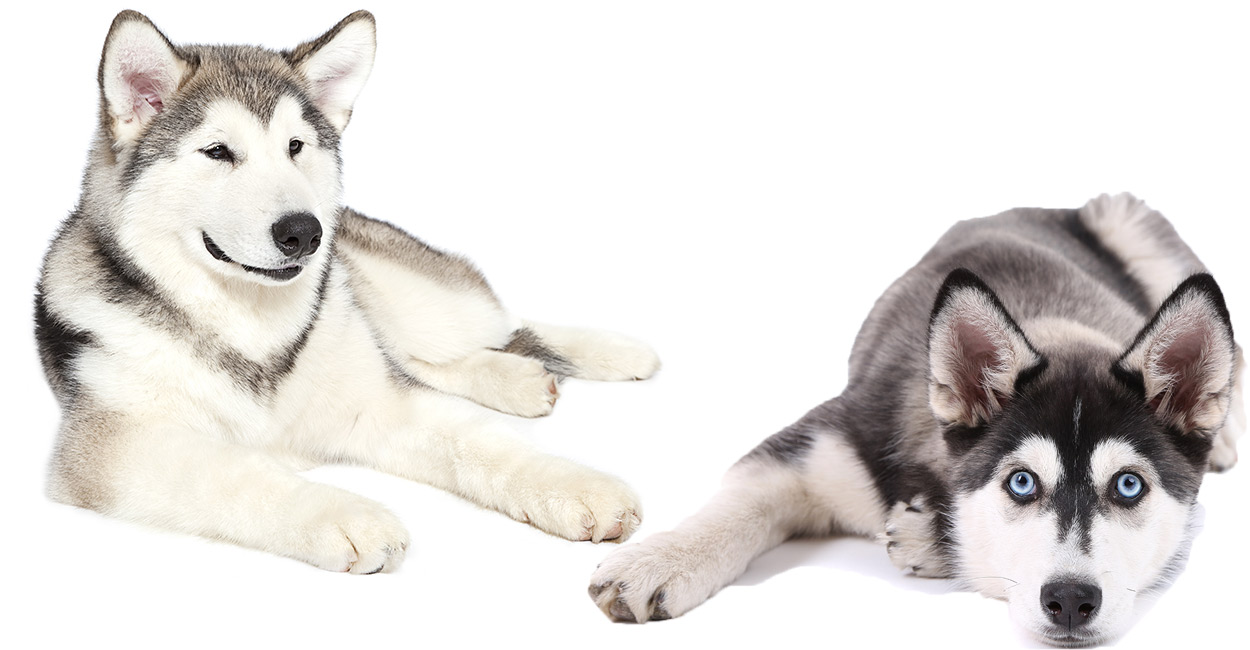 Alaskan Malamute vs Siberian Husky! Choosing between the two might be the most adorable dilemma!
You may have fallen in love with both of these appealing and furry northern dog breeds. If so, you may be finding it hard to make a final decision about which dog is the right choice for you.
Not to worry, we'll take an in-depth look at both the Husky and the Malamute so that you can make an informed decision.
There are lots of things to consider when choosing a new dog, so let's break it down now.
Alaskan Malamute vs Siberian Husky – Making the choice!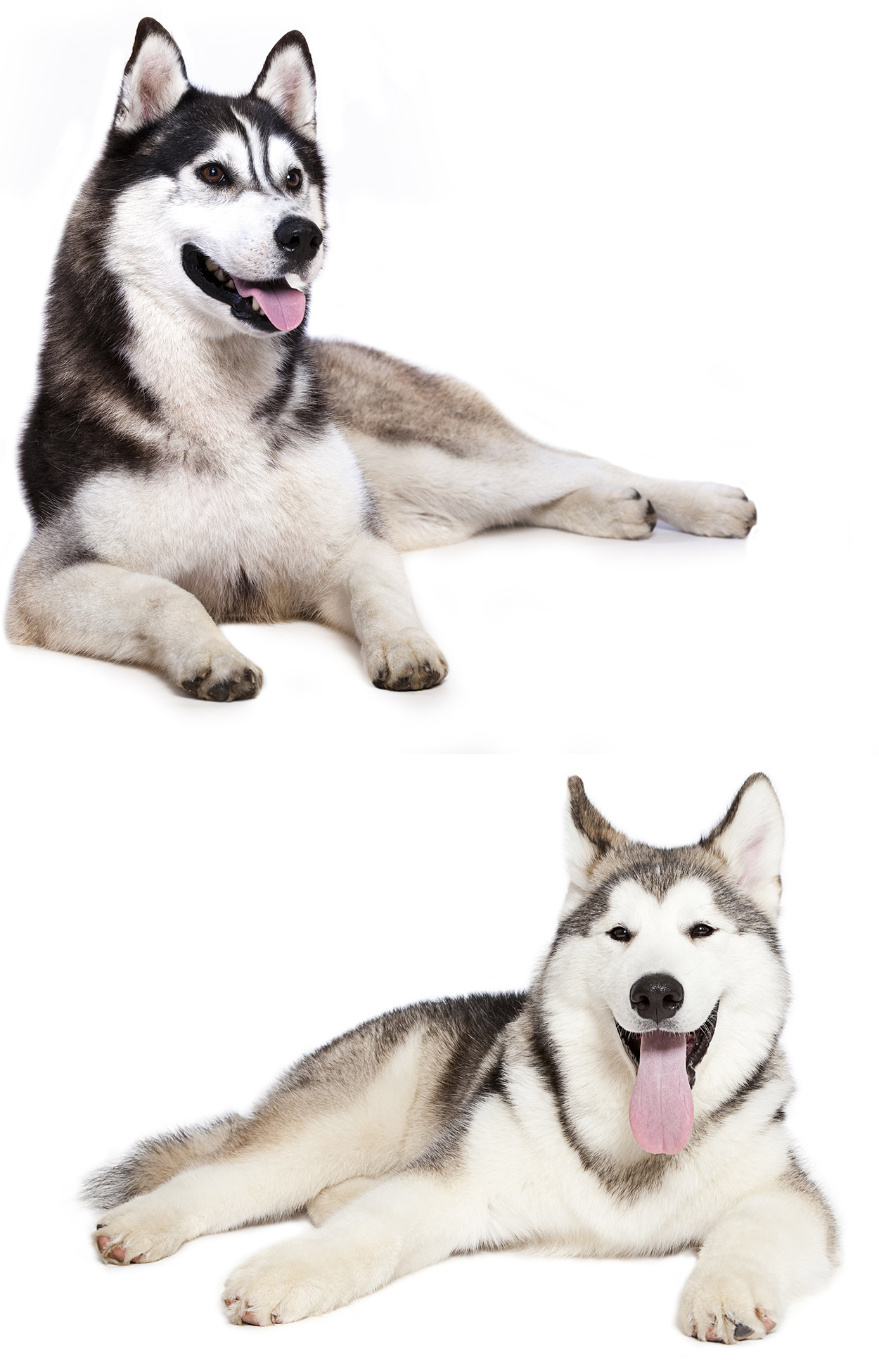 How do you decide between two dog breeds that are outwardly so similar?
The most important thing to keep in mind is that all dogs are individuals. A single dog's unique personality can be more of a deciding factor than breed alone.1
The differences between individual dogs and between the two breeds can help you find the perfect dog for your family and lifestyle.
Things like size, temperament, and training requirements are all important factors that can help you choose.
We'll look at the differences between the Malamute and the Husky shortly, but first, what are the similarities?
Malamute and Husky origins
Both Malamutes and Huskies are very old northern dog breeds.
Both are basal breeds, an exclusive "club" of dog breeds!
These dogs are genetically closer to their wolf ancestors than many of the modern breeds created in the past few centuries.
Other ancient breeds in this exotic group include the Basenji, Samoyed, New Guinea Singing Dog, Akita, and Chow Chow.
The Malamute and Husky are a type of dog known as the Spitz.
Spitz dogs are thought to have originated in Siberia or the Arctic. In addition, many Spitz type dogs are similar in appearance.  They have thick fur well-suited to frigid climates.
Other Spitz breeds include the Norwegian Elkhound, Shiba Inu, Finnish Lapphund, Pomeranian, and Keeshond.
What is the difference between Alaskan Malamute and Siberian Husky dogs?
So how do you decide between a Siberian Husky or Alaskan Malamute? It may help to know that although both are working dogs, they were created to do very different jobs.
As their name implies, Malamutes originated in Alaska. Native Inuit people bred them to be freighting (or sledge) dogs.
They pulled heavy loads for long distances at low speeds.
Malamutes are large and powerfully built. Their thick heavy coats protect them in the coldest weather.
Siberian Huskies originate from Siberia. The Chukchi people developed the breed as an endurance sled dog.
They pulled lighter loads at faster speeds than the Malamute. Although, both could travel long distances.
Spotting the Alaskan Malamute and Siberian Husky difference
Siberians are smaller and more delicately built than Malamutes. They do however, share that same thick double coat.
Their origins and basic jobs as working dogs are different. As a result, this has led to some significant differences in their sizes and personalities.
Let's look at these specific differences in more detail.
Alaskan Malamute vs Siberian Husky size
The Alaskan Malamute is a handsome, large, and powerfully built dog.
Breed experts note that the average female Malamute is larger than the average male Husky.
Just how big do Malamutes get when fully grown?
The breed standard states that males are 25 inches tall at the shoulder and weigh around 85 pounds. Females are 23 inches at the shoulder and weigh 75 pounds.
These weight ranges are referred to as the desirable freighting size. This means that the dog is the ideal size to perform its job, not too small and not overweight.
Good balance and proportion are important in show quality Malamutes as well.
How does the Husky compare?
The Siberian Husky is classified as a medium sized dog and is more lightly built than the Malamute.
The breed standard for male Siberians calls for a height of between 21 to 23 ½ inches at the shoulder and weight between 45 and 60 pounds. Females are 20 to 22 inches tall and between 35 to 50 pounds.
A Malamute's appearance suggests strength. Whereas, the standard for the Siberian calls for a more graceful and elegant look.
Alaskan Malamute vs Siberian Husky characteristics
Many potential owners are interested in other aspects of the physical appearances of the Malamute and Husky besides size, especially the coat and eyes.
Let's look at coat characteristics and eye color of the Siberian Husky compared to the Alaskan Malamute.
The Siberian has a medium length double coat consisting of a short thick undercoat and a straight outer coat.
The undercoat will shed in warm weather, and requires a good amount of grooming.
Siberians come in a wide range of coat colors and markings. They are especially known for distinctive head and face markings (called masks).
The Siberian Husky is also known for being one of the few dog breeds that can have blue eyes.
A Husky can have two blue eyes, two brown eyes, or one eye of each color.
The coat you wear: Alaskan Malamute compared to Siberian Husky
Like the Husky, the Malamute also has a medium length double coat.
The undercoat is soft and woolly and can be as long as 2 inches in length.
The guard coat is coarse and thick, growing between 3 and 4 inches long.
Similar to the Husky, the Alaskan Malamute will shed its undercoat in warm weather. Your dog will require regular brushing, especially during shedding season.
Coat colors for the Malamute can be grey, black, white, red, and sable. Usually these colors are combined with white on the lower parts of the body and part of the face.
The hairs of the top coat have bands of color, and the face can have mask-like markings.
The Malamute's eyes are brown, usually dark brown. Blue eyes are considered a fault in show quality Malamutes.
Alaskan Malamute vs Siberian Husky health
What are the health problems of the Alaskan Malamute compared to the Siberian Husky?
Most purebred dogs have some inherited health issues that new owners should know about.
Malamute health
These are the hereditary problems Alaskan Malamute owners need to be aware of:
Chondrodysplasia (hereditary dwarfism): Chondrodysplasia is a significant health problem in some genetic lines of purebred Malamutes.
Anemia is also associated with this genetic abnormality.
To protect future generations, the Alaskan Malamutes community has been working closely with scientists to develop a test for carriers of the condition.
In the meantime, your breeder should be happy to discuss any patterns of dwarfism in your puppy's family tree.
Other Malamute health issues
Other Alaskan Malamute health concerns include alopecia (hair loss), neurological problems such as epilepsy and seizures, and cone degeneration disease (which causes day blindness).
Husky health
The Siberian Husky also has some inherited health problems that new owners should be aware of:
Like many other breeds, Huskies can be prone to a joint disease called hip dysplasia.
This is a malformation of the hip joints, which leads to arthritis and eventually lameness.
All breeding Siberian Huskies should have hip scores from a vet, to help you gauge the risk of them passing this condition to their puppies.
Eye diseases
Of special concern to Husky breeders and owners are three serious inherited eye diseases. This include: juvenile cataracts, corneal dystrophy, and progressive retinal atrophy.
Breeding dogs can (and should) be genetically tested. This will help you find out of they are carriers of the faulty genes which cause hereditary cataracts and progressive retinal atrophy.
However at the time of writing, there is now widely available test for carrying corneal dystrophy. So, you'll need to look to your puppy's family tree to see if they are likely to inherit it.
To ensure that your Malamute or Husky puppy is healthy, be sure to work only with reputable breeders. These are breeders who test their dogs for genetic health problems.
You should ask to see all health testing records for your puppy and its parents.
Alaskan Malamute vs Siberian Husky temperament
What is the personality of the Siberian Husky compared to the Alaskan Malamute?
Despite their similarities as working northern dogs, there are some differences. These can be found in their temperament and activity level associated with their specific jobs.
The Malamute is known as a loving, devoted, and spirited dog. Fans of the breed praise its intelligence, confidence, and dignity.
They are less energetic than the Husky but do require regular exercise.
Malamutes are generally friendly and enjoy the company of children. However, because they are large they must be supervised around young children.
They can be strong willed, so good training and socialization is essential. This will ensure that they are well behaved around other dogs, other pets like cats, and unfamiliar people.
Temperament: Siberian Husky compared to Alaskan Malamute
Siberians are friendly, social, and outgoing dogs.
Bred to work in packs pulling sleds, they like the company of other dogs.
They don't like to be left alone. This should be an important consideration if you spend long hours away from home.
Huskies are more energetic than Malamutes. They need plenty of exercise and especially love to run.
The intelligent Husky is a talented escape artist! Don't leave him alone in an unsecured outdoor space!
Huskies are not often recommended for first time dog owners. Many inexperienced owners fall in love with their good looks but are not prepared for their high energy and sometimes naughty behavior.
As with the Malamute, proper training and socialization are a must for Huskies.
What kind of training should you seek out for both the Malamute and the Husky? Here's a quick rundown.
Alaskan Malamute vs Siberian Husky training
Neither the Malamute nor the Husky is known as a particularly fierce or aggressive breed.
Neither was bred to be a guard dog, although the Malamute's size can intimidate strangers.
However, Malamutes are known to be intolerant of other dogs of the same sex.
Malamutes can also assert dominance over some humans. They may show aggression towards other dogs and other animals in the home.
The Husky's very high energy level and fondness for chasing small animals can also cause issues for new owners.
A bored Husky left alone in the house can get up to mischief and do a fair amount of damage.
Huskies left in an unsecured outdoor space or allowed to play off-leash can take the opportunity to make a run for it. They may be halfway down the block before you know it!
Training your Siberian Husky or Alaskan Malamute
The temperaments of both the Malamute and the Husky may be a challenge to inexperience dog owners.
Proper training using only positive reinforcement techniques are a must for both dogs.
The good news is that both breeds are intelligent. They respond very well to positive reinforcement training techniques.
Positive reinforcement means that you should reward good behavior and never punish bad behavior.
Don't use prong or choke collars. Also, avoid dominance-based discipline like forcing a dog down on its back.
You can enroll Malamute and Husky puppies in formal puppy kindergarten classes.
Alaskan Malamute vs Siberian Husky – Which pet is right for me?
Now that we've compared the Alaskan Malamute to the Siberian Husky, it's time to decide!
Fans of big dogs will no doubt prefer the Malamute's much larger size. A Husky is downright petite in comparison.
Malamutes tend to be calmer than Huskies, but they still require plenty of outdoor exercise.
They also tend to be quieter than the more vocal Husky.
Although smaller than the Malamute, the Husky's high energy can put greater demands on its owner's time and attention.
However, their spirited nature makes them good pets for homes with active young children.
Remember that both breeds shed quite a bit, especially when they blow their undercoats in the spring.
Prepare to spend time on regular grooming sessions. This can be a good opportunity for you to bond with your dog.
Choosing an Alaskan Malamute or Siberian Husky
Both Siberian Huskies and Alaskan Malamutes are handsome and appealing breeds. As you might expect, many people fall in love with them! However, it's important to know about the responsibilities that go into caring for these special dogs.
Be sure to spend as much time as you can with both breeds before making a commitment.
Visit local breeders and volunteer with local breed rescue groups.
You can even foster homeless Malamutes and Huskies before you buy from a breeder or adopt.
We hope this has helped make a tough decision a little bit easier!
Other Breed Comparisons
If you've loved this breed comparison, be sure to check out some of our others!
Do you have a Malamute or Husky of your own already?
What factors went into making your choice, and how do you think the two breeds compare?
Share your story in the comments section!
References and further reading
VonHoldt, B.M., Pollinger, J.P., Lohmueller, K.E., et al. "Genome-wide SNP and haplotype analyses reveal a rich history underlying dog domestication." Nature, 2010.
Alaskan Malamute Club of America
Siberian Husky Club of America
Sande, R.D., Alexander, J.E., Spencer, G.R., et al. "Dwarfism in Alaskan malamutes: a disease resembling metaphyseal dysplasia in human beings." The American Journal of Pathology, 1982.
The Blue Book: Ocular Disorders Presumed to be Inherited in Purebred Dogs. 8th edition. Genetics Committee of the American College of Veterinary Ophthalmologists, 2015.
Get Pippa's free dog training tips delivered to your inbox